Free Delivery on Orders Over £50!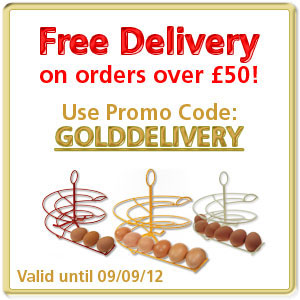 The weather's not looking great for this bank holiday weekend so why not make the most of staying indoors by browsing our Golden Sale? With discounts of up to 80% on a huge range of products and offers not to be missed, it's well worth a peek. Our favourite offers are:
And don't forget...get free delivery on any order over £50 when using this code: GOLDDELIVERY
These offers are valid in UK only, until 9th September 2012.
Qute Stars in Sunday Times
The Qute featured in the Home section of the Sunday Times last weekend. It seems that the trend for designer pet products is growing, and amongst a page of posh cat bowls, designer bird houses and funky dog beds, our hamster and gerbil cage stood out quteifully!
And what did they have to say about the Qute? 'From Omlet, who brought us designer homes for hens, comes the Qute cage for mice, hamsters or gerbils. It's designed on two floors to give your rodent a change of scenery and facilitate a "one-minute clean".'
A great summary. But if you want to read more about the benefits of Qute, watch a cool video showing it in use, and read what the customers have to say, just click here!
For free delivery on your Qute this weekend, use code: GOLDDELIVERY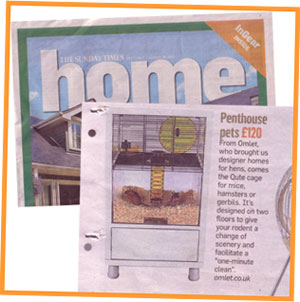 Chicken Limericks
Haven't liked us on Facebook yet? You're missing out! With all the latest news, photos and some great competitions it's well worth taking a look. Last weekend we asked our Facebook followers to have a crack at writing a chicken themed limerick, and we got some real beauties! There's a little taster below, but you can read the rest by liking our page...
There once was a little red chick
A hole with her beak she did pick
She filled it with bugs
and the slimiest slugs
Then she gobbled the whole lot up quick
by Linda Jane Bussey