Hungry Bin Winner
We were lucky enough to have a visit from Hungry Bin designer Ben Bell earlier this month, and we all enjoyed welcoming him to Omlet HQ and talking to him about composting. Unfortunately we couldn't convince him to emigrate from New Zealand to work here permanently but he did do a great job of answering all the wormy questions you sent it. You can find most of the questions and answers on the FAQ page of our Worm Composting Guide. And this was the Hungry Bin winning question, from Pia:

Q) I was struck by the fact that a worm's brain is apparently called a ganglion. What came first, the worm brain, or the lump often found in wrists in humans, which a doctor earlier this year told me is traditionally cured by being whacked with a bible? And why on earth do they share a name?

A) The only person that can reliably answer this question is Charles Darwin, who wrote a book called "The role of earthworms in the formation of vegetable mould with observations of their habits."

Couple United by Bees
Showing your unity in a relationship usually comprises of buying a house together, getting a new pet or getting hitched, but one couple in China have chosen to do something pretty off-the-wall to show their love. They covered themselves from head to toe in bees! How bee-zarre.

We've heard of bee-bearding before, but usually this involves one person and only a few thousand bees on their face. So it's very unusual to see two people, embraced, and enveloped in just under 1 million of the buzzing insects.

Luckily, this couple aren't new to bees. Zhang Wei is a bee farmer, and he had been stung by over 400 bees in a previous activity. He chose to take part in this contest wearing only his underwear...while his wife Yongli opted for trousers, long sleeved top and netted hat. (Sensible woman).

According to the judges, the key to attracting the most bees to your body is having 'a peaceful mind and courage', so to attract a 96.5kg swarm, they must have been very calm and courageous indeed!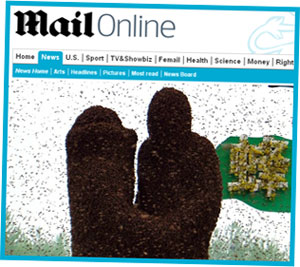 Tweet of the Week
Not following us on Twitter yet? You should be! Find out the latest news before anyone else and keep an eye on what we're up to! Click here to join us now!
This week's TOTW was tweeted by @tanya_weaver
"My @omlet hive was a buzz of activity yesterday at my 1st inspection. Found the queen & named her Freddie. http://girlmeetsbee.blogspot.co.uk/ #beekeeping "
Freddie!? Now that is bee-rilliant!