---
Hello,
Did you know you can make a giant chicken by rearranging all the countries of the world? Nor did we, until we spotted this funny little blog recently. We also found out that bees are bee-ing fitted with tiny sensors to help discover the reasons for the dwindling numbers, and happy chickens really do produce happy eggs (see the proof below).
January has been a long and rainy month, but it'll soon be February, and we can look forward to Valentine's Day, Shrove Tuesday and Springtime sunshine again. For now though, don't forget to take advantage of the final week of our sale, with 25% off hundreds of products.
Our Funny Chicken Photo Competition is still open too, so make sure you get your entries in by 31st January. Post on our Facebook page, send us a Tweet or email us for your chance to win a £50 Omlet voucher.
Happy Fry-day everyone!



---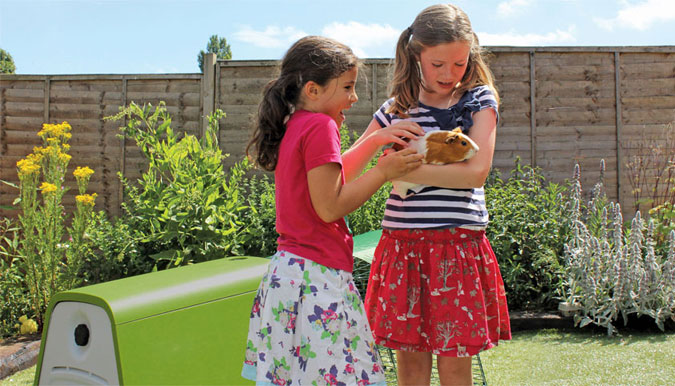 Eglu Go Hutch - Now in Two New Colours

Thinking of introducing some new pets to the family? Or fancy upgrading your existing pet home? The Eglu Go Hutch could be just what you're looking for, and it's now available in two fantastic new colours. We love the Eglu Go in fresh, vibrant Leaf Green, and if you're looking for something that will stand out, our new, rich shade of purple could be for you.

An Eglu Go Hutch is the perfect home for pet guinea pigs. Suitable for two, it makes keeping pets simple, stylish and straightforward. Designed to enable guinea pigs to express their natural instincts, the Go Hutch offers them a hidey-hole house and secure 1m run to go in and out of as they please. Cleaning is quick and easy, and the twin-walled insulation system will work to keep pets warm in the winter and cool in the summer.
Click here to see more pictures of our great new Eglu colours, and read about the benefits of an Eglu Go Hutch.

---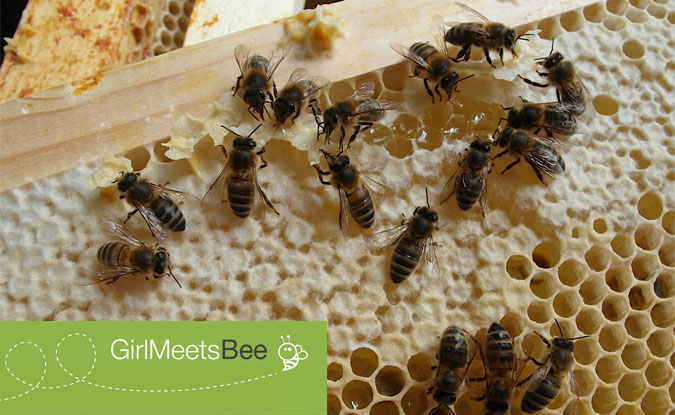 Girl Meets Bee

Thought moving house was hard work? Try relocating a Beehaus, full of thousands of bees, to a new pad down the road. This week Tanya Weaver, of Girl Meets Bee blog, had the challenge of moving her buzzing-with-activity-beehive to her new house, after finally finding somewhere with a garden to keep her precious bees. Moving the residents, during the dark, in a van, was a nerve-wracking task for Tanya, but did she succeed sting-free? Of course she did!
Read more about her experience, and her magical journey of beecoming a beekeeper on her blog. She's also after suggestions for bee-friendly flowers to plant in her new garden, so why not leave her a comment!?


---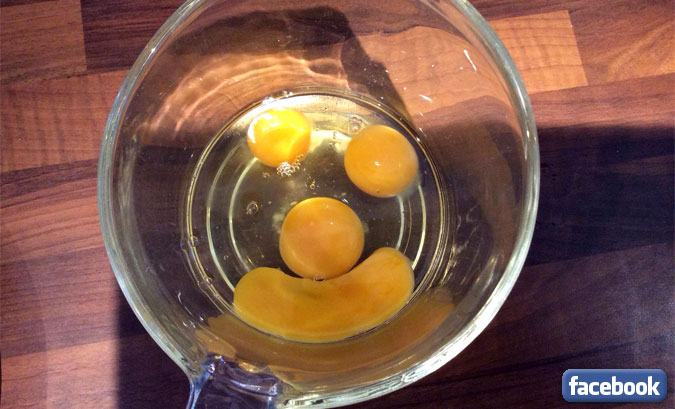 Facebook Post of the Month

January's Facebook Post of the Month came from Aisha Smith:
"Hubby was making scrambled eggs this morning and the eggs fell into the jug like this... Happy hens lay happy eggs!"
A great eggsample of pareidolia from one of our chicken keepers, and proof that supermarket eggs will never match those from your very own free-range hens. Follow us on Facebook to keep up to date and chat chickens!

---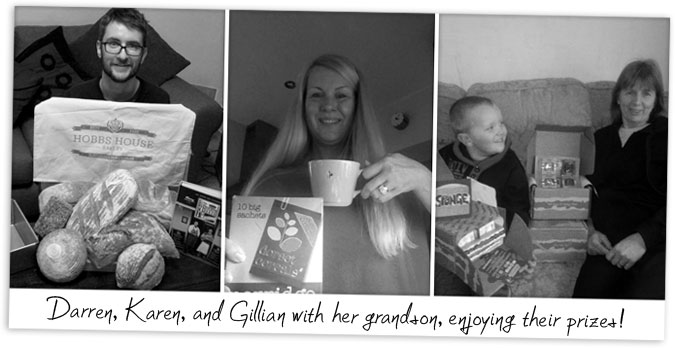 Winners of the 12 Days of Christmas Competition

Christmas may be a dim and distant memory for most of us by now, but for 12 lucky people, the fun isn't over just yet. They've been opening their doors to surprising deliveries all week, courtesy of Omlet and friends' 12 Days of Christmas Competition. This competition was a real cracker, with some fantastic prizes up for grabs. Thousands of you entered, with the hope of getting your mitts on michelin-starred meals, dazzling jewellery and an iconic Eglu Chicken Coop, but there could only be 12 winners. Click here to see who they were. Thank you for taking part, and congratulations to the prize-winners.
An eggstra special congratulations to Karen Lancaster too, who received her Dorset Cereals prize package, and got married, all in the same weekend. We wonder if they tucked into porridge for the wedding breakfast. ..
---
There's been so much press on the High-Vis Chicken Jackets lately that we can't possibly include it all here. German TV channel ARD included a spectacular short film about the jackets on their news programme Tagesschau, the Metro published a small piece alongside their Justin Bieber story, and Yahoo put this comical little video online.

The Quote of the Week came from CBS news, via US website KRTV. We just loved the American slang! (For the very English amongst you, 'spiffy new duds' means 'smart new clothes'.) You learn something new every day!
---
News just in: Omlet Chicken Fencing believed to have magical properties! According to customer Phil, his Chicken Fencing has surpassed his eggspectations and proven to me a meggnificent investment for his hens.
He said: "Great quality, well designed. I like the way the gate clips on and off. It seems to have strange magic powers and it keeps the chickens in when the previous fence, which was about the same height, didn't. It also survived the recent windy weather which upended the trampoline but this fence didn't move an inch."
You can read more about the great features of Omlet Chicken Fencing here. Extra Gate and Pole Kits now in stock.
---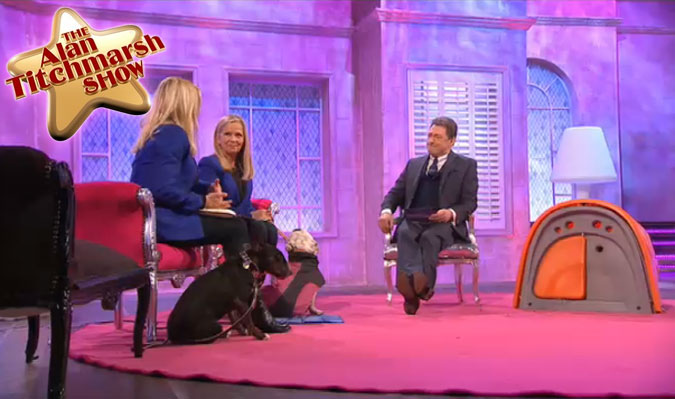 Rabbit Eglu Featured on the Alan Titchmarsh Show

It's not just the High-Vis Chicken Jacket getting the attention at the moment – this week, the Eglu Rabbit House had it's fair share of fame too. We were really hoppy to see it on The Alan Titchmarsh Show this week, as part of a pet insulation feature. Alan himself was quite taken with the Eglu, and the bunny looked most at home in her temporary abode. Pet experts 'The Barking Blondes' thought The Eglu was brilliant, and they were especially impressed with its ability to keep rabbits warm in the winter and cool in the summer.
Alas, this time, the High-Vis Jackets did not make the cut, but we have a feeling it won't be long until our hens are sporting their new attire for Mr Titchmarsh too.
Watch the episode here, and visit our website to read more about the Eglu Rabbit House.
---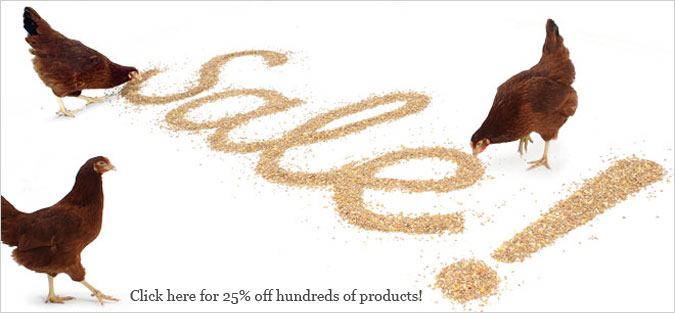 This Month's Favourites!
Purple Eglu Go Chicken House - The Eglu Go is now available in a rich shade of purple. It will look great in your garden and house two to three chickens safely, and comfortably. Easy to clean and fox-proof.
Start keeping chickens for £360!
Chicken Fencing Gate Kit - A simple gate kit to add an additional gate to your existing Omlet Chicken Fencing. Ideal to make your free-ranging area more flexible. and to your own specification.
Buy now for £14.50!
Funny Side Up Owl Egg Mould - Start your day with a fried side of fun. Funny Side Up will turn your two fried eggs into a friendly owl. What a hoot! Perfect for a snack any time of the day, even if you're a night owl.
25% off - now only £5.21
Happy shopping!