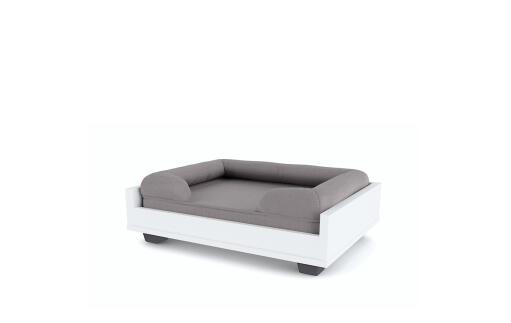 Maya Cat Sofa Frame Small with Bolster Cat Bed Grey
Read 1 Review
Checking stock in our warehouse...
£126.95
Treat yourself and your cat with the Maya Cat Sofa Frame and Bed. Modern and minimalist, it's the perfect way to add the finishing touch to your home. It works with any cat bed to create a snug and comfortable place for your cat to rest. Raised off the ground on legs, it keeps your pet out of drafts and the sturdy frame protects the bed's upholstery and traps debris, keeping your home tidier.
Cats like to feel secure when they are resting, and placing their bed inside a frame to create a cat sofa is a great way to achieve this. It's easy to remove your cat's bed for cleaning, and the frame's surfaces can all be wiped clean. The memory foam mattress is in a water resistant casing, within the stylish fabric cover, to keep the foam hygienic and odour free.Unlike with an all in one sofa bed design, you will be able to replace only the bed when it's getting a bit worse for wear, which is much handier and more economical.
The Maya Cat Sofa Frame works perfectly with the Bolster Beds or the Maya Cat Sofa Cushion, or you can choose from any number of cat beds to create your ideal sofa.
Which Size Should I Choose?
Choose from two sizes to suit your cat. The Small is perfect for most domestic cat breeds, the Medium suits larger breeds such as Maine Coons or is big enough for 2 cats to share comfortably.
Maya Cat Sofa Frame Small Internal Measurements:
Length 630mm
Depth 472mm
Height 118mm

Maya Cat Sofa Frame Small External Measurements:
Length 684mm
Depth 520mm
Height 181mm
Maya Cat Sofa Frame Small with Bolster Cat Bed Grey
Lovely bed with frame and well made. Only problem is that the cat just ignores it and stays in her cardboard box!
Review for:
Maya Cat Sofa Frame Small with Bolster Cat Bed Grey
This reviewer has 1 British Blue pets
Write a Review