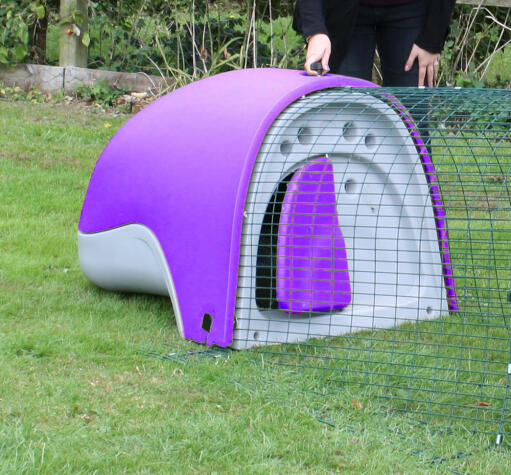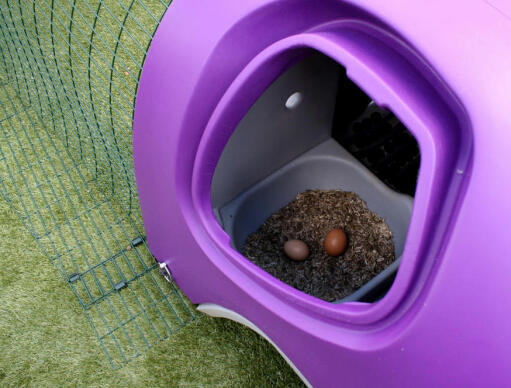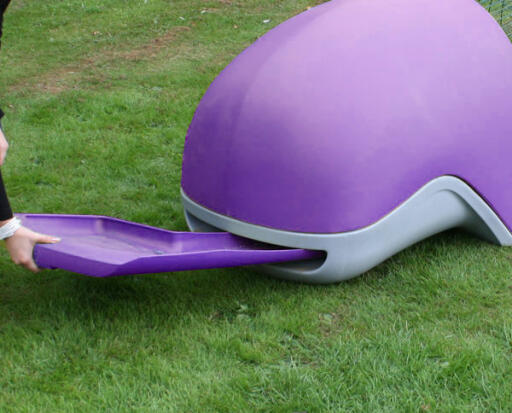 Checking stock in our warehouse...
£479.00
The Eglu is a truly innovative duck house designed specifically for the first time duck keeper. Modern and stylish - it is the ideal way to keep between 2 and 4 ducks. The Eglu comes complete with everything you need to get started. The Eglu has a discreet nesting box which can be filled with straw or shredded paper. You can collect freshly laid eggs through the eggport on the side of the house.
Easy to Clean - The Eglu is quick and easy to clean with a slide out dropping tray. You can wash the smooth surfaces with a hose. Unlike wooden housing you do not need to treat your eglu, saving you time and money.
Insulation - The twin walled insulation and draught free ventilation keeps your ducks warm in the winter and cool in the summer.
The run - Made from strong steel weld mesh impossible for predators to break. A unique anti-tunnel skirt sits flat on the ground and prevents animals from digging in. The run has spacious vertical sides and gives your ducks plenty of room.
Two Glugs - These containers are easy to fill and keep clean. Perfectly angled for your duck to use comfortably as a feeder or drinker. Each holds 2.2 litres.
Eglu Classic Duck House with 2m Run - Purple
This is great for keeping ducks in, as you can just hose it all out and it drains away. My ducks are loving it and I know they're safe.
Review for:
Eglu Classic Duck House with 2m Run - Purple
Looks great and predator proof
Daphne, Doris and Deliah love their purple eglu and run, they feel so cosy and protected in it, although I would say it's a tad too small for 3 campbell ducks but they are happy to snuggle up together at night ( they have free run of the garden during the day). It's a two man job to move, it could do with a little ramp at the entrance to the eglu as ducks arn't great at stepping up in a rush and perhaps a little rubber procector over the lip of the run entrance as mine (again in a rush) catch their feet in the lip and quack very loudly! The eglu and run are easy to put together and clean. We are very happy eglu classic owners!
Review for:
Eglu Classic Duck House with 2m Run - Purple
Perfect for my duckies!!!
I have got 4 8 week old indain runner ducks Drake,Delilah,Dylan and Daphne and i love them to bit's but they are the MESSIEST!!! thing's i have ever met (they have even been known to get poo on the inside roof!) so the eglu house is perfect and easy to clean and disinfect daily and it's very safe and secure. I feel better knowing their ok out in the garden. The only thing i didn't like is there isn't enough room for food and water inside when they are fully grown. I know they don't really need it but i do panic about them a bit too much :). The run i didn't find easy to put up but i am all fingers and thumbs and don't have any patience but it seem's ok when up and my duck's are only inside for a few hour's because they have full run of the garden and only are inside if we are out. I have had to move it around while tidying the garden and i find the run clip's do snap easy :/. But i do give the house a full 10/10 it's just the run i've had trouble with but that could just be me! I would recommend to get one because it is the safest thing i've seen when their locked up at night and nothing is more important then that!!!
Review for:
Eglu Classic Duck House with 2m Run - Purple
I already had a pink eglu for my hens when i decided to expand my menagery and keep ducks too! I haven't yet collected my ducklings so can't comment on the eglu's suitability, but the eglu and 2 metre run were very easy to assemble even with 2 toddlers and 3 hens under my feet. I love it and I'm sure my ducklings will too.
Review for:
Eglu Classic Duck House with 2m Run - Purple
Read more reviews