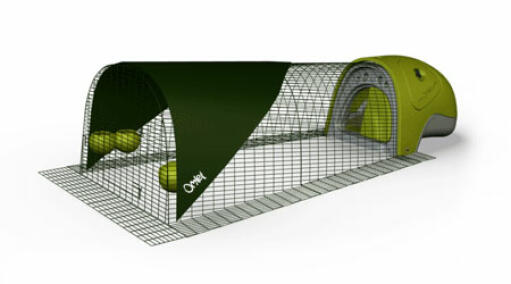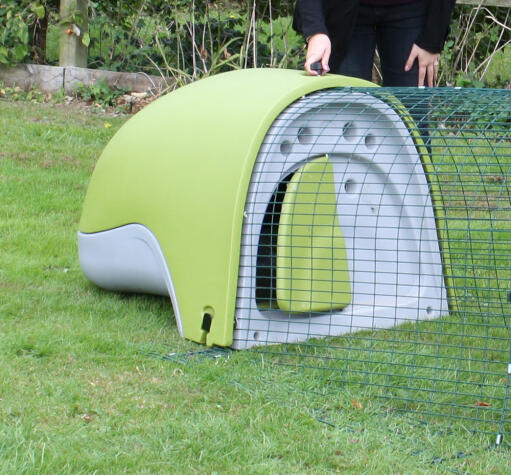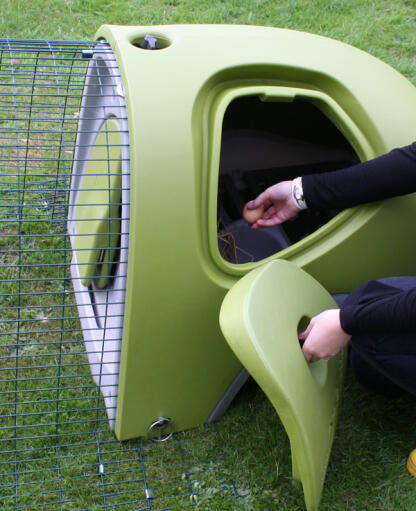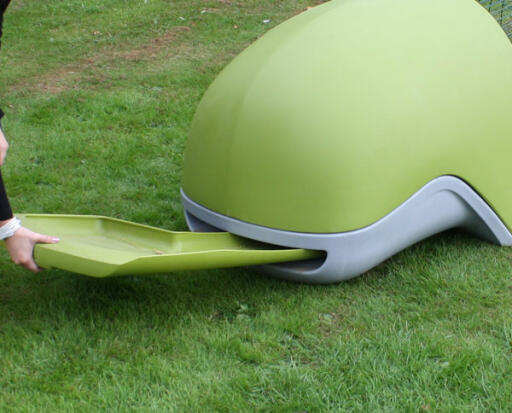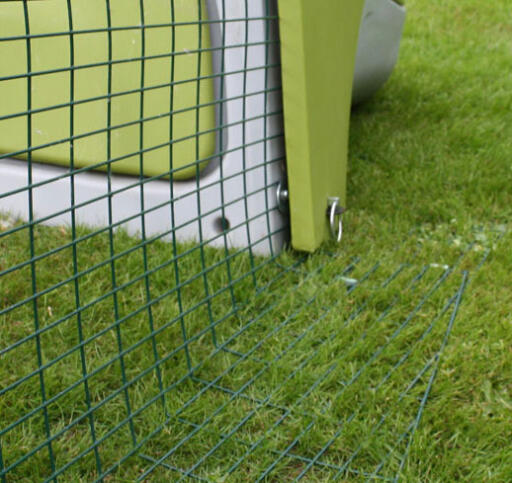 Checking stock in our warehouse...
£479.00
The Eglu is a truly innovative duck house designed specifically for the first time duck keeper. Modern and stylish - it is the ideal way to keep between 2 and 4 ducks. The Eglu comes complete with everything you need to get started. The Eglu has a discreet nesting box which can be filled with straw or shredded paper. You can collect freshly laid eggs through the eggport on the side of the house.
Easy to Clean - The Eglu is quick and easy to clean with a slide out dropping tray. You can wash the smooth surfaces with a hose. Unlike wooden housing you do not need to treat your eglu, saving you time and money.
Insulation - The twin walled insulation and draught free ventilation keeps your ducks warm in the winter and cool in the summer.
The run - Made from strong steel weld mesh impossible for predators to break. A unique anti-tunnel skirt sits flat on the ground and prevents animals from digging in. The run has spacious vertical sides and gives your ducks plenty of room.
Two Glugs - These containers are easy to fill and keep clean. Perfectly angled for your duck to use comfortably as a feeder or drinker. Each holds 2.2 litres.
Eglu Classic Duck House with 2m Run - Green
I received my eglu duck house and run with only a slight delay on the estimated delivery date. I put it together single handedly, much to my surprise as I'm not known for my skills in this department. Although my girls are too young to go out permanently yet they have enjoyed an hour or 2 in it whenever the sun is out and they never want to leave. Sturdy and secure so I have no worries about their safety.
Review for:
Eglu Classic Duck House with 2m Run - Green
This reviewer has 2-4 Pekin and pekin/ayle pets
Simple, secure, and sweet: Eglu & run makes starting with ducks a breeze
After much deliberation, we bought this duck house and run to make keeping ducks in a suburban garden do-able, and it has made getting started very straightforward. We now have four call ducks in the garden, and they seem very happy and safe in their coop and run. The included accessories (NB two "Glug" waterers, rather than a feeder and a waterer) work well for clean water (the ducks can't get in and muddy them up) and dry food (tipped so that the little ducks can reach in). The run was easy to construct (single-handed), and the Eglu is easy to clean and seems very secure for safety at night. Service from Omlet was exemplary, in spite of all the Covid-19 disruption.
Review for:
Eglu Classic Duck House with 2m Run - Green
Excellent product, easy to clean and my ducks love it.
Review for:
Eglu Classic Duck House with 2m Run - Green
Really great product, very robust and secure. I have four Cayuga ducklings and they all seem very happy in there. It's also very easy to clean. I'm looking into purchasing an extension/walk in run and wouldn't hesitate to buy it from Omlet. The customer service I received today was excellent too.
Review for:
Eglu Classic Duck House with 2m Run - Green
Excellent my call ducks 's are so happy in their new abode. I especially like the deep water drinking stations which stay clean even for ducks !
Review for:
Eglu Classic Duck House with 2m Run - Green
Read more reviews