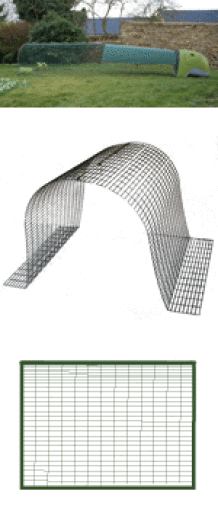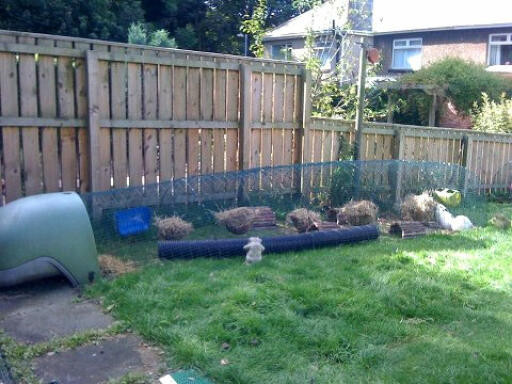 Checking stock in our warehouse...
£80.00
Before fitting run extension kit B you will need to fit run extension kit A. Kit A will turn your 2m run into a 3m run, and Kit B will add a further 1m, making a large 4m run. This will offer loads of space for your chickens or rabbits to explore. It is made of the same strong steel weldmesh with a durable PPA coating and has anti tunnel skirting. Once kit A has been fitted you can add as many kit B run extensions as you like.
You can download instructions for fitting your run extension here
Please note this product is not intended for use with the Eglu Go.
Patent Pending. Design Registered.
Eglu Classic Run Extension Kit B
A great run extension to the Eglu classic
Bought this to extend my Eglu Classic, and it works well and does the trick. Very easy to make up and fit. My hens now have an extra metre to wander around safe from the fox!
Review for:
Eglu Classic Run Extension Kit B
Really fits well with the rest of the run and was easy to put together the chickens now have a 4m run.
Review for:
Eglu Classic Run Extension Kit B
So much neater, stronger and easier to move than the cobbled together one I previously made with wire mesh.
Review for:
Eglu Classic Run Extension Kit B
My rabbit and guinea pigs have been so much happier in their huge run and very glad that bought the mutiple extensions. We were letting them out in the garden but unfortunately one poor piggy was killed by a fox so we had to find a safer alternative. The height and breadth allows for lots of tunnels and platforms. Also the cover means that they are more inclined to be outside in heat and rain. So delighted. However the plastic clips fall off and break for a living and I gave up on them and use cable ties.
Review for:
Eglu Classic Run Extension Kit B
Enables extension of an existing (already extended) run exactly as you'd expect, but is way overpriced in my opinion. Would be nice to if you got a generous discount for ordering extension A & B together to encourage owners to maximise the space given to their chickens - there's certainly more than enough room in the huge box product is delivered in!
Review for:
Eglu Classic Run Extension Kit B
Read more reviews