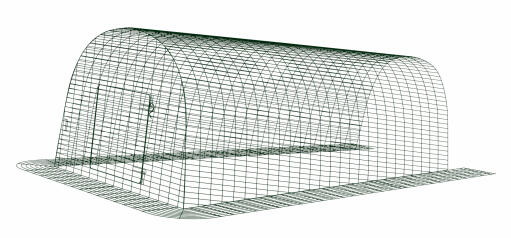 Checking stock in our warehouse...
£140.00
This is the standard 2m run to fit the Eglu Classic, for chickens or rabbits. Made from strong steel weld mesh it is impossible for predators to break. A unique anti-tunnel skirt sits flat on the ground and prevents animals from digging in. The run has spacious vertical sides and gives your chickens plenty of room to run around in. This run makes the Eglu suitable for keeping 2-4 chickens.
Patent Pending. Design Registered.
We have a used Classic eglu that did not have a run when we bought it. With avian flu restrictions looking imminent again this year, i needed a run for our 3 free ranging bantams. Very pleased as it arrived quickly and was easy to assemble and connect to the old classic. Love the Omlet hutches, We have a Cube and a walk in run for the big hens, an eglu Go and run for the guinea pigs, and the classic and new run for the bantams. So easy to use, clean and move when needed.
Review for:
2m Run for Eglu Classic
This reviewer has 2-4 Pekins pets
Easier to move chickens around but I did use plastic ties all over to keep it together. If stationary the ones supplied will be fine. As my eglu was old I had not realised I would not get the fixing points screws undone. Despite WD40 So I had to use wire to attach it. No instructions I went on you tube to work it out. I don't know why no sheet is supplied of instructions? Hence 4* only. Otherwise good product. 2 m is enough if you move them daily.
Review for:
2m Run for Eglu Classic
Overall a good chicken run and we have 2 very happy hens. Hard to put together although Omlet customer service very good with any questions we had.
Review for:
2m Run for Eglu Classic
Read more reviews