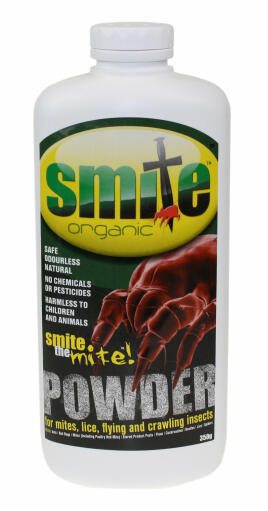 Checking stock in our warehouse...
£9.99
Smite Organic Natural Mite Powder is a odourless, natural powder that helps get rid of red mite in chicken houses. Smite Powder is a safe and naturally-mined mineral product, made up of fossilized remains of diatoms. Instead of containing chemicals and pesticides, this product kills pests by causing them to dry out and die. It is safe to use in animal housing, and if ingested by animals or birds it can even have digestive benefits. Smite Powder is safe for earthworms and will have no detrimental effect on the natural ecosystem, but it will help with the control of ants, fleas, bedbugs, cockroaches, mites, book lice and silverfish. Smite can be applied directly to areas with red mite infestation, or it can be mixed with water and sprayed onto the areas. It can also be applied directly to small animals, dogs, cats and poultry, to control fleas and mites. Alternatively, try adding to your hen's dustbath to get it worked into its feathers well. Smite Organic Powder comes in a 350g puffer bottle for ease of use.
Smite Organic Natural Mite Powder 350g
Coop free from Red Dust Mite
Review for:
Smite Organic Natural Mite Powder 350g
This reviewer has 8-10 Lohman Browns and wh pets
This is ok but very messy and hard to use on vertical surfaces and inside the roof. I prefer the spray disinfectant.
Review for:
Smite Organic Natural Mite Powder 350g
This is an all encompassing pest management in a brilliantly simple puffer bottle which makes it extremely easy to use. You do not need anything else and this is the only thing we have found that will effectively control red mite. It's not an overnight fix but works by breaking their cycle as the young mites cannot survive in it. Squirt it in the chicken coop after cleaning and put it in a litter tray for the chickens to use as a dust bath. It's also totally natural and safe to eat the eggs. Fantastic product. We've gone from unhealthy chickens to healthy mite free chickens with this product.
Review for:
Smite Organic Natural Mite Powder 350g
Great product, and so many uses! Can be added to food, squirted round housing, sprinkled in dust bath, applied topically to cats, dogs, poultry. Brilliant all-rouner pest management
Review for:
Smite Organic Natural Mite Powder 350g
Natural powder to keep hens healthy
Use this in hens dust bath to try to prevent red mite. Also use the spray for the hen house. Like the idea it is natural and safe for animals (except mites, fleas etc). Seems to be working so far.
Review for:
Smite Organic Natural Mite Powder 350g
Read more reviews