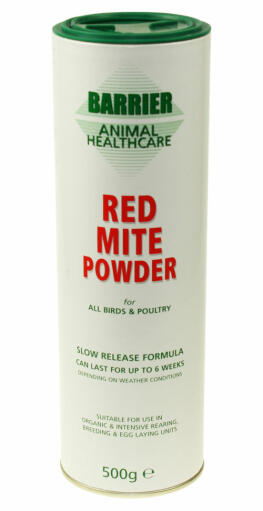 Checking stock in our warehouse...
£16.99
Although the best way of preventing a red mite infestation is by keeping your chicken house clean, this product can be used directly on poultry if you do find there's a problem. It can be used as a proactive deterrent to infestation or to rectify an existing problem. As red mite is a nocturnal creature it is best to treat your hens just before they go to bed. Chickens should be thoroughly dusted with the powder according to the instructions on the packet. You can continue to eat your chicken's eggs safely whilst using the product.
Barrier Red Mite Powder - 500g
Love Barrier red mite powder for our girls. Great product
Review for:
Barrier Red Mite Powder - 500g
This reviewer has 2-4 Hybrid rescue hens pets
I love this product. It works !! Obviously if you have a major infestation you need to do a thorough clean and then treat your chickens, their fresh bedding and even their dust baths. Top Tip, sprinkle into you hand and gently blow the powder into nooks. Then do a weekly maintenance sprinkle. It smells minty fresh too. Can't recommend enough A*** Plus best prices & delivery from Omlet ????
Review for:
Barrier Red Mite Powder - 500g
I started using Barrier Red Mite Powder a couple of years ago. I now recommend it in every comment I make on posts about red mite in all the chicken face book groups im in. Why ? Because it works !! Because you can apply direct into the birds, sprinkle on bedding, blow into cracks & nooks as well as sprinkle in dust baths too. It's safe to use and contains only pure and natural ingredients. It smells nice too ???? I buy from Omlet because their prices are very competative. I trust this product with all my birds including chickens, ducks and peafowl ......
Review for:
Barrier Red Mite Powder - 500g
I used the sprinkler option and did my birds for mites which have been particularly bad recently. It's easy to sprinkle on them, also I sprinkled the bedding (shavings) which again is easy. It's done it's job and the birds look alot better. Shall definately buy again. Omlet have a vast range of good products and the service/delivery was very quick. A happy customer.
Review for:
Barrier Red Mite Powder - 500g
This is the best product i have used to date. I have had experience of many products in the past but for me this one stands head and shoulders above the rest!! I use this very regularly along with the Red Mite X concentrate and touch wood i have kept the little blighters at bay!
Review for:
Barrier Red Mite Powder - 500g
Read more reviews