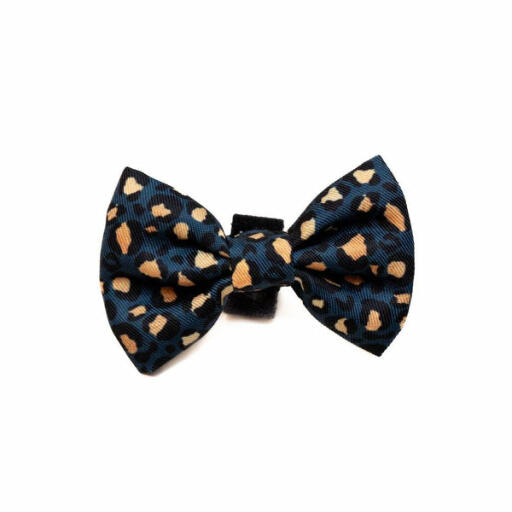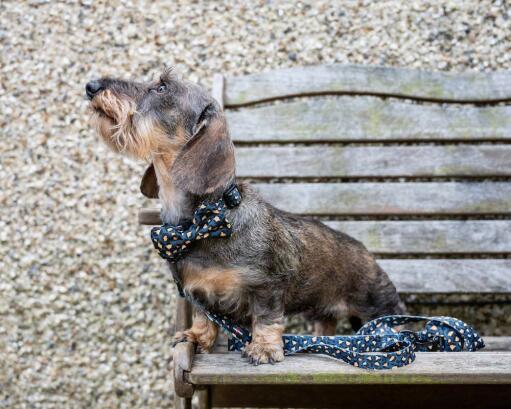 Funk the Dog Bow Tie | Leopard Green & Gold
Checking stock in our warehouse...
Last chance to buy!
Cover your dog in iconic leopard print with timelessly funky and awesome design with some added golden class. A staple in every well-dressed dogs wardrobe!
Your dog's 'Funk The Dog' bow tie is just what your pup needs on their collar. Get ready for ALL the compliments! The bow tie has an easy-to-use Velcro fastener that straps to any dog collar. There are three sizes available, so whether you're looking for that tiny bow to make your pup or cat look even more adorable, or you want a stylish bow tie for medium and larger sized pups, we have one to fit.
Frequently Asked Questions
The collars are available in four fully adjustable sizes:
XS - 16-27 cm - dogs up to 5kg
S - 23-37cm - dogs up to 17kg
M - 32-44cm - dogs up to 32kg
L - 41-66cm - dogs up to 41 kg

Extra Small: 16-27 cm
Bichon Frise, Chihuahua (Miniature), Chinese Crested, Havanese, Italian Greyhound, Pinscher (Miniature), Pomeranian (Miniature), Toy Poodle, Yorkshire Terrier.
Small: 23-37 cm
Beagle, Boston Terrier, Brittany Spaniel, Bolognese, Cairn Terrier, Cavalier King Charles Spaniel, Corgi, Dachshund, Fox Terrier, French Bulldog, Jack Russell, Japanese Chin, Lhasa Apso, Maltese, Miniature American Eskimo, Miniature Australian Shepherd, Miniature Labradoodle, Miniature Poodle, Miniature Schnauzer, Pekingese, Pug, Pomeranian, Rat Terrier, Scottish Terrier, Shetland Sheepdog, ShihTzu, Silky Terrier, Welsh Corgi, West Highland Terrier, Whippet.
Medium: 32-50cm
Afghan Hound, Airedale Terrier, American Pitt Bull Terrier, Borzoi, Basset, Bearded Collie, Berger de Brie, Bichon Frise, Border Collie, Boston Terrier, Chinese Shar-Pei, Cocker Spaniel, Dalmatian, Flat Coated Retriever, German Longhaired Pointer, German Shorthaired Pointer, Greyhound, Labradoodle, Miniature Bull Terrier, Pitt Bull Terrier, Poodle (Standard), Saluki, Schnauzer Standard, Scottish Terrier, Spaniel (Springer, English, Sussex)-S/M, Spaniel (Springer, Welsh), Staffordshire Terrier, Vizsla, Welsh Corgi, Wolf Spitz.
Large: 41-66cm
Akita, American Eskimo, Alaskan Malamute, American Staffordshire Terrier, Australian Kelpie, Australian Shepherd, Berger de Brie, Borzoi, Bearded Collie, Bloodhound, Boxer, Bull Dog American, Bull Mastiff (small), Caucasian Shepherd, Collie, Doberman, English Setter, English Mastiff, German Longhaired Pointer, German Shepherd (small), German Shorthaired Pointer, Golden Retriever, Gordon Setter, Irish Wolfhound, Irish Setter, Keeshond, Labrador Retriever, Munsterlander (Small / Large), Norwegian Elkhound, Old English Sheepdog, Pitt Bull, Pointer, Rhodesian Ridgeback, Rottweiler, Schnauzer Giant, Spaniel (Springer, English, Sussex-Large), Staffordshire Bull Terrier, Vizsla, Wheaten Terrier, Weimaraner, Wolf Spitz.

Funk the Dog Bow Tie | Leopard Green & Gold