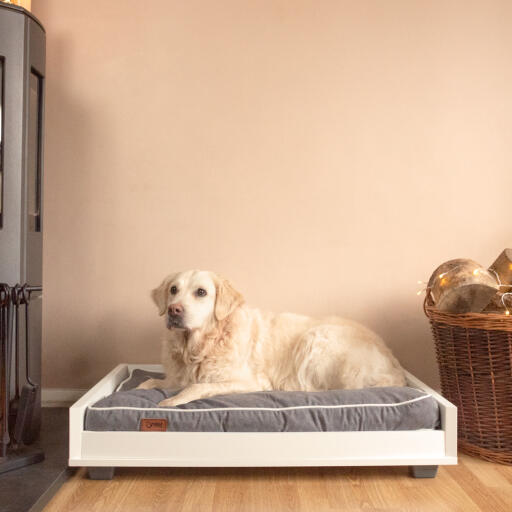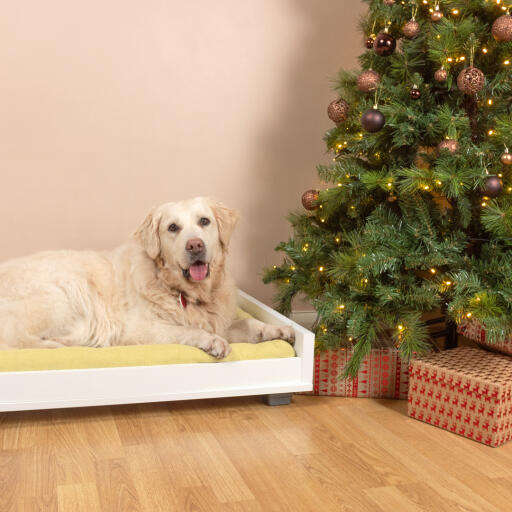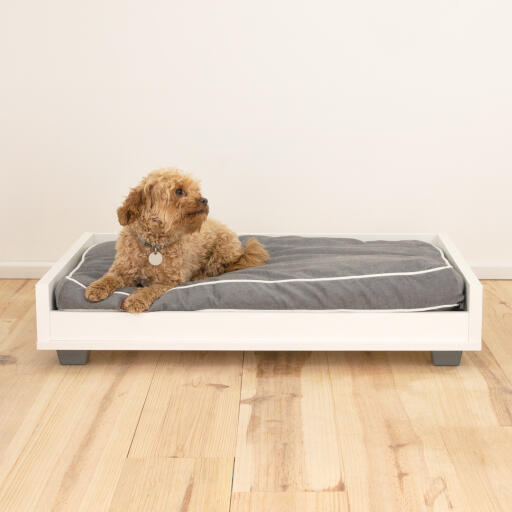 Checking stock in our warehouse...
Treat yourself and your dog with the Fido Dog Sofa Frame and Bed. Modern and minimalist, it's the perfect way to add the finishing touch to your home. It works with any dog bed to create a snug and comfortable place for your dog to rest. Raised off the ground on legs, it keeps your pet out of drafts and the sturdy frame protects the bed's upholstery and traps debris, keeping your home tidier. Dogs like to feel secure when they are resting, and placing their dog bed inside a frame to create a dog sofa is a great way to achieve this. It's easy to remove your dog's bed for cleaning, and the frames surfaces can all be wiped clean. Unlike with an all in one sofa bed design, you will be able to replace only your dog's bed when it's getting a bit worse for wear, which is much handier and more economical. The Fido Dog Sofa Frame works perfectly with the Fido Dog Sofa Cushion or you can choose from any number of dog beds to create your ideal dog sofa.
Fido Dog Sofa Frame Medium Internal Measurements:
Length 860mm
Depth 560mm
Height 118mm
Fido Dog Sofa Frame Medium External Measurements:
Length 914mm
Depth 608mm
Height 181mm
Fido Dog Sofa Frame Medium with Dog Bed
I found this bed hard to assemble and the instructions poor. I ended up with a blister on my hand from trying to screw things up properly. Once complete the bed seems fine, but I won't be buying another one.
Review for:
Fido Dog Sofa Frame Medium with Dog Bed
Cockapoo loves his new bed!
I purchased this for our medium size cockapoo about 3 weeks ago. He took to it straight away. He normally destroys his bed, but I think because it is housed in the wood surround and is up off the floor he seems to see it as different and hasn't chewed any of it. The bed looks good in the home. The fabric bed part is slightly thin in the middle but puffs up with a shake. We are considering buying the same again so we can have one in each room and don't need to move it around.
Review for:
Fido Dog Sofa Frame Medium with Dog Bed
Read more reviews