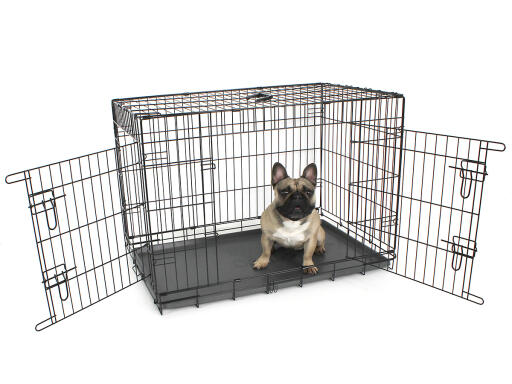 Checking stock in our warehouse...
They didn't love it, but you can! This item has been sent back through no fault of its own within the return window. All returned items are checked thoroughly to ensure proper working order. This item may have superficial marks or surface scratches.
If you want a crate that's secure, can go in the car as well as in your home and is super quick to put up then the Fido Classic is the crate for you. Adult dogs will love having a space that's theirs to relax in, while it's an invaluable housetraining aid for puppies.
The Omlet Fido Classic dog crate has a door on the long side and the short side. This makes accessing the crate easy and you can arrange the crate in your home so that it fits in perfectly. For instance if you have a narrow space you can slide the crate in and use the door on the short end.
This high quality dog crate is made from heavy duty welded steel wire with a neat black epoxy coating that will look good for years to come. Each door has two slide-bolt latches that lock when you fold them all the way down. Once your puppy is completely relaxed in it's crate you can leave the house for a short length of time, for example if you are popping to the shops, knowing that your house will not get chewed to bits! See Omlet's dog guide for more advice on using a crate.
GRADE B - Fido Classic Dog Crate 36"
I'm delighted with my purchase. Sturdy, easy to assemble and very roomy. I couldn't find any fault with it. A bargain.
Review for:
GRADE B - Fido Classic Dog Crate 36"
Write a Review