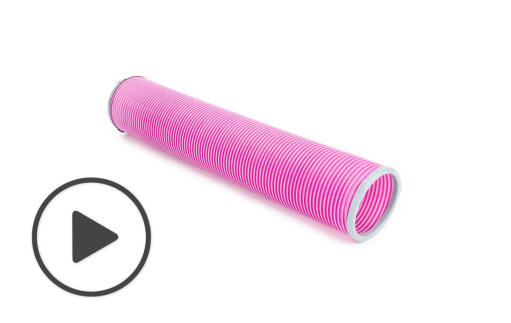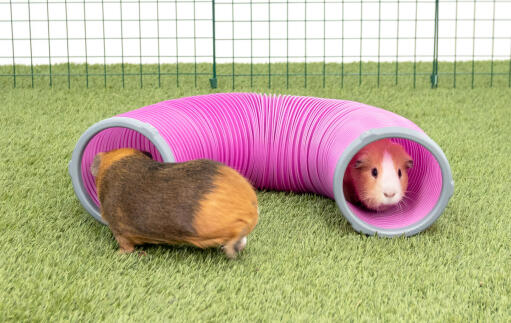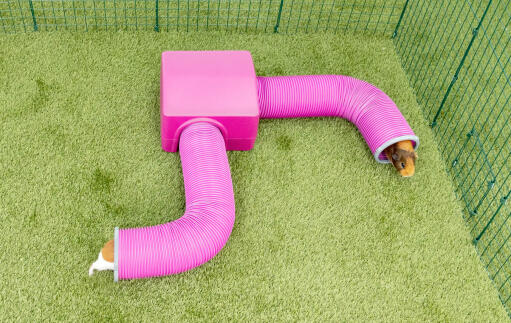 Checking stock in our warehouse...
£7.99
Give your guinea pigs a new and exciting way to exercise with our Play Tunnels, the perfect small animal tunnels for your piggies to run about to their heart's content.
Designed to mimic a guinea pig burrow in the wild, the Omlet Play Tunnels are a great addition to your guinea pigs' run. The plastic tube can be curved to add intrigue and the included connector rings at the ends extend the life of the tunnels.
A really unique feature, the rings also allow the tunnels to connect to the Zippi Shelters. By creating an animal tunnel with a room at the end you are giving your guinea pigs an amazing nature like warren to explore! Use a tunnel to connect each shelter and build a unique and exciting play space.
This fun and enriching animal tunnel is ideal for use in all guinea pig runs and hutches including the Zippi Guinea Pig Run, Zippi Playpen, Eglu Go Hutch and Outdoor Guinea Pig Run.
The small animal tunnel extends to 90cm and has a diameter of approximately 15cm, so there is plenty of space for guinea pigs of all sizes to run through it.
The extendable tunnels are waterproof, and can easily be hosed down or wiped clean.
Please note - these tunnels are a play toy and are not chew or predator proof, they should only be used in a secure enclosure. Please remove from your pets enclosure if any damage occurs to the product. Check out the Zippi Tunnel range for a tough tunnel that can be used to connect a hutch with a run.
Guinea Pig Play Tunnel with Connector Rings
Our Guinea piggies love this!! Next day delivery too!!
Absolutely over the moon with my recent purchase of these awesome tunnels. Saw a review on TikTok with a lady who used it to make it easier for her piggies to go up and down a hutch! Brilliant idea, this arrived NEXT DAY !! Super service. I will be back to buy more for their outside run! Lady Gaga approves!
Review for:
Guinea Pig Play Tunnel with Connector Rings
This reviewer has 2-4 Peruvian pets
Really impressed with this product. It's perfect for our two 'piggies. It's robust, they can't chew the plastic at the ends because of the collars supplied with it (very easy to fit) & they love it.
Review for:
Guinea Pig Play Tunnel with Connector Rings
This reviewer has 2-4 Guinea pigs pets
Best Guinea pig purchase ever! We use a tube for our guinea pigs to get from hutch to run and were having to replace it regularly because of the chewing. No sign of needing to replace this reinforced one any time soon. Definitely recommend
Review for:
Guinea Pig Play Tunnel with Connector Rings
Read more reviews