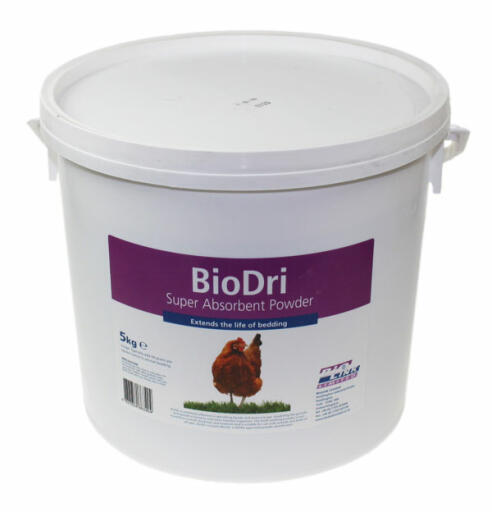 Checking stock in our warehouse...
£39.99
BioDri can be used in chicken housing for various situations. It can help with odour control, will assist with drying litter when hens are scouring, and can be spread under drinkers to dry and sanitise the litter and reduce growth of harmful bacteria. This is a super absorbent product, absorbing virtually its own weight. It reduces ammonia and other gases, inhibits growth of bacteria and extends life of bedding. BioDri contains BioVX, a DEFRA approved disinfectant, and is environmentally friendly and completely harmless to birds. Directions for use: Simply add 50g per square metre to chicken bedding.
Biolink BioDri Absorbent Powder 10kg
I use this all the time in the bedding
I always mix this in with the chicken bedding. The coop and run never smell unpleasant and the chickens are healthy.
Review for:
Biolink BioDri Absorbent Powder 10kg
This reviewer has 2-4 Mixed poultry pets
I purchase this regularly for my chicken run. Great absorption and lovely fresh smell. Great for flockdown while they aren't allowed to free range. It also works well in the cat litter trays and the rabbit cage.
Review for:
Biolink BioDri Absorbent Powder 10kg
This reviewer has 10+ Chickens, cats, rabb pets
Excellent value and fast delivery thank you
Review for:
Biolink BioDri Absorbent Powder 10kg
This reviewer has 1 Horse - used to dry pets
Read more reviews