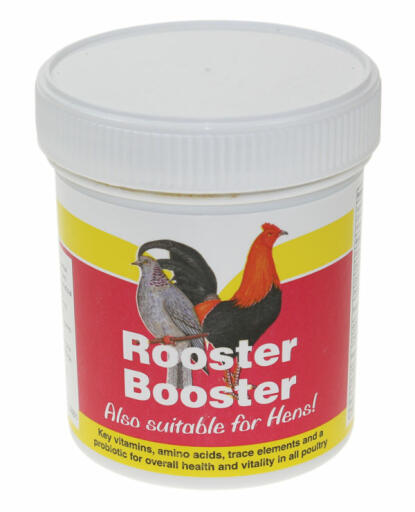 Checking stock in our warehouse...
£6.65
Rooster Booster is a supplement for both roosters and chickens, to give them a daily health boost. It can be added to their food to benefit them all year round, but it is particularly good when birds are moulting and during the cold, winter months. This product contains lots of vitamins, amino acids and trace elements, with a probiotic, for maintaining health and vitality. Perfect for healthy, happy hens! Ingredients: Cooked Maize meal, Wheatfeed, Inactivated yeast, Corn gluten meal, Probiotic powder (2%), Amino Acids, Vitamins and minerals. Contains permitted preservative BHT (E321). Directions for use: Mix one level 2.5ml scoop (approximately 1.5g) for each bird in with the daily feed. Adjust accordingly when preparing more than one day's feed. Store in a cool dry place.
Battles Rooster Booster - 125g
i brought this item because my chickens were in need of something to perk them up. It has done the trick, they seem to have more energy and no sign of colds.
Review for:
Battles Rooster Booster - 125g
Write a Review