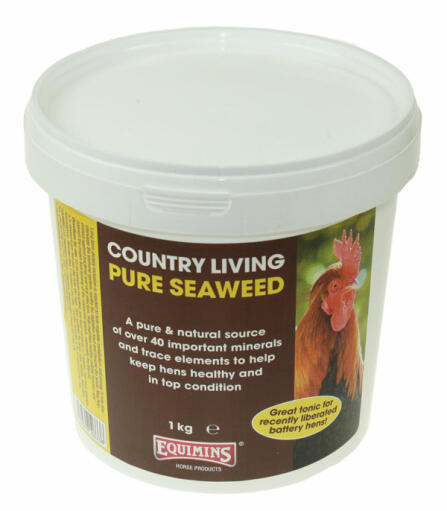 Checking stock in our warehouse...
£11.99
Keep hens healthy and in tip top condition with a dash of seaweed in their diet. Seaweed is a natural source of over 40 trace important minerals and trace elements so this supplement is great to add to their daily feed to give them a boost. When used long term it can help regulate metabolism and energy, stimulate the immune system, soothe the digestive tract and cleanse the blood. It can also help maintain healthy cellular function. Directions for use: 10 ml measure included, one level measure = 7 grams. For hens, sprinkle ¼ measure per hen per day onto the food. Also suitable for dogs, cats, rabbits, hamsters and pigeons. Average dog = 1 measure per day.
Equimins Seaweed Supplement 1kg
I have been using this for a few weeks now for the girls they seem in the best of health and almost back to full feather after their moult. Smells so like the sea.
Review for:
Equimins Seaweed Supplement 1kg
I mix this in with my chicken feed and they seem to love it. My hens look a picture of health and I am sure this product is helping to keep them in tip top condition. I would recommend this to a friend
Review for:
Equimins Seaweed Supplement 1kg
The Chickens Love It Mixed In Their Mash
Review for:
Equimins Seaweed Supplement 1kg
Read more reviews