We're Omlet. Since 2004, we've set out to rethink every aspect of keeping and caring for animals.
Product Designers first, we ask so we can invent. From why house cats can't climb trees to why shouldn't chickens listen to music whilst laying an egg? Our curiosity creates understanding, helping us bring people and pets closer than ever before.
Our people are The Curious Collective. Every day we question and every day we collaborate to find the most meaningful answers. It's through this persistence that we create remarkable, ingenious products and experiences for our customers.
A global e-commerce business with a singular focus on D2C, we are hugely ambitious and motivated in building the number 1 premium brand in pets.
Our HQ in Banbury has recently been converted into a purpose built office space with a garden for our chickens and cats (we also love to bring our pets to work!). We have teams in our Lincoln, UK and Rostock, Germany warehouses too.
Why join Omlet?
Great career opportunities
A chance to make a big impact and put your ideas into practice
Friendly, supportive team of amazing people
Regular social events
Bring your pet to work whenever you want
Lovely large kitchen and outdoor areas for relaxing (we have our own pizza oven!)
Work Perks
25 days annual leave plus more days the longer you work here
4 paid volunteer days to use every year working for a charity of your choice
Free monthly lunches
Fresh eggs and fruit
Lots of furry friends to pet!
We're always looking for good eggs, so if you can't find a suitable vacancy at the moment, send your CV to careers@omlet.co.uk
Testimonials
---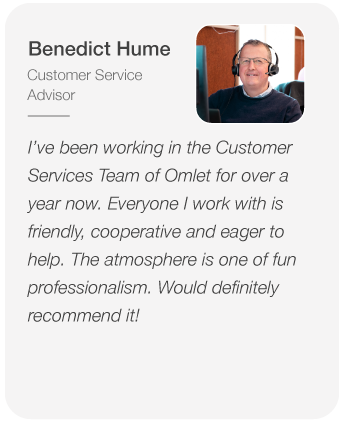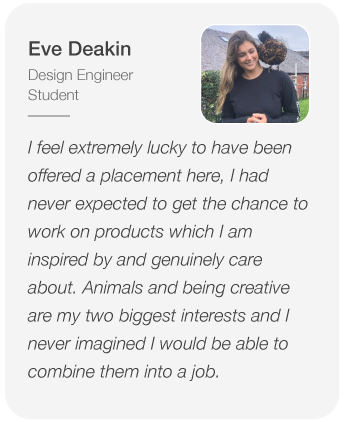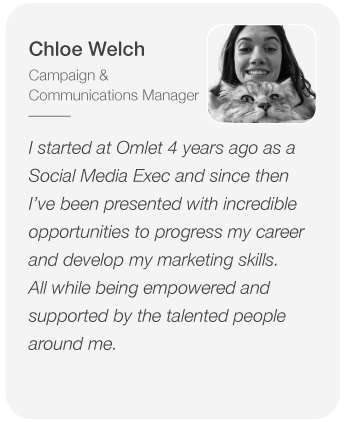 Current Vacancies
Email Marketing Executive
CRM Executive
Full-time, Permanent
We are seeking a talented and motivated Email Marketing Executive to join our dynamic team at Omlet. As an Email Marketing Executive, you will play a pivotal role in helping us deliver our automated email and SMS Marketing Strategy.
Your work will include:
Working closely with the Customer Experience, Creative, Marketing, Website and Development teams to ensure overall business goals are met and our customers receive a remarkable brand experience.
Creating new post-purchase automated emails, using pre-approved templates, based on provided briefs.
Setting up email variations to support the A/B testing strategy.
Assisting with our on-site sign-up form strategy on desktop and mobile devices.
Implementing expert recommendations to improve the performance of our post purchase emails in collaboration with our creative and brand team.
Coordinating translation requests, to then set up our most post-purchase emails only available in English, to other languages.
Ensuring accurate setup of sending rules for each new flow to reach the intended audience.
Proactively, suggesting opportunities to expand Omlet CRM activities, and improve performance.
Addressing and resolving flagged internal or external email-related issues.
Undertaking other activities and projects as required by the evolving business needs.
Reporting your progress to the CRM Manager.
What you need:
A natural born consumer with a love of ecommerce, and a competitive mindset.
1 year Klaviyo experience or a similar email service provider.
Excellent written English.
An ability to work under tight deadlines.
Adobe software experience would be an advantage.
Structured and methodical way of working, with the ability to cope with competing demands and effectively prioritise tasks.
An attention to detail person, curious thinker and good listener.
Open, honest and direct.
Self-motivated with the ability to work independently at pace to a very high standard, managing workload to strict deadlines.
3+ years ecommerce experience.
Experience of the US ecommerce market would be an advantage.
This is a hybrid role with at least 3 days per week in our office in Banbury.
To apply, send your CV to careers@omlet.co.uk
Pet Community Coordinator
Pet Community Coordinator
Full-time, Permanent
Omlet is looking for a talented, confident and personable Pet Community Coordinator to join our growing marketing team.
As our Pet Community Coordinator you'll be working closely with our product ambassadors and social media creators. You'll be responsible for growing our online community engagement and offline word of mouth. You'll play a vital role in motivating our audience, building brand loyalty, and driving brand awareness through multiple platforms. Your creativity, communication skills, and a keen understanding of the online landscape will be essential in this role.
We are expanding our global business with our main markets being in the UK, US, France, Germany and Australia with a great opportunity for our Community Coordinator to work and travel. You'll be responsible for maintaining numerous ambassador relationships, being their key contact at Omlet and showing a genuine interest in them, their pets and their experience.
Your work will include:
Chat with ambassadors day to day via call and email.
Oversee the enhancement of ambassador profiles to improve customer experience.
Foster and manage relationships with user-generated content (UGC) creators to facilitate content creation and delivery that aligns with our brand values.
Respond to customer comments on social media and assist the Social Media Manager with social listening to monitor and engage with the online community.
Moderate Omlet Facebook groups, as well as participate in and observe other prominent pet-related communities.
Develop, plan, and execute new initiatives and incentives for Omlet ambassadors. This includes activities such as sending merchandise, new product samples, and leaflets, and organising online webinars, product reviews, marketing content and offline local fairs and events.
Address charity inquiries and coordinate related initiatives and partnerships.
Work with the Social Media Manager to develop relationships with key figures and industry influencers to encourage collaboration and brand promotion.
Assist with the creation and distribution of content for the website, including product pages, maintaining brand consistency and messaging.
Compile comprehensive reports on various aspects of activity performance, including engagement rates, audience sizes, and other relevant metrics.
What you need:
Demonstrates exceptional organisational skills to manage various tasks efficiently.
Displays a strong self-driven attitude, proactively seeking opportunities and solutions.
Has the ability to plan, prioritise and respond to changes.
Proven proficiency in written and verbal communication, with excellent social and conversational skills.
Boasts a solid background in similar organisations, including PR, communications, digital, and social agencies.
Ideal for a social media executive seeking to transition into a role involving direct community engagement.
Prepared to travel as required for the role which may include travel abroad.
Demonstrates genuine enthusiasm for both people and pets!
This is a hybrid role with at least 3 days per week in our office in Banbury.
To apply, send your CV to careers@omlet.co.uk
Technical Author
Full-time, Permanent
Omlet is currently seeking a Technical Author to craft comprehensive instruction manuals for both our new and existing products.
In this role, you will collaborate closely with others in the Technical Author team as well as our Product Designers and Graphics teams to produce instruction manuals that are not only clear and concise but also user-friendly for our customers. You will be instrumental in shaping the overall customer experience, guaranteeing that our products are easily understood and effectively utilised.
An integral aspect of this position involves developing a deep understanding of our diverse product range. This will help you effectively communicate the functionality of our innovative products to our customers.
Your work will include:
Creating and updating instruction manuals.
Understanding product assembly with Product Designers.
Physically assembling products.
Producing prototype manuals for discussion.
Using Solidworks Composer, Adobe Illustrator and Adobe Indesign etc. to compile the manual.
Observing others assembling the products from the manuals to validate their clarity.
Bringing new ideas to the table and being able to champion them in a group setting.
Keep existing manuals updated.
Ensuring correct manual versions are available for customers.
Gathering feedback about existing manuals.
Improving readability of manuals, making them user-friendly.
Keeping and further developing consistent visual language.
Communicating with translators.
Working with our videographer to ensure consistency across paper and video manuals.
Producing drawings of products for Patents and Design registrations.
What you need:
Proven working experience in technical writing of software documentation.
Ability to deliver high quality documentation paying attention to detail.
Ability to quickly grasp complex technical concepts and make them easily understandable in text and pictures.
Excellent written skills in English.
Boasts a solid background in similar organisations, including PR, communications, digital, and social agencies.
Basic familiarity with the SDLC and software development.
University degree in Computer Science, Engineering or Graphic Design or equivalent preferred.
This is an office based role at our HQ in Banbury, Oxfordshire.
To apply, send your CV to careers@omlet.co.uk
Assistant Project Manager
Assistant Project Manager
Full-time, Permanent
Are you a focused, ambitious, talented individual with a passion for project management looking to join a fast growing pet friendly business?
We are currently seeking an exceptional candidate to join the marketing team as an Assistant Project Manager, on a 6 month fixed term contract. The role will be working in a high performing team, supporting day to day running of projects across the team, including campaigns and product launches, reporting to the Marketing Project Manager. There may be an opportunity to extend this contract after the initial 6 months.
Your work will include:
Assisting in taking marketing projects including product launches, campaigns and other marketing initiatives from inception to completion.
Organise meetings, updates, stand ups and retrospectives to maintain project momentum.
Manage project management software to keep briefs, priorities and timescales up to date.
Suggest and implement new project management initiatives to improve efficiency and punctuality.
Be point of contact for questions or concerns about projects, tasks and deadlines.
Support Marketing Project Manager in briefing the team to support the on time delivery of product launches, campaigns and other marketing initiatives.
Attend meetings with Engineering Project Coordinator and Design Managers to update team on updates in the marketing product launch calendar.
Other ad hoc activities and projects.
What you need:
Demonstrated exceptional organisational skills with a strong attention to detail.
Proven experience working with project management software such as Asana, Trello, Monday etc.
Ability to plan, prioritise and respond to changes.
Excellent written and verbal communication skills.
Experience working in a digital marketing environment is desirable.
This is a hybrid role with at least 3 days per week in our office in Banbury.
To apply, send your CV to careers@omlet.co.uk