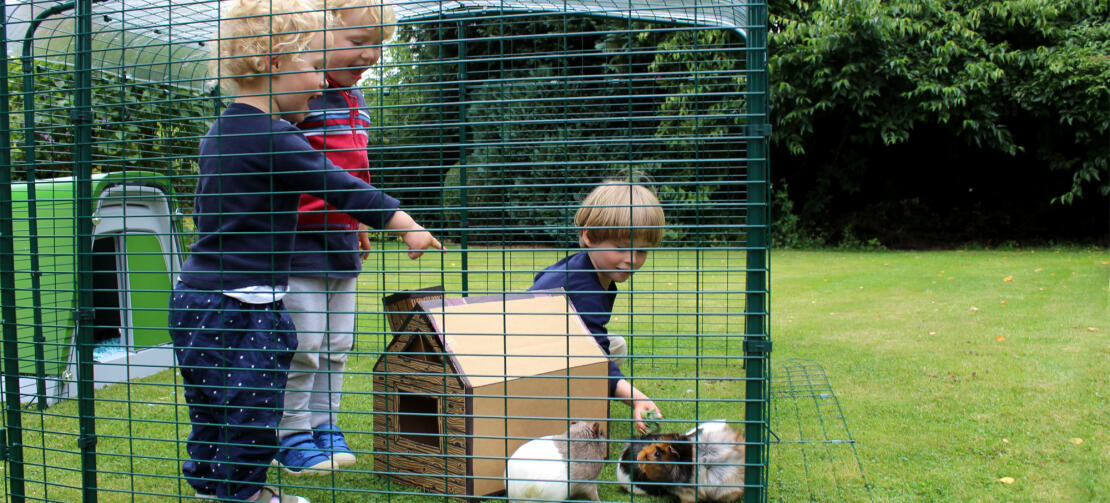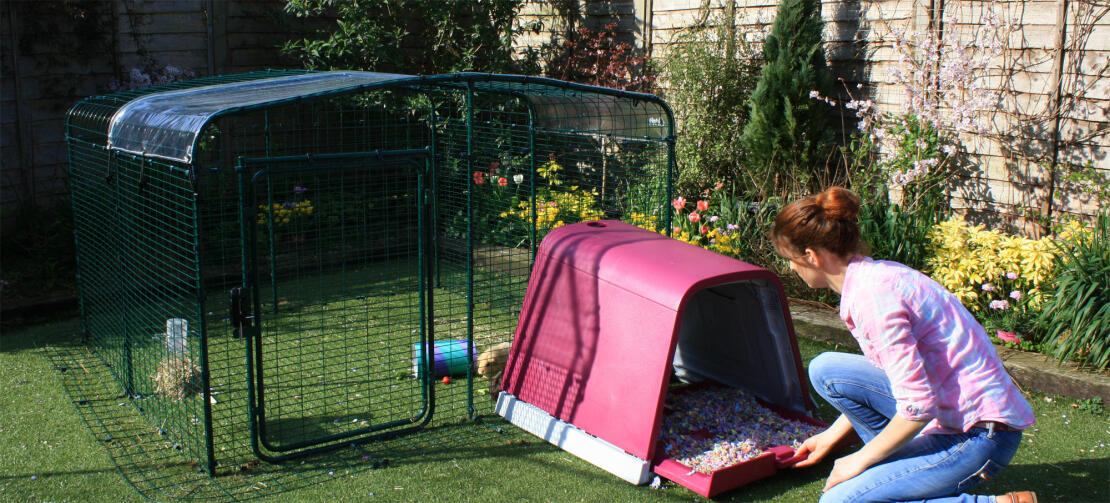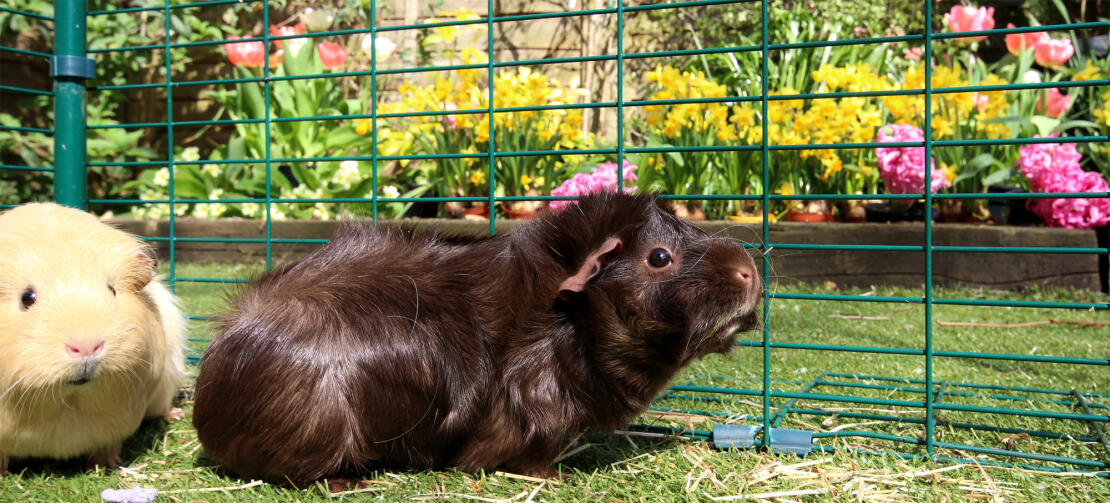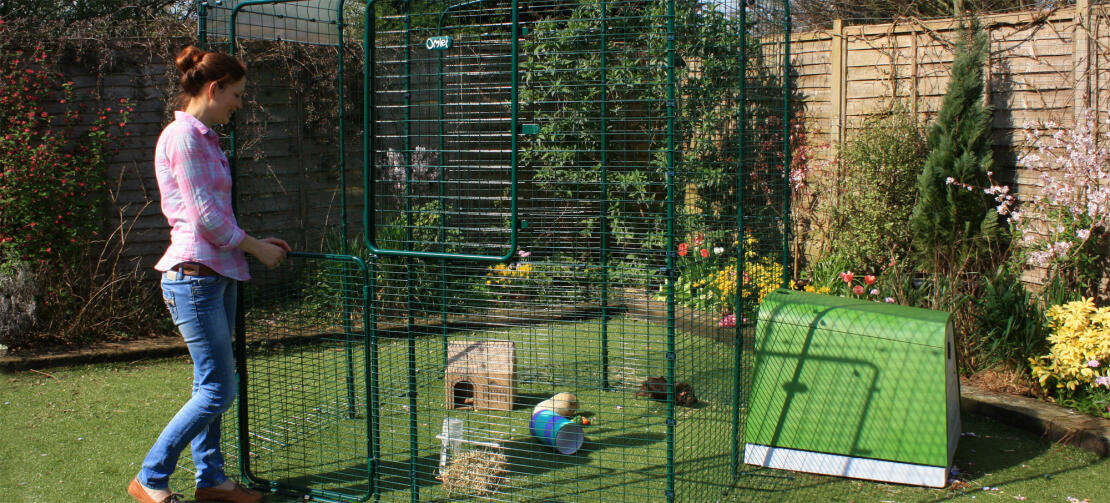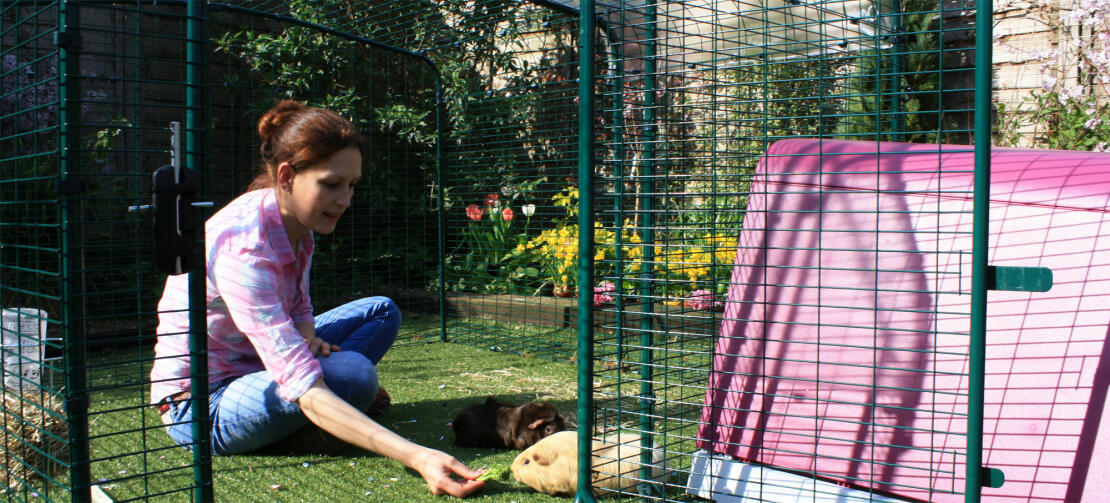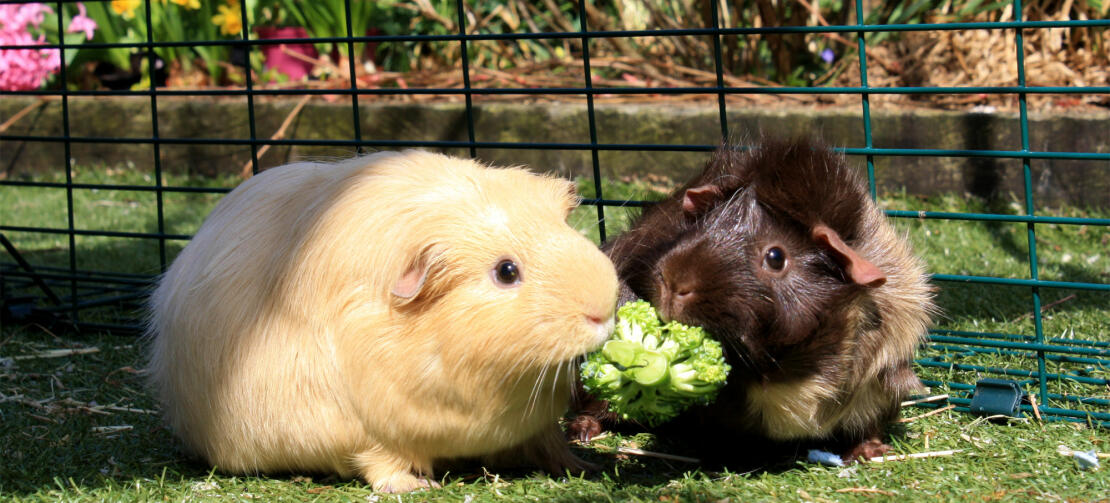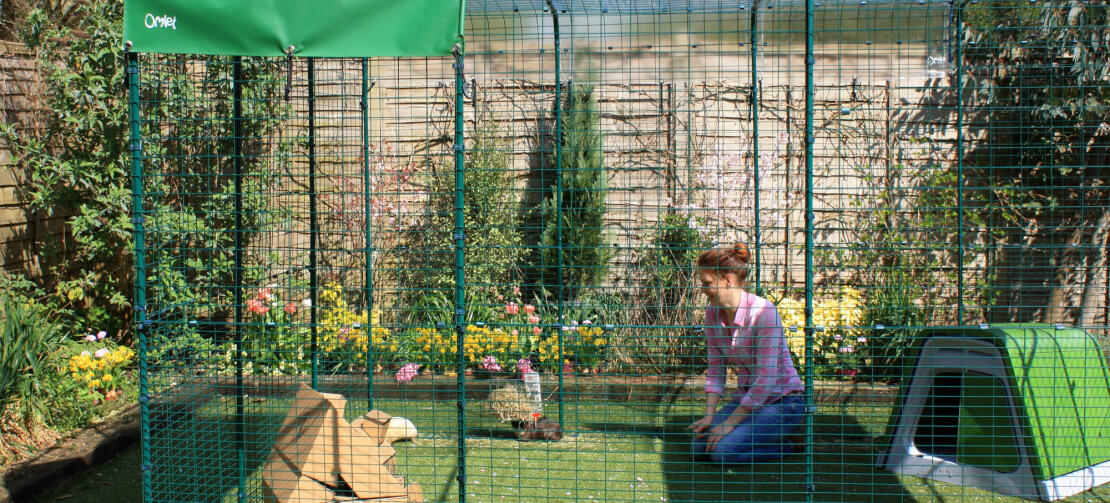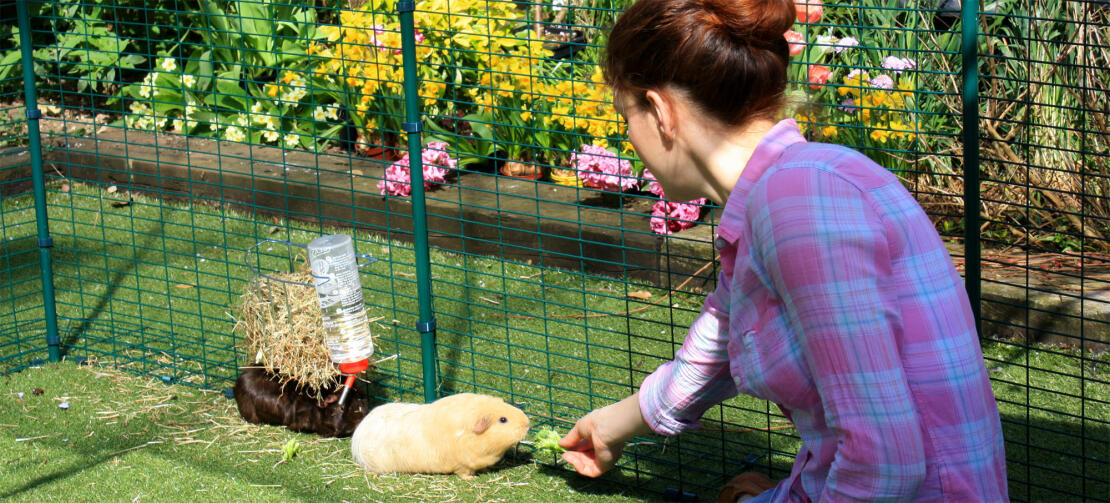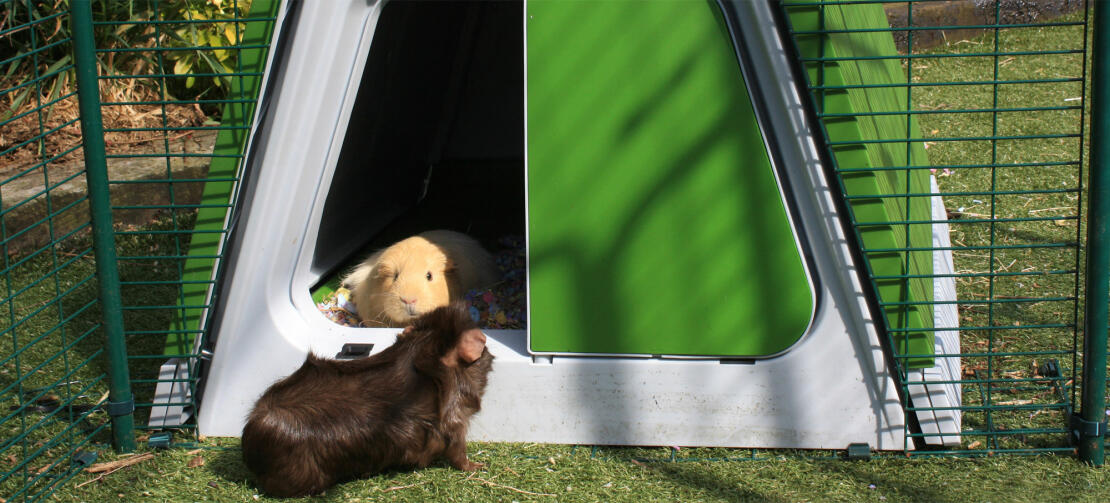 Omlet Outdoor Guinea Pig Run
This Outdoor Guinea Pig run allows your pets to amble around in a secure and spacious environment that will blend in nicely in your garden!

Could not load configurator. Refresh the page to try again.
The Outdoor Guinea Pig Run is available in two heights. The Hi-Rise version allows you to literally walk straight in. You can then spend more time having cuddles with your pet guinea pigs, tidying the run and topping up their hay rack and water bottle, all with the greatest of ease. The Lo-Rise version is a spacious guinea pig run, giving your piggies a large floor area, at a lower height and a lower price (of course if you are less than 1.16m tall you can still walk in). Both sizes of run are suitable for all sizes and breeds of guinea pig.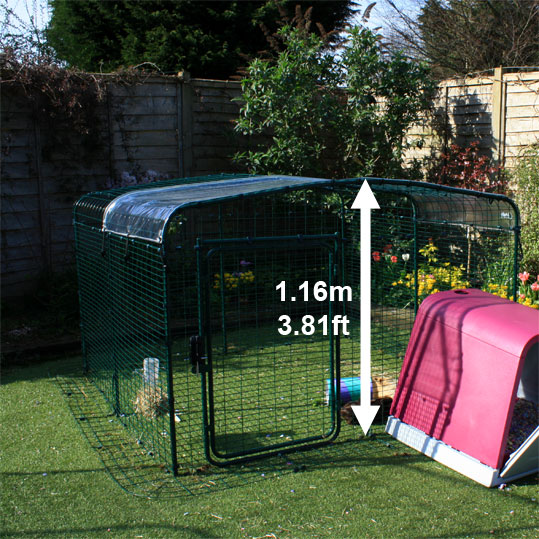 The Lo-Rise run has plenty of floor space and the height can be extended at a later date.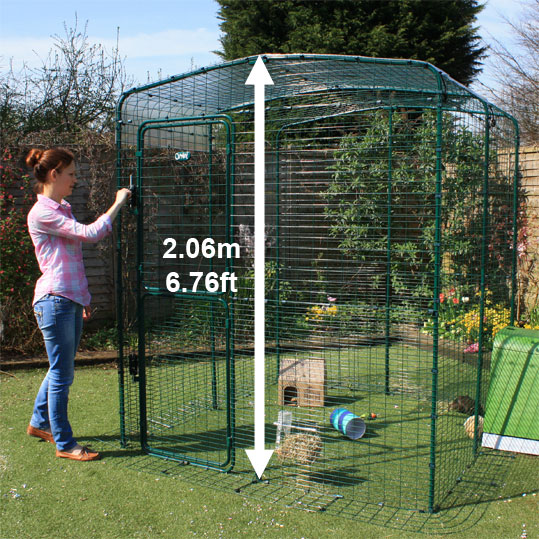 The Hi-Rise Outdoor Guinea Pig Run allows you to walk in to spend time with your pets.
Stable Door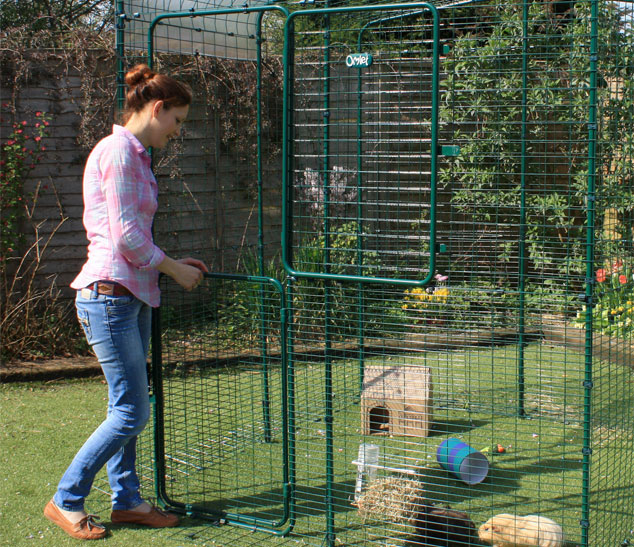 The Hi-Rise Outdoor Guinea Pig Run has a full height stable door making it easy to throw in some treats.
If you opt for the Hi-Rise Outdoor Guinea Pig Run, you'll have the benefit of a stable style door. The top and bottom of the door open independently allowing you to throw in some healthy treats for your guinea pigs without them hopping out to explore the rest of the garden. Extra doors can be purchased and added to the guinea pig run in various positions too. The Lo-Rise version still has a large door which is easy to reach through and top up your pet's hay rack and water bottle. Children will find it easy to crawl in and sit with their pets too.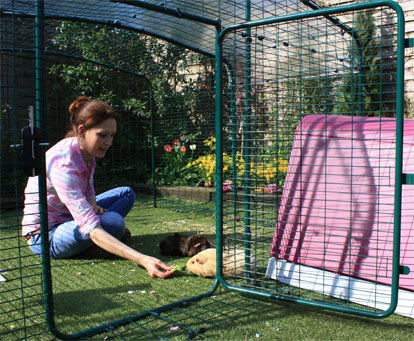 The Lo-Rise Outdoor Guinea Pig Run has a large door, giving easy access to your pet guinea pigs.
The Outdoor Guinea Pig Run has been designed to offer your pets a large outdoor space that looks attractive while keeping your guinea pigs safe. This guinea pig run will give you peace of mind that your pets are getting the best care possible. Omlet's experience and reputation for designing products that are great for you and your pets are on show across several key features of the Outdoor Guinea Pig Run.
Predator safety: The gaps in mesh in the top half of the run is slightly bigger than the lower half, and smaller predators may be able to access the run. We therefore recommend that you do not leave your pet unattended in the enclosure overnight. If you live in an area with lots of smaller predators like martens and weasels, as well as rats, you might want to consider adding additional protection to the top of the run where the gap in the mesh is bigger.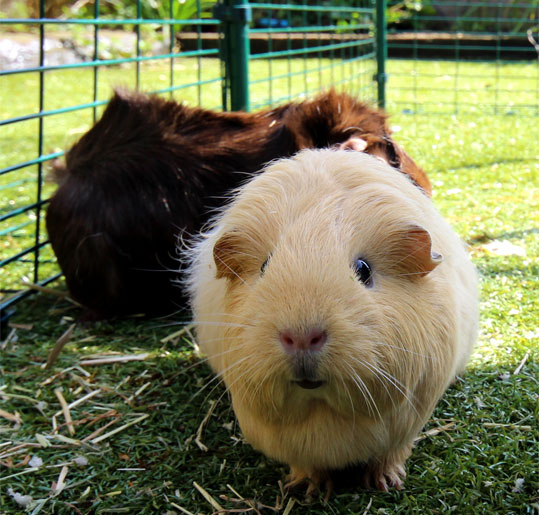 Your pet guinea pig will be happy and safe in its Outdoor Guinea Pig Run.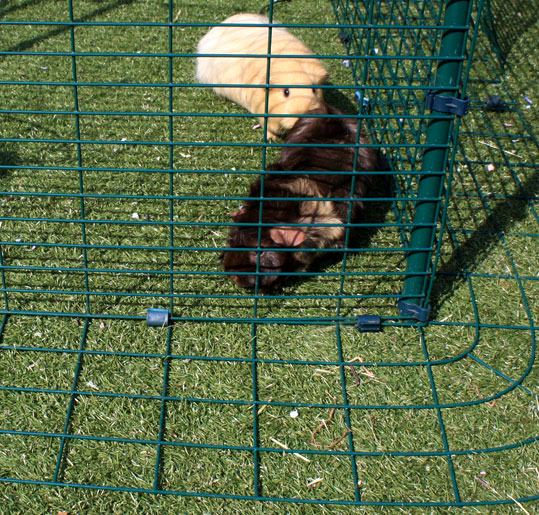 The Outdoor Guinea Pig Run has a detachable anti-tunnel skirt to stop predators from digging in.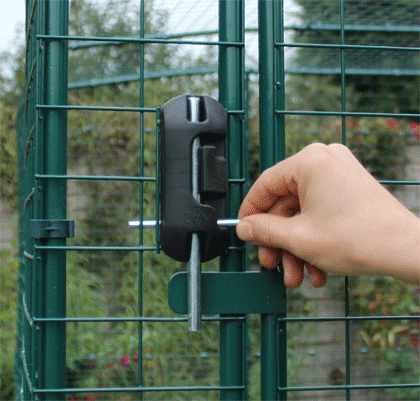 The door lock uses gravity to drop naturally into the locked position, meaning you don't have to remember to slide the bolt back across.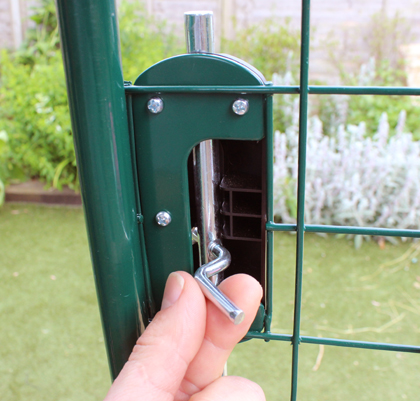 You can lock and unlock the door from inside the Outdoor Guinea Pig Run.
You can now add underfloor mesh to your Outdoor Run to prevent persistent diggers from trying to tunnel out! The sturdy mesh clips easily to the structure of the run to provide maximum all round security for your pets and extra peace of mind for you.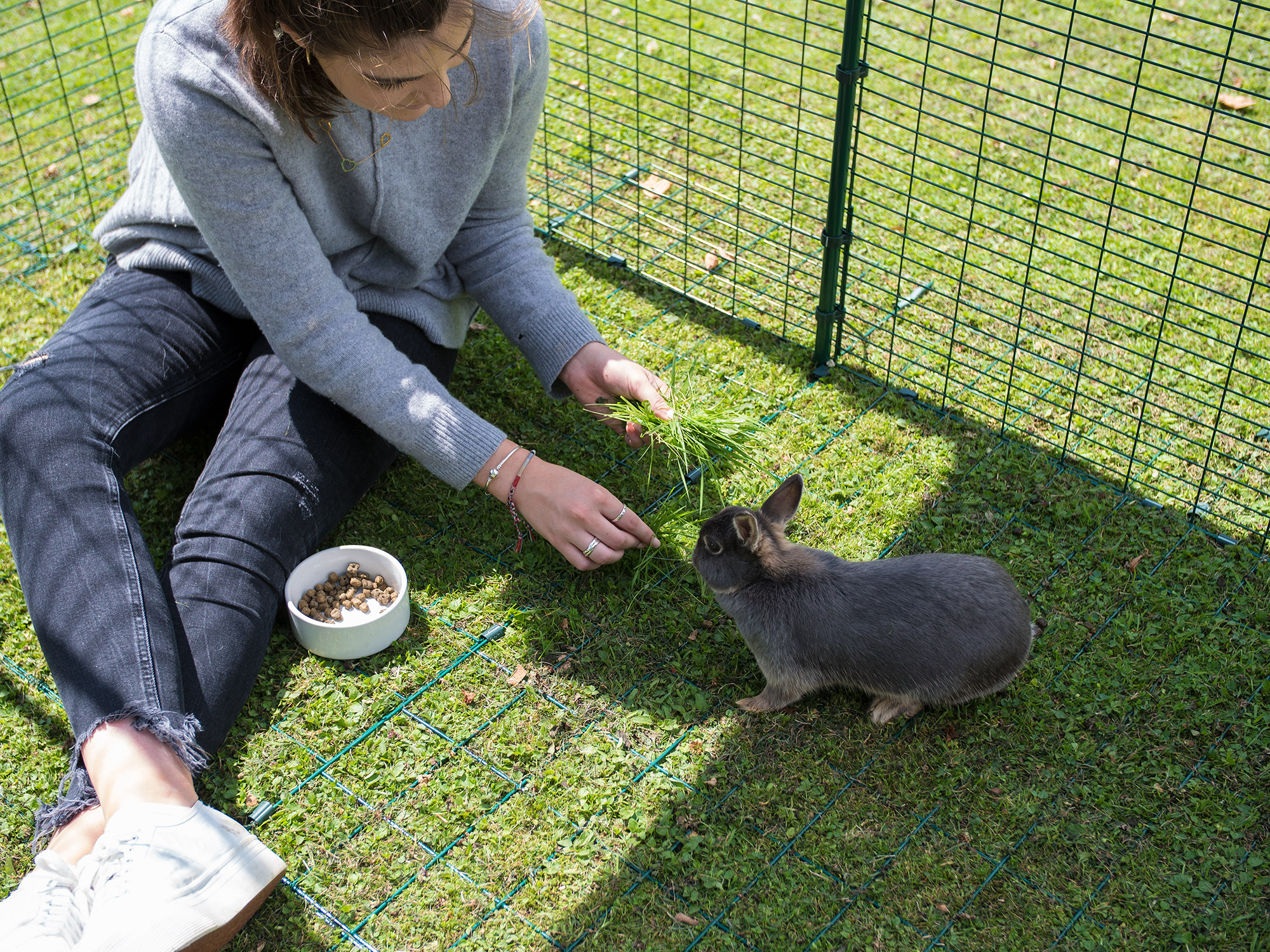 Add Underfloor Mesh to your Outdoor Run for extra security.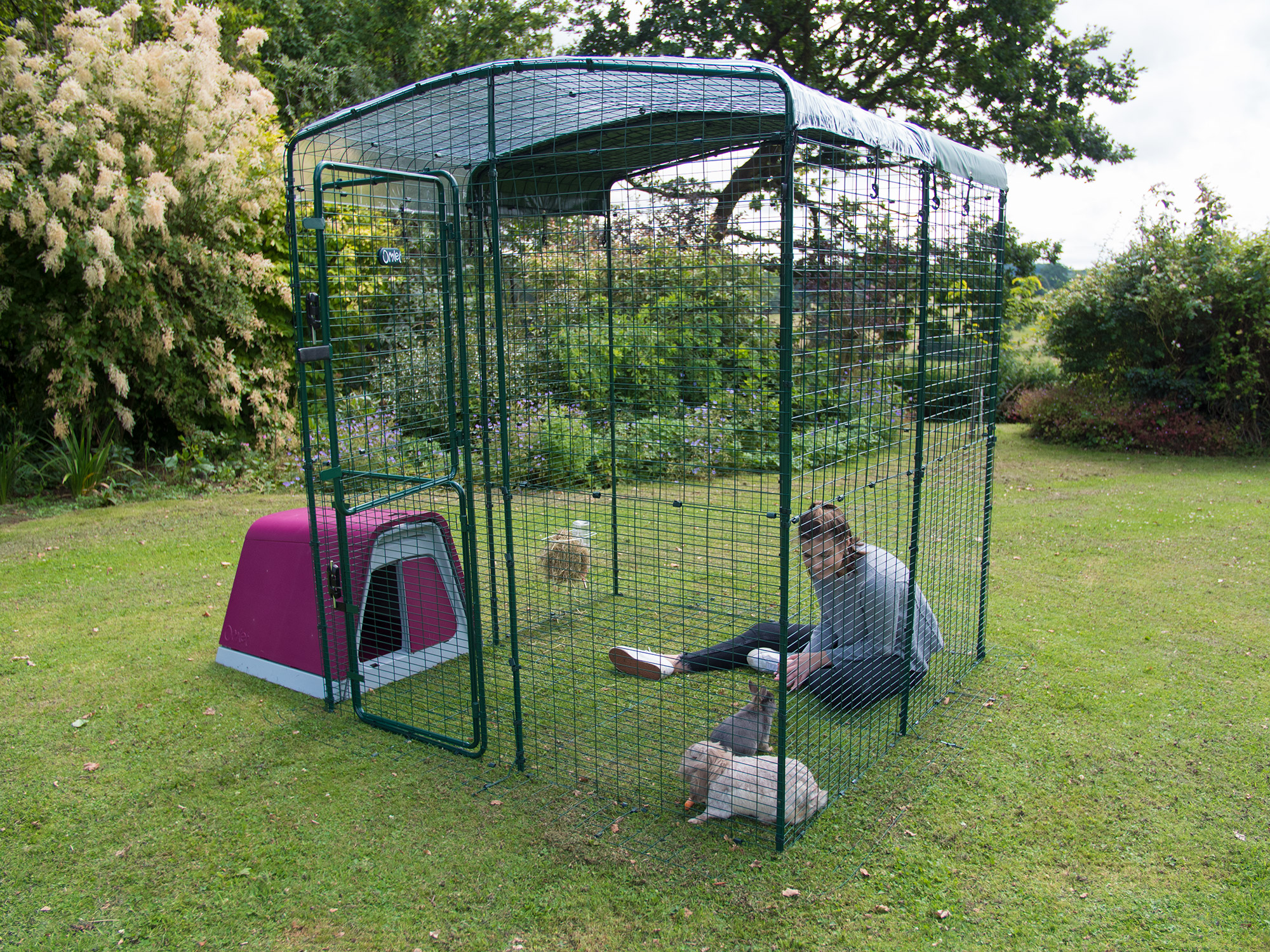 The Underfloor Mesh provides complete all round protection and prevents persistent diggers from tunneling out!
This spacious guinea pig run can be extended in numerous ways to give your pets an even larger area to run around in. You can choose to buy a guinea pig run as large as you like immediately, or extend it over the years. Increase the width, length and height, using easy to add sections, and create a custom made guinea pig run to suit your requirements. Please refer to the Outdoor Guinea Pig Run Configurator for options on how to extend your run.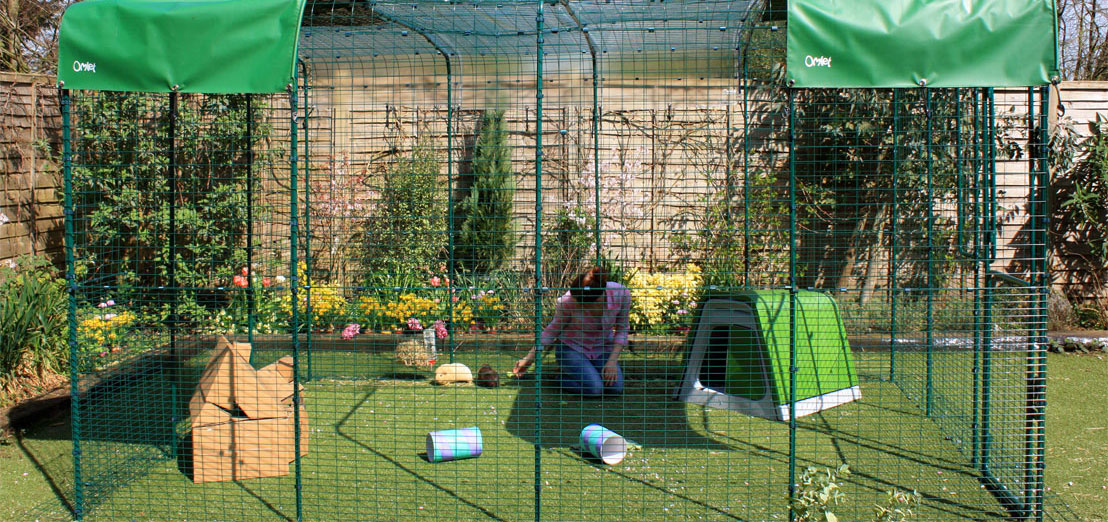 An extended 3x4x2 Outdoor Guinea Pig Run will give your pets lots of space to run around in.
Covers for your Outdoor Guinea Pig Run
Accessorise your Outdoor Guinea Pig Run with a Heavy Duty or Clear Cover in different sizes. These can be used independently or in multiples to create sheltered areas for your pet guinea pigs. Omlet Covers are extremely hard-wearing and they will provide brilliant protection against wind, rain and snow. The clear covers are ideal for winter and the heavy duty covers provide lots of shade in the summer.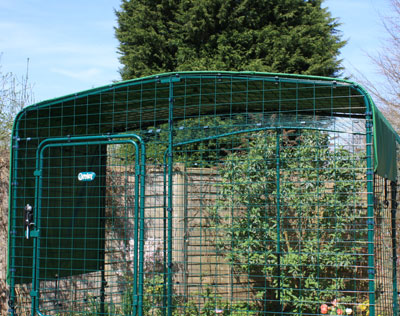 Your guinea pigs will be sheltered in their enclosure with a Heavy Duty Roof Cover.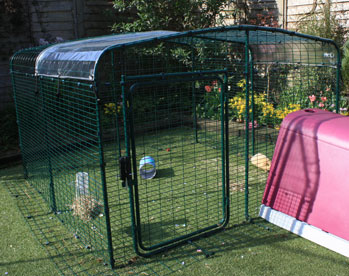 A Clear Cover for your run roof will keep pet guinea pigs dry whilst letting in sunlight.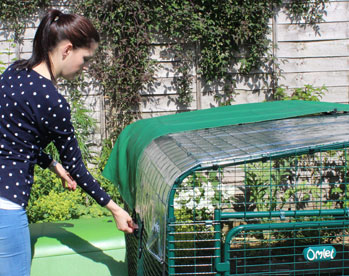 Combine several Covers to keep your guinea pigs sheltered from wind and rain.
Assembling your Outdoor Guinea Pig Run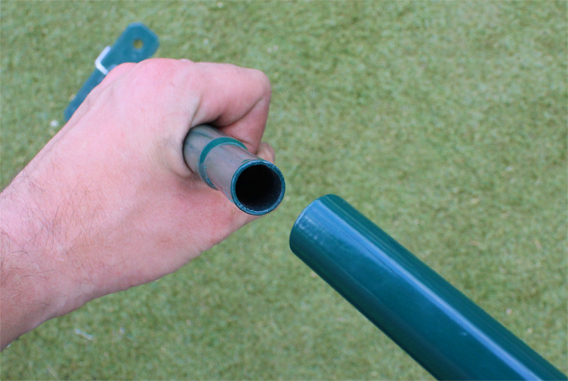 You can quickly make up the poles without any tools, they just slot together.
Assembling your Outdoor Guinea Pig Run is quicker and easier than ever. You can assemble a Lo-Rise guinea pig pen in around an hour and a Hi-Rise version should take you no more than one and a half hours to assemble, using the simple instructions included. The only tool you will need is a pozi (cross type) srewdriver, for the Door Bolt.
Poles attach to run panels using the Omlet designed pole clips.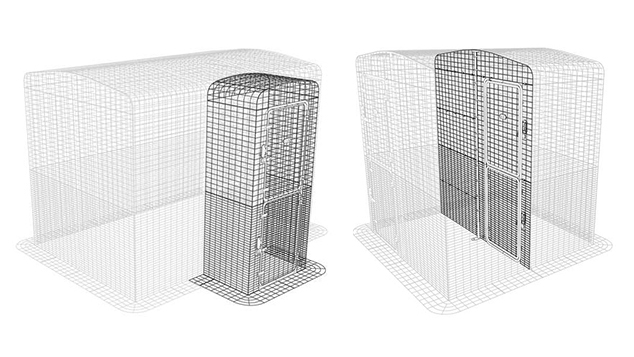 You can now add a Porch (left) or Partition (right) to your Outdoor Guinea Pig Run
Add A Porch Or Partition To Your Run
Now you can enhance your Outdoor Guinea Pig Run by adding a Porch or Partition. Both are made from the same strong steel weld mesh as the Outdoor Run and make a great addition to your guinea pig's run setup.
The Outdoor Guinea Pig Run Porch can be fitted to any side of a full height (2.05m) Outdoor Guinea Pig Run and provides you with a 2-door entry system for added security and peace of mind.
A range of Outdoor Guinea Pig Run Partitions are available that are compatible with all sizes of Outdoor Run and they are available to buy in full or half height. The partition features a secure door for easy personal access to each part of the run and can be used to separate different guinea pigs or to gradually introduce new guinea pigs to each other. It can also be used to create a separate feeding or play area.
Compatible with Eglu Guinea Pig Hutches
The Outdoor Guinea Pig Run has been designed to work with your existing Eglu Go or Classic Guinea Pig Hutch, so you can create a custom guinea pig keeping area to suit your garden. Use a Connection Kit to attach your Eglu guinea pig house directly to the guinea pig enclosure, or simply place your existing hutch inside the run. Your pets will love having somewhere to eat, rest and shelter in their new guinea pig run, whether that be a hutch or a cardboard box.
Your current Eglu
Can it connect to a Walk In Chicken Run?
Can it go inside a Walk In Chicken Run?
Can the door be placed on the same side as the Eglu?
Hi-Rise
Lo-Rise
2 Panels Wide
3+ Panels Wide
Eglu Classic Guinea Pig Hutch (no run)
✓
✓
✓
✓
✓
Eglu Classic Guinea Pig Hutch with 1m Run
✓
✓
✓

✗

✓

Eglu Go Guinea Pig Hutch (no run)
✓
✓
✓
✓
✓
Eglu Go Guinea Pig Hutch with 1m Run
✓
✓
✓

✗

✓
Patent Pending. Design Registered.
Frequently Asked Questions
Which size run should I get?
The size of run you need depends on how many rabbits or guinea pigs you've got, the size of your pets and how much time they spend on the run. Always aim to give your pets as much space as you can, but you can always extend at a later date. If you're having troubles deciding on what run size to get, feel free to contact our customer services team who will be happy to guide you!
Is the run predator proof?
While the strong materials and thought out design makes it extremely hard for predators to get to your pets, no run is 100% predator proof.
If you live in an area with lots of smaller predators like martens and weasels, as well as rats, you might want to consider adding additional protection to the top of the run where the gap in the mesh is bigger.
I have a very uneven lawn, can I still use the run?
Yes, you can secure the skirt of the run to the ground with
Omlet's screw pegs
to make sure there are no gaps.
What are the dimensions of the mesh?
The lower half mesh is 25 x 75mm, and the upper half mesh and the roof panels are 50 x 75mm.
Can I attach an Eglu Go Hutch to my Outdoor Pet Run?
Yes, the Eglu Go Hutch can be connected to the run with a connection kit. However, there are some limitations. Make sure your Eglu is compatible with the size of run you have.
Can I place the door anywhere on the run?
Yes, the door can be positioned anywhere on the run, apart from right next to an attached Eglu.
The full height door is 1.81m. Each door is 56cm wide and 90cm high.
It is possible to move the run, but due to the high quality materials even the smallest runs are relatively heavy. If you decide to move the run, we suggest asking for help from at least one other person.
Can I fix my run to a building?
We don't have a customised solution for attaching the run to an existing structure, but many customers have done it. We suggest you speak to a DIY specialist to make sure you get the right fixings to attach the run safely.
The run can be extended to two sections high and three sections wide, but there is no limit on how far the run can be extended lengthwise. It is only possible to extend a half height run height and lengthwise, the width is limited to two sections.
How many covers do I need to cover the roof of my run?
This depends on the size of your run. The covers are wide enough to stretch over one section of your run, so if your run is two sections wide you will need a 2m cover times however long your run is. If your run is sections wide, you will need a 3m cover times however long your run is.
Can the run be kept outdoors all year around?
The run is designed to be used outdoors for years to come. However, we recommend that you check your run regularly for signs of corrosion, especially if you live somewhere with extreme weather conditions or close to the sea. Corrosion will occur if the coating has been scratched or scraped for example. If you do see some, remove any loose rust and touch up with a weather resistant paint.
Can I keep baby animals in the run?
As long as your rabbit or guinea pig is old enough to go outside, they can be kept in the Outdoor Run. For very small babies of certain breeds, you may want to add additional mesh or covers to exclude the risk of escapes.
Omlet Outdoor Guinea Pig Run
Omlet great for pocket pets
I have had the pleasure of the company of a number of Guinea pigs and rabbits who have lived in a number of different homes we have made or purchased. The Eglu Omlet homes are by far the absolute best! Easy to clean, move, and provide water, food. The system is superb. The stress of the hot and cold weather is also manageable with the insulated house, covers and open runs. Our Guinea pigs have never been so peaceful and friendly. Instead of hiding, they confidently move around the enclosure, come up to the wire to chat, and generally enjoy the large open space. The tunnels are a favourite for both Guinea pigs and rabbits. Our Flemish giants fit through the tunnels with ease. We are all so very grateful for such incredible design and options. The accessories sold separately keep the old Eglu hutches new with clean bottles and new covers.
Review for:
Outdoor Guinea Pig Run - 3 x 4 x 2
This reviewer has 8-10 Guinea pigs and Flem pets
We have the 6x9 run for guinea pigs and we LOVE it. It is time consuming to put together, but using zip ties in lieu/as well as the removable brackets they give you will speed things up considerably. I like the clear covers for winter but the darker covers for summer so it doesn't get too hot. Things to note: • This has a "skirt" that goes on the ground to keep predators from digging under. I am not sure if this would be enough if you had a motivated fox. Our run is inside our garden which is surrounded by no climb horse fencing. On the outside of the garden fence, there's electric chicken netting. So we are unlikely to have a predator issue inside this area. But I would have done further predator-proofing if I was placing this in another area. • I purchased the Eglu and connector so the guinea pigs would have a warm zone to go if the weather gets cold (we're in Maryland). • The Zippi platforms don't work with this- I wish they did! • The roof is strong, but it's not strong enough to hang a waterer from (I wouldn't attempt to do this). If you have a heavy snow load, you'll probably want to brush some of the snow off. We don't get much snow so I haven't tested this yet.
Review for:
Outdoor Guinea Pig Run - 3 x 4 x 2
This reviewer has 6-8 Guinea Pigs, 7 pets
Our Guinea Pigs love their new home!
Would of given 5 stars but the price is abit more than we feel should have been!! But overall very happy :) We are really pleased with the new outdoor run (6x6), our 2 girls love it. They are so much happier roaming free. We have our girls indoors in the winter in a different hutch and outside in the summer. We took the plunge and brought after some umming and arring (it was way more than I originally intended to spend) but it has been well worth the money and all the other hutches dont look half as safe. We ended up buying the pegs to go around the edge and they makes it feel more secure. We have loads of cats and foxes in our area, so its been great peace of mind to leave them all day and not be worried something will get in. We brought some waterproof tarpaulin from ebay £15 3m x3m which works a treat and keeps the cage inside warm and shelters them from direct sunshine. The only fault we had was the clips that connect the Omlet together are made of plastic and we feel they may not last that long. We are thinking of buying an extension upwards (at the moment we have to crawl in and out) so we can stand up!
Review for:
Outdoor Guinea Pig Run - 2 x 2 x 1
This reviewer has 2-4 Guinea Pigs pets
I could not be happier with this run. My 3 piggies are like new. I had them in a large indoor cage but had no idea that this extra space would make them so happy and active. They kick their heels and run around and around. They can't wait to go out in the morning and they give me such a run around at bedtime to avoid going back in, that I usually give in and it is well after dark by the time I insist. I am nervous but may leave them outside all night when we have another spell of good weather. The basic run is a great size but I love having the flexibility to add extra sections and height, and its sturdiness and skirt makes it feel so safe. It is great to sit in with them while they pootle about and from the house we can see them running round and round the house I have put in the middle for them. I had no problems assembling it and could not recommend this run more highly. It is worth every penny and I can see no reason why it should not last forever.
Review for:
Outdoor Guinea Pig Run - 3 x 4 x 2
This reviewer has 2-4 Guinea pigs pets
We show and breed guinea pigs. Had select monitored days before that we would let them out to play in a pen on the grass. The guinea pig loves loves being outside. I bought the Omlet 9x12x6 walk-in run for our 10 girls to stay outside year round. Spring summer fall winter. You read that right! Built an insulated outside house for them added an Omlet tunnel for their door. Over top there is a clear tarp that keeps the rain/snow mostly out of immediate walking area. Inside the run, I use hemp on the ground. Hemp helps wick moisture away. Keeping their walking area dry. Guinea pigs are very good at keeping warm. Need help to keep cool. We have rent-a-coop 5-gallon water bucket modified for their water (heated in winter) their pellets are outside in a big bowl. Pellets kept topped off daily. Fresh grass and clean hay provides daily. We've had hawks and owls come down to look at the run but as yet have not figured out how to get the occupants. Everyone was dry and warm over winter. We have very happy retired sows and grow-out sows. Awesome product.
Review for:
Outdoor Guinea Pig Run - 3 x 4 x 2
This reviewer has 8-10 American Abyssinian pets
Read more reviews