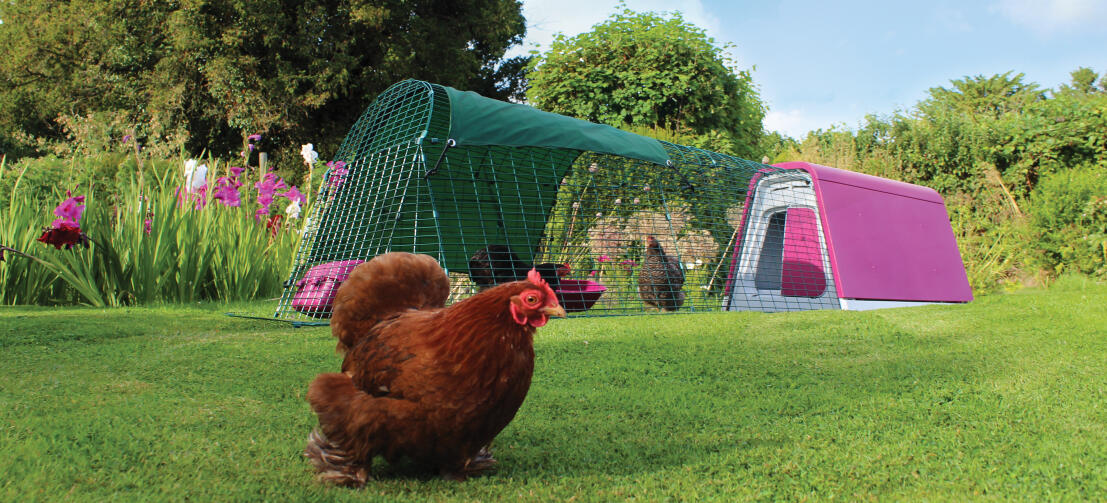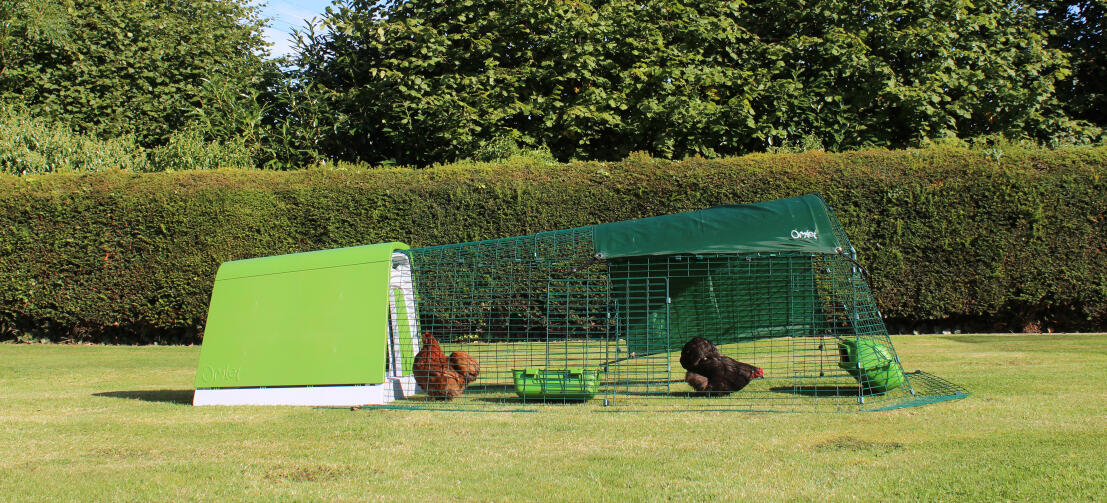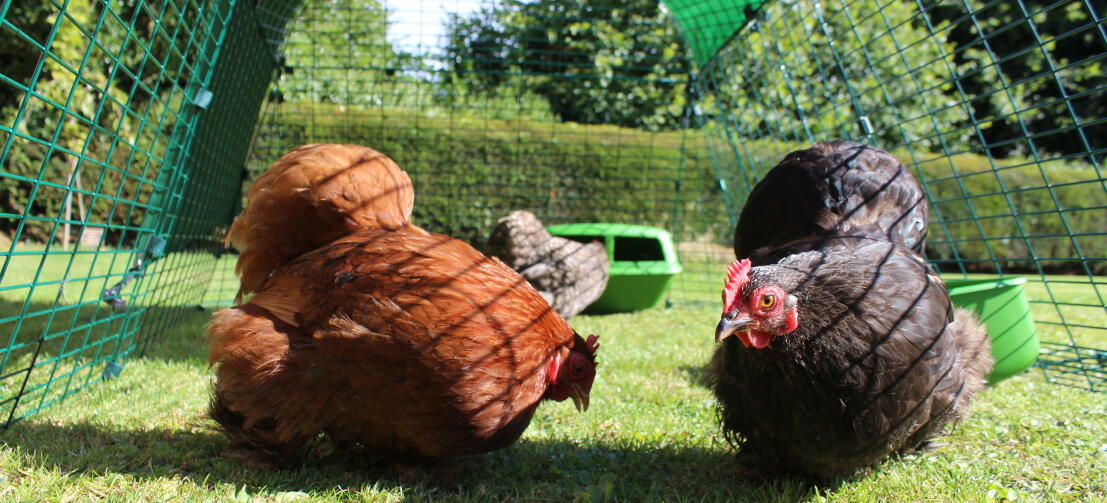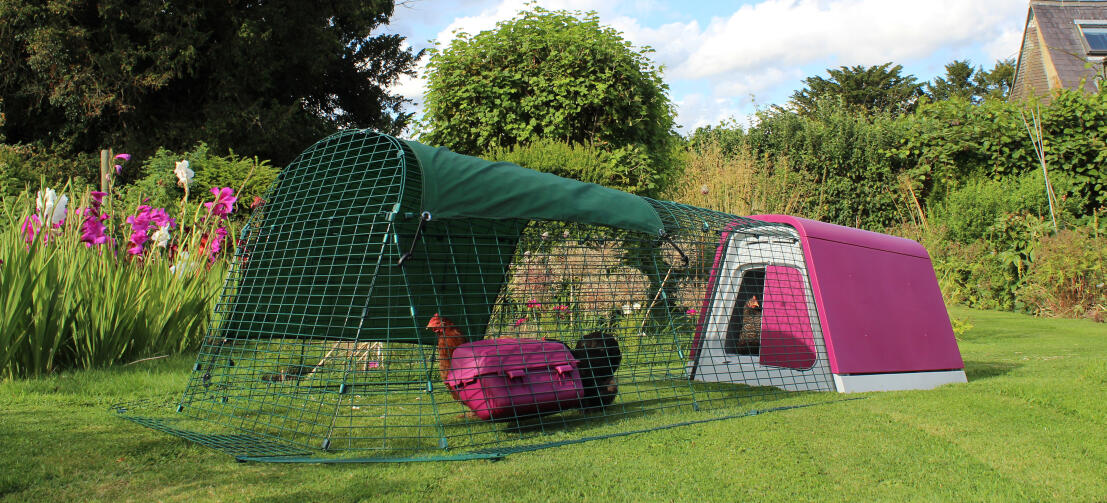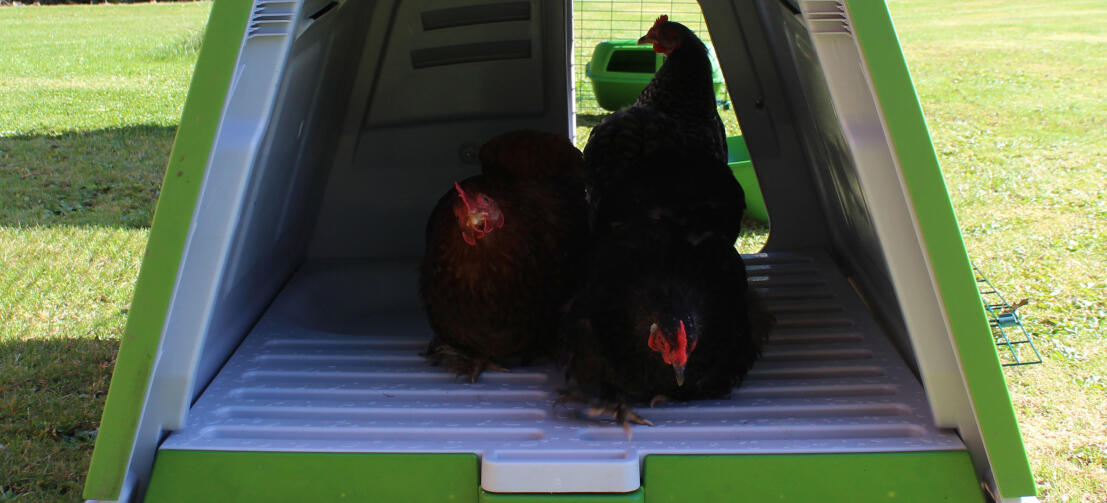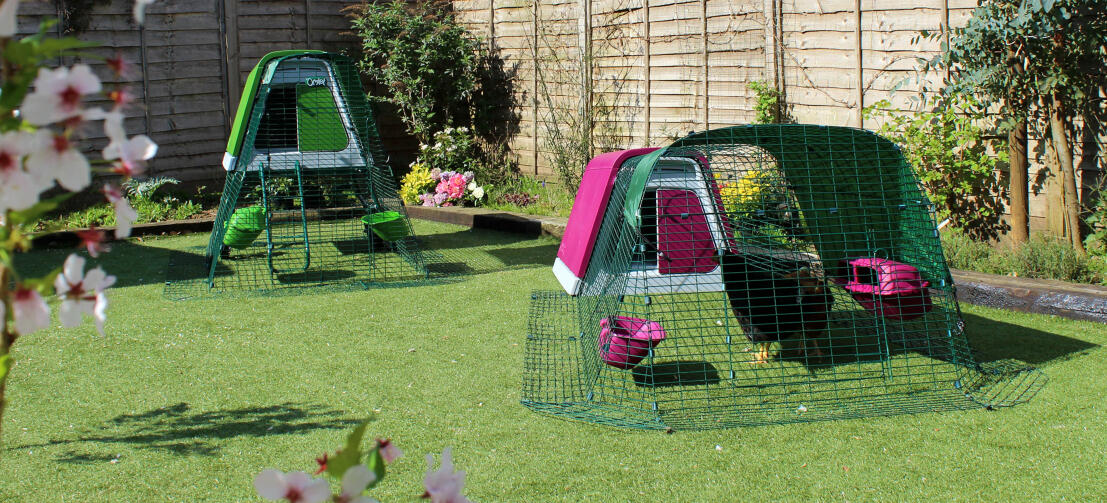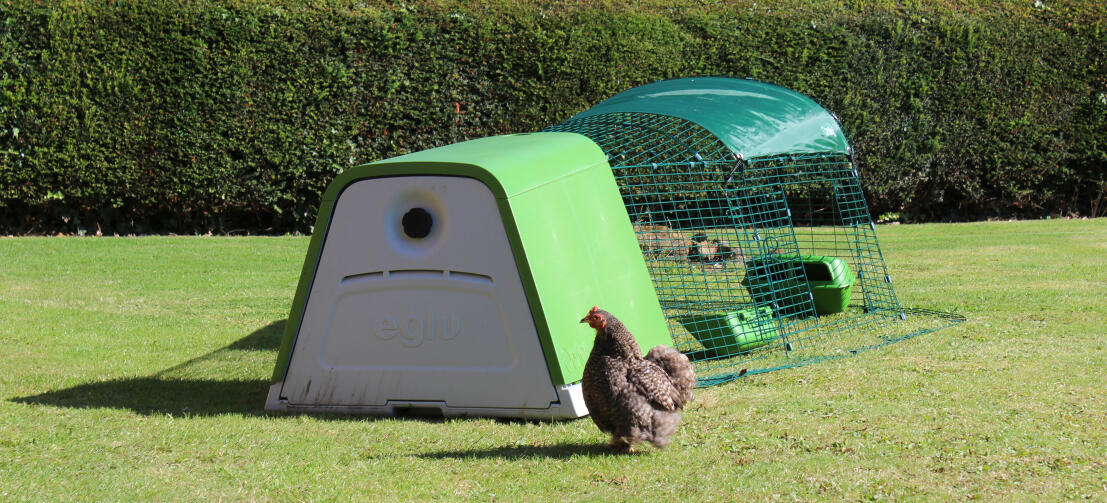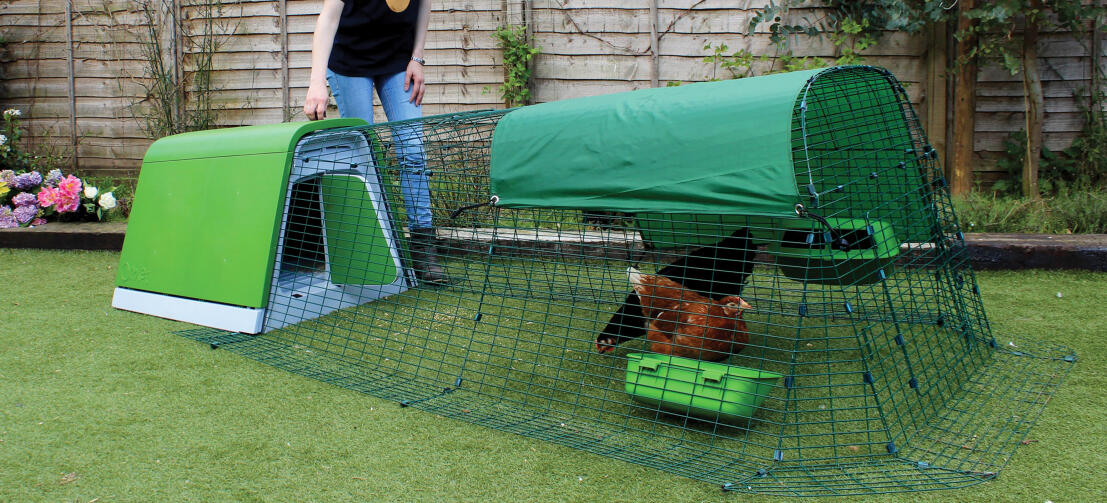 Eglu Go Chicken Coop
The Eglu Go is the ideal hen house for keeping chickens happy and healthy. Complete with a steel run, this easy to clean plastic chicken house is ideal for beginners.
Design your coop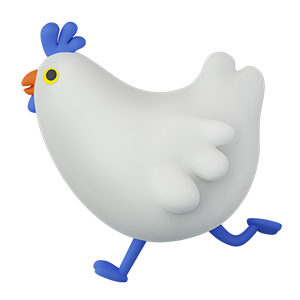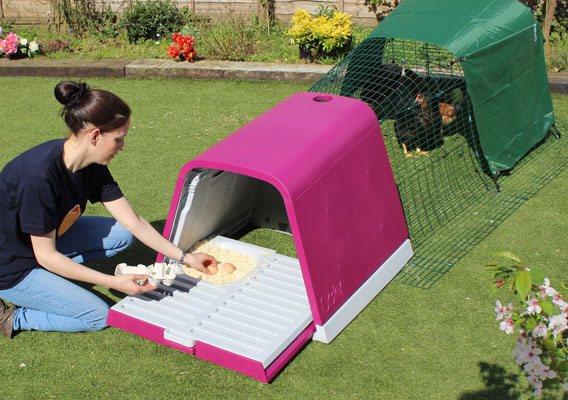 This small chicken house for beginners comes with everything you need to keep chickens
A Complete Chicken House Package
The Eglu Go Chicken Coop is the simple, stylish, straightforward way to start keeping chickens. It is designed for you to keep up to 4 medium hens like the Gingernut Ranger or 2-3 larger breeds such as Brahmas and Buff Orpintons. The small chicken coop kit comes complete with everything you need to get started. It has plastic roosting bars and a discreet nesting area which can be filled with straw or shredded paper to make a comfortable nest for your chickens. The freshly laid eggs can be plucked from the nest simply by opening the door at the back and can be served with some buttery soldiers in a matter of minutes - delicious!
Low Maintenance
Keeping this easy clean chicken house in tip-top condition is a breeze thanks to its innovative slide-out dropping tray and wipe clean surfaces. Made from energy efficient polymers, it's a hygienic home for your hens that will last for years and at the end of its life can be 100% recycled.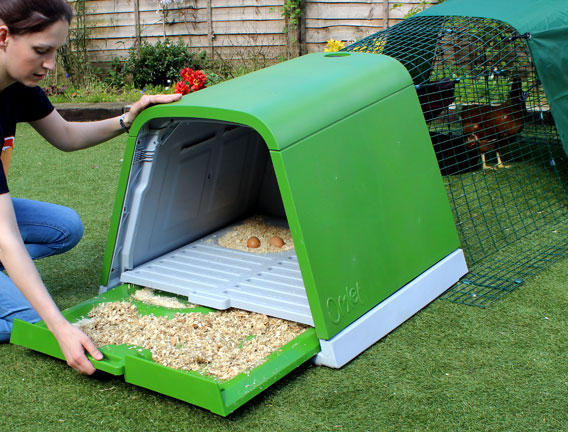 The slide out dropping tray makes cleaning your small chicken coop simple
Easy To Clean Plastic Chicken Coop
The Eglu Go is quick and easy to clean with a slide out tray for collecting droppings and a large door at the back which allows easy access to the roosting bars and nesting area. Simply slide the droppings tray out out of the luxury chicken house and empty into the compost bin - they will make a wonderful fertilizer for your plants. The Eglu's smooth plastic surfaces can be washed with a hose – no difficult corners or absorbent materials, or give it a deep clean quickly with a pressure washer. Unlike wooden housing, you do not need to treat your Eglu.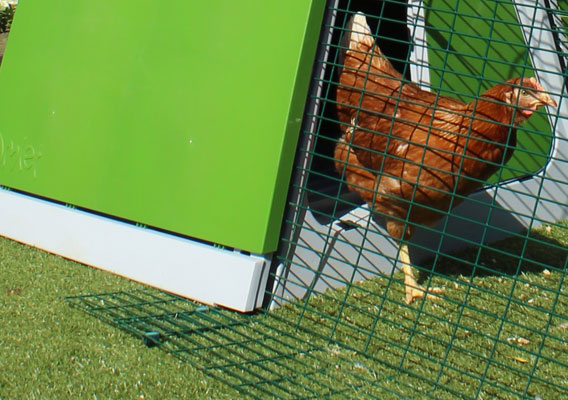 The skirt keeps your chickens safe inside
The Fox Resistant Chicken Run!
The optional (yet recommended) standard 2m run is made from strong steel weld mesh, virtually impossible for predators to break. A unique anti-tunnel skirt sits flat on the ground and prevents animals from digging in. The run has spacious vertical sides and gives your chickens plenty of room. You can extend the small chicken coop run in 1m sections if you wish. The Eglu can be positioned on grass or any other surface such as wood chippings or rough ground where the chickens can rummage.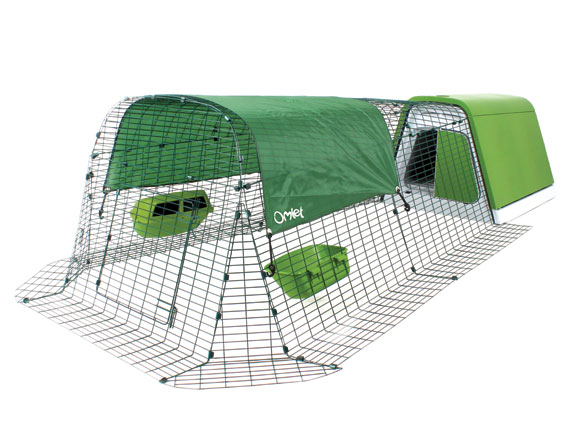 The Run has a free-ranger door, so you can let your chickens roam the garden
Changeable Door Position
The new run design means you can now position the door on either the side or the end panels. This is useful if you want to fit the Eglu Go into a spot where accessing the run would be more convenient from the side. You can use the door to let your chickens out and they will enjoy roaming around your garden looking for slugs and other tasty morsels.
Easy Access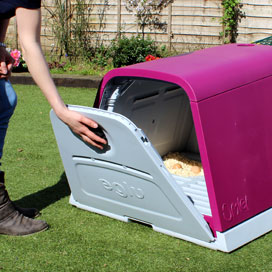 The Eglu Go has a single large door at the back, which you can open to reveal the roosting bars, nesting area and dropping tray.
Nest Box and Roosting Bars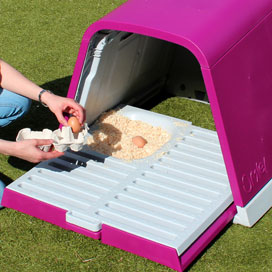 The Eglu has roosting bars for your chickens to perch at night and a discreet nesting box which can be filled with straw, shredded paper or wood shavings.
Easy Operable Front Door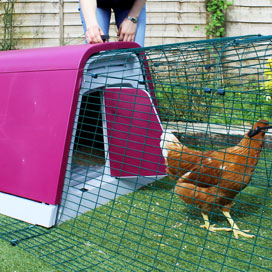 Let your chickens out in the morning and shut them away at night using the front door. Easy to use, and perfect when you want to keep your chickens out in the run while you clean the inside of your eglu or collect those freshly laid eggs!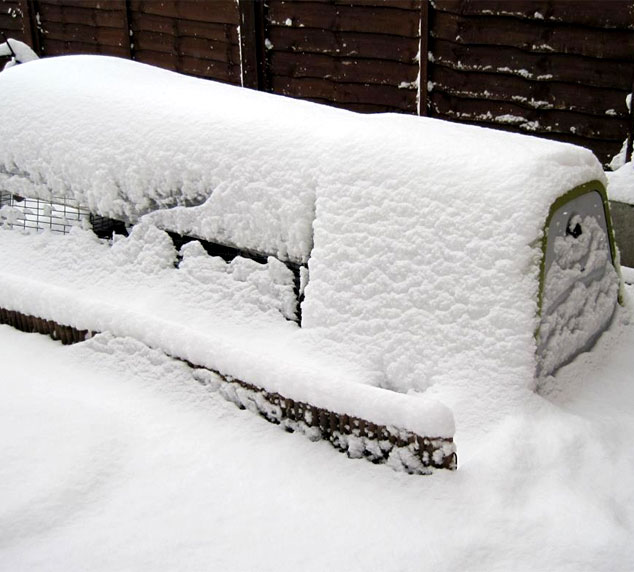 Eglu Go Chicken Coop keeps your hens cool in the summer, and warm in the winter!
Keep Your Chickens Warm in Winter
The insulated plastic chicken coop is specially designed to keep your chickens warm in winter. The Eglu has a unique twin-wall insulation system which works in a similar way to double glazing trapping a pocket of air which provides a very effective means of insulating the house.
...And Cool in Summer
In summer your chickens will be kept cool by the Eglu's draught-free ventilation system, carefully designed to avoid air blowing directly over the roosting area whilst allowing fresh air to circulate.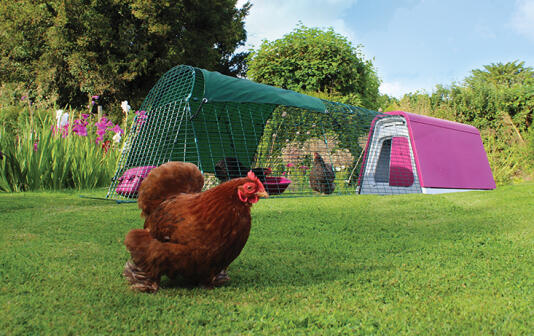 Free Extras
We want to make it as easy as possible for you to start keeping chickens, which is why you'll get lots of free extras with every Eglu Go chicken house. Whichever type of Eglu Go you buy, you'll get an innovative feeder and drinker. These fit neatly to the run, maximising floor area, the covered design protects food from rain, and both are dishwasher proof, for ultra easy cleaning. You'll receive 10 Omlet Egg Boxes, suitable for giving away four eggs at a time to family and friends, and easy to follow instructions to help you build your Eglu quickly.
The biggest reward of an Eglu chicken coop, of course, is the free eggs you'll be treated to every morning. Nothing beats that! Not only that, we're so confident you'll love everything about the Eglu Go chicken house and your new chickens, we offer a 180-day, no-quibble money-back guarantee.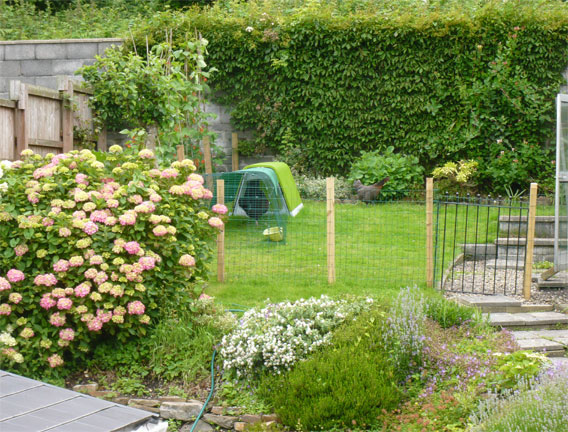 If you want to keep your chickens on grass we recommend that you move your Eglu Go Chicken Coop around every so often to keep your lawn in tip top condition.
How much space do I need to keep chickens?
Ideally your garden should have a fence all the way round. This will prevent your chickens from wandering into the neighbour's garden and, more importantly, ensure that all the eggs are laid on your side of the fence! The fence should be about 1.5m (5ft) high.
If you do not have grass, it is possible to keep a couple of chickens but you must provide them with a layer of wood chippings to rummage about in as this will give them the right type of surface underfoot.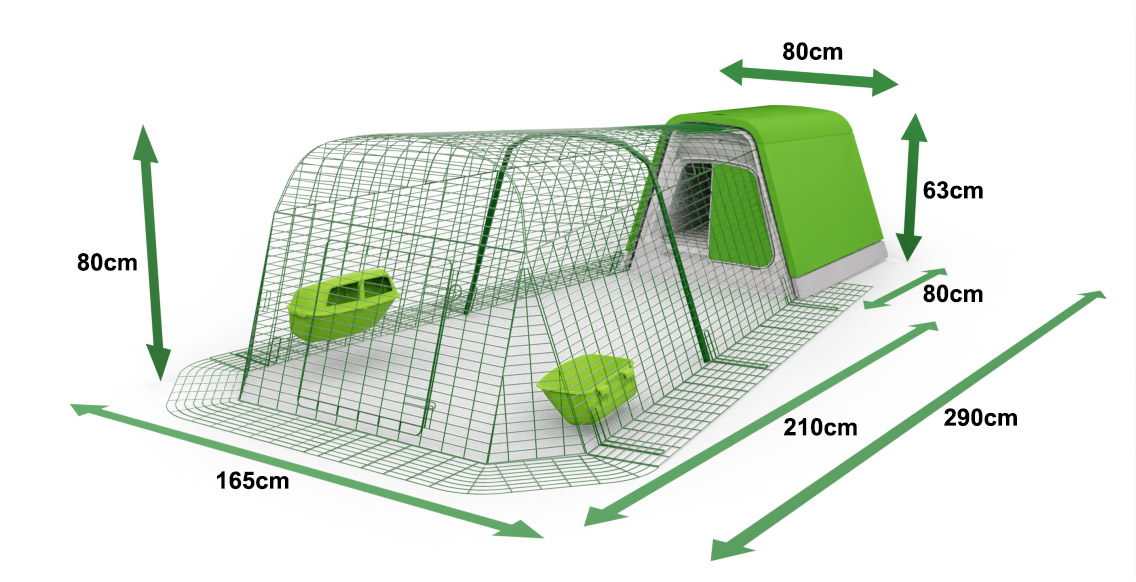 Eglu Go Dimensions
Eglu Go Chicken Coop Specifications
The Eglu Go House is suitable for up to 4 medium sized chickens or 2-3 larger breeds such as Buff Orpingtons or Cochins. When setting up your Eglu, you should allow 60cm of space behind the house to enable the dropping tray to slide out easily.
Materials:
House: 100% Recyclable UV Stabilised Plastic
Run: Double layer fully coated steel weld mesh
Packaging Dimensions:
House: House: 74cm x 41cm x 81cm (20kg)
Run: 70cm x 24cm x 96cm (15kg)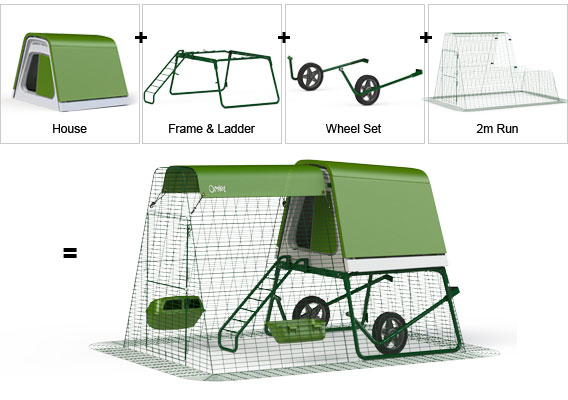 It is easy to convert your existing Eglu Go Chicken Coop to an Eglu Go UP Chicken Coop!
Converting your Eglu Go into a Go UP
Do you already have an Eglu Go chicken house? Converting it into an Eglu Go UP is simple, with our range of easy add-on accessories. Choose the Frame and Ladder to raise your existing Eglu Go off the ground, add the Wheel Set to the frame to make your house manoeuvrable, and choose the 2m Run to give your hens a secure area to roam in. For the ultimate hen palace why not add the 1m Extension too, to give your girls loads of eggstra space!? These parts are simple to add to your Eglu Go, and all come with the instructions and fixings that you will need.
(Please note, they are not compatible with the Eglu Go standard 2m chicken run).
Patent Pending. Design Registered.
Frequently Asked Questions
Is the Eglu Go suitable for chicks?
The Eglu Go house is suitable for chicks over the age of 12 weeks. We recommend you remove the roosting bars from inside the coop until the chicks are big enough to perch and walk across the bars safely. The Eglu run is not suitable for chicks under the age of 12 weeks without supervision due to risk of escape and predators. You should use plenty of bedding in the coop to keep the chicks warm, and change the bedding every few days.
What size run should I get?
The size of run you need depends on how many chickens you have, what chickens you have (breed/size/personality), and how much they are allowed to roam free outside the run. Always aim to give your chickens as much space as you can, either by letting them free range in the garden or backyard or by getting a bigger Walk in run attached to the run of your coop. If you're not able to extend further, try moving the coop and run as often as possible or changing the soil or wood chips regularly. If you're having difficulty deciding what run size to get, feel free to contact our customer service team who will be happy to help!
What is the return policy and warranty for the Eglu Chicken Coops?
If for any reason you're not happy with your purchase you can return it to us for a full refund within 180 days. You will need to dismantle and pack up the coop, so it's a good idea to keep the original boxes. For your peace of mind Omlet also gives you a 2 year warranty, so please contact us if anything goes wrong and we'll do our best to fix it straight away. Please note the warranty does not cover natural weather, animal and pest damage.
Is the Eglu predator proof?
While the strong materials and thought out design makes it extremely hard for predators to get to your pets, no coop is 100% predator proof. Check the coop and run regularly to make sure all features are working as intended, including latches, doors and run clips.
If you live in an area with lots of predators, including small ones like martens and weasels you might want to consider adding extra protection to your run.
Can I fit an Automatic door on the Go & Go UP?
The Omlet Automatic Chicken Coop Door can be fitted to the Eglu run, however, it cannot be attached to the Eglu Go house. We are always developing new products and have shared the interest for a Go Autodoor with our design team, so stay tuned!
Can I replace the outer lid panels?
What are the 4 dots on the side panels?
These are moulding marks that appear on all Go panels.
Can I keep my run outside all year round?
The metal chicken runs are designed to be used outdoors for years to come. However, we recommend that you check the run regularly for signs of corrosion, especially if you live somewhere with extreme weather conditions or close to the sea. Corrosion will occur if the coating has been scratched or scraped for example. If you do see some, remove any loose rust and touch up with a weather resistant paint. If you have covers on your run and experience heavy snowfall it's advised you clear the snow off the roof to avoid the panels being damaged from the weight.
Can I convert my Go to a Go UP?
Yes, you can convert your Go to a Go UP by purchasing a frame and ladder, and the optional wheels. If you want a run you will also need a Go UP run.
What is the difference between the Go and the Go UP?
The Go and Go UP houses are exactly the same. The Go UP is just lifted off the ground on a frame.
Does the Eglu Go have perches?
While the Eglu Go does not have traditional wooden perches, it does have specially designed perches with a structured surface and rounded corners for the chickens to sleep comfortably on at night.
Roosting bars allow the chickens to grip onto something while they sleep, which makes them feel safe and comfortable. Although they don't look like traditional wooden perches, roosting bars are great for larger breeds who find it tricky to jump up to a raised perch, or recently rescued hens who don't have the strength to flap, and the shape of the bars makes sure most of the droppings fall straight onto the slide out, easy clean tray underneath.
Is it easy to move the Eglu Go?
The house is lightweight enough that it is easy to move around the garden, especially if you have an extra pair of hands. If you have a run on your Eglu Go, moving it is made much easier with the
wheel set
and the
run handles
.
Do I need an extreme temperature blanket?
Thanks to the twin wall insulation system, the Eglu Go will keep your chickens nice and warm in winter without any additional covers. The Extreme Weather Protection does, however, offer extra protection and will keep the coop warmer for longer, so if you live somewhere very cold it's a great addition to your setup.
I'm spoiled with Omelet products now and never looking back. I have a coop for my chickens that I love, so I bought this coop for my ducks. They love the little shelter and it is so easy to clean and care for them! It's easy (the second time around) to put the coops together with at least 2 people. No outside critters have been able to get into the cages. Something, probably a raccoon, tried to get into the chickens and stuck a paw in, but couldn't get any further. I'm very pleased! It is worth every penny!
Review for:
Eglu Go Chicken Coop with 2m Run Package - Leaf Green
This reviewer has 2-4 Ducks pets
Have purchased this to use as a sick bed if any of the girls become unwell . One of our girls decided she was going to use it to sleep in one night and was quite comfortable. Well worth the money . Well made product and a good size was surprised at how big it was
Review for:
Eglu Go Chicken Coop with 4m Run Package - Purple
I'm using the Go for the purpose of gradually introducing new birds to my flock. The Go and its run are positioned alongside the Cube and its run. In this way, while separated, the chickens can see each other through the mesh.
Review for:
Eglu Go Chicken Coop with 4m Run Package - Purple
This reviewer has 2-4 Easter Eggers pets
Easy to keep clean and keeps the girls warm!
Fast delivery, very happy with my purchase.
Review for:
Eglu Go Chicken Coop with 2m Run Package - Purple
This reviewer has 2-4 Isa browns pets
We sadly had to separate our chicks from our ducks as our Drake got older. we got this coop for the 2 ducks to sleep in at night and its perfect for them! It would be a bit small to keep them in all day but its the perfect size and secure enough that they are safe to sleep in it.
Review for:
Eglu Go Chicken Coop with 2m Run Package - Leaf Green
This reviewer has 2-4 Rouen ducks pets
Read more reviews