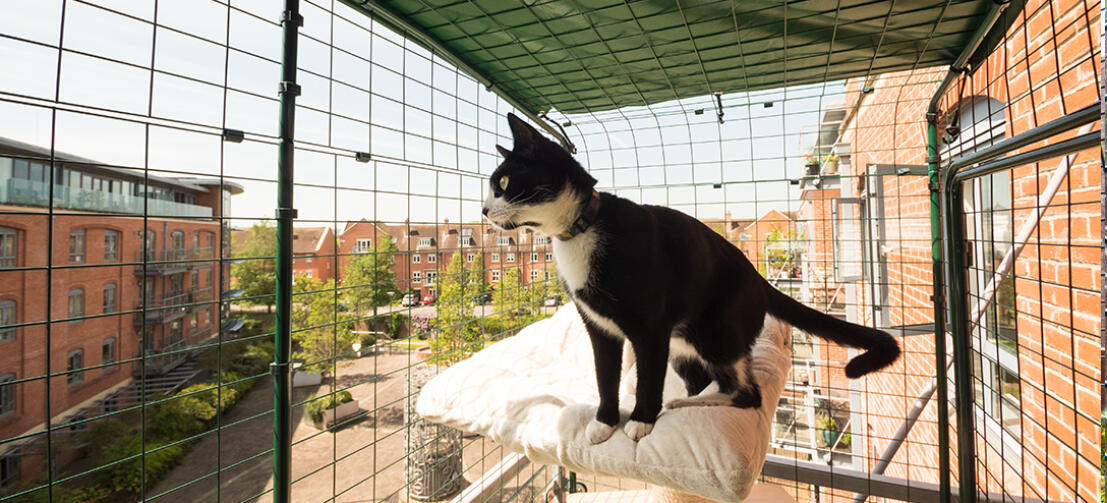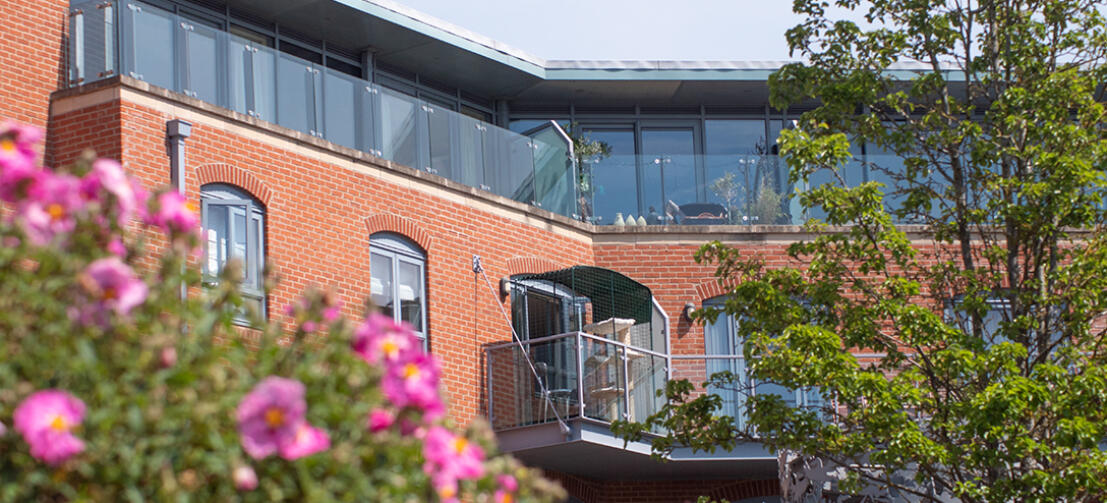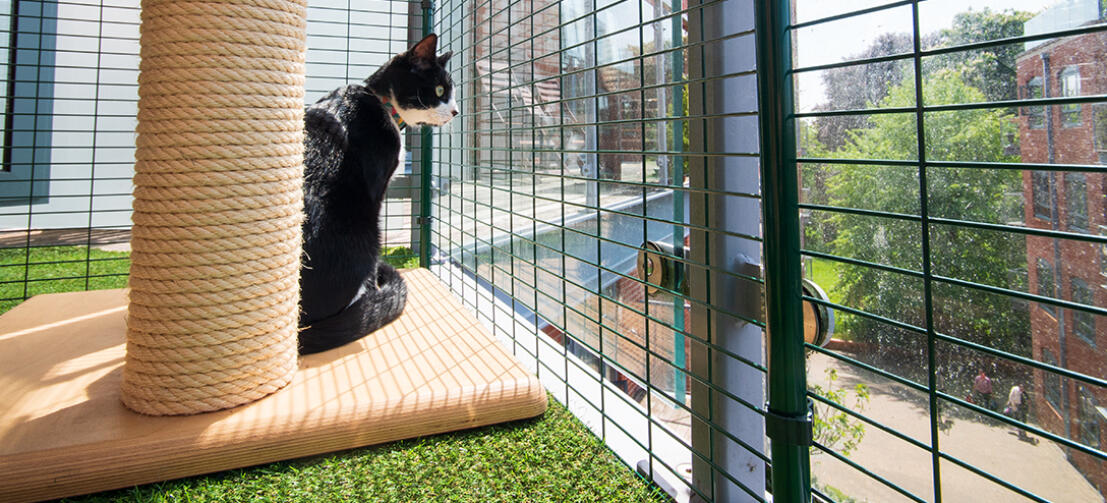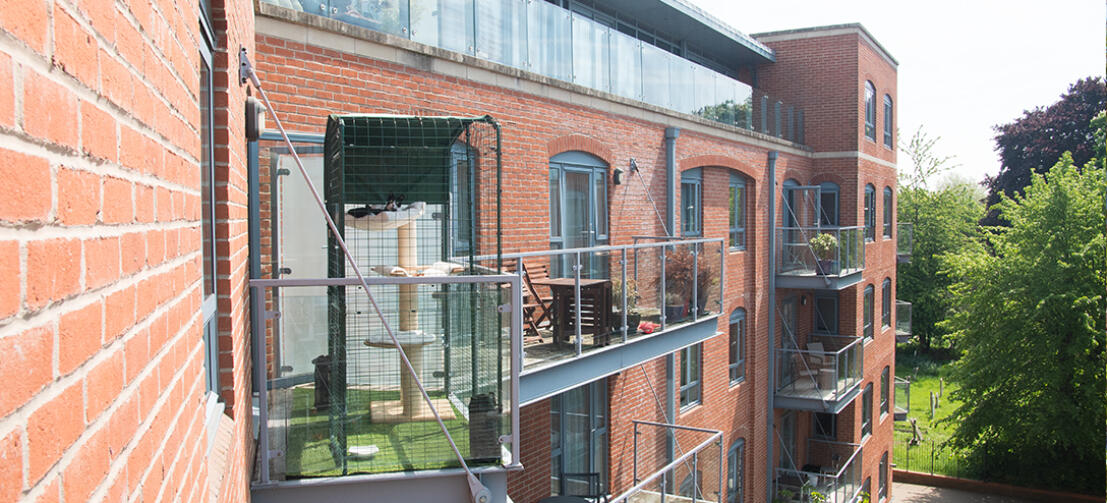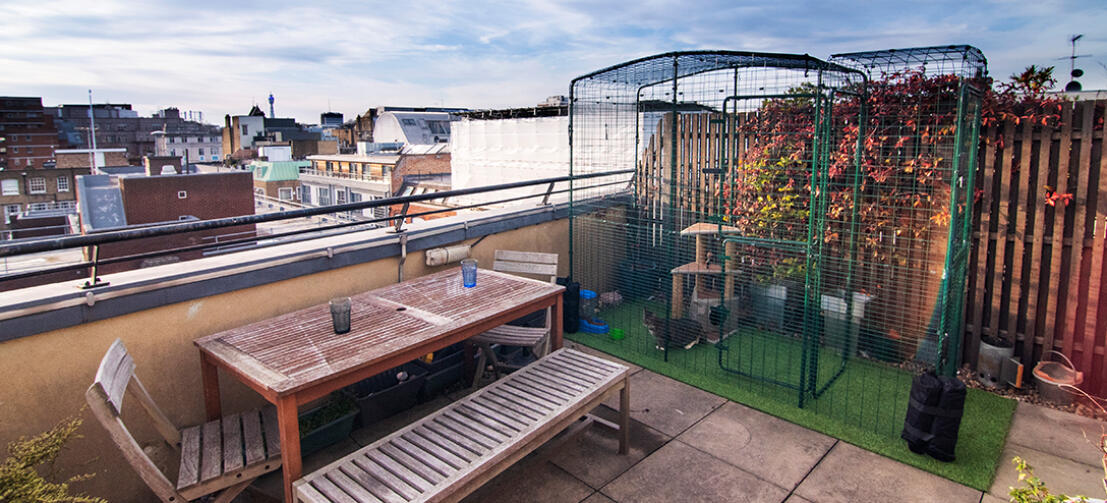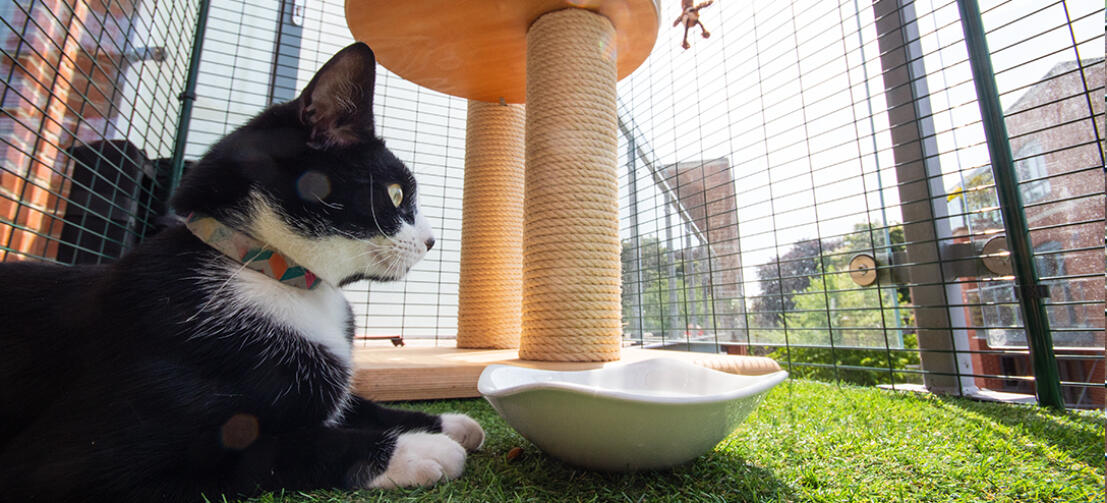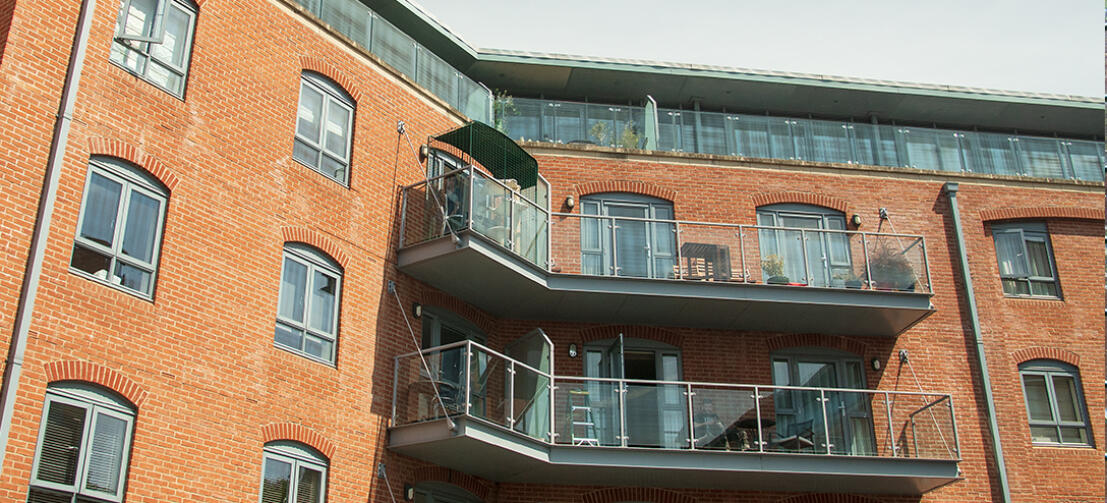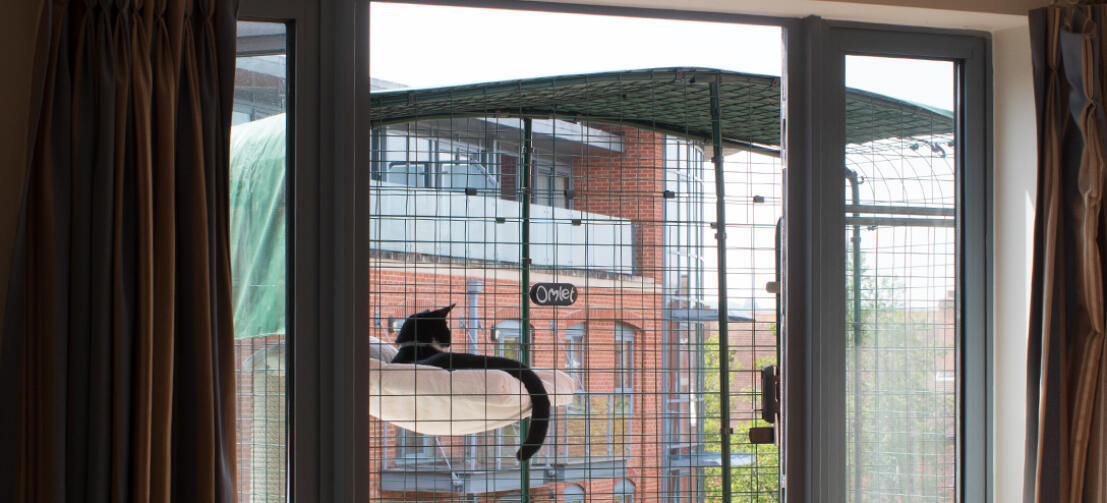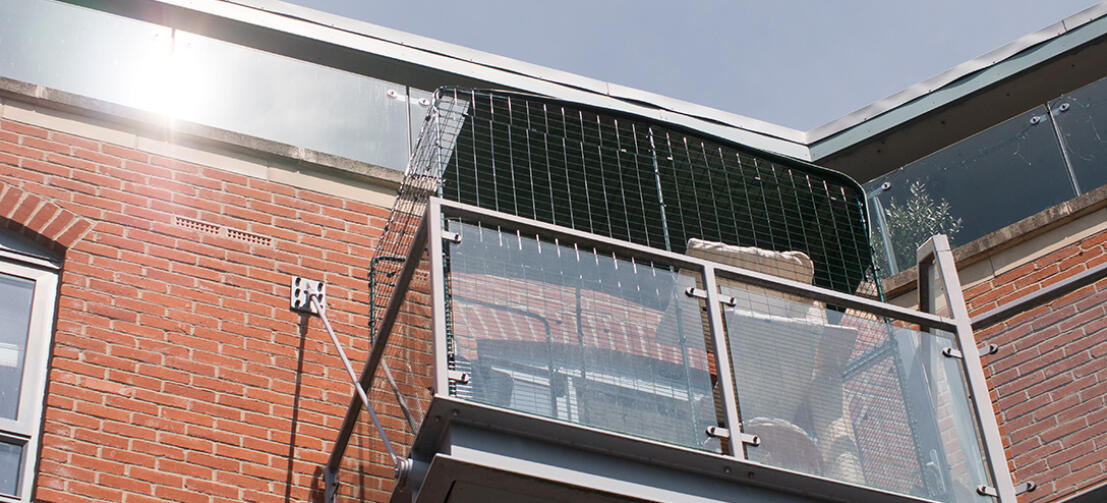 Cat Balcony Enclosure
Omlet's fully enclosed and extendable Cat Balcony Enclosure provides a simple and elegant solution to give your apartment a completely cat proof balcony.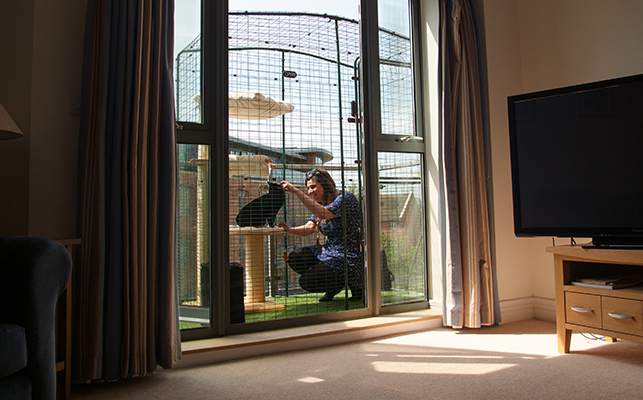 The Cat Balcony Enclosure gives your city apartment or flat a secure cat proof balcony
The Ultimate Urban Cat Enclosure
Made from strong steel mesh coated with a technically advanced dark green coating the cat run looks stylish and unobtrusive on your balcony. Cats love the sensory experience of being outside where they can feel the breeze in their fur, watch the comings and goings in their surroundings and hear the birds sing. Every size of Cat Balcony Enclosure is also large enough for you to spend time outside with your cat.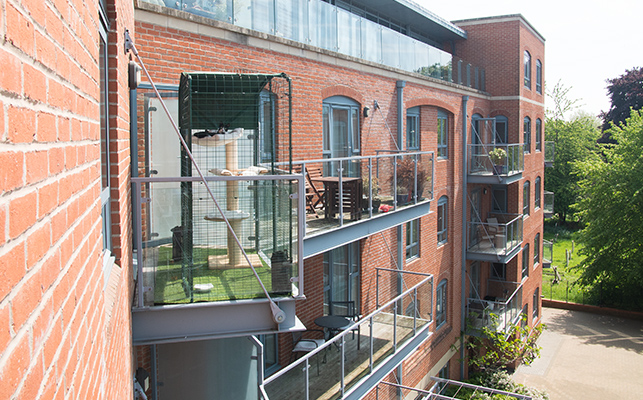 Designed to fit on any kind of balcony or roof terrace, the secure cat enclosure is extendable in width
Designed To Fit On Any Balcony
Measuring 92cm (3ft) front to back the Omlet Cat Balcony Enclosure is narrow enough to fit on almost any balcony. It's a generous 2.07m (6.8ft) high in the centre and is extendable in length from 1.84m (6ft) up to 3.68m (12ft) as standard, please call or email us if you would like a longer run. The Cat Balcony comes with a removable run skirt that you can use to help secure the enclosure to your balcony. Please note that you will need to secure your Cat Balcony Enclosure directly to your building using appropriate metal fixings which you will be able to find in all good DIY stores.
"My cats LOVE their new balcony cat run. It's secure and allows me room to interact with them too. Now Gregory and Mitchell sit at the top of their cat tree, 4 floors up like kings of the castle!" - Lindsay, Nottingham
You can join your cats in the enclosure and continue to enjoy your balcony as before
Freedom Without Compromise
Allow your cat the freedom to explore a new environment without compromising your personal usable space. We understand that useable living space can be at a premium which is why the Cat Balcony is tall enough to be used by people as well as cats. This means that you can continue to enjoy your balcony as before, which means more freedom for your cats and no compromise for you. Why not place a chair or bean bag inside that you can both snuggle up on?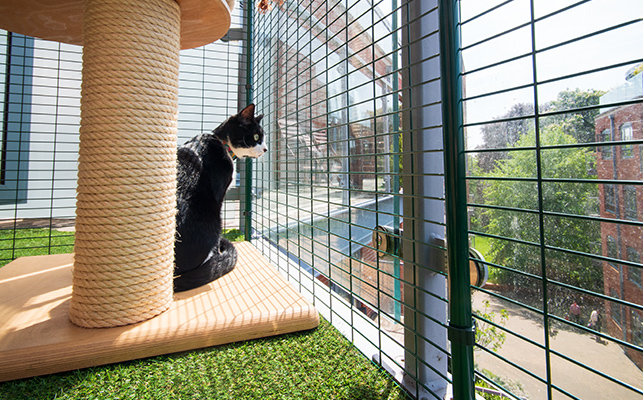 Why not furnish your Cat Balcony Enclosure with some scratching posts and cat toys from the
Omlet Shop
?
Furnish Your Cat Balcony Enclosure
If you want to get the most out of your Cat Balcony Enclosure you can enhance your cat's environment with scratching posts, cat trees, interactive hanging cat toys and of course some feline essentials such as a cat litter tray and comfy bed. The sky's the limit as far as accessorising the cat run is concerned and your cat will really love exploring their new territory.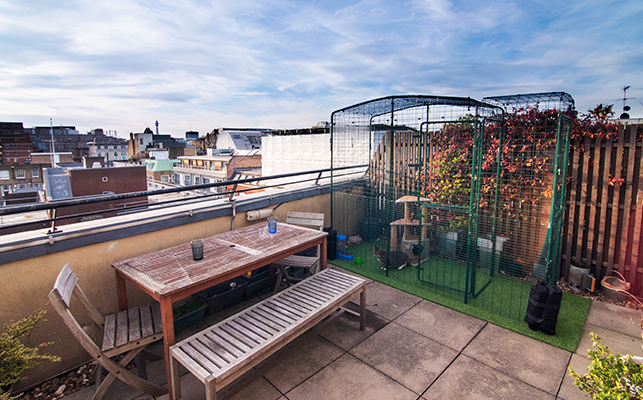 You can add a
porch
to your roof terrace cat run for an even higher level of security
Add A Porch For Easy Access
Why not upgrade your balcony cat enclosure with an optional porch to give you an "airlock" style entrance? The porch is made from the same strong steel mesh as the balcony enclosure and gives you complete peace of mind when transferring your kitty in and out of the cat run.
"I love the look of the mesh panels which also provide a really easy way for you to secure the run to your balcony. We used some metal bicycle locks but I'm sure there's lots of other options. My cat Olly loves exploring his new playpen and watching the world go by!" - Carol, Edinburgh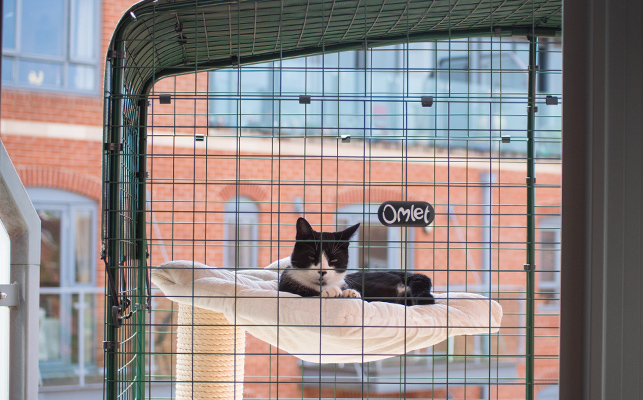 A range of
weather proof covers
are available to ensure your cat remains dry and shaded at all times
Covers For The Terrace Cat Run
You can add covers to your Cat Balcony Enclosure so that your cats are kept shaded and dry at all times. The covers are made entirely from water proof materials that are highly durable and are available in a range of different sizes and styles - discover the range of covers available for your cat run here.
Please note that when using a cover on your Cat Balcony Enclosure it is especially important to ensure the run is secured to your balcony with appropriate metal fixings to prevent gusts of wind from moving the run.
Important! Please Read Before Using Your Product
When using the Cat Balcony Enclosure on a balcony, roof terrace or other similarly elevated position, you must secure your cat balcony enclosure directly to your building to help prevent high winds from lifting it. You should always use metal fixings to either attach it to a balcony railing or to bolt it to your building. Appropriate fixings are available from all good DIY shops. If in any doubt consult a qualified installer. In windy conditions, we would always advise removing any shades, hammocks and covers as a secondary safety measure, as the weight of the enclosure itself is may not be enough to prevent a high wind from lifting it.
Frequently Asked Questions
What are the dimensions of the mesh?
The lower half mesh is 25 x 75mm, and the upper half mesh is 50 x 75mm.
Do I have to have the anti-tunnel skirt attached?
No. The skirting comes with all runs, but you can choose not to attach it, or remove it whenever you want.
Do I need to secure the run?
If you're using the enclosure on a balcony or another elevated space, you must secure it to the building to prevent high winds from lifting it. Consult an expert if you're not sure how to do this in a safe manner. On very windy days, we would also recommend removing any covers from the run.
Can I place the door anywhere on the run?
Yes, the door can be positioned anywhere on the balcony cat run.
The full height door is 1.81m.
Can you only build three sides of the cat balcony run?
It is possible, but we don't have a customised solution for it. It may also weaken the stability of the run, so we would recommend securing the structure to a wall or the ground. We suggest you speak to a DIY specialist to make sure you get the right fixings for this.
Can I extend the balcony run to a bigger cat run?
It is possible to move the run, but due to the high quality materials even the smallest runs are relatively heavy. If you decide to move the run, we suggest asking for help from at least one other person.
We purchased the Balcony Catio and outdoor Freestyle Cat Tree so our cat could safely enjoy some outside time with us when we're on our back deck. It immediately became her favorite spot in the house. Easy to build, safe, secure, and keeps her and the wild birds safe. Would be great if Omlet offered a little attachment kit - like four small panels of the wire so you can build your own little "pet door to Catio" connection tunnel. We are making our own out of spare parts from our Omlet chicken run. :)
Review for:
Omlet Balcony Run - Catio - 2 x 1 x 2
This reviewer has 1 Blue Abyssinian pets
Enrichment for the Kitties
I have a Catio on the balcony, with a rain cover. Every morning the cats ask to be let out and they sit in it for about 45 minutes, then they want to come in again, repeat in the afternoon...they seem to like it. They'd rather be free out in the world, but I don't want to deal with dead creatures they'd more than likely bring back, or worry that they've come to harm, so I am absolutely delighted with the Omlet Catio. I noticed that I hadn't written a review yet despite having had it for a while. I hope to move soon and add sections onto the existing structure to make it much bigger, when I have a garden
Review for:
Omlet Balcony Run - Catio - 4 x 1 x 2
This reviewer has 2-4 ragdoll x siberian pets
wondeful product we now have 3
we combined 2 balcony runs ... one we attacked to house wall so we had left over panels . and used them to make a triangle tunnel fifi out kitty loves playing in them and watching birds safely .
Review for:
Omlet Balcony Run - Catio - 4 x 1 x 2
This reviewer has 1 rescue kitty pets
Simple to put together and take down if needed. Cats absolutely love it! Just waiting on the beds which then hook onto the run itself! We anchored the run to the house so they can go in and out of the run when ever they like!
Review for:
Omlet Balcony Run - Catio - 3 x 1 x 2
This reviewer has 2-4 Bengals pets
A faff to put up solo, but does the job!
A DIY catio seemed like the simplest way to give my FIV+ cat some outdoor time. The catio plus pole took me literally all day to put up, and I think the roof would have been impossible to get on if I'd been shorter than 5'7 or had less arm and hand strength. I also went wrong twice; the instructions were correct, but maybe not entirely clear. However, my 6 kg chonk has been up and down the pole with it barely moving, and watching him listening and sniffing while sitting in a sunbeam makes everything worthwhile!
Review for:
Omlet Balcony Run - Catio - 4 x 1 x 2
Read more reviews