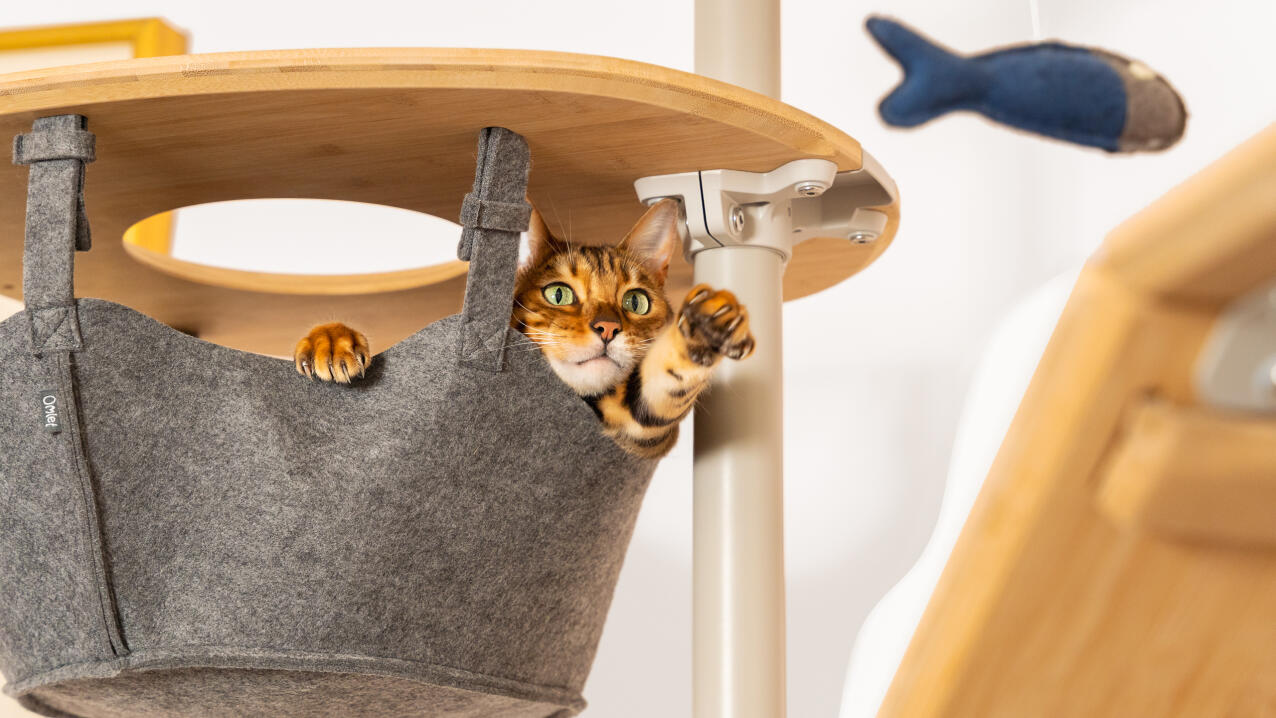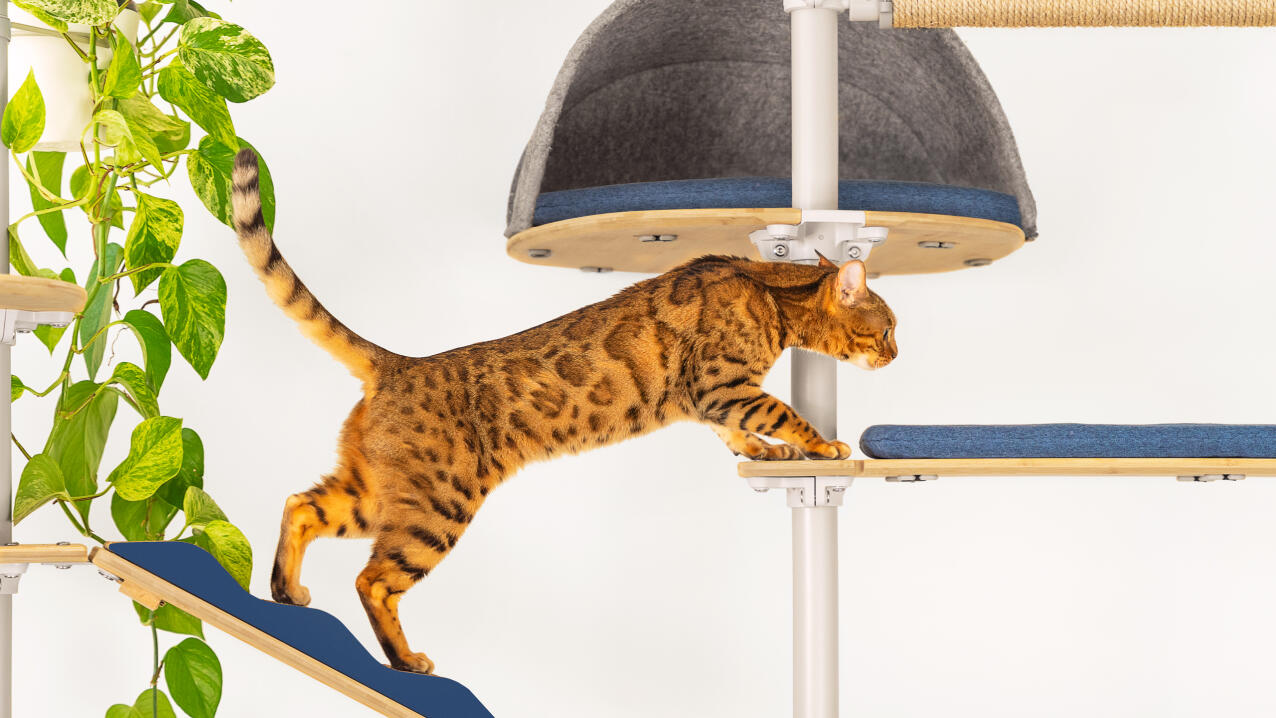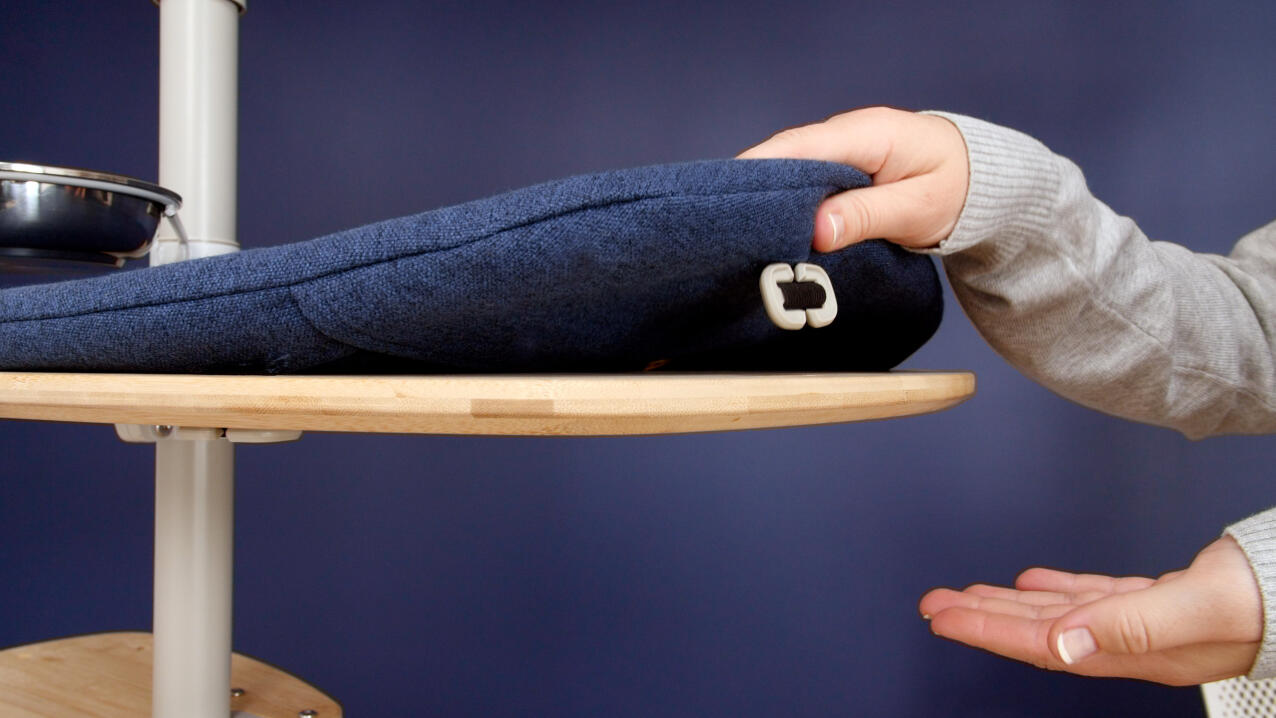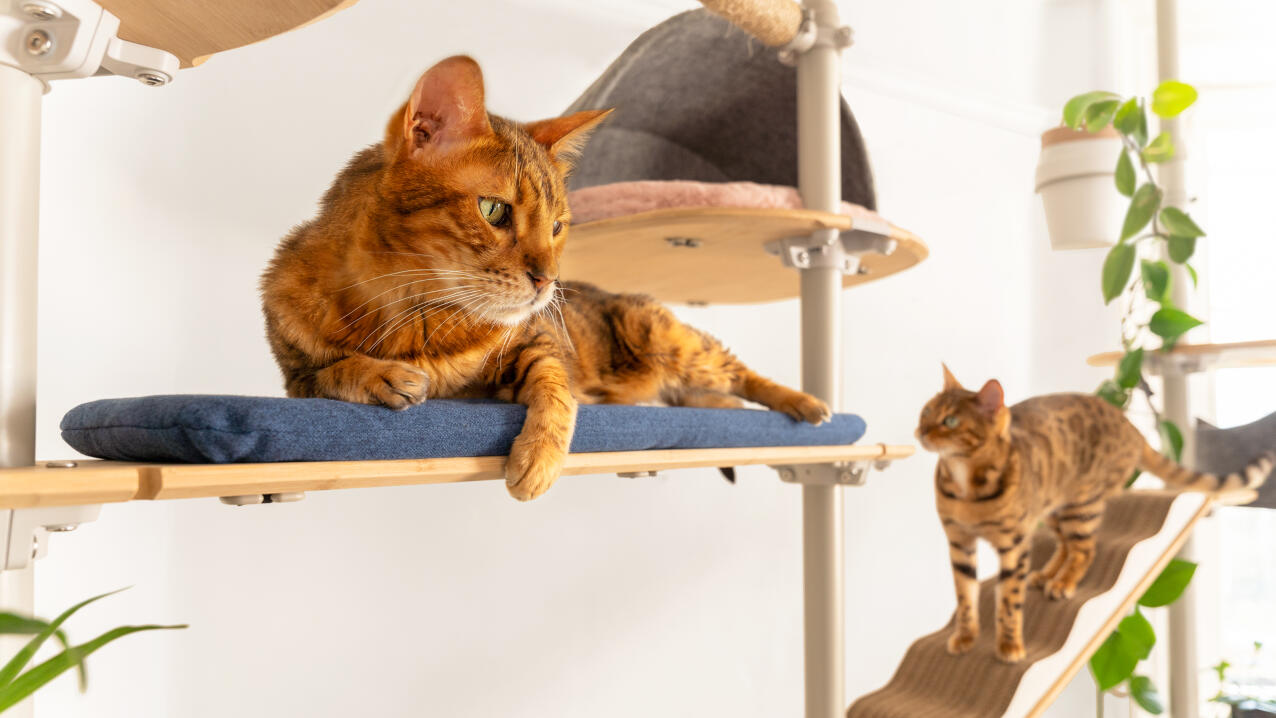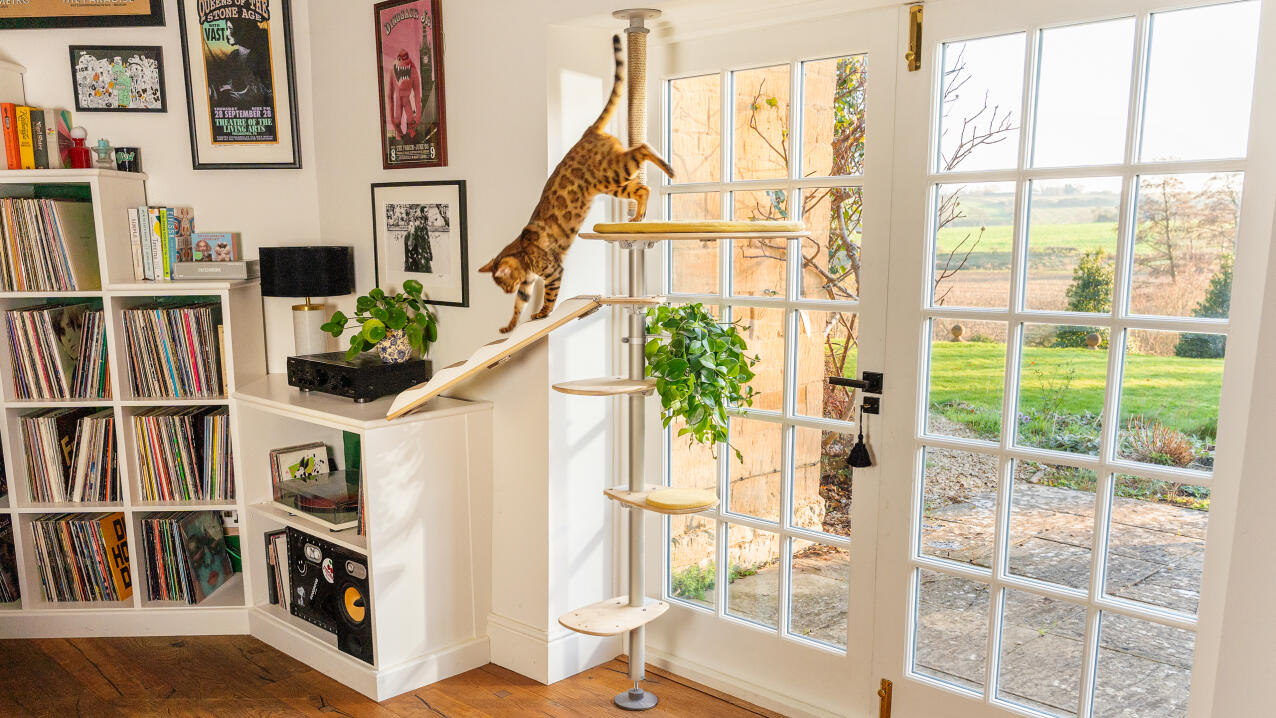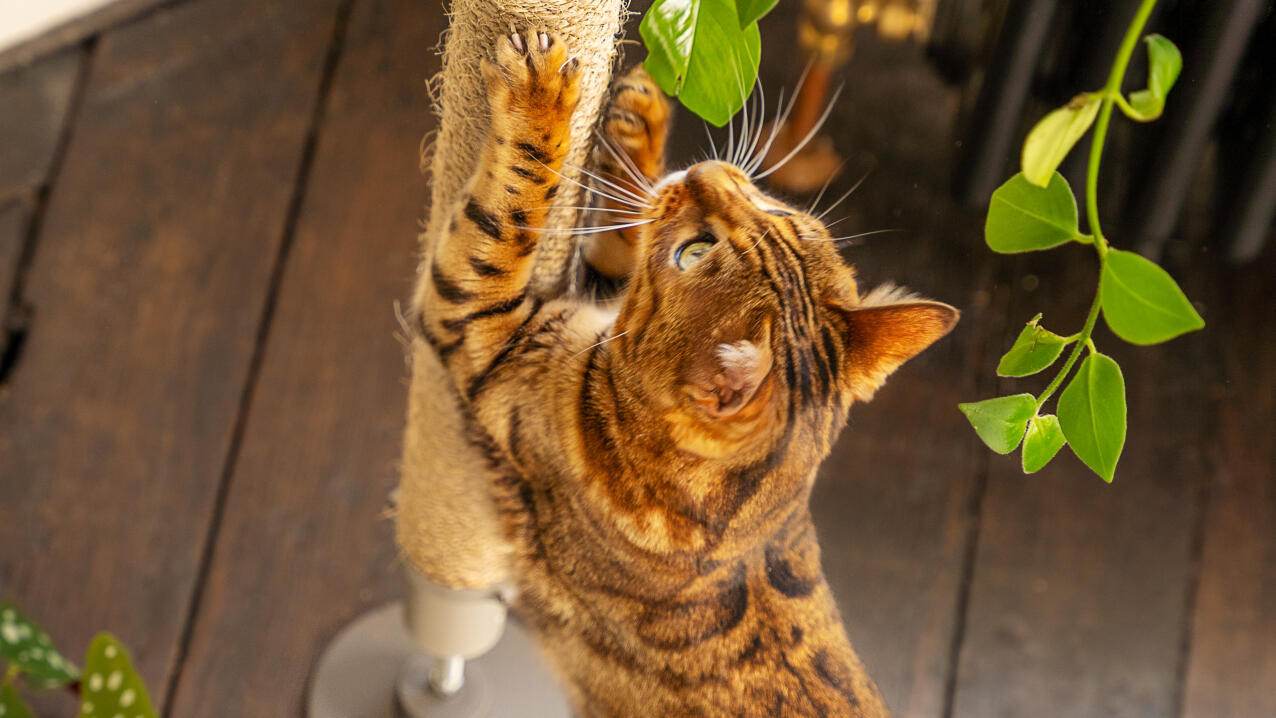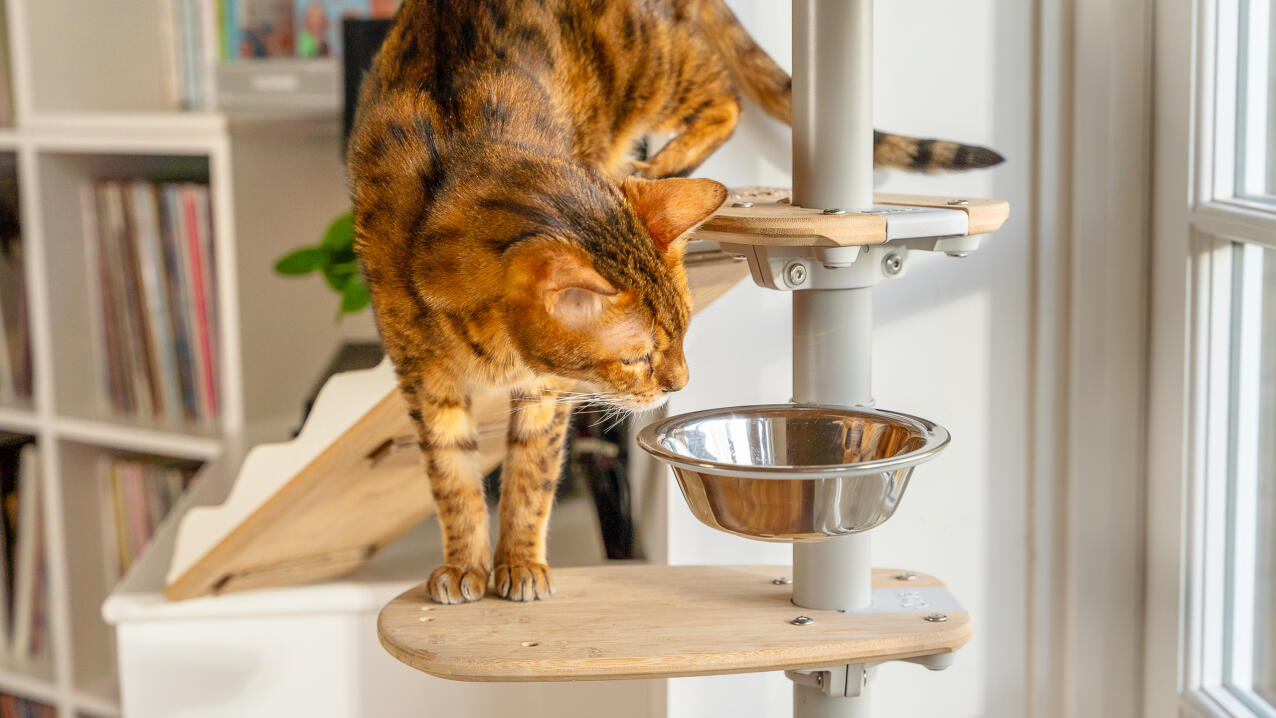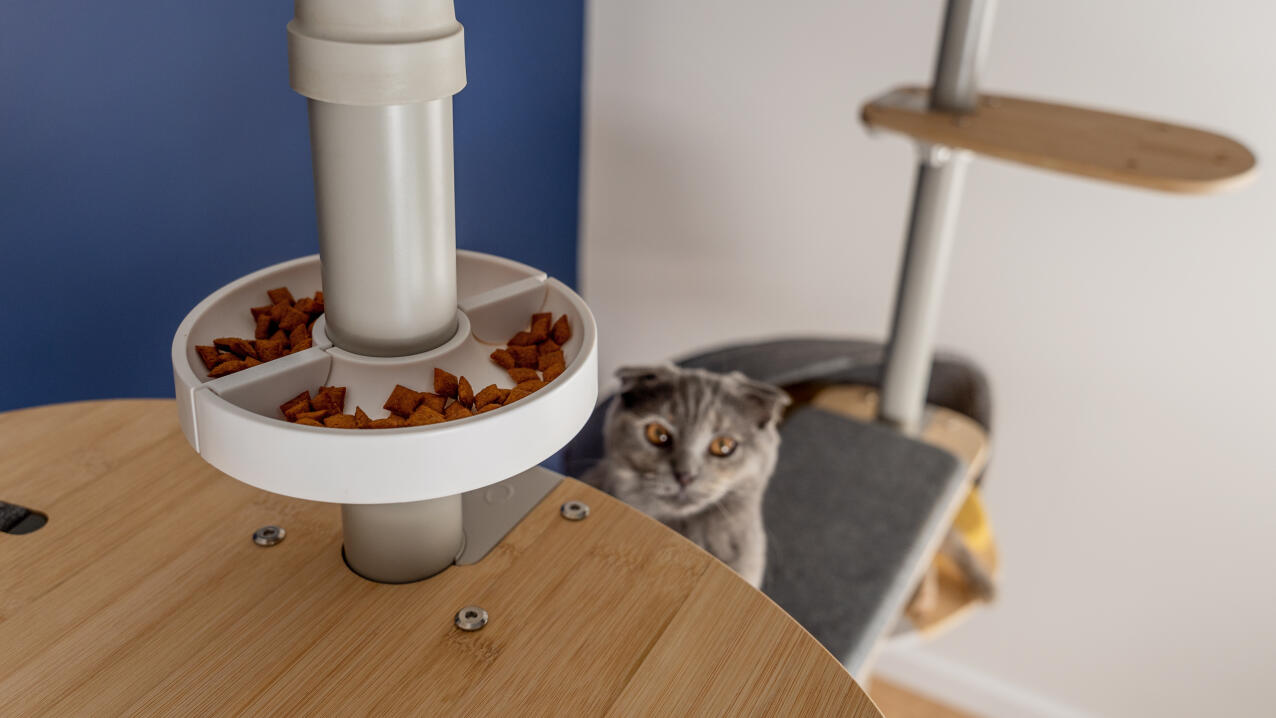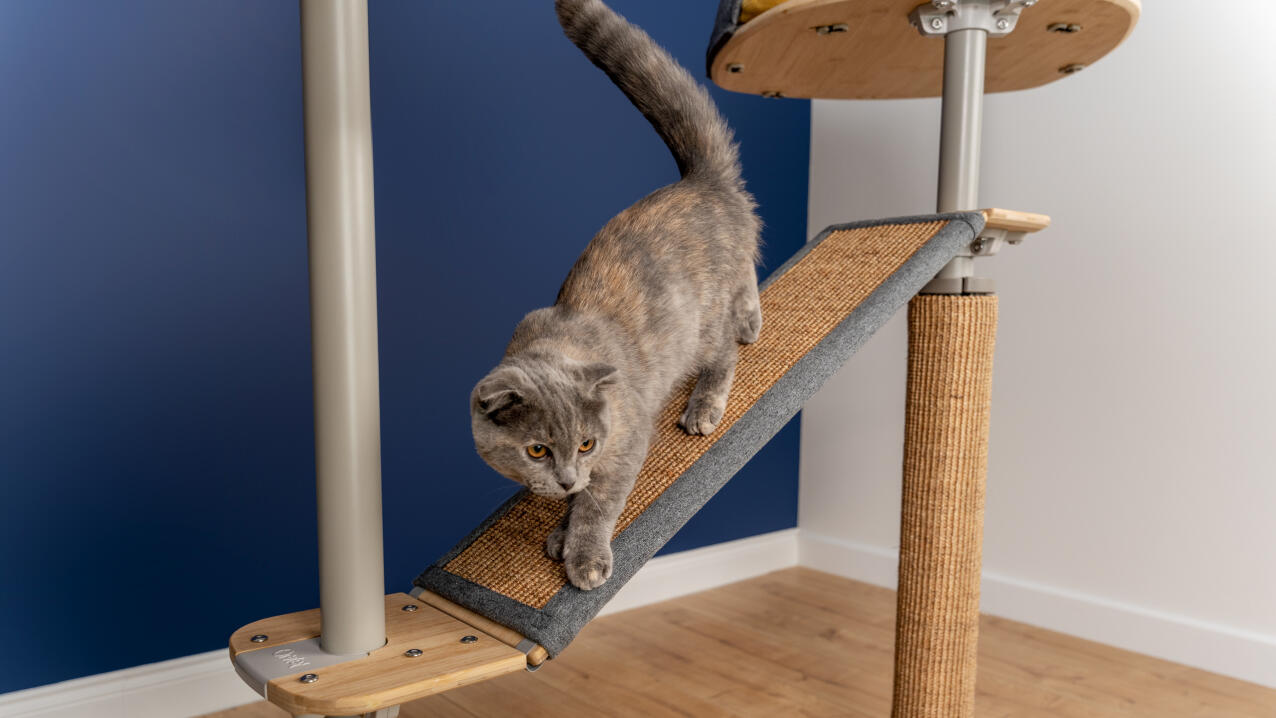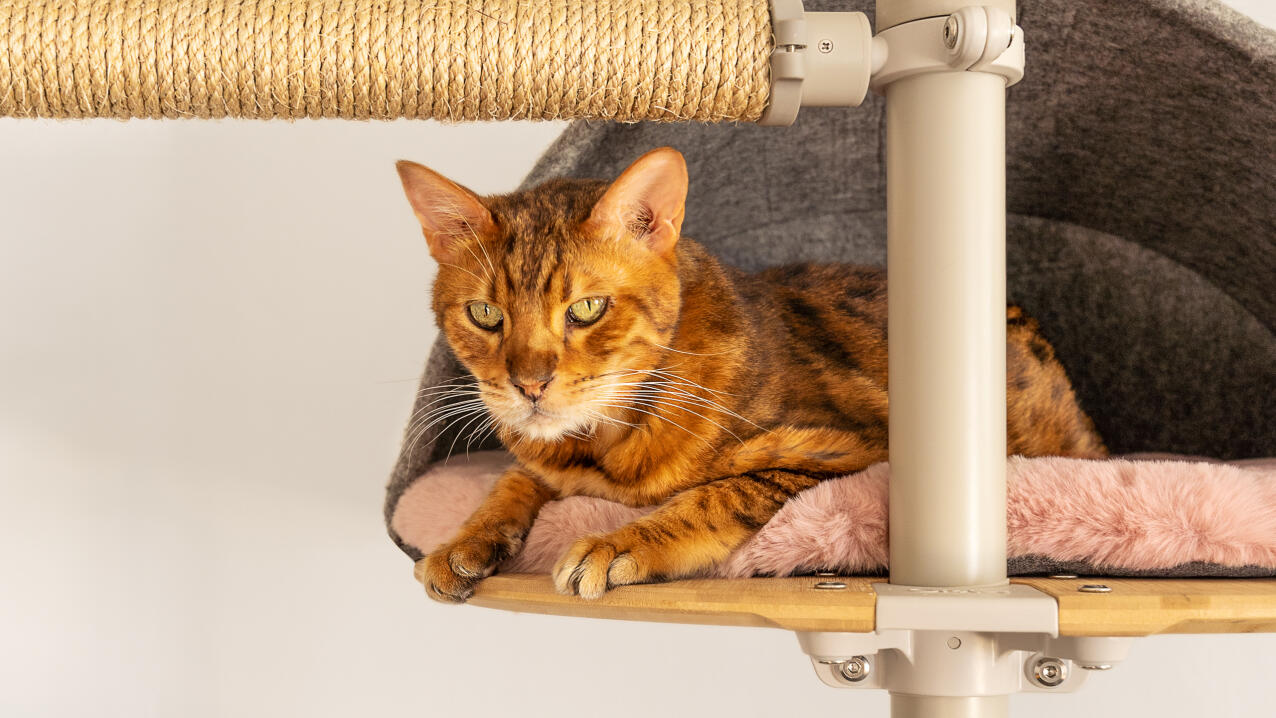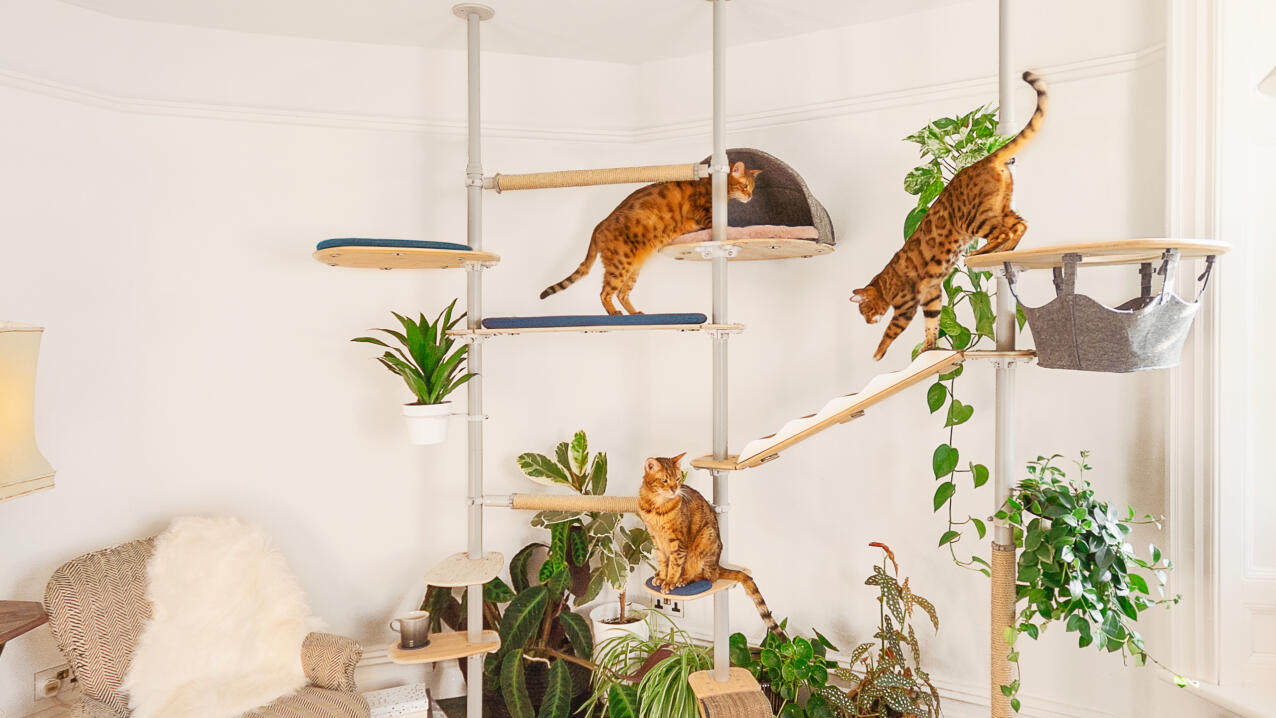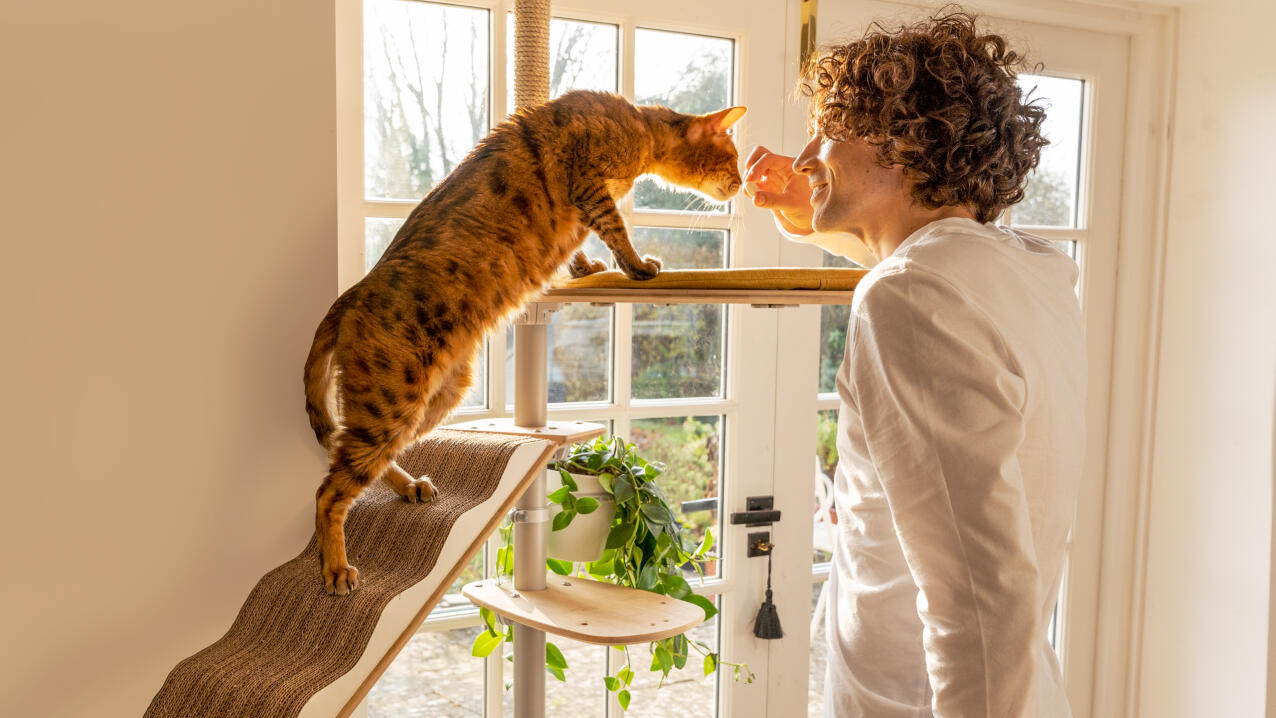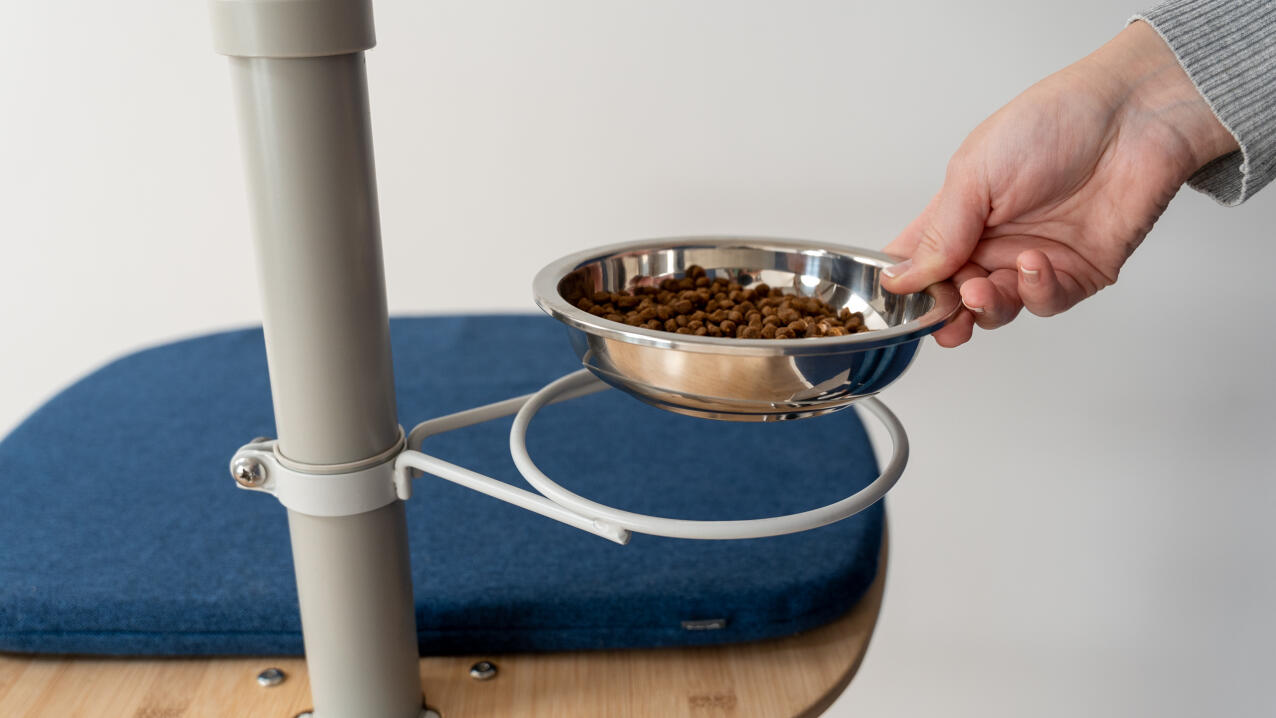 Freestyle Cat Tree
Why shouldn't your cat have a playground that's unique to them? That's why we designed the Freestyle cat tree with accessories that you know your cat will use, so they get the exercise and stimulation they need. And if things change, you can add, move or replace that part, not the whole tree. Designed by us, customised by you, loved by your cat.
We're Omlet and since 2004 we've been rethinking every aspect of keeping and caring for pets. Inspired by the magic when humans and animals connect, we watch, learn, ask and invent. Our products will make you wonder: why hasn't it always been done this way?
Pole Height:
Start Again?
Are you sure? By clicking yes you will lose your design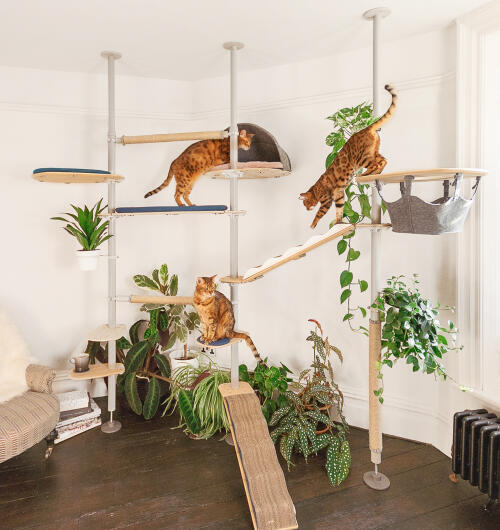 The Freestyle Cat Tree takes cats to higher ground - just the way they like it.
Easy to fit, adjustable poles for ceilings heights up to 14ft 5in. Just secure to the ceiling and add accessories all the way up to the top. You can even connect multiple poles together with bridges and ramps to expand your cat's playground even further.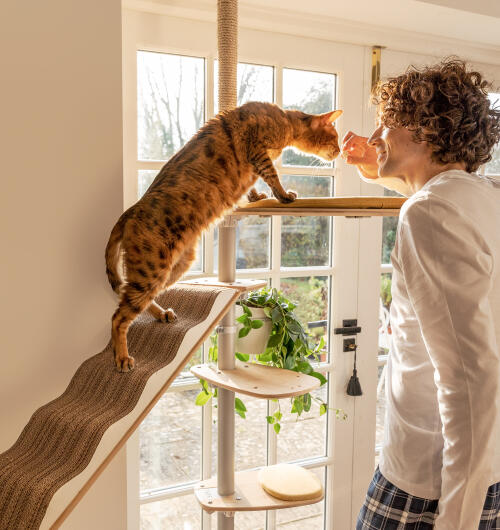 From scratching and stretching to climbing and jumping, the Freestyle cat tree is designed to make space for all your cat's natural instincts. It brings a whole new level of enrichment to their life, so you can bond like never before. Hammocks and dens provide the perfect place to slumber and snooze.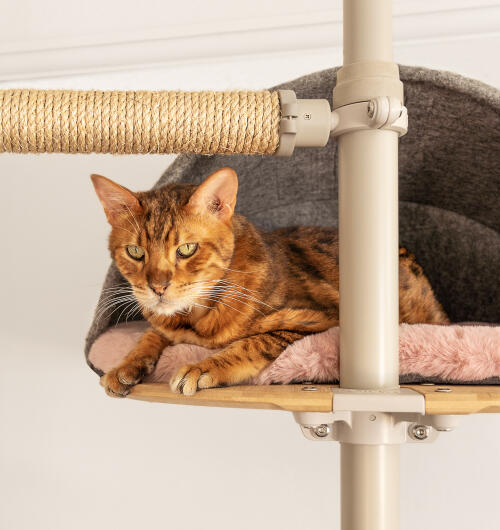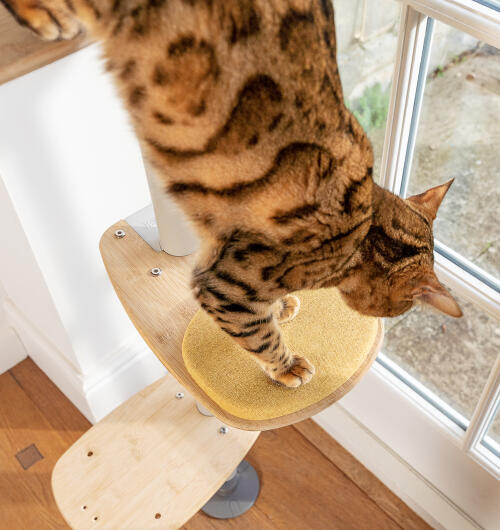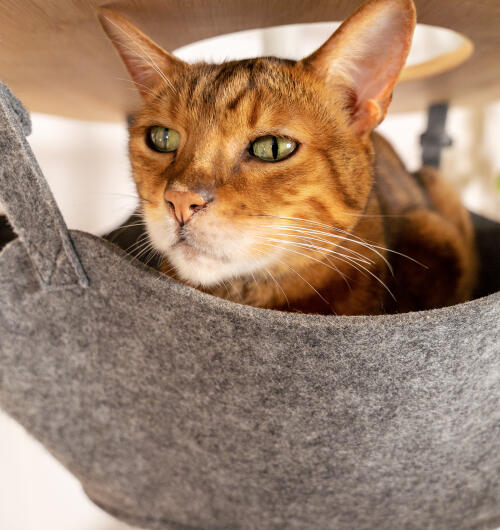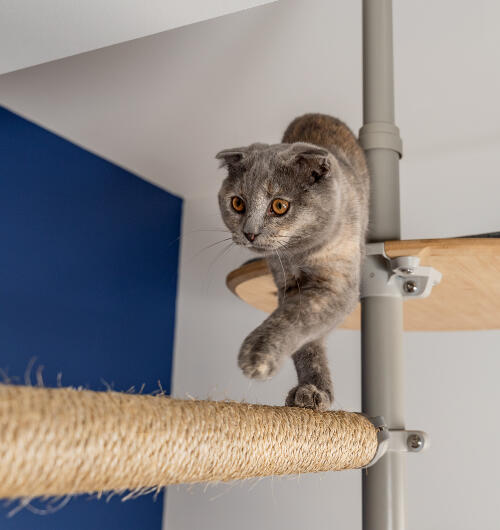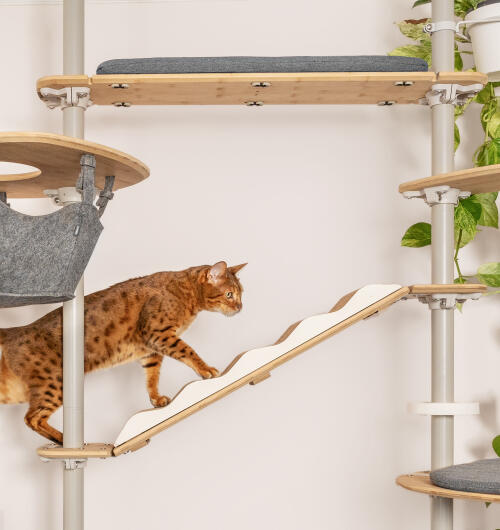 Unlike other cat trees, Freestyle gives you complete freedom to customise your cat tree to suit your cat's character.
Build their route with steps, platforms and bridges

Add spots to sleep with hammocks and dens

Satisfy their scratching needs with cardboard or sisal

Add treat dishes and feeders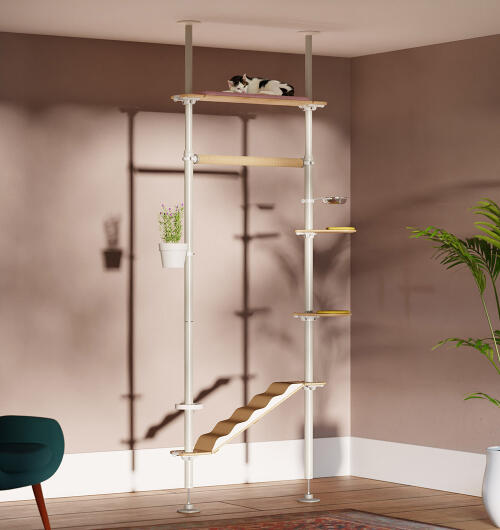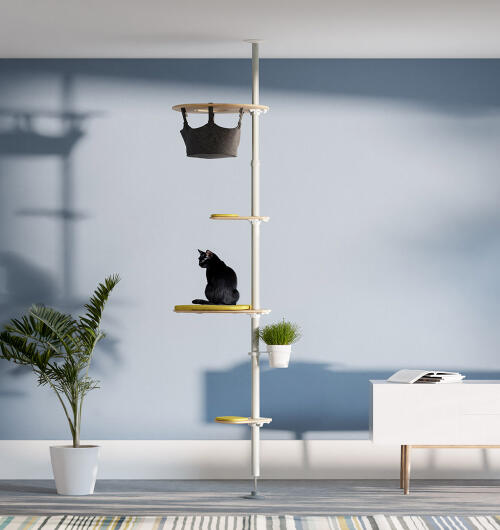 Be inspired by these pre-designed kits to find one that fits your cat.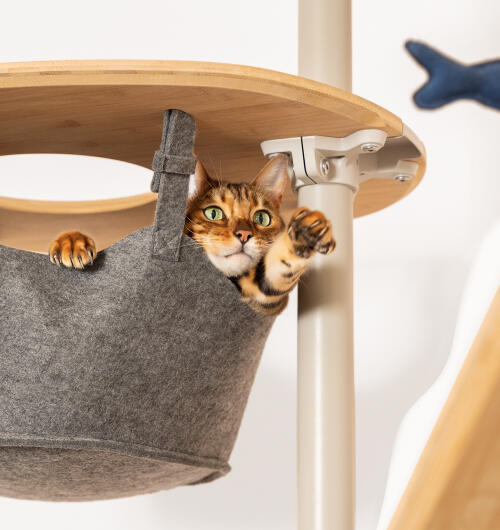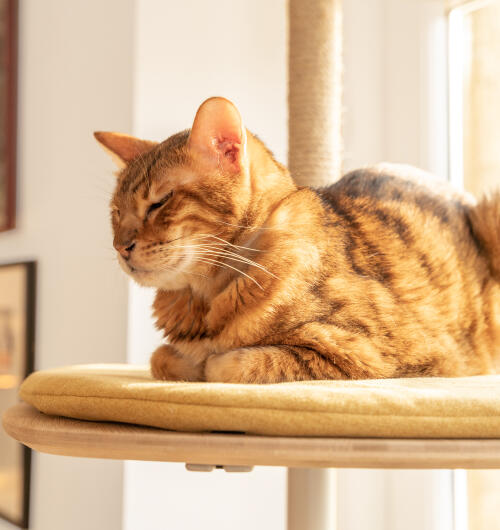 Most cat trees are made from cardboard and carpet, cheap materials that degrade fast. For active cats who leap and pounce, you need a tree made of stronger stuff. We engineered Freestyle with an aluminium core, ultra-tough bamboo, and hard-wearing woven fabrics to easily last nine lifetimes.
TREES DON'T BELONG IN THE TRASH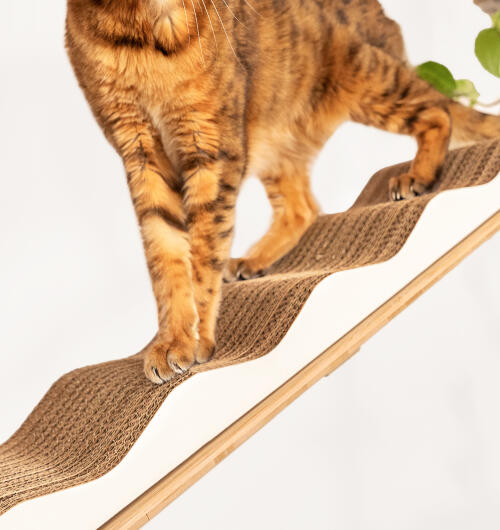 We've put sustainability front and centre of the Freestyle design, with sisal and cardboard scratching surfaces that are removable, so you can keep the tree and just replace the part once sharp claws have done their thing.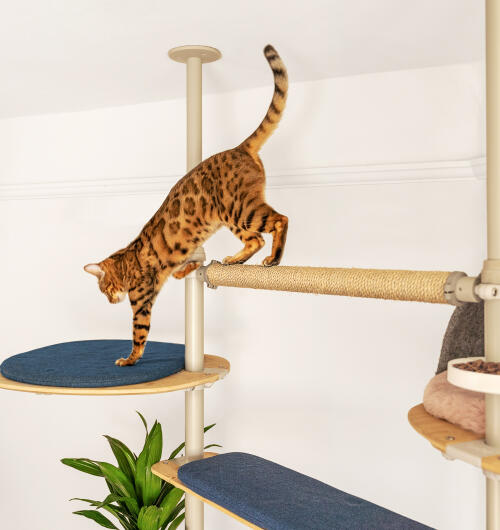 The slim cat tree's small footprint makes it a perfect fit for any size room. It maximises your cats play and sleep options by making use of the vertical space.
IT'S PRETTY COOL TO BE A CAT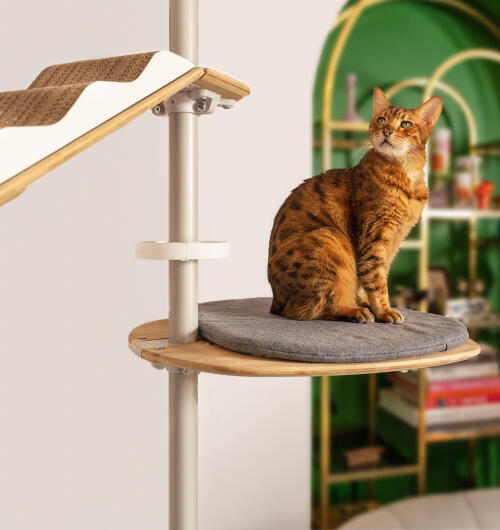 As well as customising a climber your cat will love, we want you to love it too. Choose cushion colours that complement your home - blue, grey, yellow or faux fur pink. Our fabrics have been tested for durability, comfort and they're all machine washable too.
KEEPING ALL CATS CLIMBING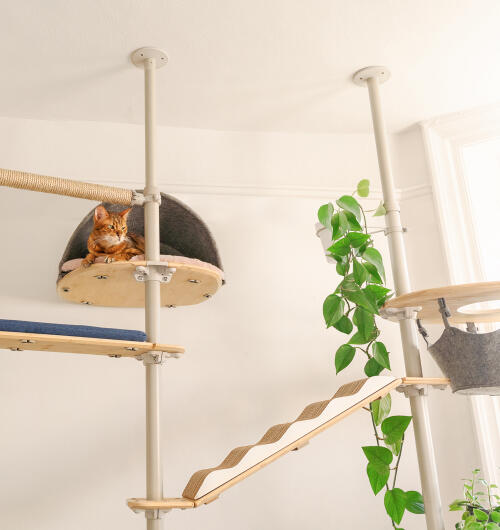 Whether you have a new kitten with little legs, a senior feline or a cat that needs to take up a healthier more active lifestyle, Freestyle's limitless set up options make it the perfect cat tree through all their life stages.
Keep steps close together for tiny or tired legs

Move steps and build strength as your kitten grows

Create walkways and interest with multi pole setups.

Position lookouts up high for nervous cats or busy homes
1

/
Frequently Asked Questions
I have a big cat, will the cat tree be strong enough?
The cat tree has been rigorously tested to make sure it's safe for all cats to use. All parts have been tested with weights of at least 65 lbs, so you can be confident that big cats like Maine Coons, as well as multi-cat households, will be able to enjoy it.
How do I secure the poles to the ceiling and/or walls?
The 1.7m to 2.15m and 2.15m - 2.60m vertical poles come with a fixings pack for the pole to be secured into the ceiling. The larger vertical pole kits include a wall brace and a fixings pack to secure your pole to the ceiling and wall. You can also purchase a separate wall brace if you want to secure a shorter pole to the wall. The fixings pack includes 5 wood screws, 5 wall plugs and 5 plasterboard plugs, so you can fix the pole to a wooden, solid masonry or plasterboard wall/ceiling.
Should I varnish the bamboo components?
We have recently improved the bamboo components of the Freestyle, and soon they will all arrive coated for extra protection. This, however, means that you might receive both treated and untreated parts for a short while. To protect your bamboo components, we recommend coating any untreated accessories with a non-toxic interior wood oil.
Can I extend or change the cat tree later on?
Can I place the accessories wherever I want on the poles?
Yes, with a few exceptions. The treat dish, plant pot and food bowl cannot be placed at the extended, narrower bit of the pole. Depending on where you want to place the sisal scratching rope kit, you will also need to choose either the base or the narrow version.
What are the safety guidelines for this product?
Make sure the whole cat tree is secured and fully assembled and that all screws are tightened before letting your cat use the Freestyle. Regularly check the system to make sure everything is fastened securely, and only use accessories specifically designed and intended for the cat tree.
The Freestyle Cat Tree is designed to be used by pets. Don't lean against, climb or hang on the cat tree. Don't rest heavy objects on any parts of the tree. The Cat Tree is not a toy. Don't leave children unsupervised when in contact with the product.
I have an angled ceiling, will I be able to attach the cat tree?
Why should I have a cat tree?
Cats naturally enjoy being high up, taking in their surroundings in a safe space away from children and other pets. A cat scratching tree will also provide your cat with exercise and scratching opportunities, which is particularly beneficial to indoor cats.
Can used/worn parts be replaced?
Yes, you can purchase spare parts and accessories for your stylish cat tree
here
.
How do I keep the cat tree clean?
The poles and platforms are easy to wipe clean with a pet safe disinfectant and soft cloth. Wash woven fabrics in a gentle machine wash at 40 degrees with mild detergent. Faux Sheepskin fabrics should be hand washed only at 40 degrees with mild detergent.
Do not tumble dry, iron or use bleach.
Is the cat tree easy to build?
Your Freestyle Floor to Ceiling Cat Tree comes with a comprehensive instruction manual that takes you through the assembly process, and there are also step-by-step how to build videos
here
. We recommend getting a professional to fit and screw your pole into the ceiling for you.
Can I change the setup I built in the configurator when the products arrive?
Yes. You will receive all the accessories you have added, but they do not need to go in the same place. You can build your system one way and move the accessories around at any time. This applies to the starter kits as well.
What's the difference between the variety of scratchers?
The scratching components for the Freestyle are either cardboard or sisal. Which one you should choose depends on your cat's scratching preferences.
The sisal rope kit is a cost effective and adjustable solution that is simply wrapped around one of the poles, whereas the thicker scratching post is a more robust version for fierce scratchers who take their nail maintenance seriously. Both of these are attached to poles. The sisal wraps go on bridges or ramps, great for horizontal stretching.
The cardboard scratching boxes come in two different designs, and are also attached to ramps or bridges. The corrugated cardboard allows cool air to move through the small gaps, which will be especially appreciated on warm summer days.
Do I have to secure the system?
Neither small nor giant cat tree systems are stable enough to be free standing, so it must be secured to the ceiling and/or wall using the provided fixings.
Is there a catalogue where I can see all the parts?
Sisal is an agave plant which yields a stiff fibre used to make rope and twine. Sisal rope is commonly used for cat scratchers due to its strength and durability, and cats like sharpening their claws against the fibres. Additionally, it is biodegradable and can be recycled.
Is the cat tree suitable for cats of all ages?
Yes, you can customise the Freestyle Cat Tree to suit the requirements of your cat. For kittens or less agile cats you can put in more steps or move accessories closer to the ground.
What materials are the poles and accessories made of?
The Freestyle floor to ceiling cat tree for large cats is made from strong and durable materials, like bamboo and aluminium. If you want to know what materials a specific part is made from, you can find all parts and accessories
here
.
Speak to a Freestyle Ambassador near you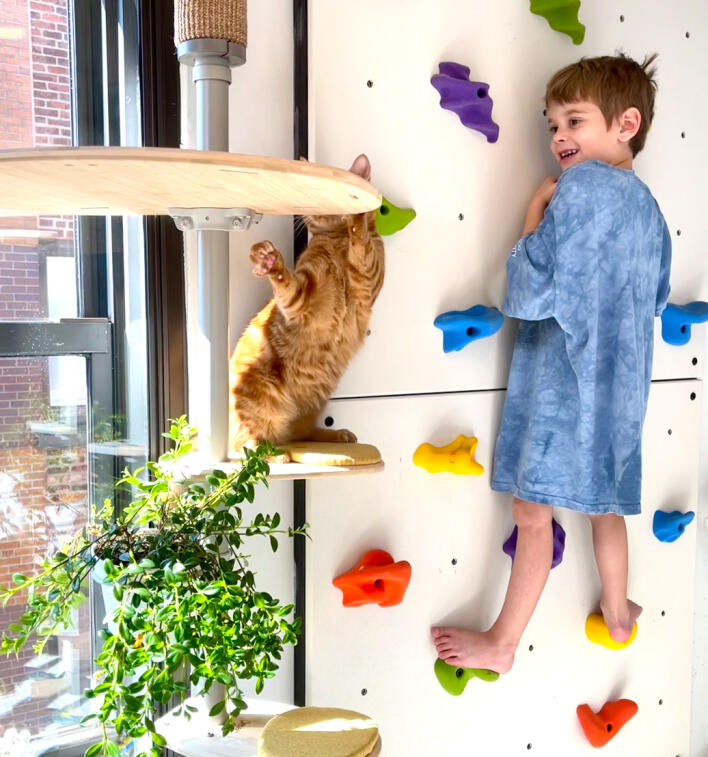 Omlet Ambassadors are customers turned product experts.
They can answer all your questions about the Freestyle Indoor Cat Tree and share their experience using it with their cats.
Find an ambassador near you
FREESTYLE inDOOR Size & Specs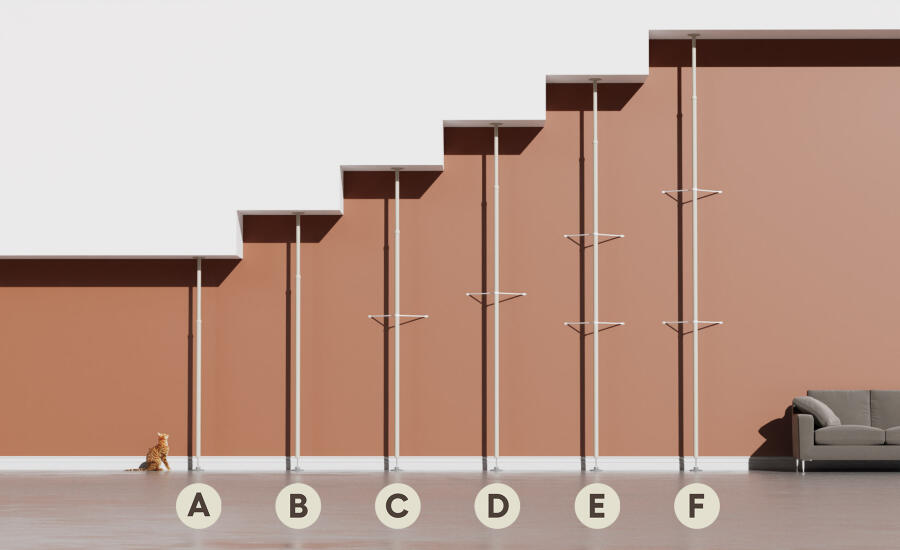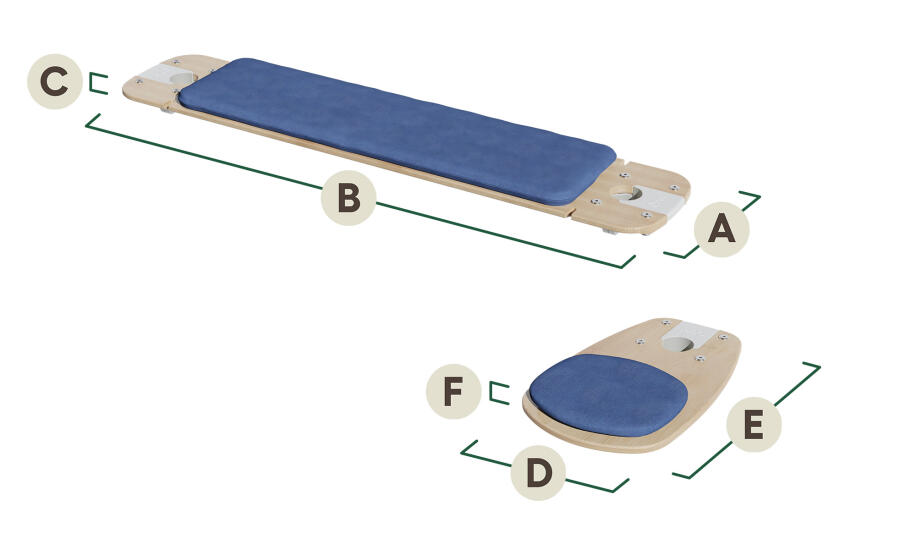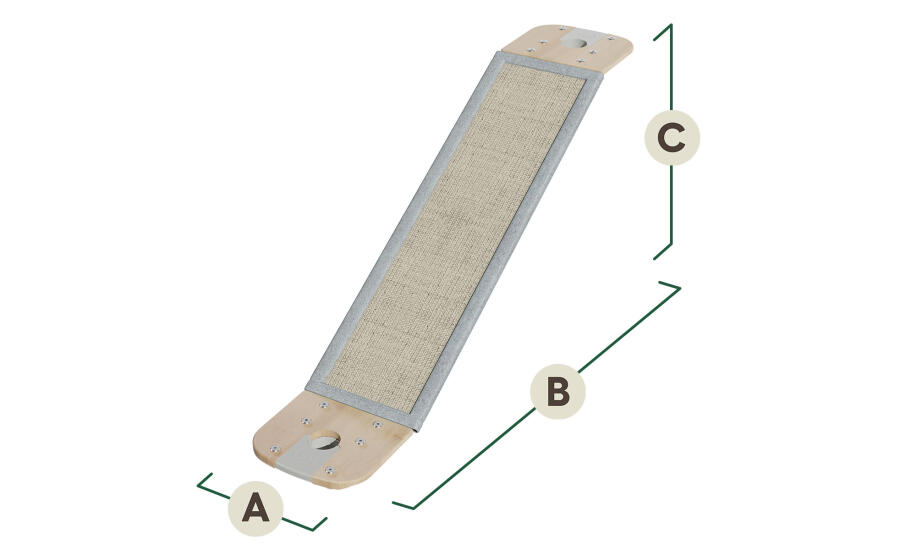 Freestyle Floor to Ceiling Cat Tree - Customisable Cat Tower
Quality cat tree looks great
My kitten had a lot of fun testing out the cat tree once installed which took a few hours to put together but was quite easy once I put together the poles and first ramp.
Review for:
Freestyle Cat Tree - Bamboo Hammock Platform with Hammock (includes bracket)
This reviewer has 1 Domestic Short Hair pets
Full Freestyle cat tree setup
Purchased a twin pole setup where the cats can cross from one to the other, have their own space and feel like they're climbing like natural to them. It's been AMAZING. They're on it all the time, it looks fantastic in my lounge and it's rock-solid quality. Absolutely recommend
Review for:
Indoor Freestyle Cat Tree - Vertical Pole Kit - 2.15m to 2.6m
This reviewer has 10+ pets
I purchased the explorer kit plus a den a few months ago. Had to wait quite a while for delivery but it was well worth the wait. It's well made and of good sturdy solid construction. My cats are absolutely loving it.
Review for:
Freestyle - The Explorer Kit - 2.15m to 2.60m
This reviewer has 2-4 2 x Devon rex cats, pets
Both my boys love the new addition.
Review for:
Freestyle Cat Tree - Felt Den for Platform - Grey
This reviewer has 2-4 Siberian pets
Best thing I've bought for the cats!
Ordered a freestyle indoor tree with additional hammock and platform last year for my cats. Both are indoor and I wanted something to provide climbing and height for them as a result. Found this company, and after deliberating the cost decided to go ahead. Turns out best money I could have spent on them. Top quality product and amazing customer service from the Omlet team who went above and beyond to sort any issue I had. The cats absolutely adore it and spend most of their time in the hammock, arguing over who gets the penthouse suite! Highly recommend these trees and components. It might seem expensive but the quality is so good and sturdy, and the enjoyment the cats get from it is priceless.
Review for:
Freestyle - The Top Cat Kit - 2.15m to 2.60m
This reviewer has 2-4 Tabbies pets
Read more reviews