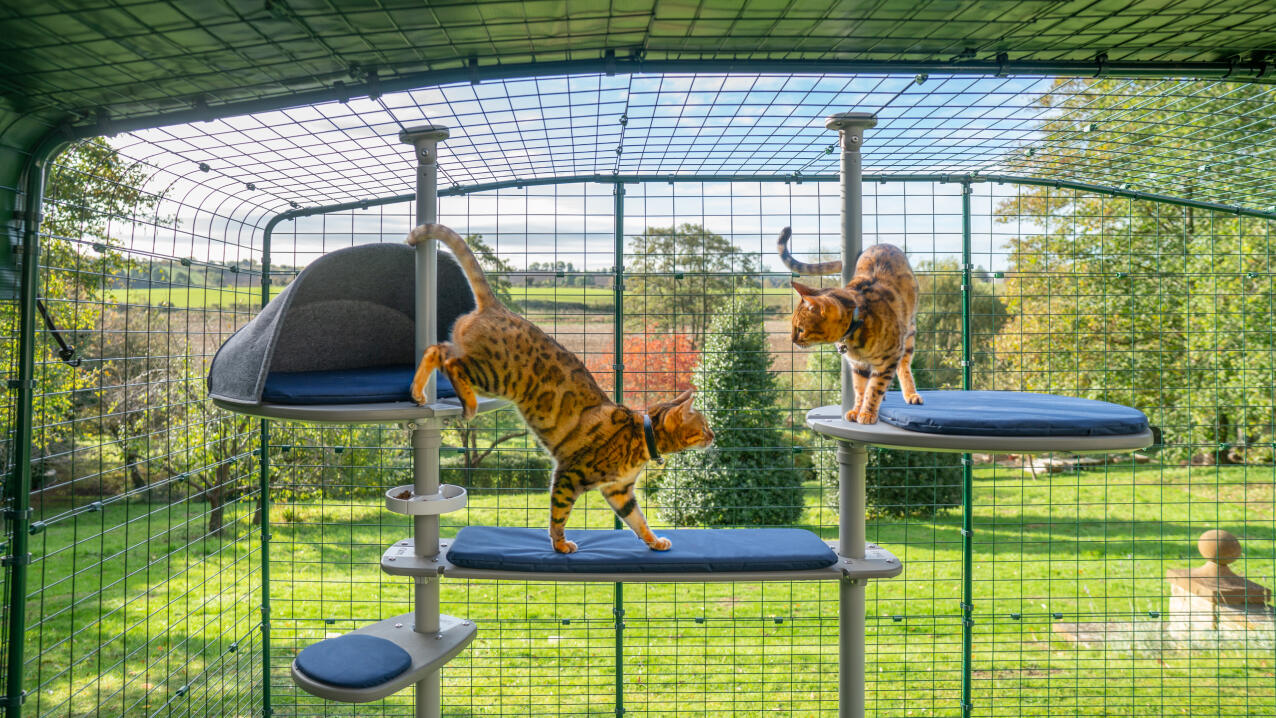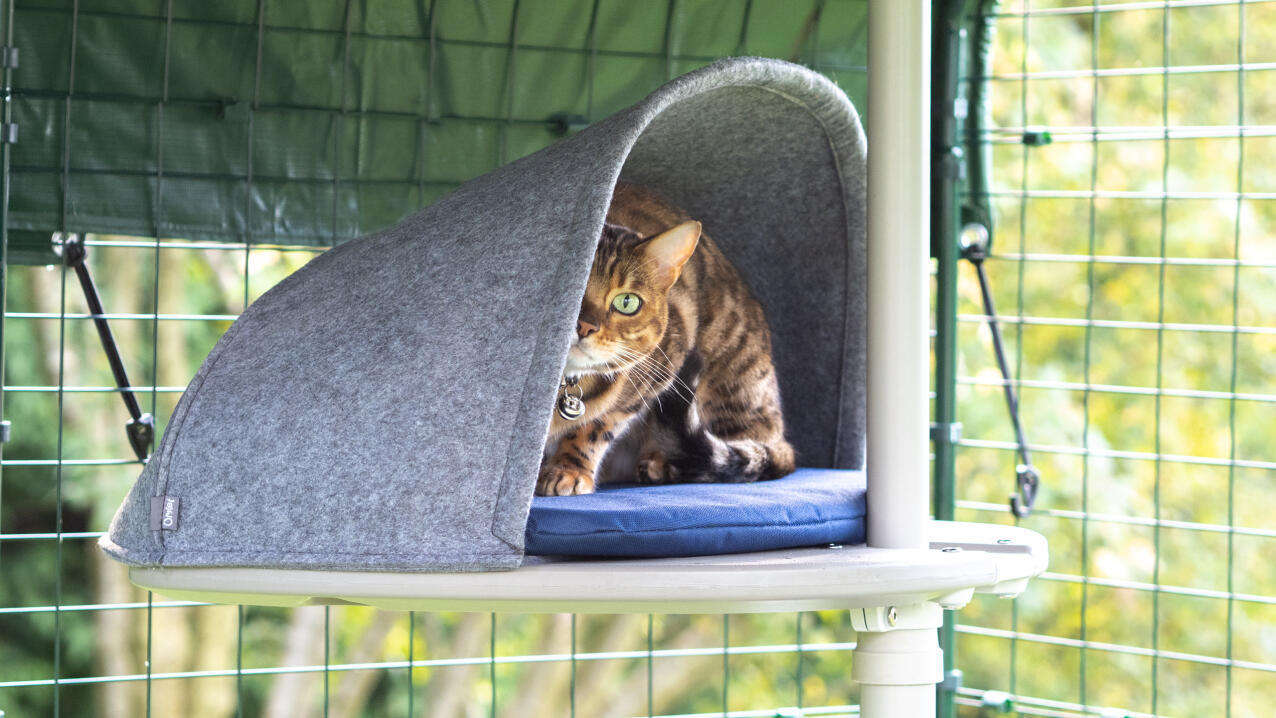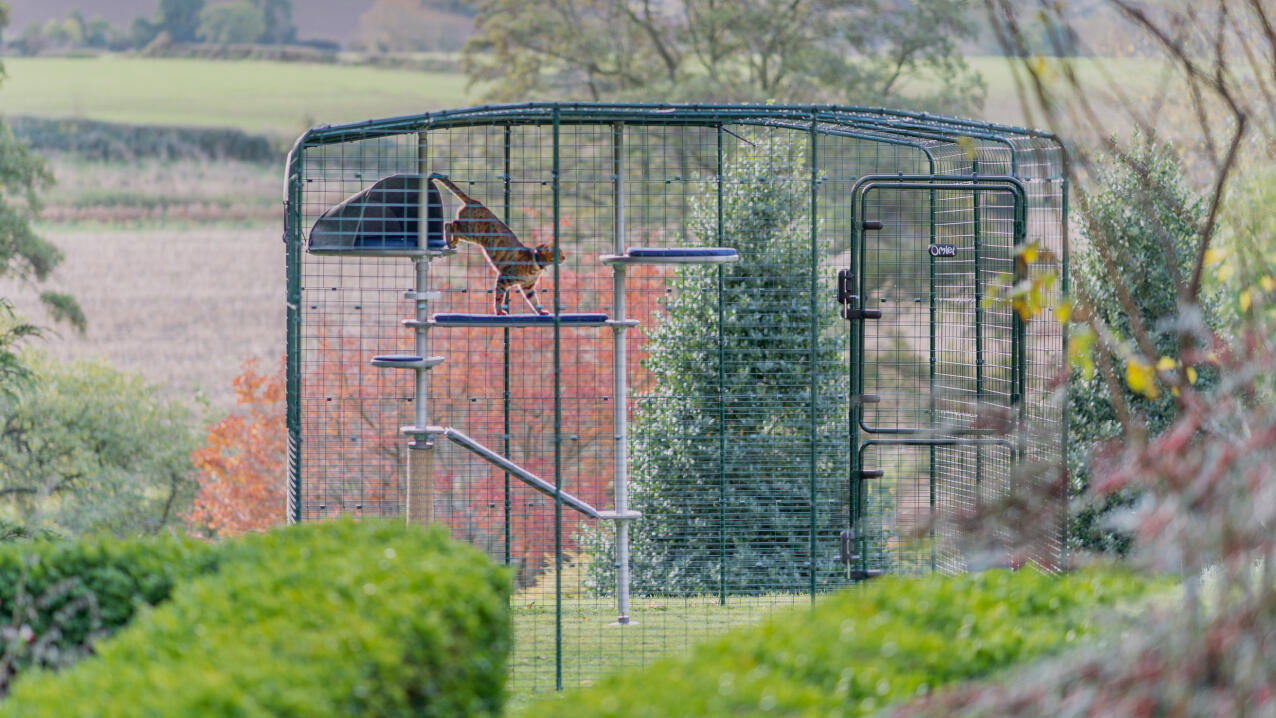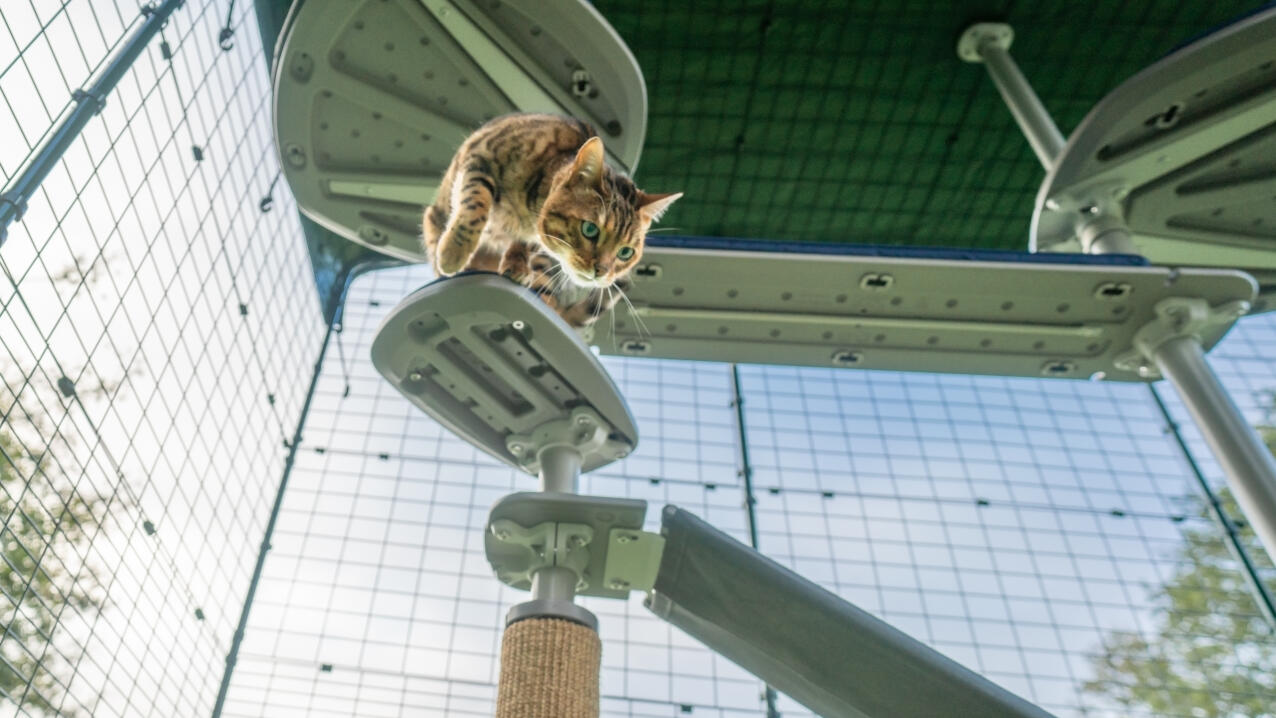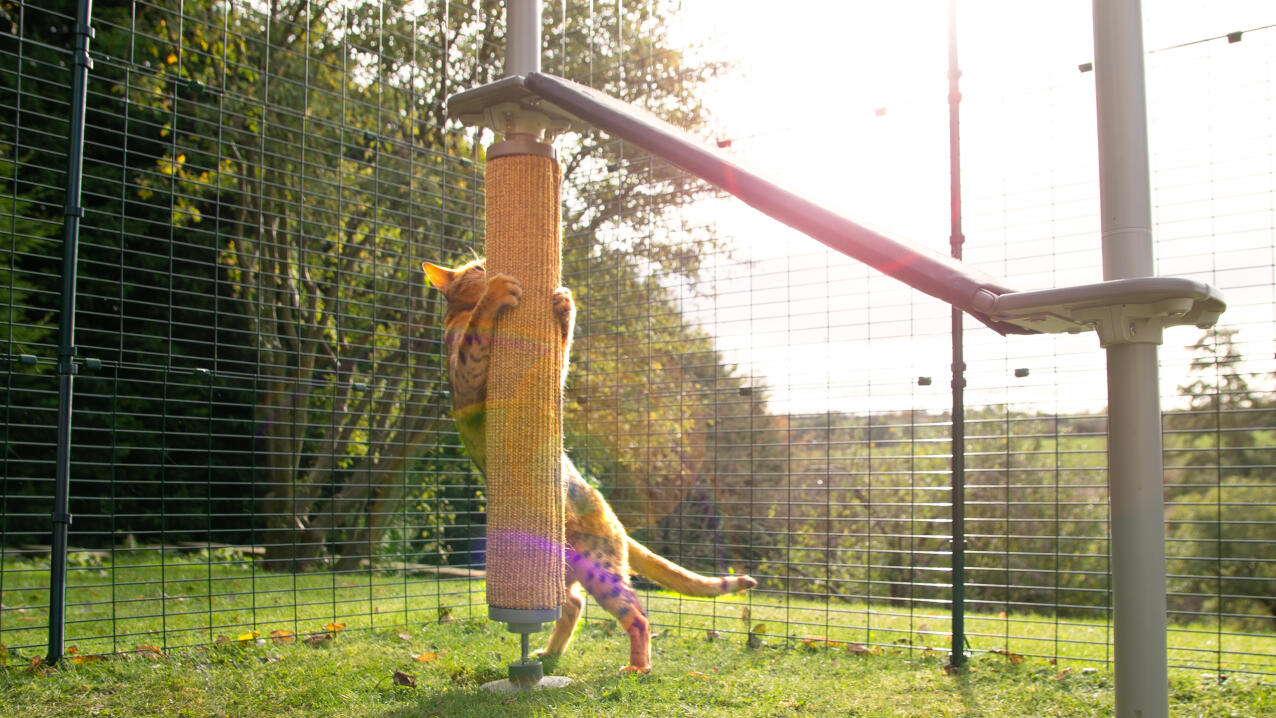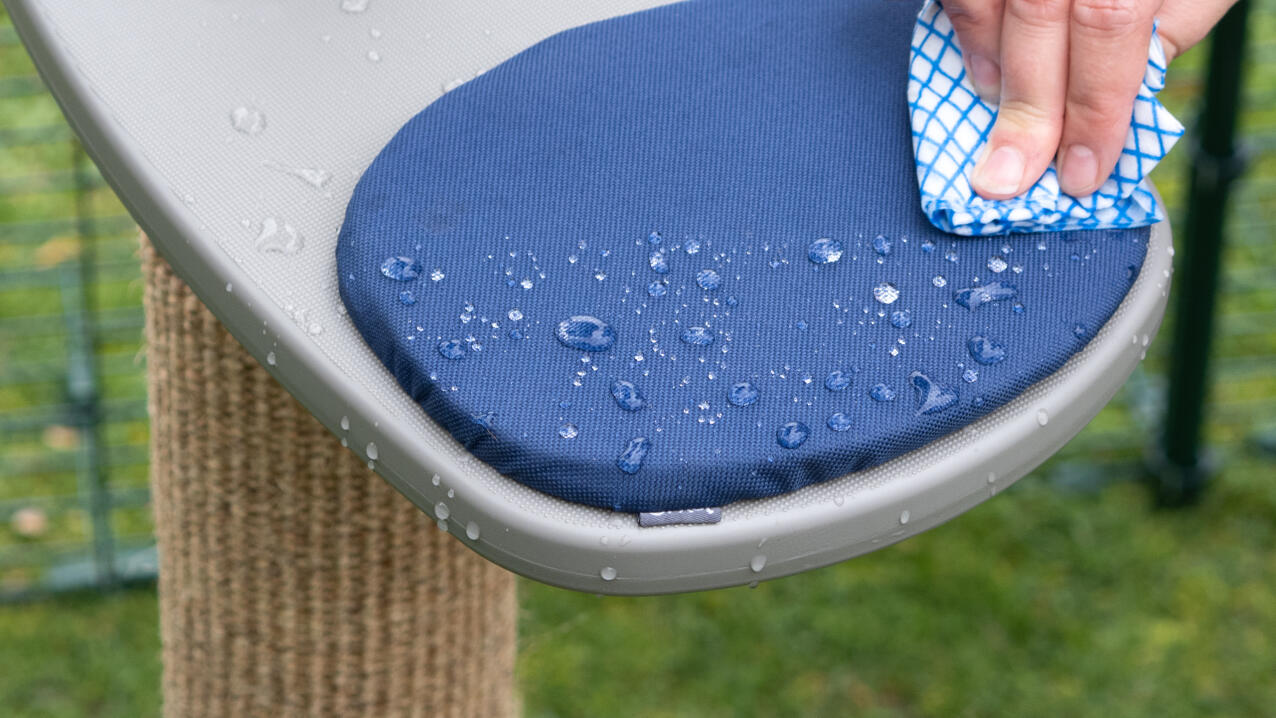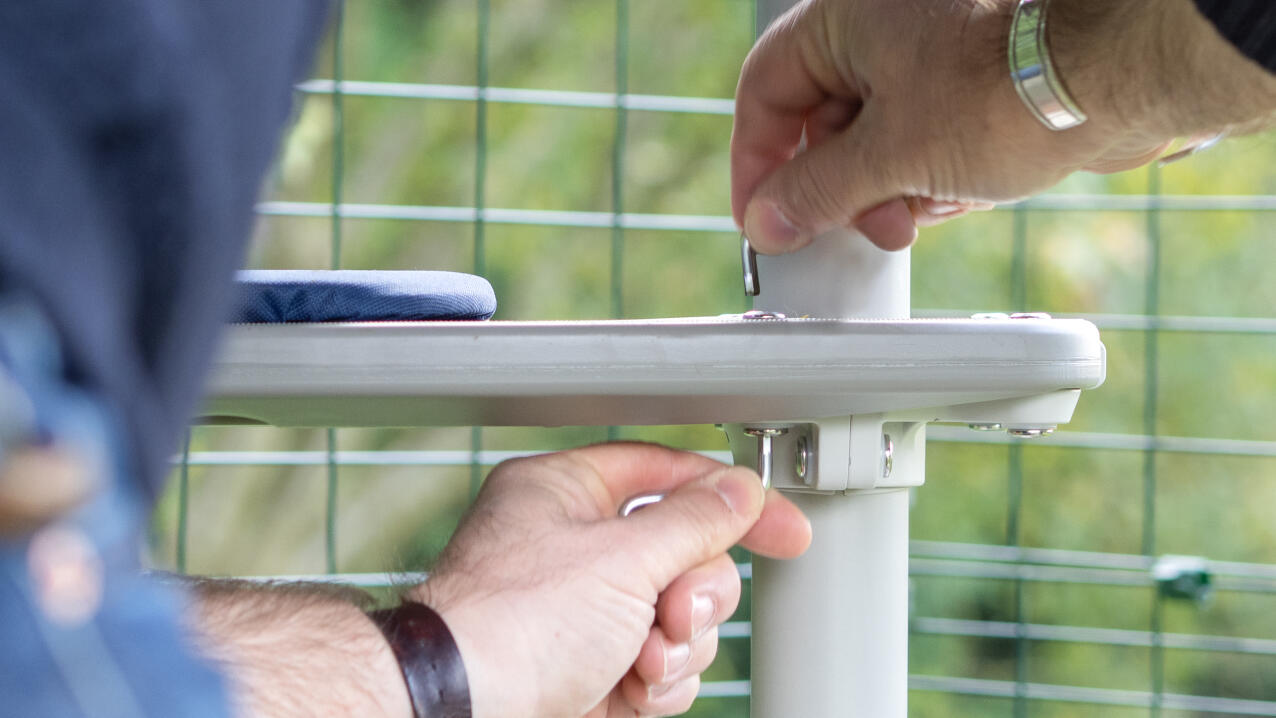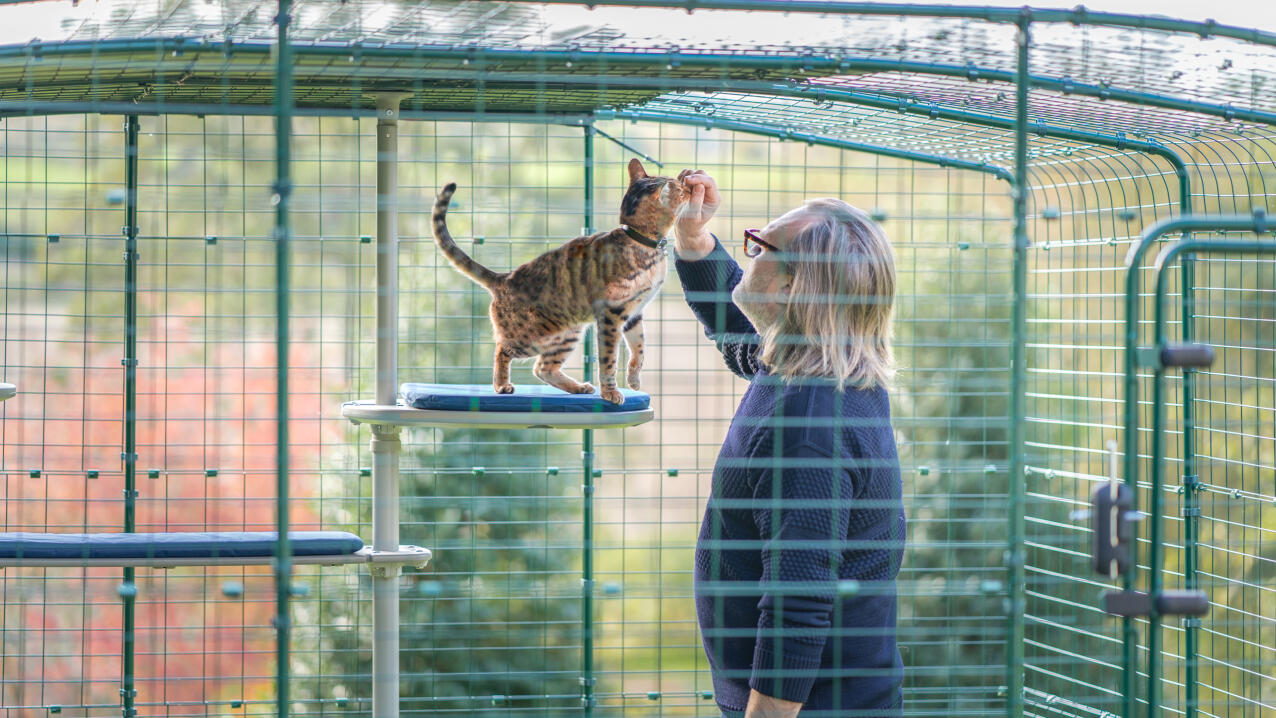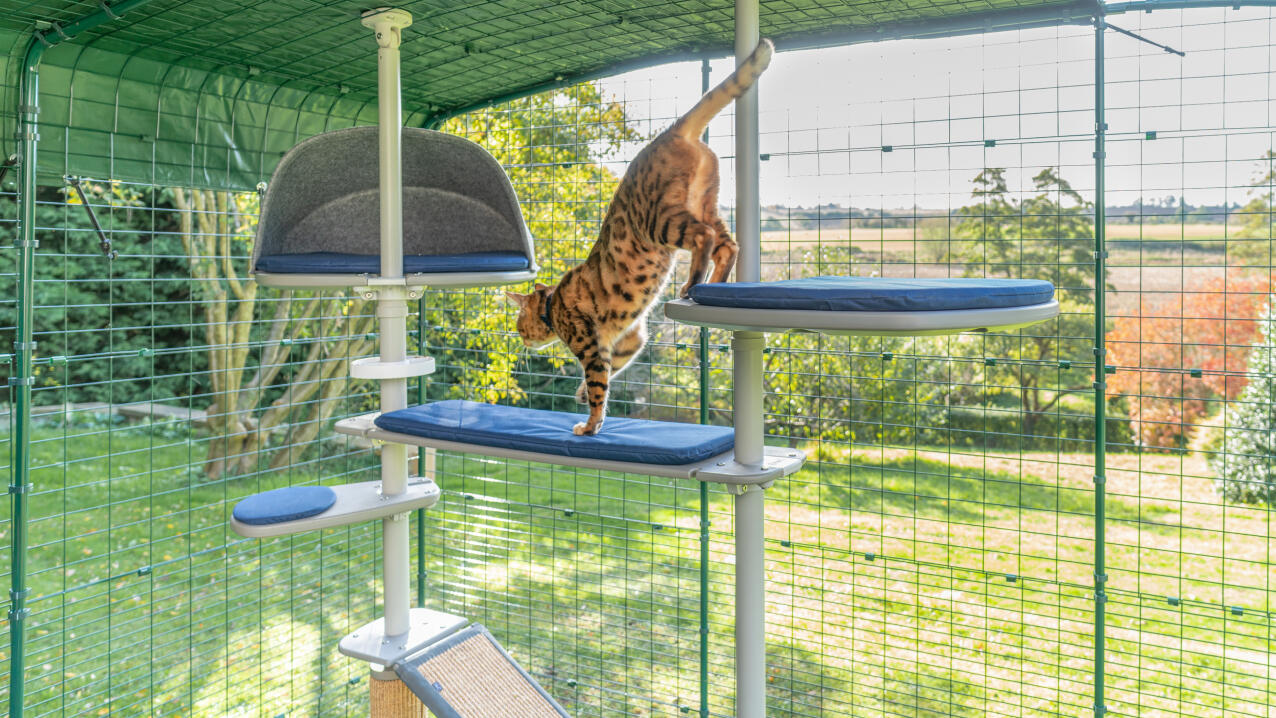 Freestyle Cat Tree
Do cats love to climb? Absolutely. Do trees grow in the woods? Not always. Our Freestyle Outdoor cat tree first grew in a design studio. Then we put it to the test outside, with cats of every shape and size, and it really came alive.
We're Omlet and since 2004 we've been rethinking every aspect of keeping and caring for cats. Inspired by the magic when humans and animals connect, we watch, learn, ask and invent. Our products will make you wonder, why hasn't it always been done this way?
Pole Height:
Start Again?
Are you sure? By clicking yes you will lose your design
Take your catio to new heights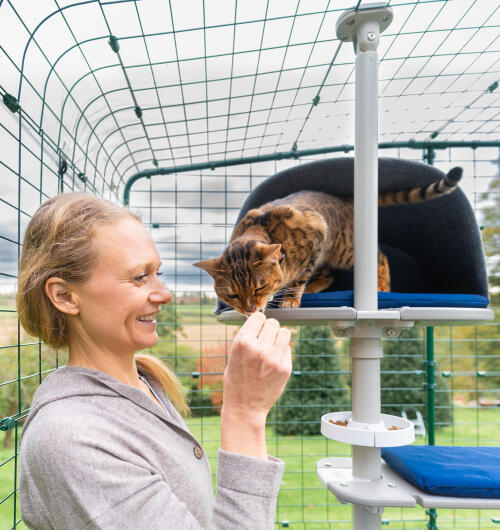 The Freestyle Outdoor cat tree fits any enclosure, including Omlet catios. With adjustable poles from 1.70m to 4.40m, the great outdoors just got greater.
Can a cat tree keep growing?
Start with our tough aluminium poles and add durable, recyclable parts with quick fit brackets, for a tree that can always grow and adapt. Choose from accessories including:
Scratchers
Platforms
Hammocks
Bridges
Dens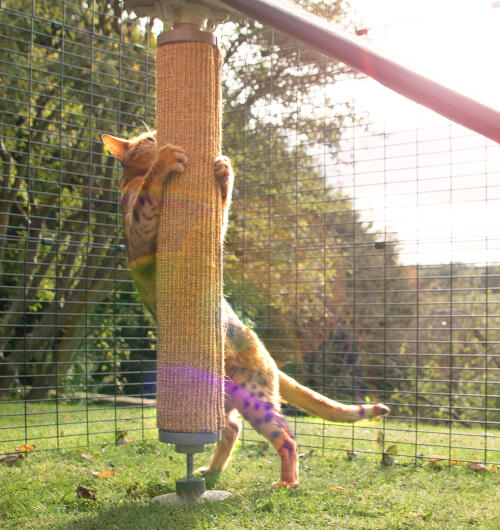 Build an adventure playground in the air with treetop walkways, lookout platforms and scratching posts and pads at every corner, all engineered to appeal to your cat's natural instincts and behaviors.
Tailor distances and accessories to suit your cat's age and ability, and keep their curiosity alive by adding to your tree over time, opening up every inch of your catio for them to explore.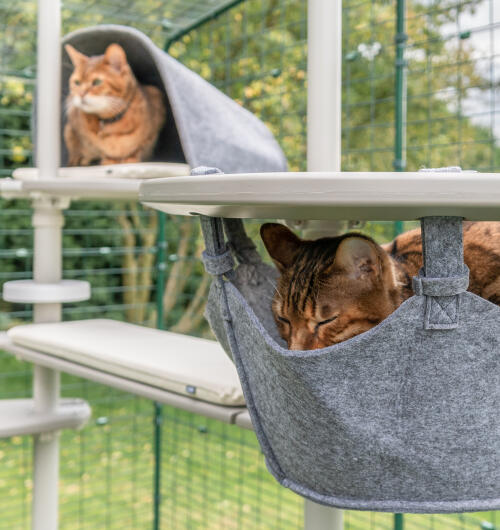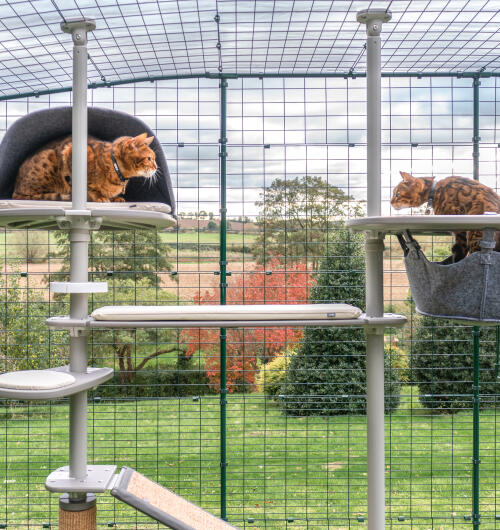 A Freestyle session a day keeps the vet at bay. Not heard that one? OK, we made it up - but we stand by it.
Lured into leaping, pouncing, climbing and stalking, they'll go from dozy to frisky in the flick of a tail. Exercise is your cat's best friend (after you, naturally) and the Freestyle Outdoor cat tree is the deluxe gym of cat dreams.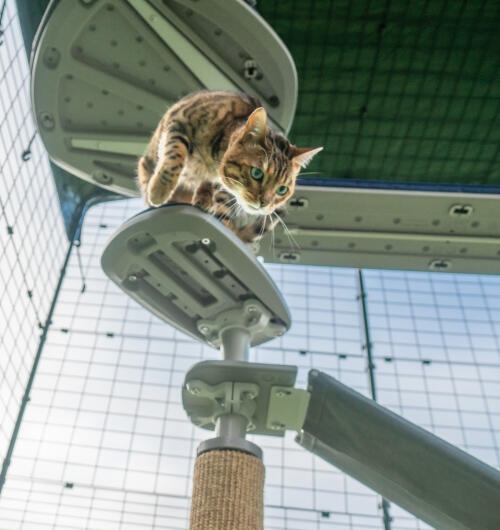 Rust proof, durable materials and easy wash cushion covers mean the Freestyle Outdoor cat tree will be perfectly fine, even when the weather's not. And with our hardwearing catio covers, even fair weather felines will be raring to go out in the rain.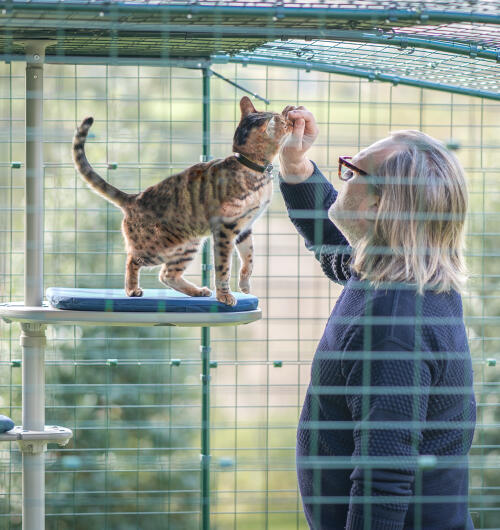 The Freestyle Outdoor cat tree will energize your cat, encouraging them to play and connect with you where they're most comfortable. Eye contact on their terms? You can't get much closer than that.
1

/
Frequently Asked Questions
Will the cat tree be okay outside all year round?
The core of the cat tree is good to use in all weather conditions and can be kept on your cat run all year round, including the poles and all plastic components. All cushions, the hammock and the den are weather resistant and can be used outdoors. But to protect them and make the cat tree as comfortable as possible for your pets, these should be positioned under a weather protection cover on your catio.
If your pet doesn't want to brave the winter weather, an indoor cat tree will allow them to enjoy the exercise whilst inside.
Can I extend or change the cat tree later on?
What are the safety guidelines for this product?
Make sure the whole cat tree is secured and fully assembled and that all screws are tightened before letting your cat use the Freestyle. Regularly check the system to make sure everything is fastened securely, and only use accessories specifically designed and intended for the cat tree.
The Freestyle Cat Tree is designed to be used by pets. Don't lean against, climb or hang on the cat tree. Don't rest heavy objects on any parts of the tree. The Cat Tree is not a toy. Don't leave children unsupervised when in contact with the product.
How do I keep the cat climbing tree clean?
The poles and plastic accessories are easy to wipe clean with a pet safe disinfectant and soft cloth. Wash the fabrics in a gentle machine wash at 40 degrees with mild detergent. Do not tumble dry, iron or use bleach.
I have a big cat, will the cat tree be strong enough?
The cat tree has been rigorously tested to make sure it's safe for all cats to use. All parts have been tested with weights of at least 65 lbs, so you can be confident that big cats like Maine Coons, as well as multi-cat households, will be able to enjoy it.
How do I fasten the cat tree to the roof of my catio?
With all Outdoor Freestyle Cat Tree poles you will receive two types of connectors. If you have a run with a completely flat roof, you should use the straight connector that is packed with the pole itself. If you're fastening the pole to an angled ceiling or to a meshed run, like the Omlet Catio, you should use the separately packed Outdoor Cat Run Roof Connector Kit instead.
Why should I have a cat tree?
Cats naturally enjoy being high up, taking in their surroundings in a safe space away from children and other pets. A strong cat tree will also provide your cat with exercise and scratching opportunities, especially beneficial to indoor cats spending time in their catio.
Can used/worn parts be replaced?
What materials are the poles and accessories made of?
The core of the waterproof cat tree is made from strong and durable materials, like aluminium and polypropylene. If you want to know what materials a specific part is made from, you can find
all parts and accessories here
.
How do I build the cat tree, and is it easy to do?
The system is not stable enough to be free standing, so it must be secured to the roof of your catio using the provided fixings, as well as the ground using pegs. You can also further secure the system with wall braces.
All vertical poles come with a connector kit to fit the pole to a mesh roof, like that of the Omlet Outdoor Cat Run. The way you attach your Cat Tree to a DIY run depends on the materials, please consult a professional for help on how to safely install the tree.
Your Freestyle Cat Tree comes with a comprehensive instruction manual that takes you through the assembly process, and there are also step-by-step how to build videos here.
Can I change the setup I built in the configurator when the products arrive?
Yes. You will receive all the accessories you have added, but they do not need to go in the same place. You can build your system one way and move the accessories around at any time. This applies to the starter kits as well.
What's the difference between the variety of scratchers?
Sisal is an agave plant which yields a stiff fibre used to make rope and twine. Sisal rope is commonly used for cat scratchers due to its strength and durability, and cats like sharpening their claws against the fibres. Additionally, it is biodegradable and can be recycled.
The sisal rope kit is a cost effective and adjustable solution that is simply wrapped around one of the poles, whereas the thicker scratching post is a more robust version for fierce scratchers who take their nail maintenance seriously. Both of these are attached to poles. The sisal wraps goes on bridges or ramps, great for horizontal stretching.
Is there a catalogue where I can see all the parts for this product?
Can I replace the vertical support poles of my 3m wide run with the Freestyle poles?
Yes, that is possible. However, one of the purposes of the support pole is to slightly push the roof up to make sure rain doesn't gather at the top of the run and put too much pressure on the roof.
For runs without covers this isn't a problem. If you have covers on the roof of your run and want to swap the support poles for a Freestyle pole, place the pole as close to where you had the support pole as possible. Making sure water runs off the cover as it should once assembled.
If you live somewhere likely to get heavy snow fall and have covers on your run, we suggest keeping the cat run support poles.
SPEAK TO A FREESTYLE AMBASSADOR NEAR YOU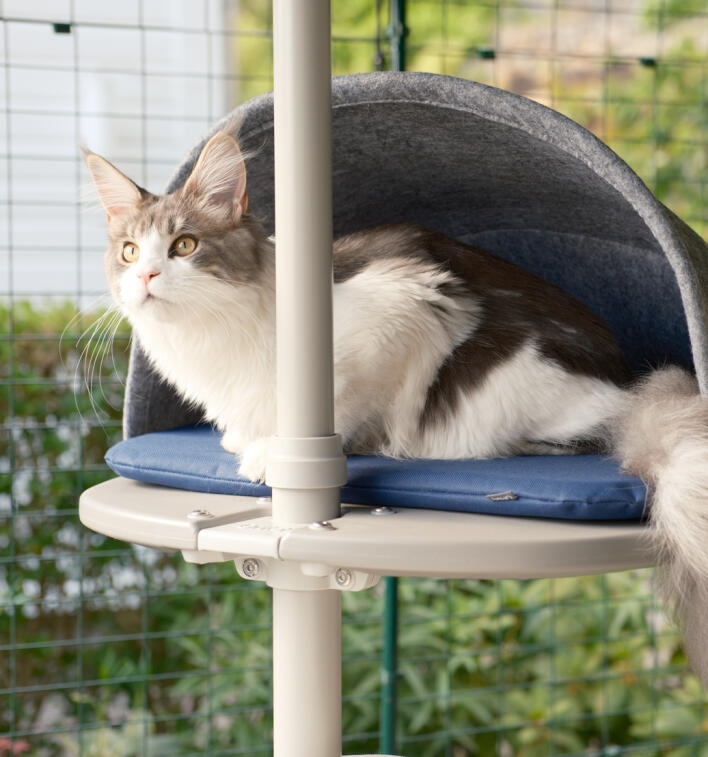 Omlet Ambassadors are customers turned product experts.
They can answer all your questions about the Freestyle Outdoor Cat Tree and share their experience using it with their cats.
Find an ambassador near you
Freestyle Outdoor Size & Specs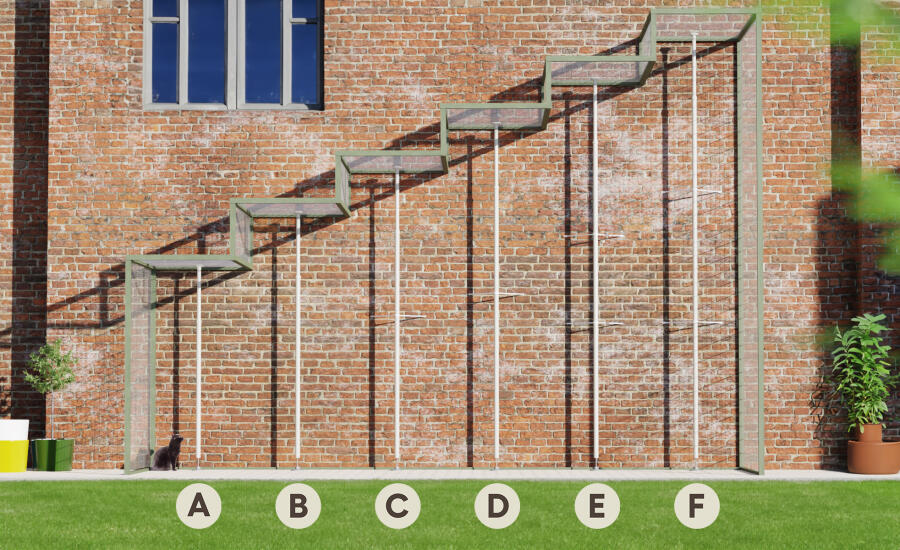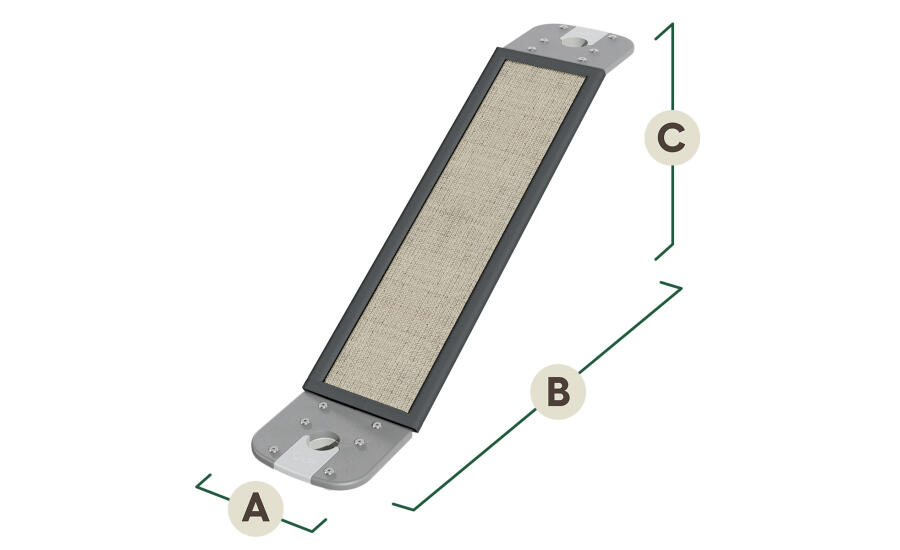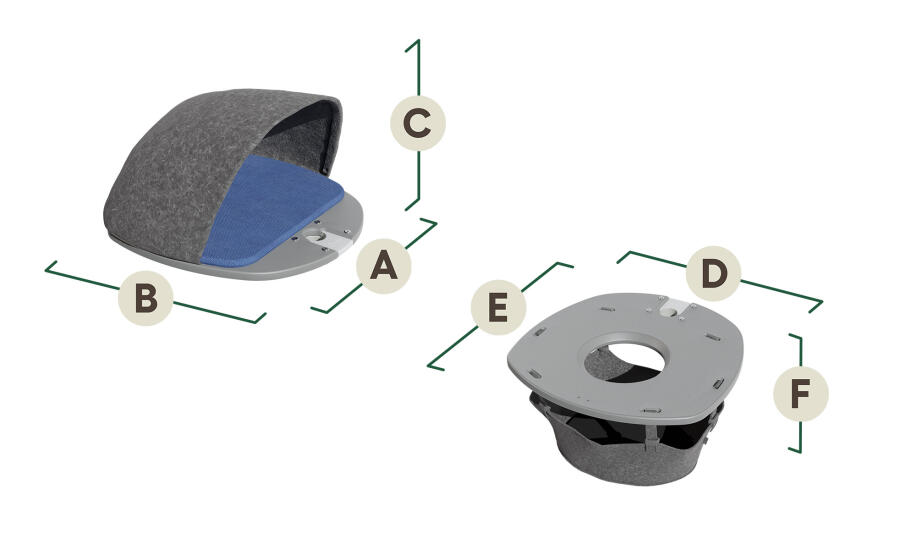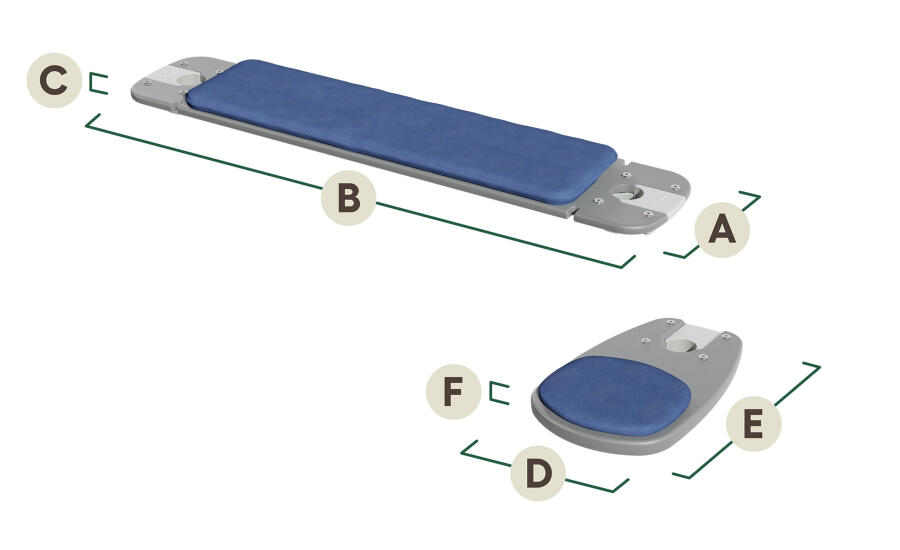 Freestyle Outdoor Cat Tree - Customisable Cat Climbing Frame
Outstanding accessories. Cats loving being up high ❤️
We have a slightly different configuration with more big platforms and a ramp instead of bridges but is the most similar to review. The cats took to it straight away and are so happy in the catio now. Easy to follow instructional videos and very sturdy for our big cats. So pleased we purchased this ❤️
Review for:
Outdoor Freestyle - The Gym Kit - 1.70m to 2.15m
This reviewer has 2-4 Siberian pets
Functional pole that fit my 5'x5' Catio
Sloped roof above Catio for mounting the 5'7"-7' pole. A contractor that does work on different projects around the house installed the pole outside the Master Bedroom window. Lots of shelves already in Catio so could only fit one pole & accessories.
Review for:
Freestyle Cat Tree - Vertical Pole Kit for Outdoor Cat Run - 1.7m to 2.15m
This reviewer has 2-4 Domestic short fur & pets
Absolutely LOVE the Freestyle Cat Tree. Our 9yr old Abyssinian is not the most graceful - I love that you can totally design and customize this tree to your cat. We positioned the different levels to make sure she could easily and safely get up and down, and she loves it! The hammock and den are her fave spots. Also, she has a dust mite allergy, so being able to easily clean and maintain places she hangs out is super important. We love this product and are definitely adding the indoor freestyle next!
Review for:
Freestyle Cat Tree - Vertical Pole Kit for Outdoor Cat Run - 1.7m to 2.15m
This reviewer has 1 Blue Abyssinian pets
Bought this to complete Catio
Review for:
Freestyle - Plastic Bridge with Outdoor Blue Cushion (includes brackets)
This reviewer has 2-4 Maine coon and domes pets
Both my boys love the new addition.
Review for:
Freestyle Cat Tree - Felt Den for Platform - Grey
This reviewer has 2-4 Siberian pets
Read more reviews