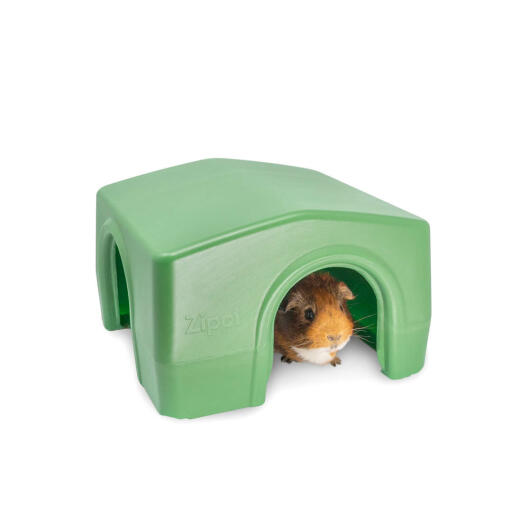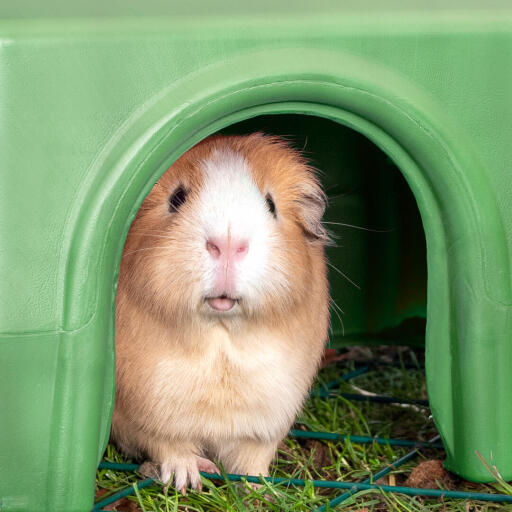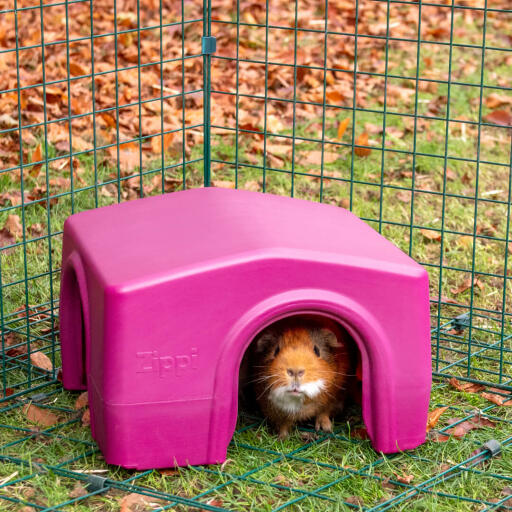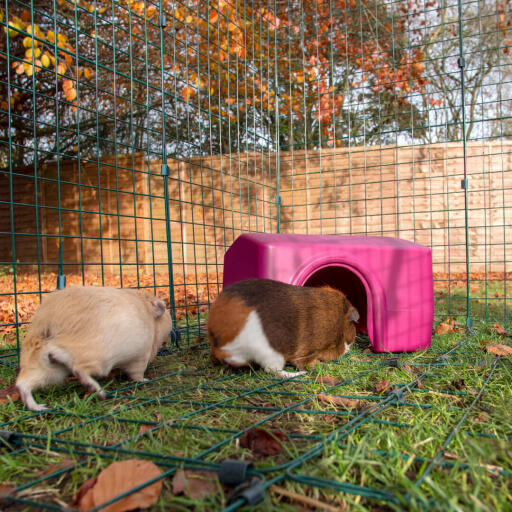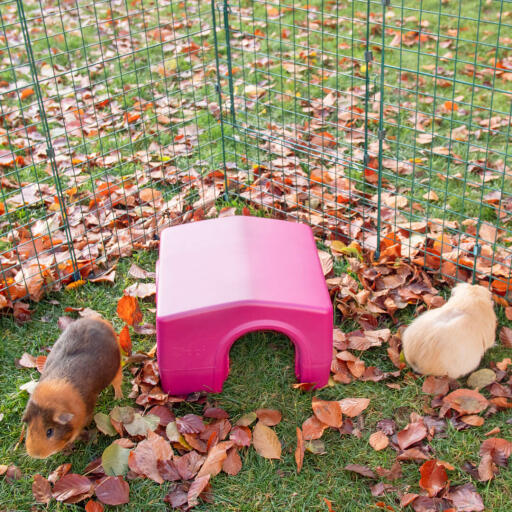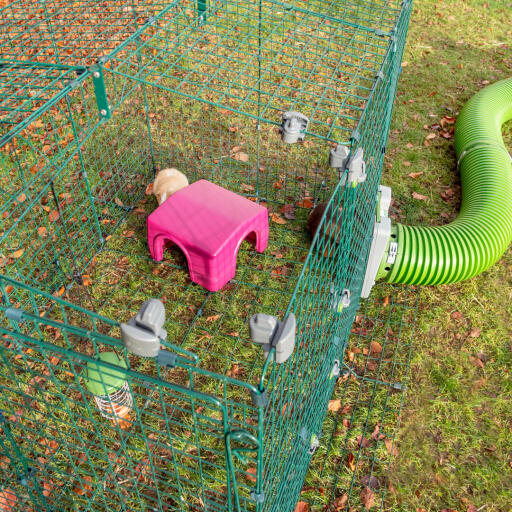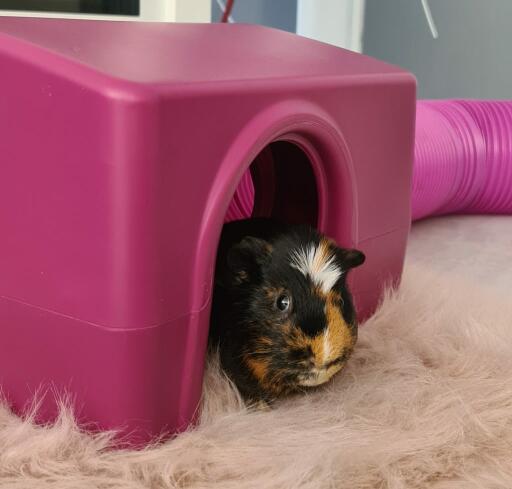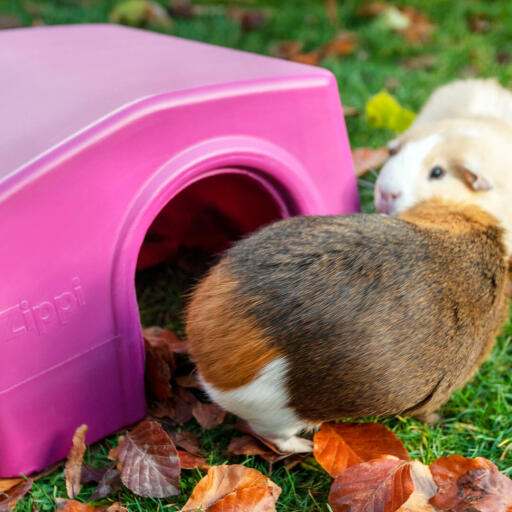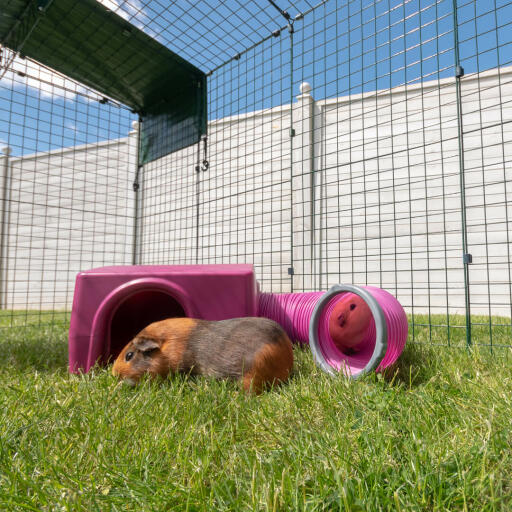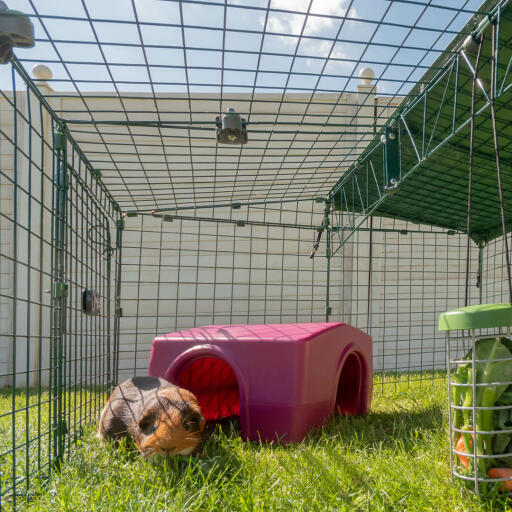 Checking stock in our warehouse...
£14.99
Add a brilliant new Zippi Guinea Pig Shelter to your guinea pigs' run and watch as they pop in one door and out the other. Guinea pigs have a natural instinct to seek a hidey hole and the Zippi Guinea Pig Shelter is perfect for providing protection from wind, rain and sun whilst offering a place where they can feel secure, settled and relaxed.
The Zippi Guinea Pig Shelter is ideal for use in the Zippi Guinea Pig Run and Playpen. The shelter can also be used as a fun and enriching accessory toy in the run of an Eglu Go Hutch or Outdoor Guinea Pig Run.
The shelter has two entrances, so that one animal can leave if another is coming in. Your pets can also use the holes to run through the shelter.
Available in two stunning colours, matching the Eglu Guinea Pig Hutches.
Product Dimensions: 329 x 329 x 209 mm
Zippi Guinea Pig Shelter - Green
2 years on and looks like new
The shelter has been going strong for 2 years now and is a favourite hide for our pigs. There is enough room for 2 furry potatoes but they do squabble a bit about who gets to stay despite me buying plenty of other hides and tunnels for them. Like other Omlet products, it's quite thick and durable. The piggies don't really seem interested in eating it. I noticed other people have complained about the lip under the shelter, but it's tiny and flat - poop can't get stuck in anywhere and it's easily cleaned with a brush. The problem comes from picking it up and not simply being able to shake the poops out as they seem to jump around the lip and there always seems to be a couple of poops that you struggle to shake out. This always baffles me as there is nothing for the poops to get stuck on. So it is easy to clean, just a little mild frustration about how those last 2 poops never seem to just shake out! The hide is also sturdy enough for piggies to jump on top if you have any little acrobats. It hasn't lost it's colour in the last couple of years either despite always being out in the elements.
Review for:
Zippi Guinea Pig Shelter - Green
This reviewer has 2-4 Texal and Abyssinian pets
Fed up with the cheaper plastic shelters for our guinea pigs, I decided to buy a better quality one. We have had our Zippi shelter in use for a little while now and have to say that we are very happy with it, and the piggies are too! It is high quality, strong and easy to clean. I also like the fact that extra attachments can be purchased if required.
Review for:
Zippi Guinea Pig Shelter - Green
This reviewer has 2-4 Guinea pigs pets
These are great and the guinea pigs love them!
The two way exit makes it difficult to use the run in order to catch the guinea pigs, but overall I like these. My one suggestion for an upgrade would be to remove the lip at the bottom, if possible. Poop tends to get stuck there- it can be easily shaken out, but it makes cleaning a bit harder. I customized these using vinyl. I like that they can be washed down and my guinea pigs haven't chewed on them yet (they DID chew on the tubes).
Review for:
Zippi Guinea Pig Shelter - Green
This reviewer has 1 Guinea pigs, 7 pets
Our family has 4 Guinea pigs and they have strong disagreements over whom gets the home. They like the tunnels as well and have fun running through them. The house are easy to clean with a garden hose, winter could be harder to clean.
Review for:
Zippi Guinea Pig Shelter - Green
This reviewer has 4-6 Guinea pigs pets
Perfect item. Very sturdy and lots of room for my two pigs. The only downside is the lip at the bottom. The pigs like to back up onto it and do their business, so it's sometimes hard to clean. Great quality item though! Hence 5 stars!
Review for:
Zippi Guinea Pig Shelter - Green
This reviewer has 2-4 American short hair pets
Read more reviews