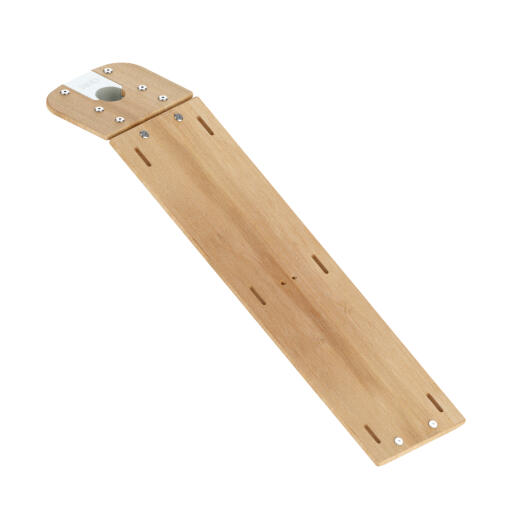 Freestyle Cat Tree - Floor to Pole Ramp with Bracket - Bamboo
Read 1 Review
Checking stock in our warehouse...
£55.00
The Freestyle Cat Tree from Omlet is a strong floor to ceiling cat play system that can be customised to suit your cats and your home. Choose from a wide range of fun, practical and durable accessories to create a cat tree system that encourages your pets to live out their natural instincts to scratch, jump, climb and play.
This bamboo ramp is a perfect way of allowing your cat to walk onto the cat tree from the floor, a side table or a Maya Nook. Climbing up and down the ramps activates muscles indoor cats rarely get to use, making them a great opportunity to live out natural behaviours.
The stylish and durable ramps can be kept as they are, but for extra grip and entertainment, why not attach a scratching box or wrap to sit on top of the ramp? Or for extra comfort on the paws, a stylish woven cushion?
Attach the ramp at any height on a vertical pole using the included bracket.
Freestyle Cat Tree - Floor to Pole Ramp with Bracket - Bamboo
This cat tree is great. My cats argue over the hammock as it is so comfortable for them and even queue to use it! It's attached to the ceiling so it's super sturdy support my three large cats with ease. My cats would say it's purrfect!
Review for:
Freestyle Cat Tree - Floor to Pole Ramp with Bracket - Bamboo
Verified Omlet Product Tester
This reviewer has 2-4 pets
Write a Review