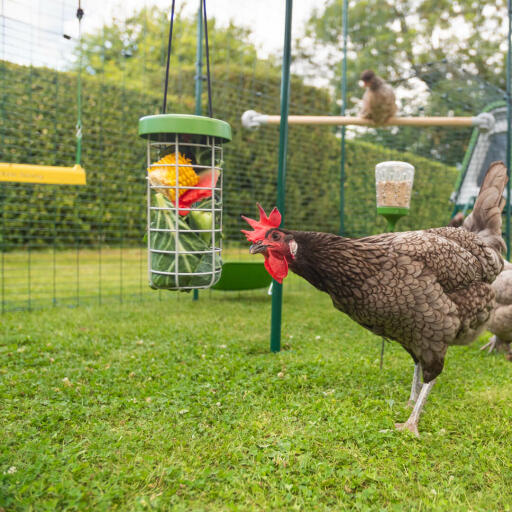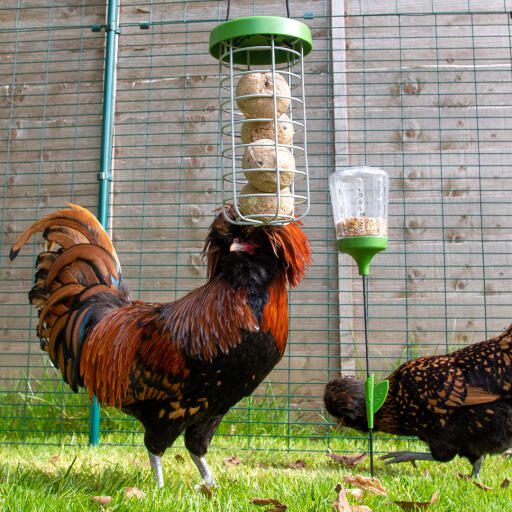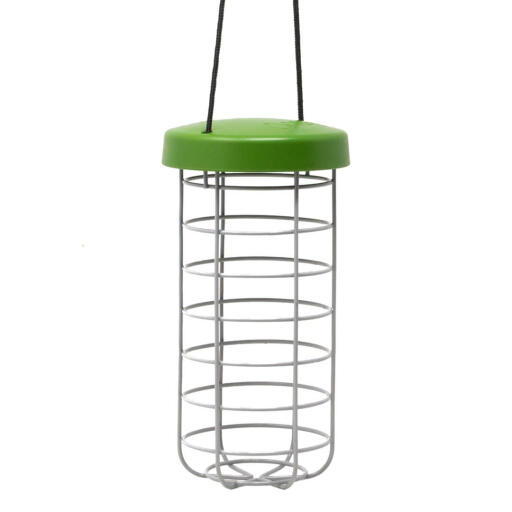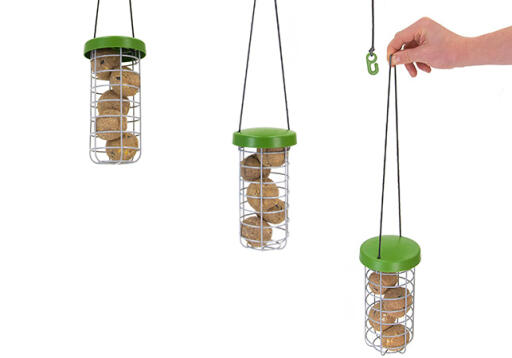 Checking stock in our warehouse...
£13.95
Keep food off the ground and entertain your hens at the same time with the new Caddi Chicken Treat Holder from Omlet. The ideal way to feed fresh fruit and vegetables to your chickens, the Caddi Treat Holder keeps food off the ground which is healthier for your hens, improves run cleanliness, reduces food wastage and keeps pests away.
As an added benefit your chickens will enjoy the fun and interactive experience of foraging their treats from the swinging feeder. It's practical too, thanks to it's adjustable nylon string and handy plastic hook the Caddi can be hung from any chicken run or enclosure including Omlet's popular Walk in Chicken Run.
The Caddi Treat Holder measures a generous 20cm top to bottom and 8cm across. It is made from heavy duty welded steel with a waterproof rain cap.
Brilliant well made holder that it easy to use
Fits all sorts of veggies and treats and the girls love pecking them. They turned their noses up at the treat balls that were designed to go with it, so won't get them again, but the holder is a definite hit.
Review for:
Caddi Treat Holder
This reviewer has 4-6 pets
I couldn't decide whether to buy this caddy treat holder for my girls or not, but I decided to just before the sale ended! When it arrived I put a little gem lettuce in it & took it out to see what my girls thought of it. I hung it up & stood back to watch! In less than one minute Pandora, my Speckled Sussex hen had come over to investigate! Seconds later she was pecking away at it! I was delighted! It's something else to keep them occupied while they are restricted due to the avian influenza, so money well spent! But I was thrilled that it was Pandora who had come to investigate because just three weeks earlier I had been having to tube feed her three times a day, as she was not eating! So the caddy feeder was helping with her recovery! (It seems that she stops eating when a flock member dies!) I used the caddy holder daily for my girls to have a little gem lettuce, which is perfect for size, or a chunk of cabbage in it, to enjoy in the afternoons. The do prefer it if the cabbage has been lightly cooked for them first though! Not that they are at all pampered!
Review for:
Caddi Treat Holder
This reviewer has 2-4 Speckled Sussex & hy pets
The girls fight to get there first
Easy to assemble, even with the ladies roosting right next to me.
Review for:
Caddi Treat Holder
This reviewer has 8-10 Mixed pets
Does the trick, chooks investigated straight away!
Review for:
Caddi Treat Holder
This reviewer has 2-4 pets
Happy with purchase, chickens eating from it so all good!
Review for:
Caddi Treat Holder
This reviewer has 2-4 pets
Read more reviews