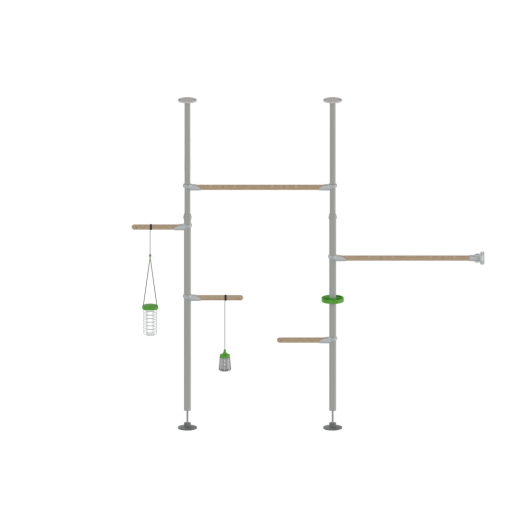 PoleTree Chicken Perch - The Hensemble Kit - 1.70 - 2.15m
Read 1 Review
Checking stock in our warehouse...
£287.95
The Pole Tree is an innovative and strong perch system that offers your hens custom made perching at any height and orientation in their run. Suitable for all types of chicken enclosures, this adjustable perch tree will provide your flock with entertainment and stimulation for years to come!
The Hensemble Kit is the perfect height to fit inside Omlet's Walk In Chicken Runs, with two poles, three short perches and our popular Caddi Treat Holder, Pendant Peck Toy and treat dish for hours of fun and a rewarding flow of treats! Plus a pole to run perch and a pole to pole perch to connect up your new perch system.
<!
PoleTree Chicken Perch - The Hensemble Kit - 1.70 - 2.15m
I bought this as soon as it became available on the US site, I have been looking at them on the UK site for some time, the design feature was easier to use on the UK - I actually gave up trying to create my own using the US option and I just bought this ready designed - not disappointed at all - easy to put together, arrived quickly and the chucks love it. I will def be expanding on my pole tree in the future. I just wish Omlet made extra nest boxes that could be attached to the Walk in run - I often have a Q waiting for the nest box in mu eglu. 100% would recommend - I also like that it adds extra support to the roof for those times in winter when we have snow, Buy it now before it goes out of stock.
Review for:
PoleTree Chicken Perch - The Hensemble Kit - 1.70 - 2.15m
This reviewer has 6-8 Various pets
Write a Review