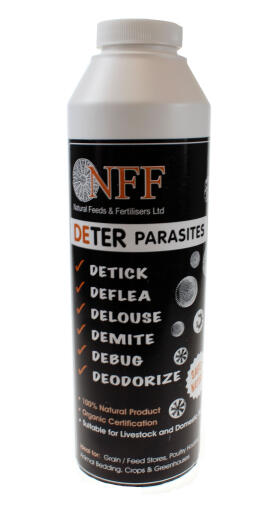 Checking stock in our warehouse...
£6.99
Efficient absorption of moisture and odours in animal housing and bedding

No chemicals 100% natural Diatomaceous Earth
Diatomaceous Earth is a fine white powder made of the ground up fossilized remains of diatoms (a type of algae). It's 100% natural and it works because at a microscopic level the powder is very absorbent and effectively dehydrates parasites it comes into contact with causing them to shrivel up and expire.
DE Clean and dry is suitable for greenhouses and gardens.
Diatomaceous Earth is an approved E.U. Feed Additive (Silicon Dioxide) E551C and has been used for over 25 years for controlling parasites naturally.
DE Clean and dry Puffer bottle - 100g
I can't comment on the efficacy as I've only just used it today but the puffer doesn't work at all. If you stand it upright and puff it's not too bad but hardly any comes out. Bit frustrating but hopefully it will do the job.
Review for:
DE Clean and dry Puffer bottle - 100g
Good stuff however the puffer didn't work very well, fine dust one minute big clogs the next and I thought I could top it back up after buying a large tub so I could continue using it as a puffer but you cannot get the lid off.
Review for:
DE Clean and dry Puffer bottle - 100g
It has been pretty effective regarding the reduction of flea reduction. I just wish that there was something that would eradicate the damn things completely. I did think of a flamethrower but I quite like our house!
Review for:
DE Clean and dry Puffer bottle - 100g
It is an excellent product but I just wish it was better value for money. Would definitely recommend it though. Donna Caldwell xx
Review for:
DE Clean and dry Puffer bottle - 100g
I received the product fast and it's helping out our chicken yard. The Health of our chic's are very important Thanks
Review for:
DE Clean and dry Puffer bottle - 100g
Read more reviews