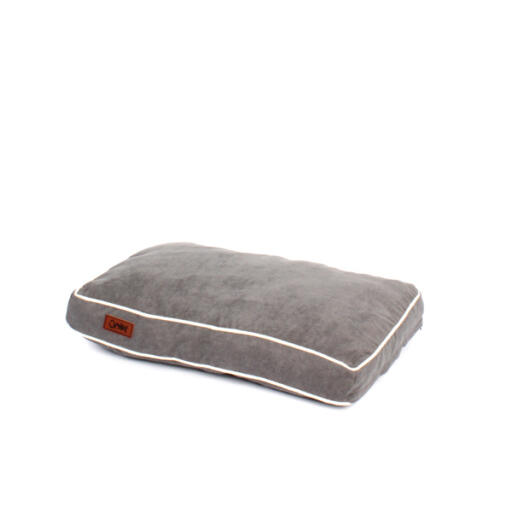 Checking stock in our warehouse...
£21.99
After a long and exciting walk, there's nothing a dog likes better than to have a nap. Tucked up inside the Fido Studio on this deep filled bed your pet can catch a long, luxurious 40 winks.
The Fido Studio Dog Bed is designed to fit exactly in the
Fido Studio
and has a removable machine washable cover.
Fido Studio Dog Bed 24"- Grey
Perfectly adequate and machine washable, yaye!
Bought with crate and tray, I'm sure this will bring great comfort to our new puppy
Review for:
Fido Studio Dog Bed 24"- Grey
This reviewer has 1 Cocker Spaniel pets
very good customer service
We had an issue with our Fido bed's zipper that broke after its first wash and Omlet very kindly offered to replace it. This is a very good customer service experience.
Review for:
Fido Studio Dog Bed 24"- Grey
Perfect find for my puppy! Relatively easy to put together and looks stylish in the kitchen - had lots of comments. may be on the pricey side but but worth it for the originality of it.
Review for:
Fido Studio Dog Bed 24"- Grey
Our 8 lb. mini schnauzer loves it , but I think it could be a little firmer. Also wish it came in other colors. Our little white female dog doesn't show up well on Grey!!!
Review for:
Fido Studio Dog Bed 24"- Grey
Lovely, stylish dog bed/cushion
We already have the Fido Studio with all its accessories sitting beautifully in our kitchen, and our little Pom loves loves it. However, in this hot weather we decided to move him into our cooler basement to sleep at night. We set up his Fido Travel Crate and put in the new cushion, so it felt just like his Fido Studio. He now has the option of two luxurious nightime sleeping areas! The cushion is super comfy and looks very stylish too to fit in with our interiors. It's removable cover washes well and is also very reasonably priced. Thank you Omlet, we are so happy with all our purchases from you.
Review for:
Fido Studio Dog Bed 24"- Grey
Read more reviews