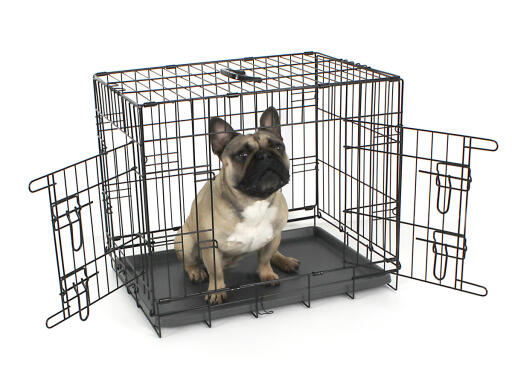 Checking stock in our warehouse...
£38.95
If you want a crate that's secure, can go in the car as well as in your home and is super quick to put up then the Omlet Fido Classic is the crate for you.
The Fido Classic dog crate has a door on the long side and the short side. This makes accessing the crate easy and you can arrange the crate in your home so that it fits in perfectly. This high quality dog crate is made from heavy duty welded steel wire with a neat black epoxy coating that will look good for years to come. Each door has two slide-bolt latches that lock when you fold them all the way down.
For car journeys a dog crate is essential. It secures your dog safely in the boot of your car and protects them from movements on the journey, it also means they can't change the radio station. Check the dimensions of the crate to make sure it will fit in your boot with the door closed.
For more details and to read more about the benefits of the Omlet Fido Classic Dog Crate please click here.
Fido Classic Dog Crate 24"
Highly satisfied customer
Quality dog crate and excellent back up service provided by Angie
Review for:
Fido Classic Dog Crate 24"
This reviewer has 1 Working cocker spani pets
We've had the small cage and the matching cushion for over a month now and it's perfect for our miniature schnauzer. She's an older dog but as I've just started weaning my baby daughter, it means all the food ends up on the floor. We can't let the dog be a hoover as she has a history of gastro problems, so it's a perfect solution to allow her to still be part of the family but keep her safe. She's already using it as a quiet space to take herself off too when she needs a nap! Great service and good quality products. Would definitely recommend!
Review for:
Fido Classic Dog Crate 24"
This reviewer has 1 Miniature Schanuzer pets
Excellent service and quality, I've got two pug puppies they love there crate, they feel happy and secure I would recommend this crate it's also ideal for use in the car when travelling.
Review for:
Fido Classic Dog Crate 24"
This reviewer has 2-4 Pugs pets
This is an easy to put together crate - just pull the sides into position and with the addition of a comfy cushion bed or blanket, doggy is happy, safe and secure.
Review for:
Fido Classic Dog Crate 24"
This reviewer has 1 Wheaten Terrier pets
My pup has grown into his crate. And yay, he took to it immediately for napping and overnight. There is plenty of room for my growing pup and he has a "den" when it sits in the white furniture. So I know he feels safe. I really like the locking arms that hold the crate in place, the storage closet on the side and the bed and blanket. Altogether it makes for a very nice place for my dog fir years to come.
Review for:
Fido Classic Dog Crate 24"
This reviewer has 1 Havanese pets
Read more reviews