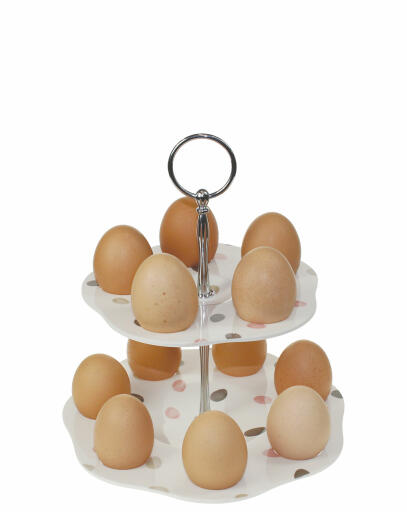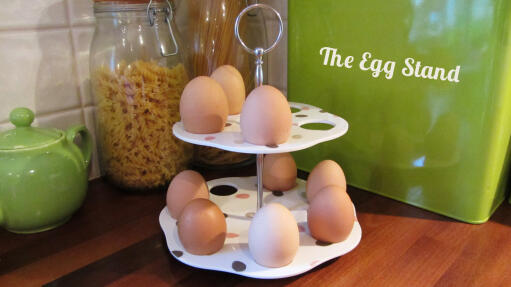 Checking stock in our warehouse...
An eggy twist on the classic cake stand, the Omlet Egg Stand can display up to 12 freshly laid eggs with classic country kitchen chic.
Classic style for your eggs
With its pretty yolkadot egg print the Egg Stand has an air of stylish country chic, perfect for displaying eggs in your kitchen or dining room.
Made from melamine, it's easy to clean, dishwasher safe and much more durable than china for everyday use.
The traditional metal handle allows you to move the Egg Stand easily and can be unscrewed into sections, allowing the egg stand to be easily disassembled for cleaning or storage.
Suitable for both Chicken and Bantam eggs (Holes are 34mm accross.)
Received as an Omlet free gift. The stand is much nicer than I expected, the coloured dots are eggs which is a lovely touch. Very nice item that would fit in well with most decor
Review for:
Egg Stand - 2 Tier
Looks very pretty in the kitchen. One thing that you may not realise is that it is a plastic material which is really good because as soon as I got it out of its box in my excitement I dropped it! But it is still in one piece because it's plastic. I really like it, my ex-batt eggs fit perfectly into the holes.
Review for:
Egg Stand - 2 Tier
Read more reviews