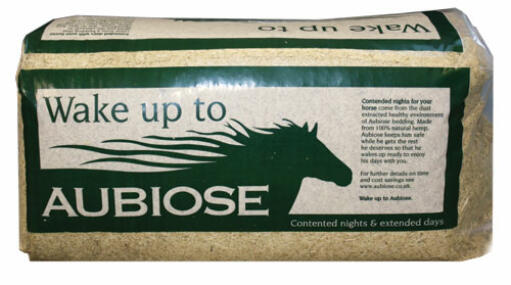 Checking stock in our warehouse...
£19.75
Made from 100% natural hemp, Aubiose is dust-free and perfect for keeping your hens or rabbits cosy at night. It is much more absorbent than straw and shavings and has natural fly repellent qualities, making it ideal bedding for hens, rabbits, guinea pigs and horses. After use Aubiose can be added to your compost heap as it decomposes quickly, creating an organic fertiliser which can be used in the garden.
Fabulous! I was looking for a different substrate for my guinea pigs and tried a cheaper brand first, can honestly say that I won't go back. Aubiose is worth the few pounds extra as it's softer, has less large rough pieces and is so absorbant the piggies are dry with not obvious wet patches even after a week (With shavings and the cheaper hemp brand, they needed a spot clean during the week to remove the wet). When wet, it clumps making it easier to spot when cleaning out, but I have the amound removed when using Aubiose then the other products, so I think it will be extremely cost effective as I will overall use less.
Review for:
Aubiose Bedding - 20kg
This reviewer has 4-6 Guinea pigs pets
this is such a great product for my guinea pigs' enclosures. It's super absorbant an easy to clear away at cage clean time. There are no sharp edges on it either
Review for:
Aubiose Bedding - 20kg
This reviewer has 2-4 rescue guinea pigs pets
Great price-quality ratio!
I bought this product last week, as my small pets use it for bedding. It has less dust than other brands I have bought before and the quality-price ratio is the best one I've seen so far.
Review for:
Aubiose Bedding - 20kg
This reviewer has 4-6 pets
I bought this for our new baby pet rats after reading lots online about bedding and a friend recommended this. It arrived very quickly and is is huge will last us around 2 months I think although we have only had the rats 2 weeks. They look comfy, they love digging in this hay and after reading about rats smelling urine I honestly cannot smell anything in our house and I am putting it down to this bedding. Thank you!
Review for:
Aubiose Bedding - 20kg
This reviewer has 2-4 Rats pets
Bought this product which I've been sourcing elsewhere for a higher price. Need to watch the pennies so good to see a more realistic price. Love that it doesn't make my furbabies sneeze.
Review for:
Aubiose Bedding - 20kg
This reviewer has 2-4 Syrian Hamster pets
Read more reviews