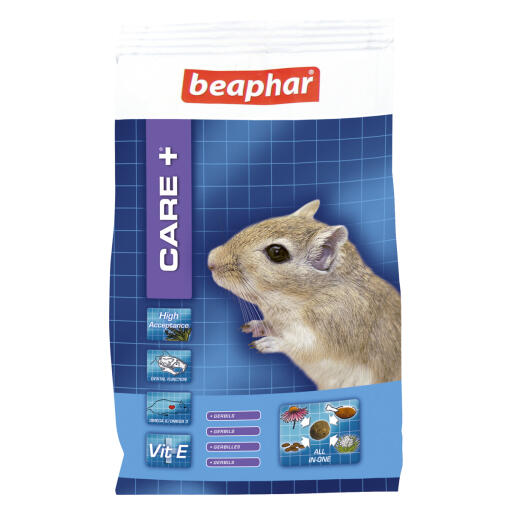 Checking stock in our warehouse...
£3.99
Beaphar Care+ Gerbil Food is a well balanced, highly palatable super premium food that is specially formulated to keep your gerbil in optimum health. Developed in collaboration with veterinary surgeons, dietitians and other leading gerbil experts it contains Omega 3 and Omega 6 fatty acids, along with many other vitamins and minerals to keep a healthy balance within your pet's body.
The high quality proteins and Omega 3 and 6 fatty acids help to ensure that an animal will have a healthy and long life without experiencing the diseases caused by nutritional deficiencies. The foods also contain probiotics and Yucca extracts with minerals that improve absorption and supply to the body.
Every pellet of Beaphar Care+ Gerbil Food has the same composition to prevent selective feeding and is hardened to support the natural wearing of the teeth. This means your gerbil will no longer be able to pick out their favorite bits of food while leaving the rest uneaten, leading to an unbalanced diet!
Composition: Cereals, derivatives of vegetable origin, vegetables, seeds, meat and animal derivatives, minerals, yeasts, Yucca Schidigera, algae (Spirulina 0.01%).
Beaphar Care+ Gerbil Food 250g
Our gerbils have been on this food for over 2 and a half years and are healthy and active.
Review for:
Beaphar Care+ Gerbil Food 250g
Write a Review