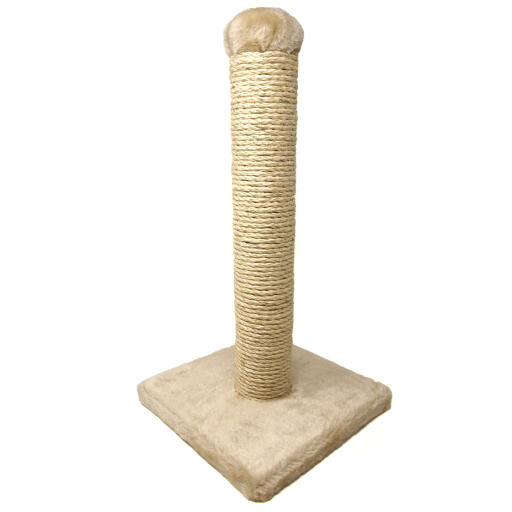 Checking stock in our warehouse...
The classic scratching post is a firm feline favorite! Not only does scratching help to keep cats agile, it releases pent up energy and even helps to reduce stress. When cats use a scratching post such as this it helps to remove dead layers from their claws and ensures they stay sharp. Providing a healthy outlet for scratching could also save your sofa or doors from the claws of a mischievous moggy!
This sturdy scratching post is attached to a soft square fabric base and is suitable for use by all types of cat.
Approximate Dimensions: 47 x 25 x 25cm
Igloo Cat Scratching Post 47cm
An excellent scratch post: sturdy, well made and it has a cute, fluffy piece of fabric on the top which is soft yet thick, matching the lovely fabric on the base. My 3 month old kitten loves it; it's a perfect height for her and has so far saved any bed ends or other pieces of furniture being targeted. Result!
Review for:
Igloo Cat Scratching Post 47cm
This reviewer has 1 Moggy pets
Good value for money product
Bought this for my cat and she has taken to it straight away. It needs to be weighed down on the base as with vigourous stratching it can be tipped over. But overall its a good product which my cat seems to like!
Review for:
Igloo Cat Scratching Post 47cm
This reviewer has 1 Tabby pets
I bought a few of these to use in my cattery. They are great. Even my larger cats are enjoying them. Great value for money.
Review for:
Igloo Cat Scratching Post 47cm
Read more reviews