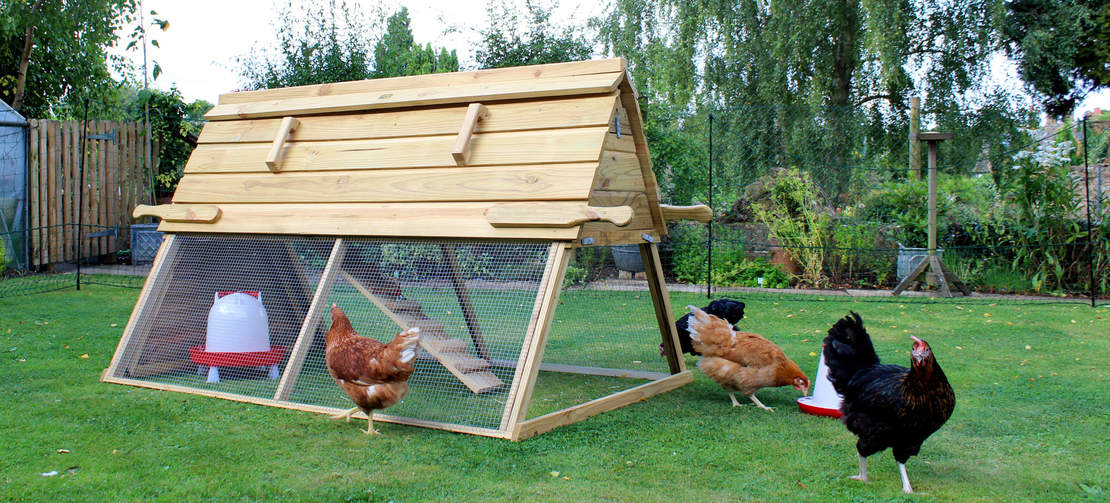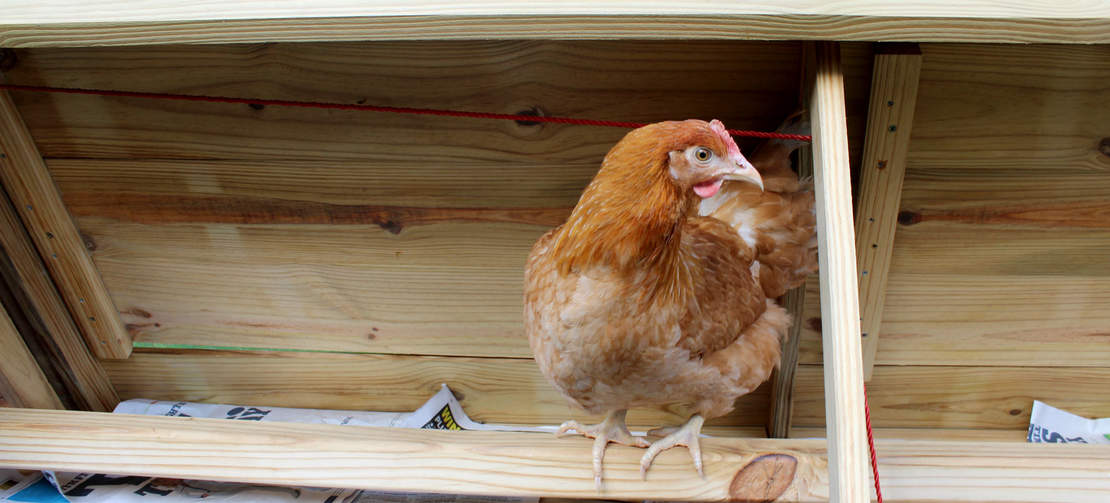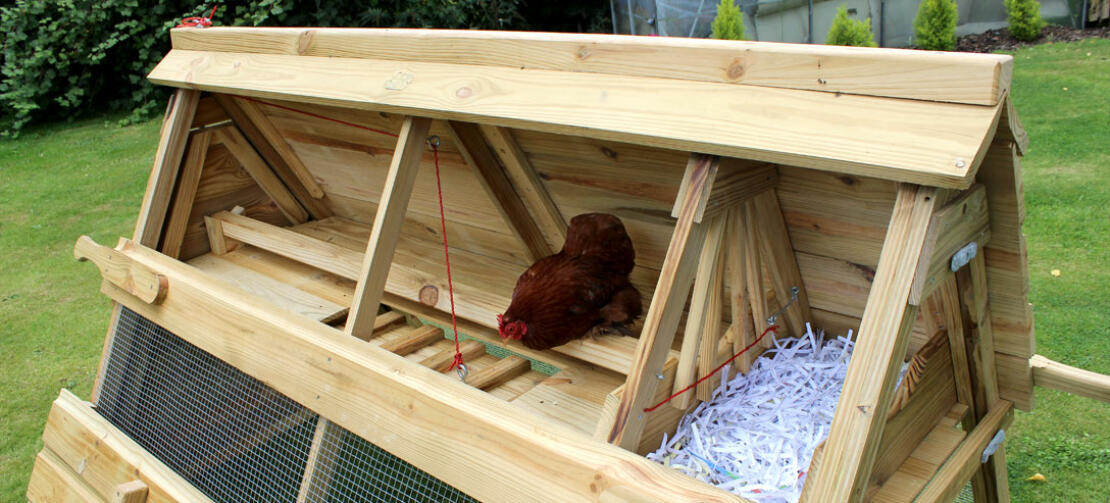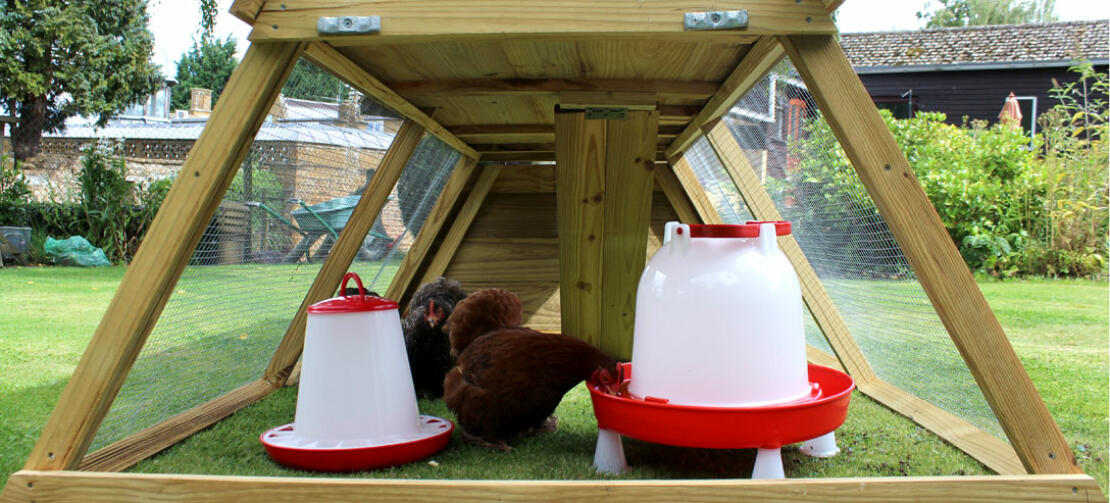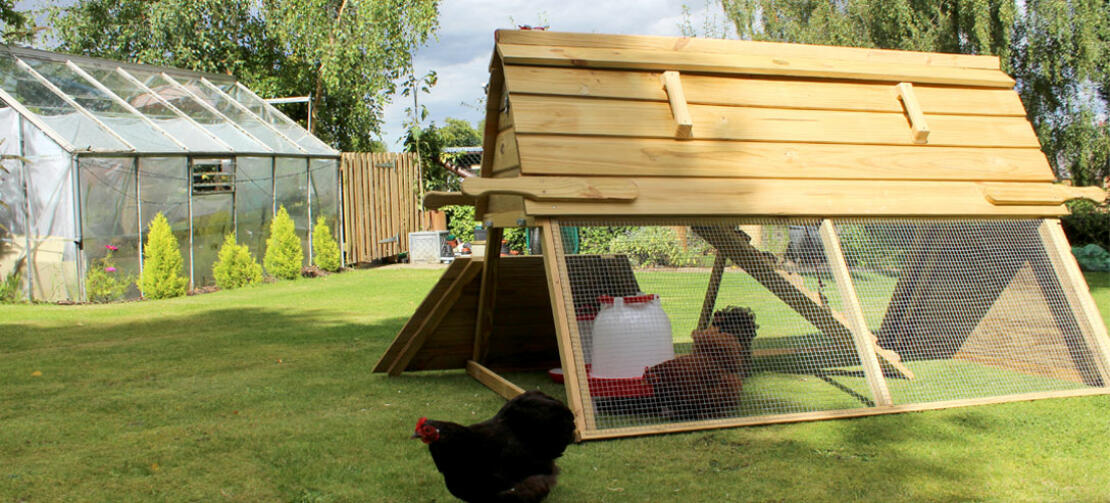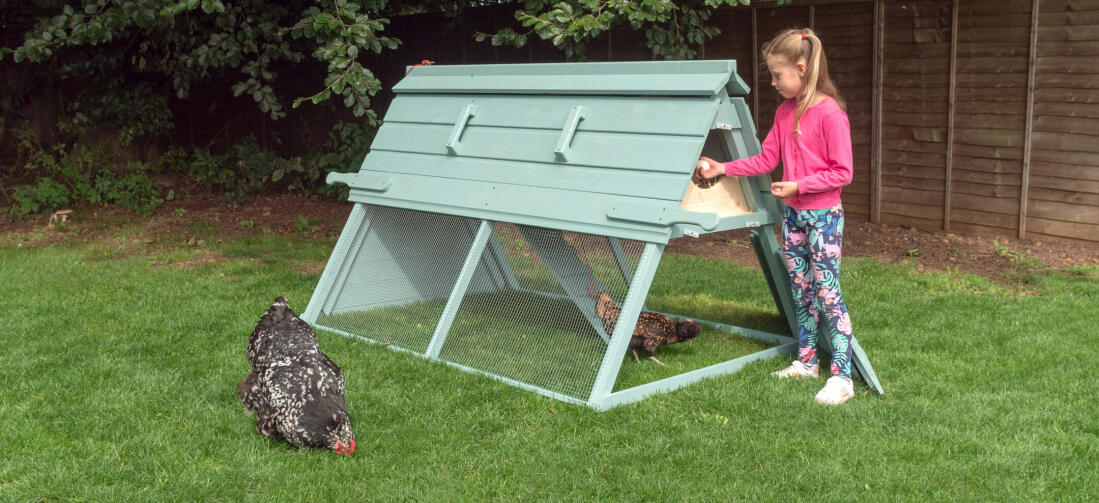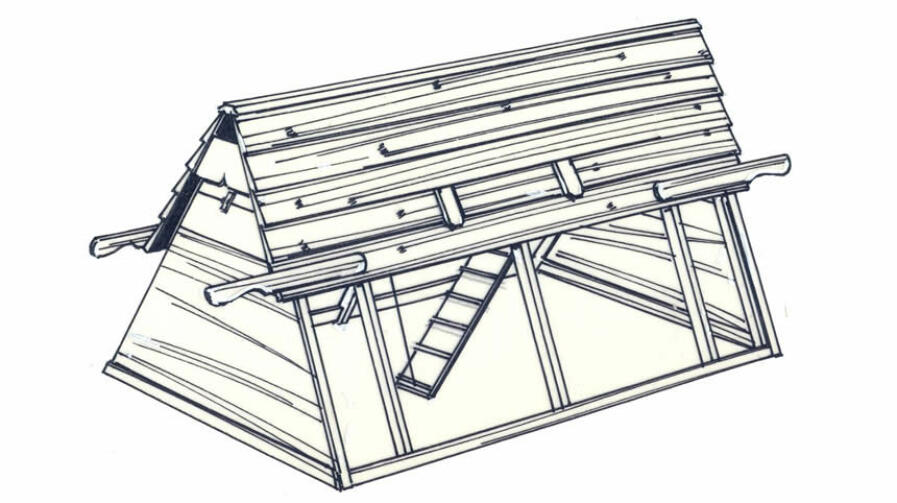 Boughton Chicken Coop by Forsham Cottage Arks
The Boughton is a traditional chicken house and provides comfortable and easy to maintain accommodation for up to six chickens.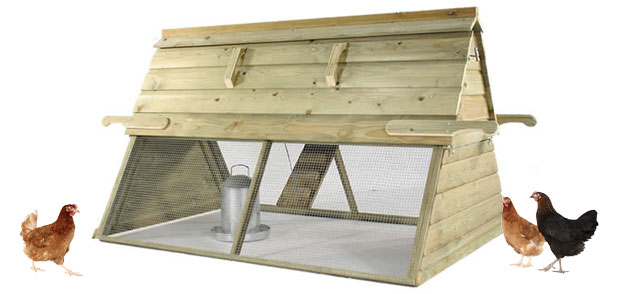 The Boughton Chicken Coop houses six medium hens.
Timeless Chicken Coop Design
Its elegant design has stood the test of time and has become a chicken house design classic. The Boughton is our best selling wooden chicken house and provides comfortable accommodation for up to six chickens. It is the ideal solution for the first time chicken keeper.
The Boughton hen house is specifically designed for bantams and medium sized birds, who will find the warm interior and private nest box very much to their liking.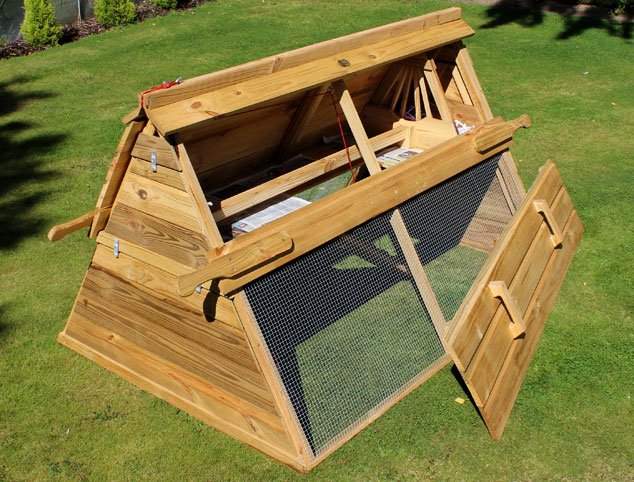 Full length doors allow access for easy cleaning
Easy To Clean Chicken Coop
The Boughton chicken house has full length side doors which allow easy access to the inside of the house. The retractable ramp means you can get into all areas of the house when cleaning.
The Boughton is easy to move around the garden with its stout carrying handles. If you're looking to leave your hen house in place, or have limited space, the carry handles can be easily removed.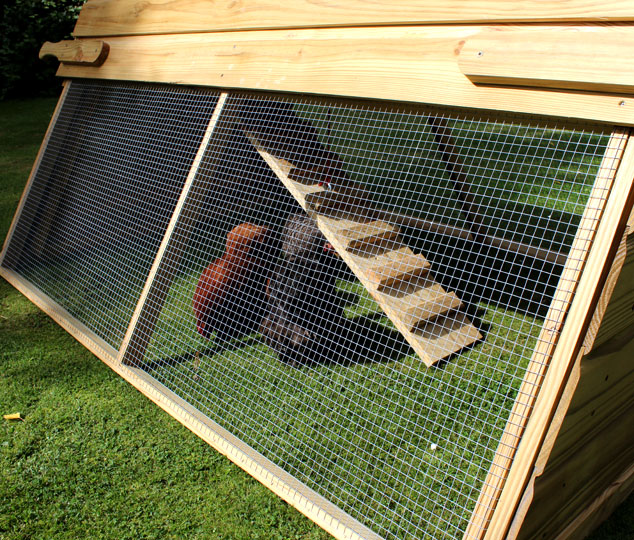 A sleeping area over the run gives hens more space to roam around below.
Space Efficient
The Boughton uses less space than other traditional arks because the sleeping area is located directly over the run. This design also means the chickens are protected from the sun and rain.
Secure Fox-Resistant Chicken Coop
The house has an easy to use, hinged ladder which may be drawn up from outside to secure the birds at night.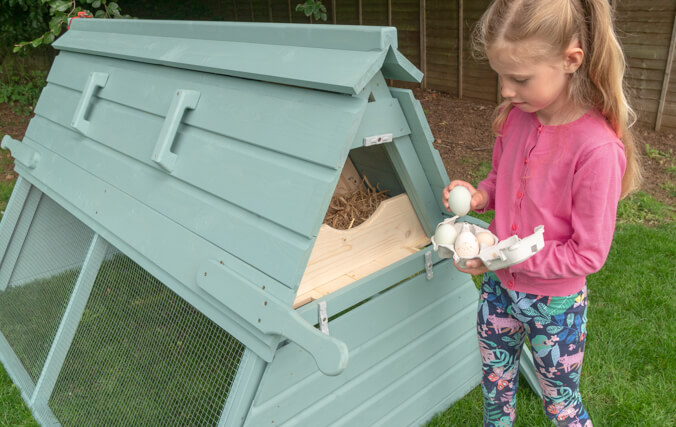 Very easy for even children to use - so they can have the joy of collecting your eggs
Easy Egg Collection
The nesting box is located at the end of the chicken ark and has an external egg collecting door. It is very easy for children to use – so they can run down in the morning to collect the eggs.
Free Range Run Door
You can access all areas of the run using the handy doors at each end. This makes it very easy to catch a chicken, let them out of the run, or top up the feeders and drinkers.
Nest Box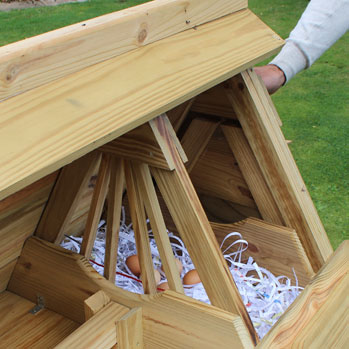 The unique nesting box night shutter stops the chickens sleeping in the nesting box, dramatically reducing the amount of droppings that the chickens leave in the nest box and cutting down on egg cleaning time.
Roosting Bar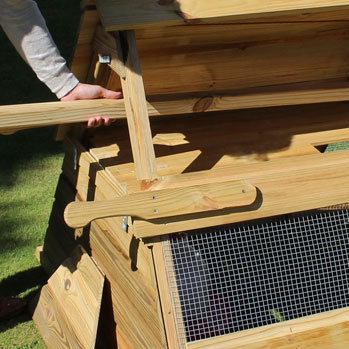 The solid, single-piece roosting bar provides a solid place for your chickens to perch while they sleep.
Retractable Ramp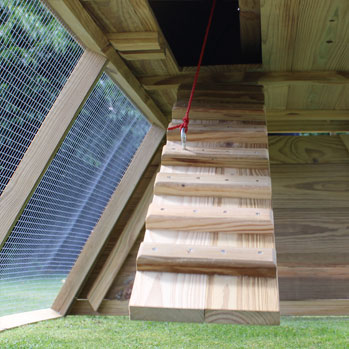 The Ramp that sits between the roosting area and the run can be easily retracted to keep your chickens warm and safe at night. Simply pull the rope on the outside of the house and up it comes!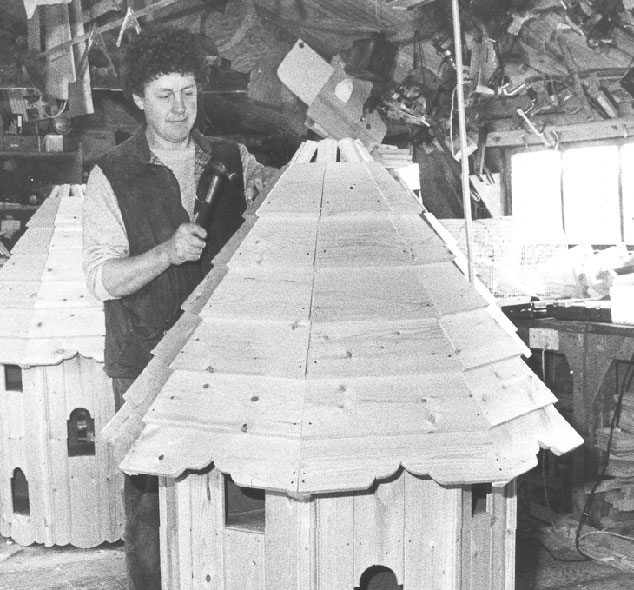 Over three decades, Forsham produced durable and practical chicken coop designs, including the Boughton and Lenham.
The History of the Boughton Chicken Coop
In 1979, Rob Pellet placed a small advert in his local paper: 'Good Quality Poultry House For Sale.' Fifteen enquiries and seven orders later, Forsham Cottage Arks was born.
Over three decades, Forsham learnt what is important to both pets and their owners, and their durable and practical chicken coop designs were tried and tested by tens of thousands of happy hens! In 2011, Omlet were pleased to welcome Forsham to their product catalog. The Boughton and Lenham Chicken Coops that Omlet now produce are sensitively updated designs that continue the Forsham tradition of producing exceptionally practical, comfortable and durable chicken housing.
Did you know, in 2000, The Poultry Club of Great Britain presented a Forsham Lenham Chicken Coop to HM Queen Elizabeth, The Queen Mother in celebration of her 100th Birthday?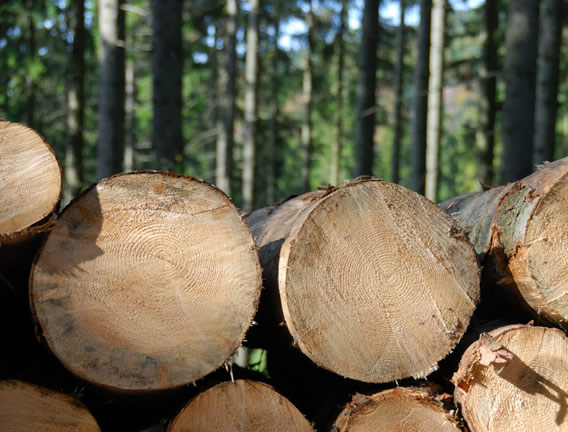 Close-up of the Spruce
Made from Durable Whitewood Picea Abies
Many wooden chicken coops are made from low-grade Chinese softwood, but not The Boughton. This chicken coop is made from durable Whitewood Picea Abies, a strong and sustainably-farmed Norweigan Spruce. The plastic latches and metal fixings complete this high quality wooden chicken coop.
All the sections we use are planed all round so there are no scruffy faces or splinters, so the wood is ready for you to paint as soon as it arrives.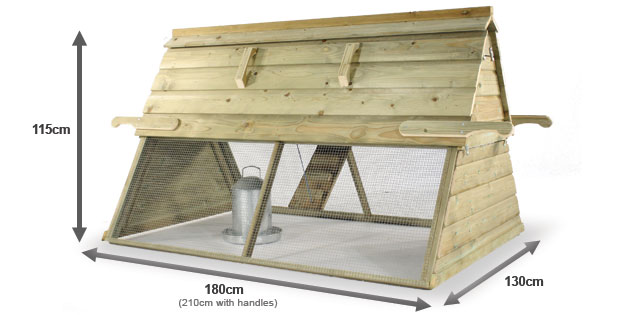 Boughton Chicken Coop Dimensions
Boughton Specifications
The Forsham Cottage Arks Boughton Chicken Ark is designed for up to six medium sized chickens. As they require additional head height in the nesting area, the Boughton is not recommended for larger breeds such as Buff Orpingtons or Cochins.
Please note, Boughton Chicken Coops are delivered on pallets. If you have restricted access please mention this on your order notes
Materials:
House: Whitewood Picea Abies (Norweigan Spruce)
Run: Zinc Coated Steel Mesh, 12.5 x 12.5mm Wire Pitch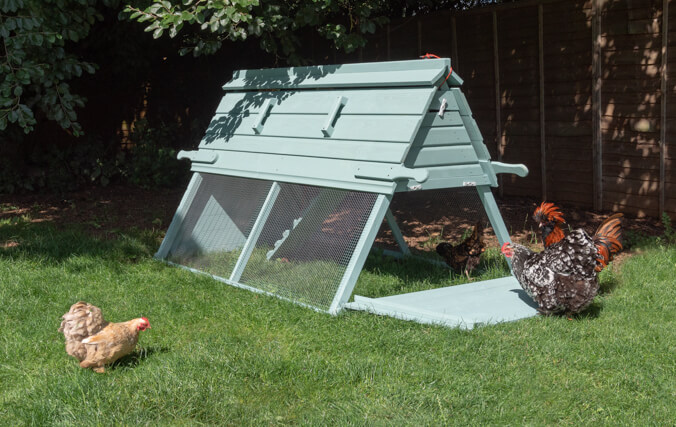 The Boughton will arrive unpainted so you can apply your own finish, such as the Ronseal Garden Paint in Sage used in this photo.
Painting and preserving your Boughton
Choose the colour and appearance of your Boughton to suit your hens and your garden!
Your Boughton will arrive untreated in it's natural form. It is important that you treat your Boughton before placing it outside and before using it with chickens.
Using water based paints could cause the product to warp. Please follow the wood treatment manufacturers guidelines for suitability.

30 Day Money Back Guarantee
We're so confident that you'll love everything about your Forsham Chicken Coop that we offer a 30 day, no quibble, money back guarantee. If for any reason you are not entirely satisfied with the Boughton or the chickens you can send it back to us for a full refund. This does not affect your statutory rights.
Please note that your Boughton Chicken Coop will need to be treated with a suitable preservative before use.
Boughton Chicken Coop by Forsham Cottage Arks
This lovely quilty thing gives me a good night's sleep…I no longer have to worry if my girlies might be cold..so I can relax knowing they are cosy and their wattles are not going to get frosted….
Review for:
Extreme Temperature Jacket for Boughton Chicken Coop
This reviewer has 2-4 Rescue chickens Rhod pets
Looks good but some design flaws
This coop looks good but it takes a while to weatherproof and assemble. Why isn't the wood already treated? - needing just a top coat rather than three coats. I fear that it will take a lot of maintenance and repainting over time, especially the rails on the ground. The design could also be better. In particular, the entry ramp leaves a large hole for bedding to fall down - having a raised "lip" around the hole would be an improvement
Review for:
Boughton Chicken Coop
This reviewer has 2-4 Bantams pets
What a great Chicken Coop
We use our Boughton Coop to house three young Bantam chicks. I have designed some furniture myself in the past but have rarely come across such a well ordered, thoughtful and beautiful structure. It says in the assembly manual that you need two people to put it together but I managed to do it on my own and all things lined up perfectly (IKEA eat your heart out!). It looks great in our garden and I am currently painting it green to blend in a bit more and preserve it. Although expensive it is well worth the money and will meet our, and our chicken's, needs for many years to come.
Review for:
Extreme Temperature Jacket for Boughton Chicken Coop
This reviewer has 2-4 Bantams pets
Not the same quality as the original at all and I think the necessity to treat timber before use should be writ larger. Confused about block that holds perch as it's loose. At no point is there an Instruction for securing it. I have done so however with a rogue screw left over.
Review for:
Extreme Temperature Jacket for Boughton Chicken Coop
This reviewer has 6-8 Various pets
I'm very happy with the solidity and construction of the coop....strong and sturdy.
Review for:
Boughton Chicken Coop
This reviewer has 2-4 mixed pets
Read more reviews