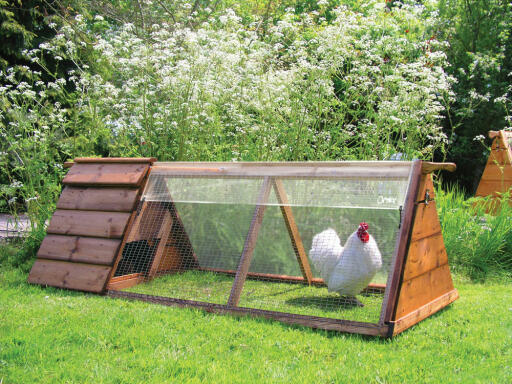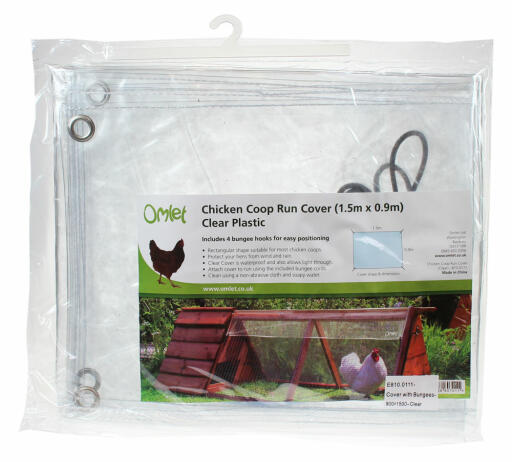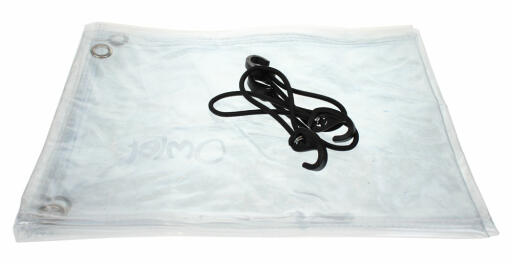 Checking stock in our warehouse...
£23.95
This Clear Cover is perfect for giving your chickens protection from wind and rain, without spoiling their view of the garden (or your view of the hens). Suitable for a variety of chicken runs, this Cover simply clips into your chosen position using the bungee hooks provided. It is also ideal for keeping hens dry, whilst allowing the sunlight through. But should not be used in hot weather as it can be dangerous to your chickens. This cover is made from a long-lasting, heavy duty material that is completely waterproof. It is extremely hardwearing and should last you for years to come. Cover measures approx 1.5m x 0.9m. Complete with bungee hooks for attaching to the run. Exact material and eyelet specification may vary.
Clear Cover for Chicken Run - 1.5m x 0.9m
Perfect for keeping snow off the run!
My girls are loving the shelter these are providing on top of our netted run. I bought them to keep the rain off as we were getting so muddy but also providing a lovely warm space with a roof of snow ❄️ great bunjee tags for attaching & nice easy size to manoeuvre - now have 4 ! Thanks Omlet ???? hopefully bird flu safe !!
Review for:
Clear Cover for Chicken Run - 1.5m x 0.9m
This reviewer has 4-6 Rhode Island Red, Bl pets
Bought two,one for chicken run and other for daughters rabbit run.Also bought two green heavy duty Omlet covers for same.Have wasted money on Amazon and Pets at Home ones for rabbits in past,and will never buy anything but these Omlet ones now.They are very sturdy indeed and therefore value for money.Come with fastenings and holes are reinforced and never rip.Bought chicken run ones due to such foul weather and to make their run a drier,less windy place to shelter if wish as they are free range.I like the clear one as have put it along the side of my Flytes of Fancy coop run so it's not too dingy.
Review for:
Clear Cover for Chicken Run - 1.5m x 0.9m
Delivery was prompt. The product appears robust and so far has stood up to the weather with no tears appearing in the cover. Overall very pleased.
Review for:
Clear Cover for Chicken Run - 1.5m x 0.9m
This is a good product worth the cost
Review for:
Clear Cover for Chicken Run - 1.5m x 0.9m
Read more reviews