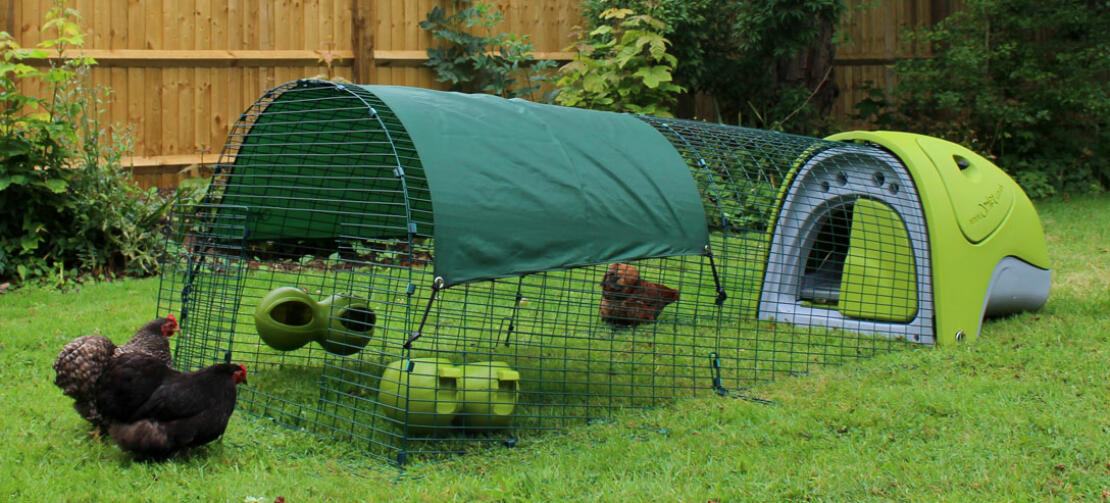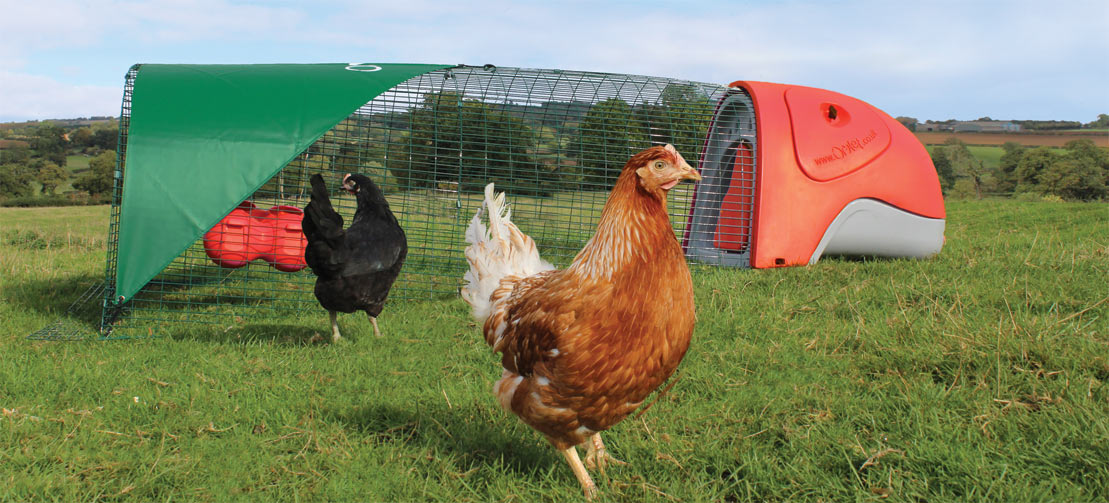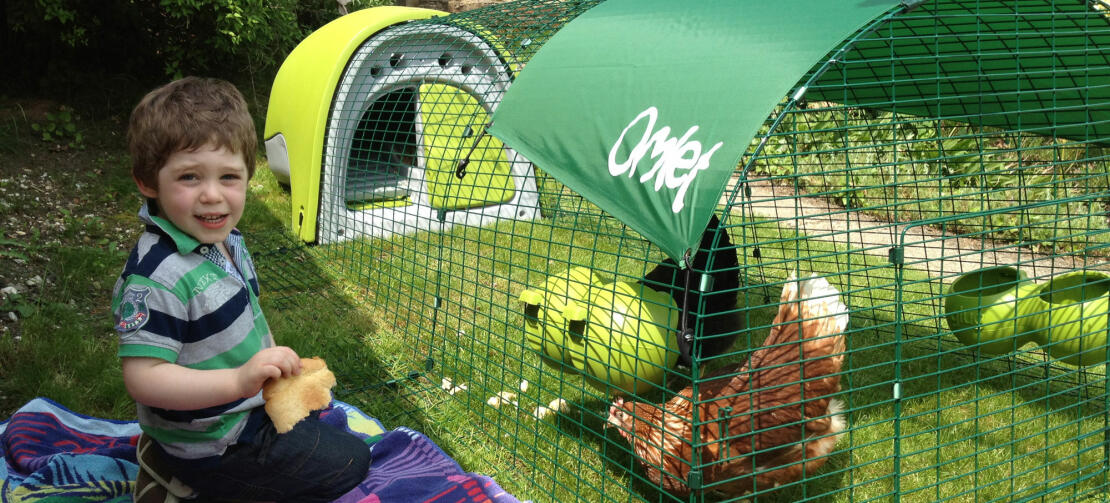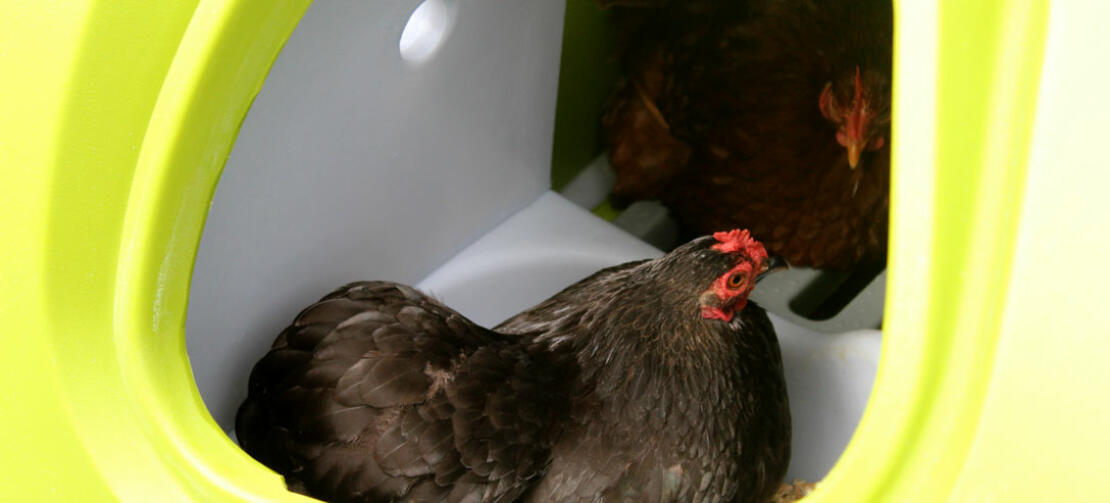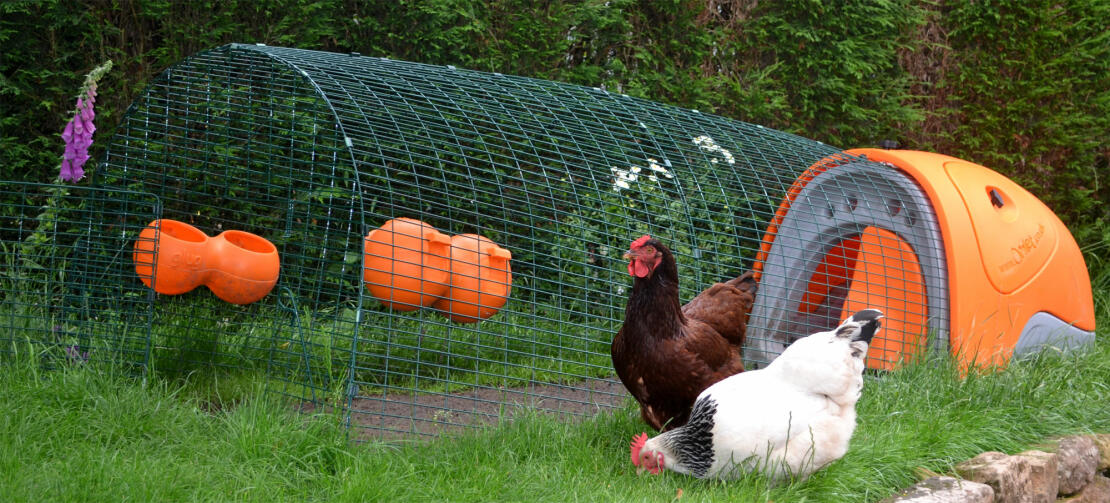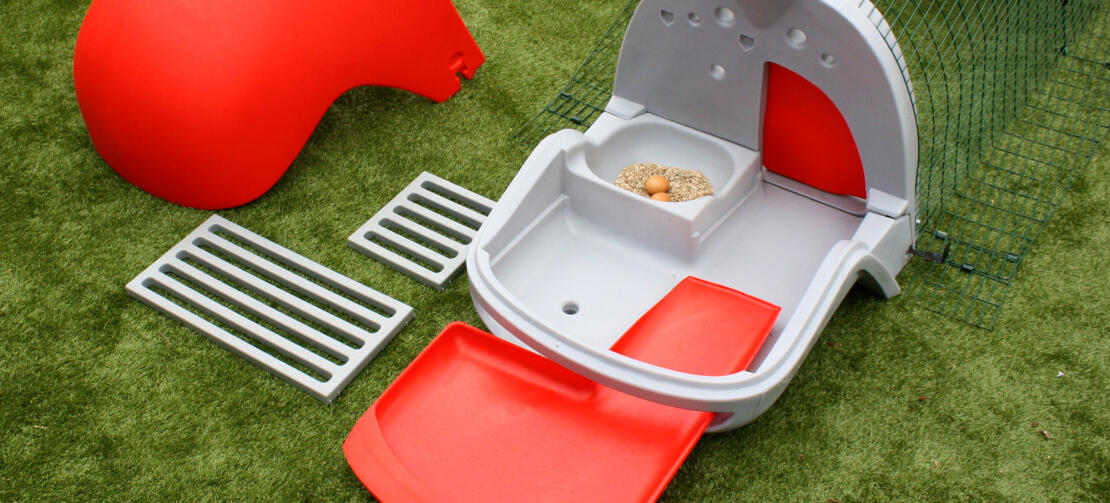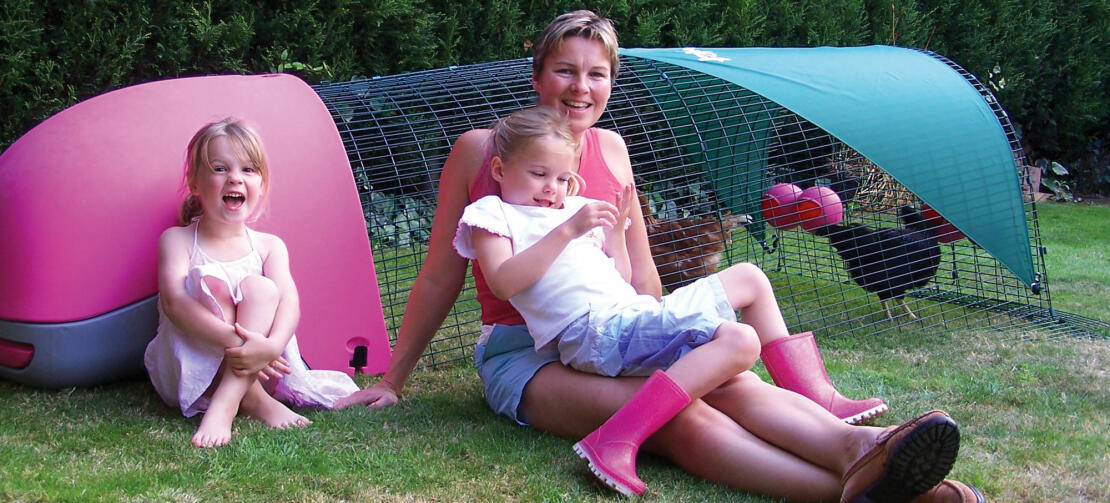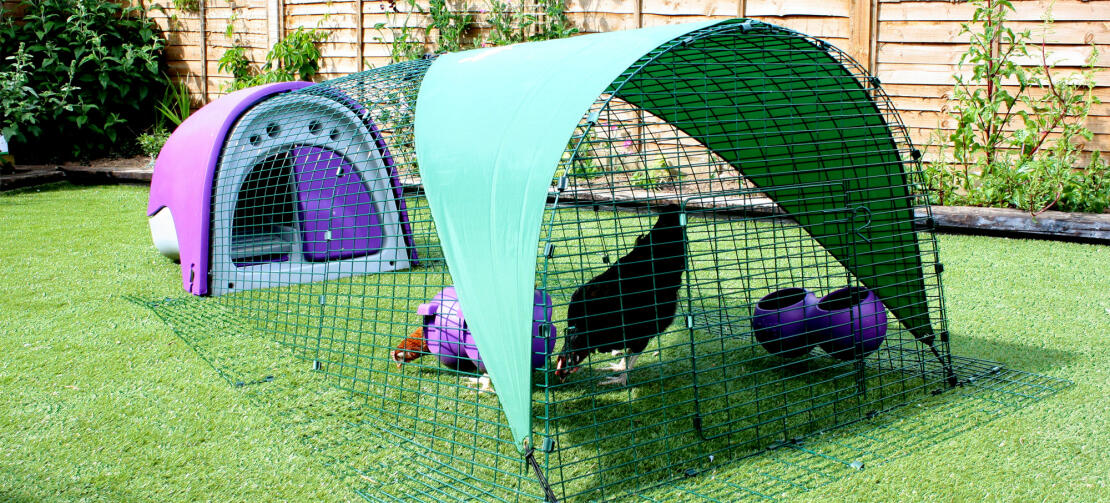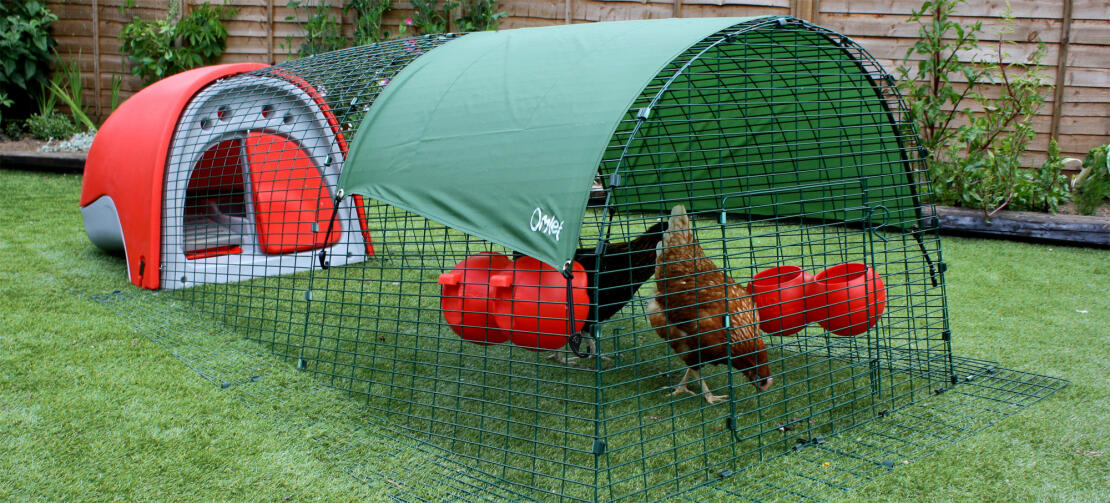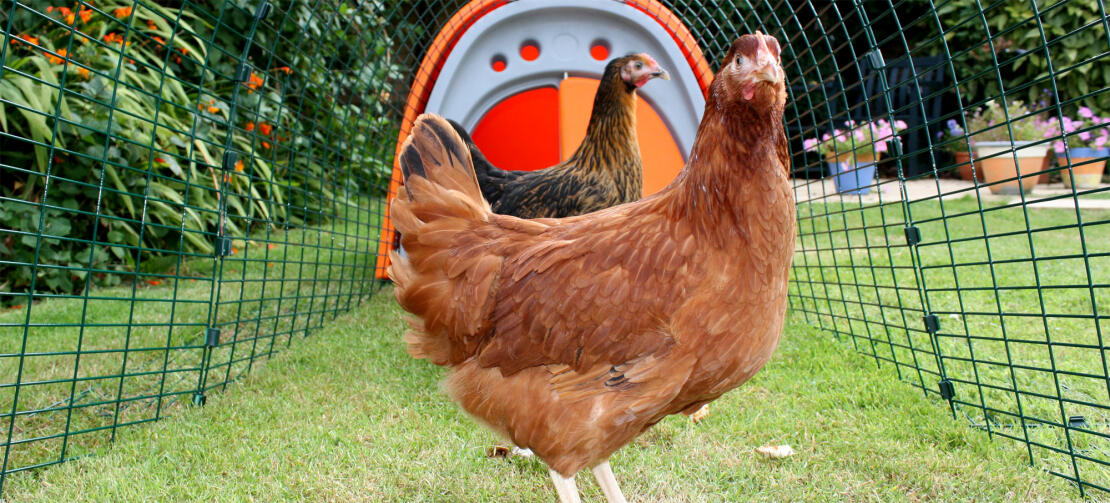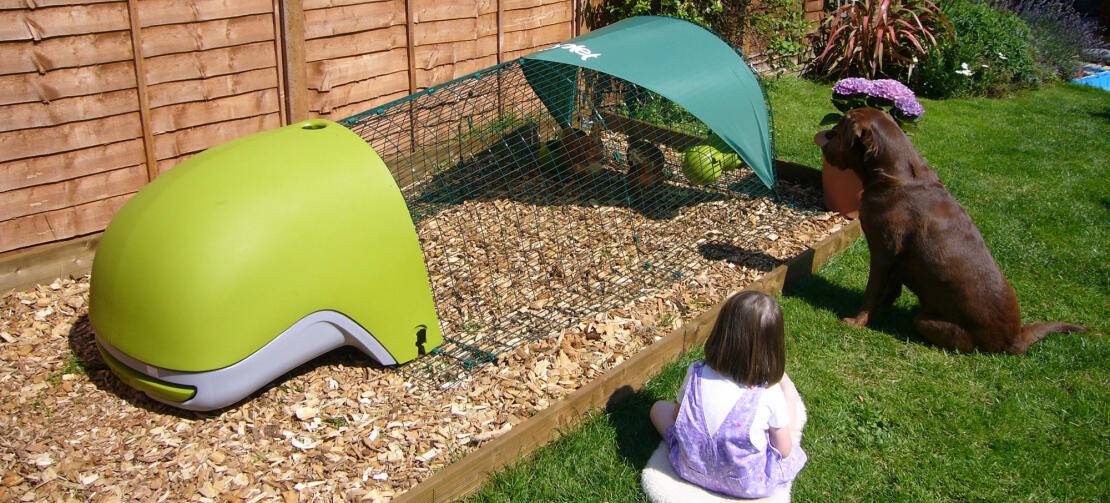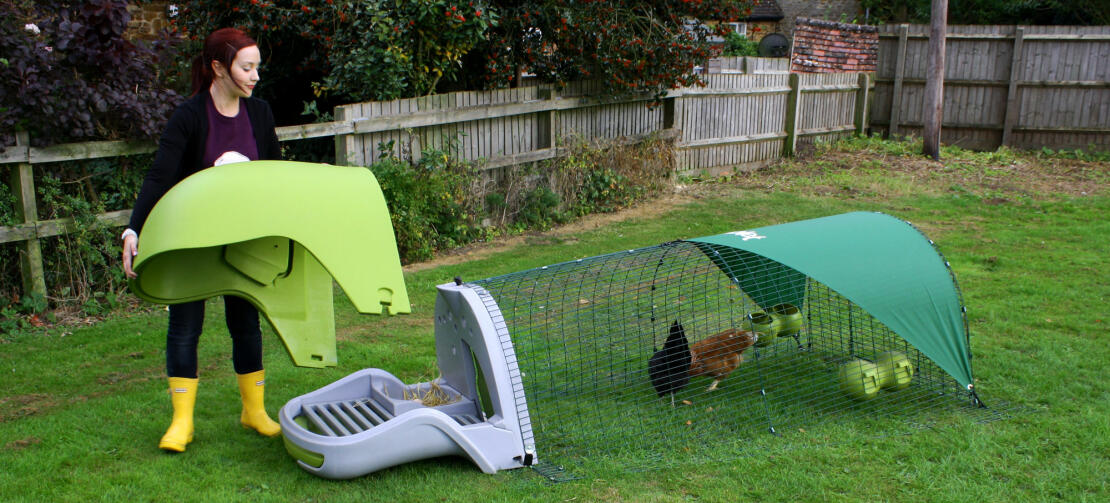 Eglu Classic Chicken Coop
Designed over 10 years ago, the Eglu Classic is the plastic chicken house that turned chicken keeping into a hobby suitable for every person and every garden.

Could not load configurator. Refresh the page to try again.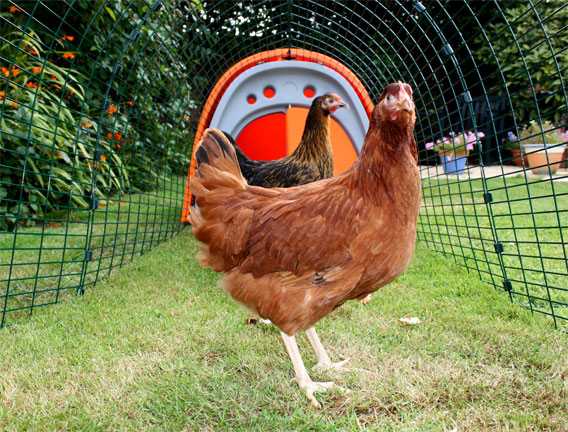 Everything you need to start keeping chickens
A Complete Chicken House Package
The Eglu Classic Chicken Coop is everything you need and want from a chicken house. Offering a standard of living not seen before in chicken house design, it is fitted throughout with a slatted floor that allows droppings to fall cleanly away, protecting your chickens from walking on a soiled floor. The integrated nest box is comfortably curved in all the right places to provide a cosy place to lay eggs. To make collecting your eggs easy, the Eglu Classic has an eggport which you can open from the outside giving instant access to the nesting area.
Low Maintenance
Routine upkeep of this fantastic chicken coop is a simple 5 minute task thanks to the slide-out dropping tray and fully removable lid. You can also be sure of the time and money saving benefits of owning an Eglu because it's made from modern energy-efficient polymers that never need to be treated. The Eglu Classic is naturally weather resistant and will last for years. At the end of its life it can be 100% recycled.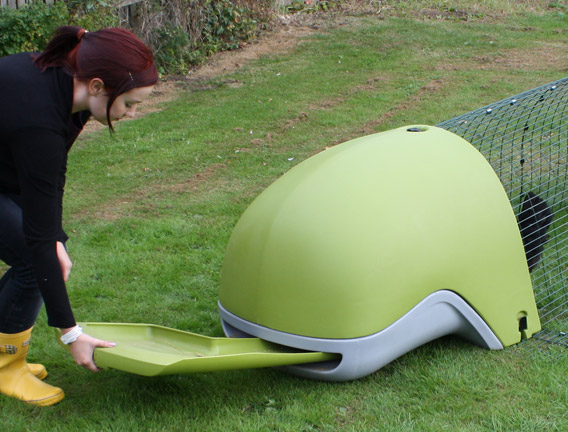 The slide out droppings tray makes cleaning your chicken coop easy
Easy To Clean Plastic Chicken Coop
The Eglu Classic Chicken Coop is quick and easy to clean with a slide-out tray that neatly collects all the droppings. The droppings are naturally high in nitrogen which makes them a great source of food for your plants. Add to your composter to make a fertilizer that your garden will love. For a top to bottom clean you can also remove the Eglu's lid. The smooth plastic surfaces can be washed with a hose – no difficult corners or absorbent materials to hide anything unpleasant.
The run has a free-ranger door so you can let your chickens roam the garden.
The Fox Resistant Chicken Run!
The 2m run is made from strong steel welded mesh, impossible for predators to break. A unique anti-tunnel skirt sits flat on the ground and prevents animals from digging in. The run has spacious vertical sides and gives your chickens plenty of room. You can extend the run in 1m sections if you wish. The Eglu can be positioned on grass or any other surface such as wood chippings or rough ground where the chickens can rummage.
The unique tunnel-proof panels have been proven in rigorous testing to be fox and badger resistant. The run means that when you are out and about you can be sure that your chickens are safe. The dark green coating is designed to let the run blend into your garden and is fully bonded to the steel mesh, ensuring an extremely durable finish that looks great.
The run comes in sections for easy transportation or storage and can be assembled in minutes. The end panel opens for access to the feed and water containers and to let your chickens out. The Run can also be attached to our Walk In Run.
Easy Operable Front Door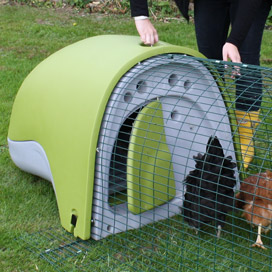 Let your chickens out in the morning and shut them away at night using the front door. Easy to use, and perfect when you want to keep your chickens out in the run while you clean the inside of your Eglu or collect those freshly laid eggs!
Nest Box and Roosting Bars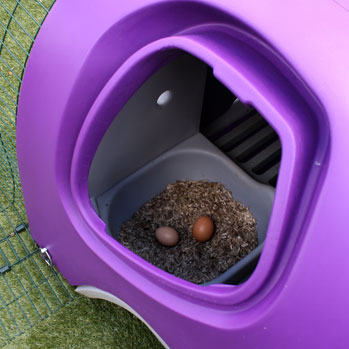 The Eglu has roosting bars for your chickens to perch at night and a discreet nesting box which can be filled with straw, shredded paper or wood shavings.
Access to Fresh Eggs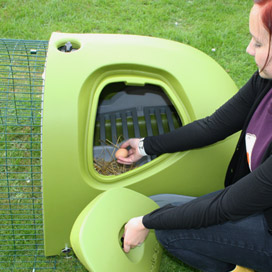 Collect your eggs easily using the Egg Port on the side of the Eglu. Collecting your eggs every morning is such a thrill. You will get between 8-12 eggs per week from 2 hens.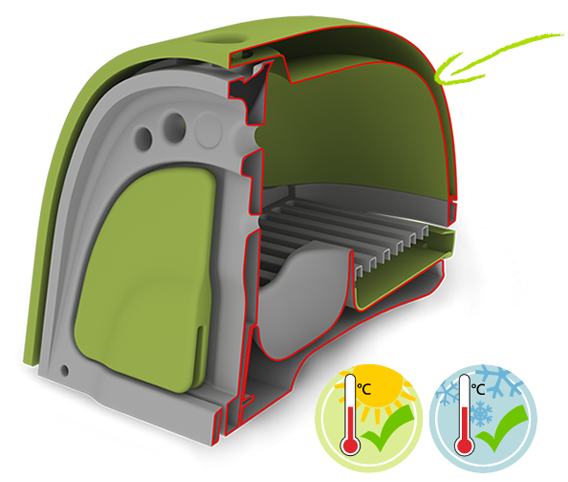 Twin Wall Insulation keeps your chickens cool in the summer, and warm in the winter!
Keep Your Chickens Warm in Winter
The Eglu is specially designed to keep your chickens warm in winter. The Eglu has a unique twin-wall insulation system which works in a similar way to double glazing trapping a pocket of air which provides a very effective means of insulating the house.
...And Cool in Summer
In summer your chickens will be kept cool by the Eglu's draught-free ventilation system, carefully designed to avoid air blowing directly over the roosting area whilst allowing fresh air to circulate.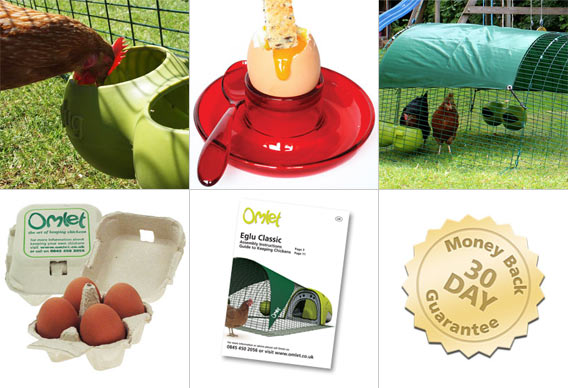 Free Extras
We want to make it as easy as possible for you to start keeping chickens, which is why you'll get lots of free extras with every Eglu Classic chicken house. Whichever type of Eglu Classic you buy, you'll get an innovative feeder and drinker. These fit neatly to the run, maximising floor area, the covered design protects food from rain, and both are dishwasher proof, for ultra easy cleaning. You'll receive 10 Omlet Egg Boxes, suitable for giving away four eggs at a time to family and friends, and easy to follow instructions to help you build your Eglu quickly. The chicken run comes with a summer shade that can be attached to the mesh exterior, to protect hens from wind and rain. It's very handy in the summer too, to keep your girls protected from the midday sun.
The biggest reward of an Eglu chicken coop, of course, is the free eggs you'll be treated to every morning. Nothing beats that! Not only that, we're so confident you'll love everything about the Eglu Classic chicken house and your new chickens, we offer a 30-day, no-quibble money-back guarantee.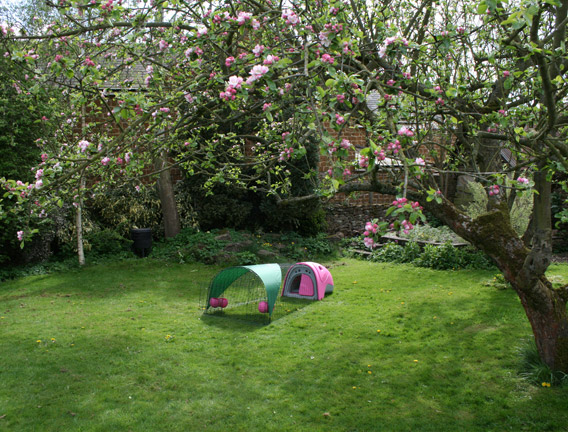 If you want to keep your chickens on grass we recommend that you move your Eglu around every so often to keep your lawn in tip top condition.
How much space do I need to keep chickens?
Ideally your garden should have a fence all the way round, this will prevent your chickens wandering into the neighbour's garden and, more importantly, ensure that all the eggs are laid on your side of the fence! The fence should be about 1.5m (5ft) high.
If you do not have grass, it is possible to keep a couple of chickens but you must provide them with a layer of wood chippings to rummage about in as this will give them the right type of surface underfoot.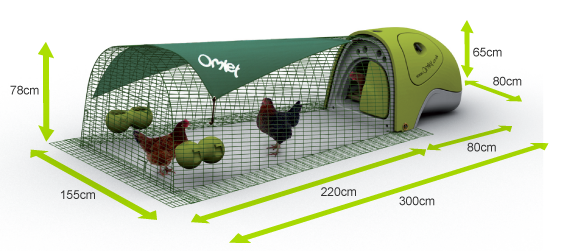 Eglu Classic Chicken Coop Dimensions
Eglu Classic Specifications
The Eglu Classic House is suitable for 2-4 medium sized chickens or 2-3 larger breeds such as Buff Orpingtons or Cochins. When setting up your Eglu, you should allow 60cm of space behind the house to enable the dropping tray to slide out easily.
Materials:
House: 100% Recyclable UV Stabilised Polyethylene
Run: Double layer fully coated steel weld mesh
Packaging Dimensions:
House: 84cm x 81cm x 69cm (25kg)
Run: 115cm x 36cm x 100cm (16kg)
Patent Pending. Design Registered.
Eglu Classic Chicken Coop
Does what it says on the tin
The coop is easy to assemble, very easy to clean and keeps our hens secure. I'd have preferred the purple one but it wasn't in stock at the time.
Review for:
Eglu Classic Chicken Coop with 2m Run Package - Green
This reviewer has 2-4 ex-battery hens pets
This is a game changer for chicken keepers, it has been so hot this summer and yet, so cool in the classic, same in winter, cold outside and cosy inside, so so easy to clean it's no chore at all and easy to move too. My perkins love it in here, what really does it for me though is knowing when I've gone on holiday (I've waited a full year to review these) is that it the foxes can't get in, we have had many fox attacks here over the years but they can't get in due to the mesh skirt around the bottom of the run!
Review for:
Eglu Classic Chicken Coop with 2m Run Package - Purple
This reviewer has 4-6 Pekin bantams pets
Very pleased with the Eglu classic coop
My husband and had discussed over the years to have chickens in our garden. I was not so keen due to the amount of cleaning require to keep mites at bay. Not so long ago, my husband found the Eglu classic on the internet, so we decided to go ahead and purchase the coop. We have 3 happy chickens using the coop and run. It's so easy to clean, I clear the overnight droppings every morning, and once a week, I clean the coop, which takes no time at all.
Review for:
Eglu Classic Chicken Coop with 2m Run Package - Green
This reviewer has 2-4 Hybrid pets
I brought this a month ago brilliant easy to clean looks great in the garden
Review for:
Eglu Classic Chicken Coop with 2m Run Package - Purple
This reviewer has 2-4 pets
Well made and easy to clean. Love the Classic
Review for:
Eglu Classic Chicken Coop with 2m Run Package - Purple
This reviewer has 2-4 pets
Read more reviews