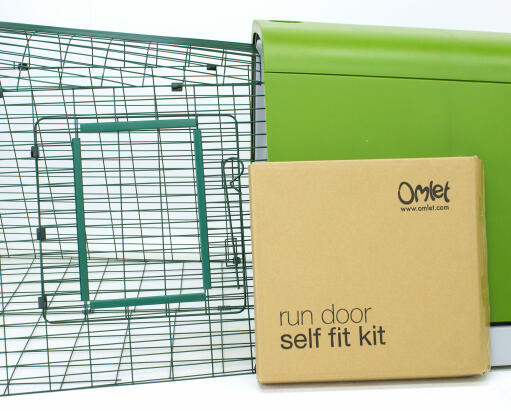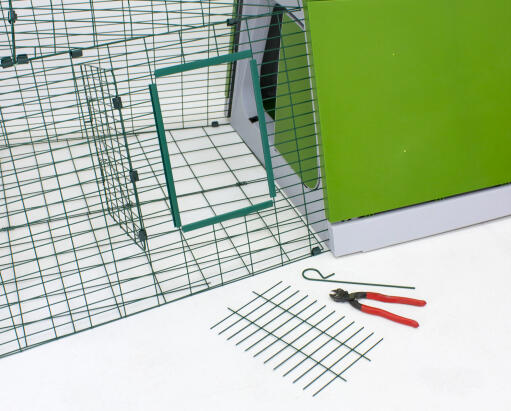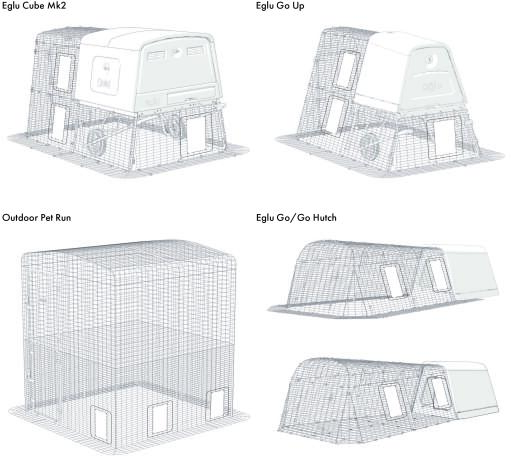 Checking stock in our warehouse...
£15.95
The Run Door Self Fit Kit lets you add an extra access door to your Eglu run or Walk in Run. Simply cut out a section of your run mesh, cover the edges with the supplied edge protectors and clip the door in place. (You will need some good quality pliers to cut the hole in your run panel.) If your pets move their toys to awkward parts of the run or occasionally lay an egg just out of reach, the Self Fit Door Kit is just the thing for you!
Note: The door opens inwards not outwards, so remember to take that into account when deciding on the location of your new door. If you are using it on an Eglu Go run or an Eglu Cube run, the angle of the Run panels will mean you need to mount it slightly higher to avoid it colliding with the ground when you open it.
The Run Door Self Fit Kit is compatible with the following products: Eglu Cube MK1, Eglu Cube MK2, Eglu Go & Go Hutch, Eglu Go Up, Outdoor Pet Run. It is not compatible with Eglu Classic.
A must have for Additional Run Access!
An extra door is wonderful! We put this additional door access on the side, closer to the coop door- Texas summers are hot so I've relocated access to their water & food closer to the coop as well- Claire at Omlet was wonderful & told me exactly where to find it on their site, thank you!
Review for:
Run Door Self Fit Kit
This reviewer has 2-4 Silkies pets
This door is very easy and quick to install. I use it to allow another entry/exit for my chickens. The door is small and designed only for your animal's use. It is not big enough to pass larger waterers or feeders through. However if placed above ground height you would be able to add feed or water and/or move them slightly. I do suggest getting two, one for the upper and one for the lower area of your coop to allow more access. I am very happy with the door as I am with all my Omlet products.
Review for:
Run Door Self Fit Kit
This reviewer has 8-10 Various Chicken bree pets
We bought and fitted the first extra door about 5 weeks ago but have yet to fit the second one purchased . An ideal method of accessing the hens to feed, water or just physically move them, without compromising the inherent security afforded by the Omlet base. Not difficult to fit and well designed and easy to operate
Review for:
Run Door Self Fit Kit
This reviewer has 2-4 Hens pets
I have been dreaming of such a door for years. I am too old now to crawl into the Eglu Cube run to retrieve water and food carriers crawl out, fill them crawl back in and put them back. I was nervous, and put off doing it. The doors were easy to fasten in, and now it takes me only seconds to get this onerous task completed. Hurrah!
Review for:
Run Door Self Fit Kit
We have three of these doors: 2 on either side of our Eglu Cube 6' Run, and 1 for our Eglu Classic 6' Run. Being able to access the middle of the run without crawling inside from either end is really useful for maintenance. We use our doors mainly for adding hay to the run and raking down the piles of dirt the chickens like to accumulate in the middle while scratching at the edges. They are simple to install with only a pair of wire snips, and they are just as sturdy as the rest of the run.
Review for:
Run Door Self Fit Kit
Read more reviews