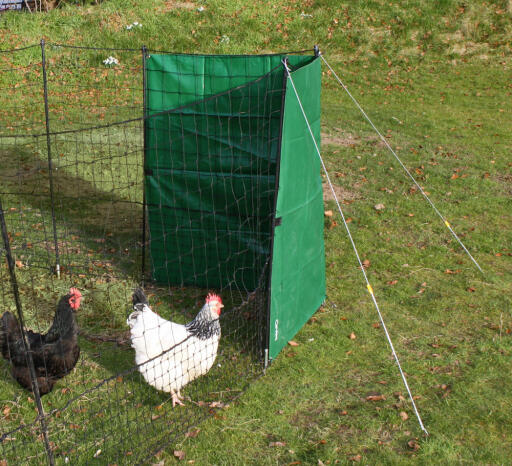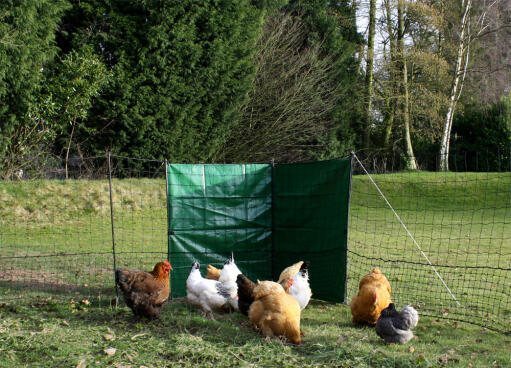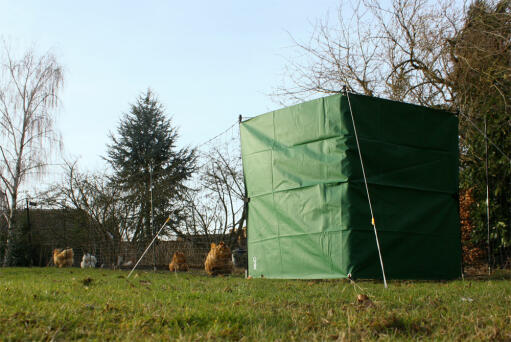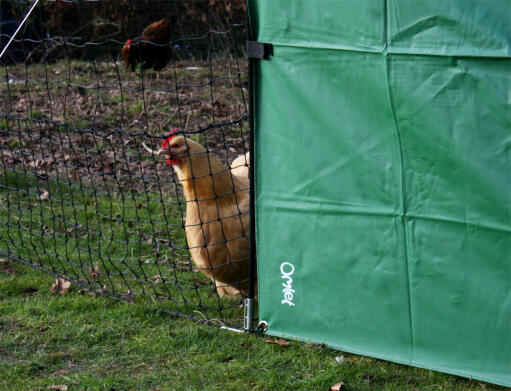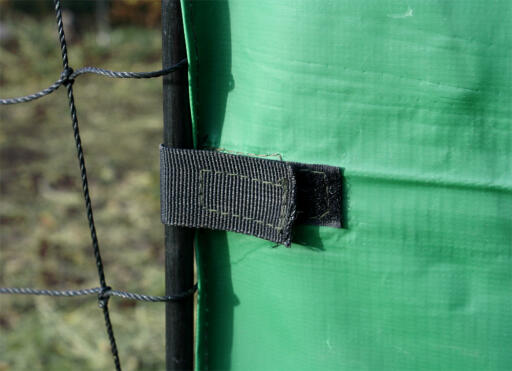 Checking stock in our warehouse...
£17.95
Give hens protection from wind and rain while free-ranging with Omlet's brand new Wind Break Kits. Designed by chicken experts, and made from the same hard-wearing materials as our best-selling Eglu Covers, these Wind Breaks can be used alone or in conjunction with the Omlet Chicken Fencing. However you choose to use it, the Omlet Wind Breaks will give your hens a sheltered area to huddle in when the British weather takes its toll. Measuring 1.2 x 2m, the Omlet Wind Break can be positioned along a side or around a corner of your Chicken Fencing. It will cover the full height of the Fencing, giving a large area of shelter from the wind. You will need to attach it to three Fencing Poles, so you may need to adjust the current position of your poles. To attach your Wind Break, thread the bungee hooks provided through each of the six eyelets and loop over the top caps and under the base spikes of the three Fencing Poles. Use the velcro fastenings to wrap around the other two poles for extra stability. You will find three guy ropes which can also be used to create a taut, structured fit. Simply hook over the top caps and stake to the ground using the metal pegs provided. Like the Eglu Covers, this Wind Break is available in a Heavy Duty or
Clear
finish. The Heavy Duty version is made from a long-lasting, heavy duty material that is completely waterproof. It is extremely hardwearing and should last you years to come. If you don't want to attach the Wind Break to your Omlet Chicken Fencing, it can also be used as a stand-alone version. You will still need three Fencing Poles which you may have spare from your current Fencing.
Exact material and eyelet specification may vary.
The Wind Break Kit includes the following:
1 Wind Break
6 Bungees
3 Guy Ropes
3 Metal Pegs
Heavy Duty Wind Break Kit for Chicken Fencing
Good quality, I have ordered more.
Review for:
Heavy Duty Wind Break Kit for Chicken Fencing
This is good a quality heavyweight windbreak, it does require your fence posts to be the right distance apart and firmly fixed into the ground or in a heavy wind it will act as a sail! I also use it for the sides and roof of a walk-in run - a useful bit of kit for our winter weather and summer sun. **Note for Omlet: - please could you add 2 fixing holes to the sides of your Walk-in run roof covers so they can be held down, this will stop the wind lifting the end roof cover and the the rain getting inside... thanks
Review for:
Heavy Duty Wind Break Kit for Chicken Fencing
Bought for Eglu Cube 2 meter Run Covers it well for the winter
Was trying to find a good quality solid cover for the 2 meter run on my eglu Cube and this was the nearest to size I could find. Will come in handy in the winter, thick and good quality.
Review for:
Heavy Duty Wind Break Kit for Chicken Fencing
Second one of these I've bought as they do the job really well. Longer and wider so gives more coverage on the walk-in-run.
Review for:
Heavy Duty Wind Break Kit for Chicken Fencing
Bought to cover the base section of my walk in run, cheaper than 2 separate square covers and slightly bigger.
Review for:
Heavy Duty Wind Break Kit for Chicken Fencing
Read more reviews