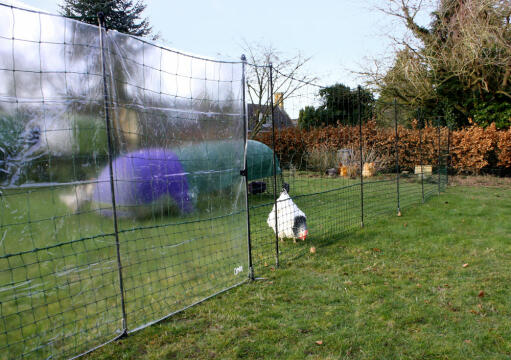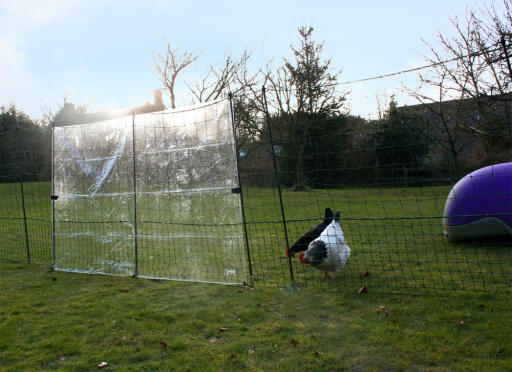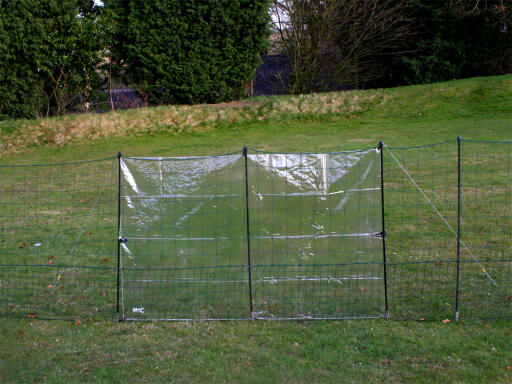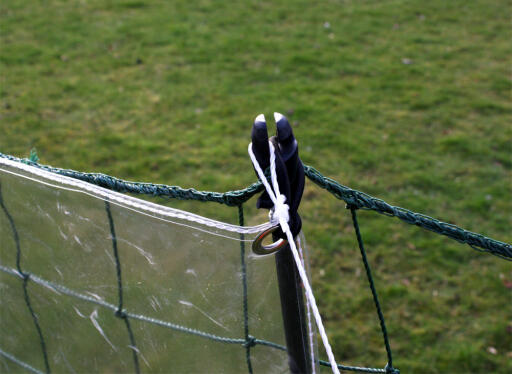 Checking stock in our warehouse...
£20.00
Give hens protection from wind and rain while free-ranging with Omlet's brand new Wind Break Kits. Designed by chicken experts, and made from the same hard-wearing materials as our best-selling Eglu Covers, these Wind Breaks can be used alone or in conjunction with the Omlet Chicken Fencing. However you choose to use it, the Omlet Wind Breaks will give your hens a sheltered area to huddle in when the British weather takes its toll. Measuring 1.2 x 2m, the Omlet Wind Break can be positioned along a side or around a corner of your Chicken Fencing. It will cover the full height of the Fencing, giving a large area of shelter from the wind. You will need to attach it to three Fencing Poles, so you may need to adjust the current position of your poles. To attach your Wind Break, thread bungee through each of the six eyelets and loop over the top caps and under the base spikes of the three Fencing Poles. Use the velcro fastenings to wrap around the other two poles for extra stability. You will find three guy ropes which can also be used to create a taut, structured fit. Simply hook over the top caps and stake to the ground using the metal pegs provided. Like the Eglu Covers, this Wind Break is available in a
Heavy Duty
or Clear finish. The Clear version is made from thick, clear plastic, allowing sunlight through whilst keeping the rain, hail and wind at bay. If you don't want to attach the Wind Break to your Omlet Chicken Fencing, it can also be used as a stand-alone version. You will still need three Fencing Poles which you may have spare from your current Fencing. Our Fencing Poles are also available to order individually
on our website
.
Exact material and eyelet specification may vary.
The Wind Break Kit includes the following:
1 Wind Break
3 Guy Ropes
3 Metal Pegs
Clear Wind Break Kit for Chicken Fencing
Ordered two to cover the most exposed sides of my coop. Am really pleased with them, they are good quality, allow chickens to see out whilst stopping the wind and rain. Delivery was quick and think they are good value for money
Review for:
Clear Wind Break Kit for Chicken Fencing
This reviewer has 2-4 pets
Perfect for the cube run.
Bought this to go over to Omlet Cube run instead of for the fencing. They are slightly wider and longer. It works perfectly and the Velcro tabs make it even more secure on the run. Wish I had bought more now rather than the ones specifically for the run!
Review for:
Clear Wind Break Kit for Chicken Fencing
This reviewer has 4-6 pets
We use it above rabbit hutch and it works really well! The extra cords are useful
Review for:
Clear Wind Break Kit for Chicken Fencing
This reviewer has 2-4 Dwarf Netherlands ra pets
Great to have a fitted wind break. Shame the cable ties aren't reusable but solved that with my own reusable ones.
Review for:
Clear Wind Break Kit for Chicken Fencing
This reviewer has 2-4 Pekin Bantams pets
I AM USING 2 AS WIND BREAKS ON A ROOF GARDEN. MY PLANTS ARE PROTECTED AND I CAN STILL SEE THE VIEW. VERY PLEASED AND WOULD RECOMMEND
Review for:
Clear Wind Break Kit for Chicken Fencing
Read more reviews