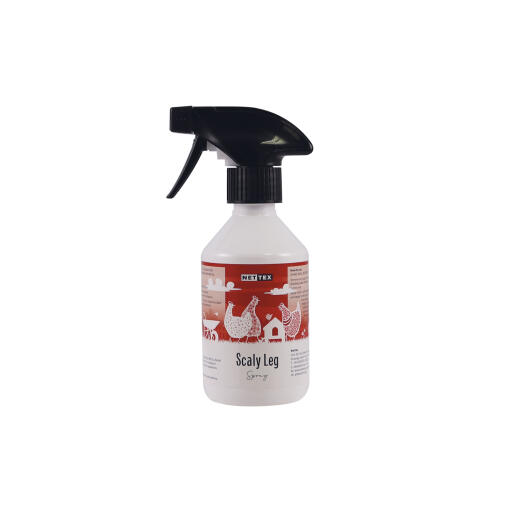 Checking stock in our warehouse...
£12.99
Scaly legs is a nasty problem caused by a parasitic mite. It burrows under the scales in the bird's legs, comb and wattles, causing tissue damage which, if left untreated, can lead to deformities. This spray is formulated to control the scaly leg parasites. It contains natural oils and repellants that smother and suffocate the mites and it helps to prevent against any further infestation. It is also very soothing for yoru chickens and provides instant relief to itching and irritation. Simply spray directly on affected areas every five days. Ingredients: Paraffinic hydrocarbon and Alkyl polyglucoside.
Nettex Scaly Leg Remover - 250ml
Scaly Leg Remover a thing of the past!
Brilliant stuff. Enlisted help of friends to help me hold my 30 plus hens. The legs on some were really bad. 2 weeks later, some completely better with nice pink legs as new scales grow and the others who had it really badly are rapidly improving. After application I also smothered legs in vaseline. Mucky job! But it's worked! Thank you so much ????
Review for:
Nettex Scaly Leg Remover - 250ml
Arrived quickly, well packaged and seems to have done the job!
Review for:
Nettex Scaly Leg Remover - 250ml
This is great as it is so easy to use on my chicken that has never enjoyed being handled. She wriggles around so much, just have to spray and she is done. Happier hen too.
Review for:
Nettex Scaly Leg Remover - 250ml
It works
Review for:
Nettex Scaly Leg Remover - 250ml
my girls relief could be measured by the following day, great product which arrived way before estimated date, from first time experience I am certain to be back for further items
Review for:
Nettex Scaly Leg Remover - 250ml
Read more reviews