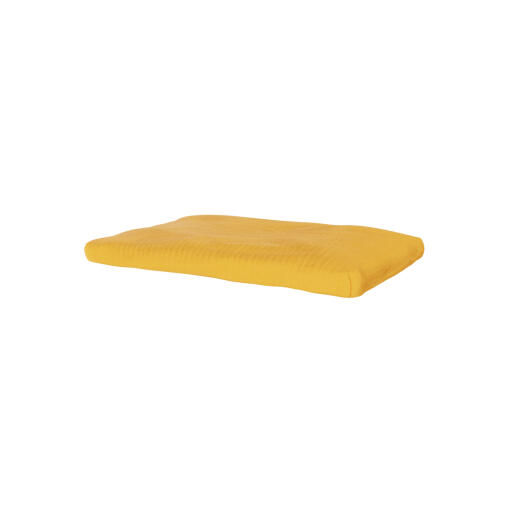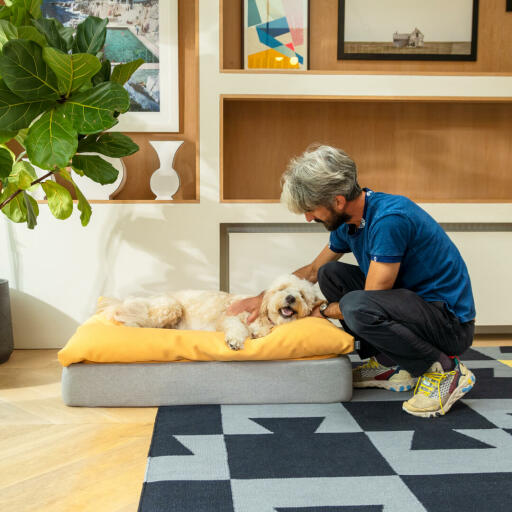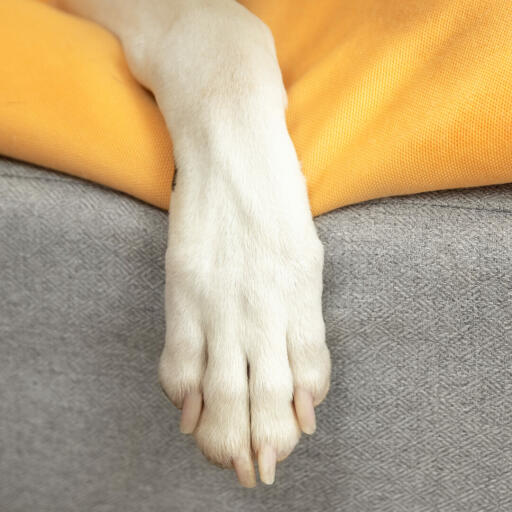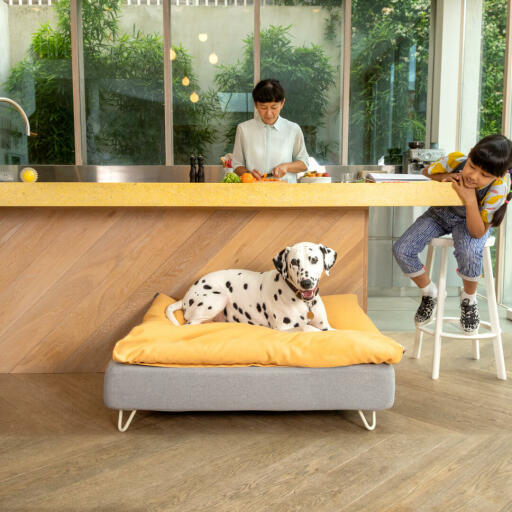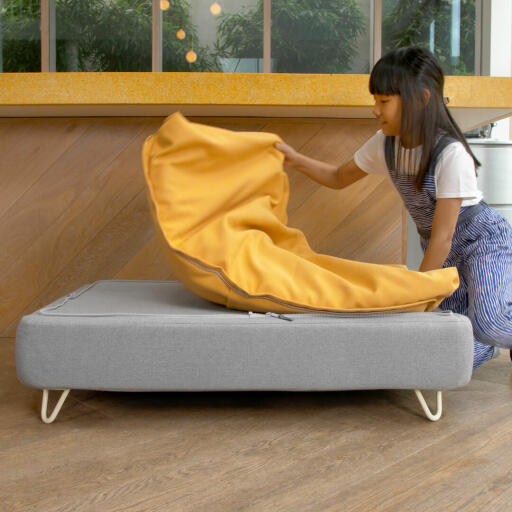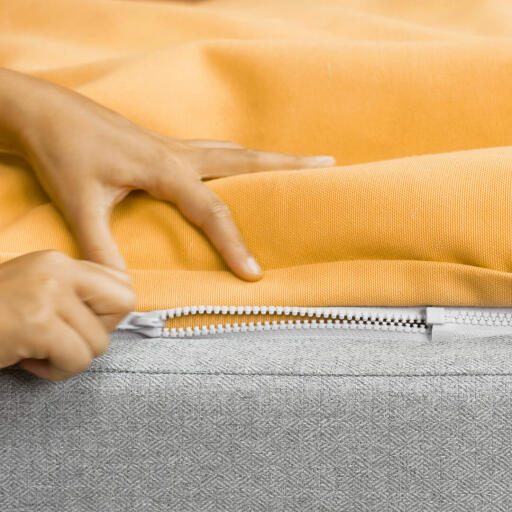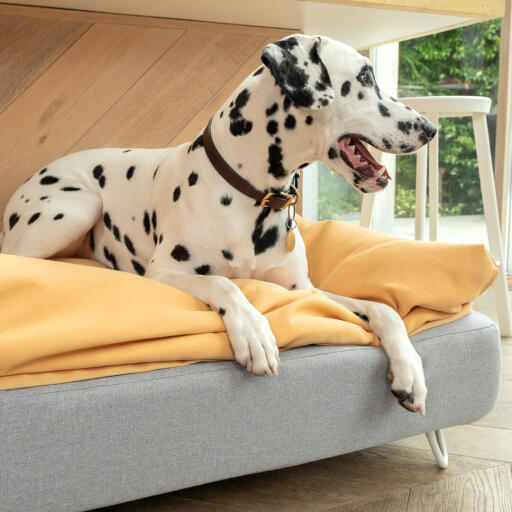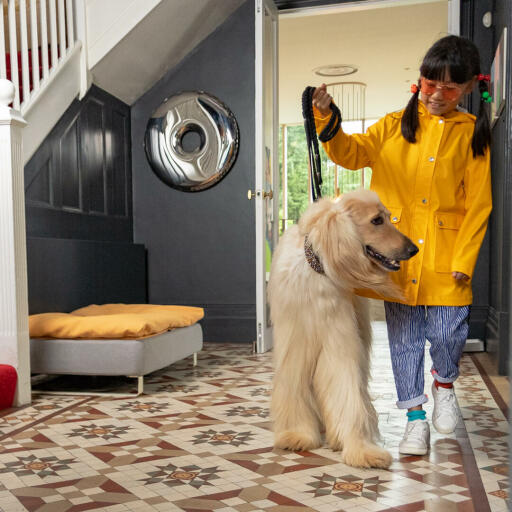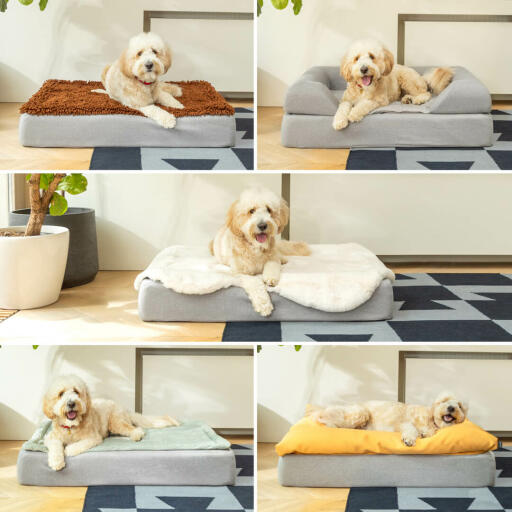 Checking stock in our warehouse...
£66.95
Now you can keep your dog's bed fresh, hygienic and odour free with Topology, the world's first dog bed with zip on and off mattress toppers. The Beanbag Topper for the Topology Dog Bed is a dream for every dog and especially those that like to create a nest for themselves. Deep filled to mould around your dog's body, the mustard yellow beanbag is very hard-wearing and pups of all ages will love arranging the topper until it's just right for them. The filling is contained in a separate bag inside the topper and can be removed to wash the yellow cover. Our Topology dog bed toppers offer these unique benefits:
Machine washable to prevent odour and bacteria
Removable with large, snag free zips to instantly change the topper
Super stylish bed and toppers look great in your home!
Perfect for dogs of all ages - zip a puppy training mat below the topper for accidents!
Available in three sizes to suit a wide variety of dog breeds. Need help choosing the right size for your dog? Take a look at our breed size guide here.
Find out more about
Topology Dog Beds.
Please note: Mattress not included, buy the Topology mattress separately.
Dimensions Beanbag Topper Small: 64.5 x 49 x 9 cm Beanbag Topper Medium: 87.5 x 57.5 x 12 cm Beanbag Topper Large: 107.5 x 73.5 x 15 cm
Materials
Beanbag topper: Polyester and Expanded Polystyrene (EPS)
The toppers are Patent Pending and Design Registered.
Topology - Beanbag Topper - Yellow - Medium
The dogs love the bean bag and dig to adjust the filling which seems great fun. The beanbag is very dig resistant and the dogs enjoy sinking in, specially the new puppy
Review for:
Topology - Beanbag Topper - Yellow - Medium
This reviewer has 2-4 Miniature dachshunds pets
Very cozy - my Lucas Terrier,who never uses a dog bed, actually loves it!
I am impressed by how well made this, and other Omlet products are. It is strong, and cozies up very nicely
Review for:
Topology - Beanbag Topper - Yellow - Medium
This reviewer has 2-4 Lucas Terrier and Bo pets
Looks great but maybe not so practical
I liked this topper for its quality -- well-made -- and fun color, but our doggie didn't take to it. Not sure if it was the sound the "beans" make when she settles onto the bed (lots of rustling), or the the fact that there's not a lot of filling in the topper, which means the fabric bunches in ways that didn't look very comfortable. I'm wondering if I can add more beans to it; I think this might help. In the meantime, we bought the sheepskin topper and she looooves it.
Review for:
Topology - Beanbag Topper - Yellow - Medium
This reviewer has 1 Hound mix pets
Read more reviews