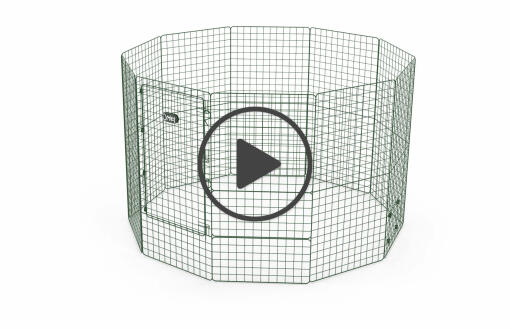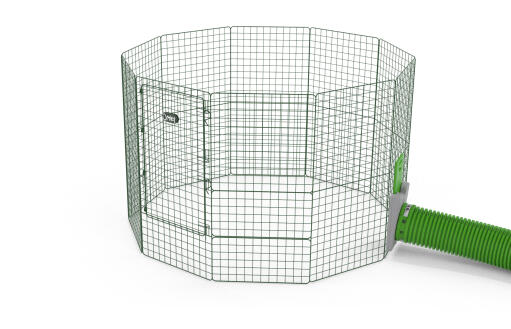 Checking stock in our warehouse...
£95.95
The new Zippi Rabbit Playpen from Omlet provides a movable exercise solution for your rabbits while allowing you to spend more quality time with your pet within a secure environment. The Zippi playpen is an open style exercise and play space which provides easy access for children and pet owners alike and is great for interactive play. It is fully compatible with and can be linked to the Zippi Tunnel system quickly and securely.
The Zippi Playpen Starter Pack includes 10 panels (96cm x 48cm each) of secure Omlet weld mesh and Omlet run clips which can be configured in any shape that you desire to fit your available space. One of the panels can be un-clipped and folded down for easy personal access to the pen. There is also a specially designed connection portal should you wish to join up your Zippi Rabbit Tunnel.
You can add to and extend your Zippi playpen over time with optional extras such as mesh roofing and underfloor mesh. Extension panels are also available so you build the playpen to any size that you desire. A range of specially designed covers and shades for the Zippi can also be added.
Please note that the playpen is designed for interactive play and supervised exercise for your rabbit and your pet should not be left unattended during use.
The Zippi Playpen Starter Pack covers an area of 144cm x 96cm when assembled in a rectangular shape, with a height of 96cm.
Patent Pending. Design Registered.
Zippi Rabbit Playpen Starter Pack - Double Height
My bunnies are loving it!!
My bunnies are loving their new outside space! We bought the double height playpen and the tunnel to connect it with their current hutch. It was easy to put together and it looks great in our garden! I highly recommend it!
Review for:
Zippi Rabbit Playpen Starter Pack - Double Height
Write a Review