West of England Geese
West of England History
---
As with the Pilgrim goose, this breed originated as a farmyard/cottagers, the so-called 'common' goose, from centuries ago. The name reflects the area where it was kept which was the county of Devon. Although it was standardised in the UK in 1999, there is a photograph in the 1966 British Waterfowl Association Yearbook which is captioned 'West of England Pilgrims at Furzey Park'. As with the Pilgrim it is auto sexing – that means that the females are a different colour from the males so you can tell which is which.
West of England Behaviour
---
They have all the attributes of a farm goose, being hardy, good foragers and keen grazers that are able to convert grass to meat. They have a quiet, calm temperament . They produce 20-30 eggs a year and are usually good parents.
Appearance
The gander is white though there may some traces of grey possible on back or rump and the geese have a grey saddle marking across the back and grey patches on her thighs. The head and neck are grey and white. Eyes in both sexes are blue and the bill is orange with orange pink legs.
It is a medium breed.
It's not bred in large numbers in the UK and you need to be sure that you are buying genuine stock as white ganders are not uncommon in other breeds. If you have a gander that does not carry the auto-sexing genes then the whole breeding programme will collapse.
West of England Status
---
Common
West of England Pictures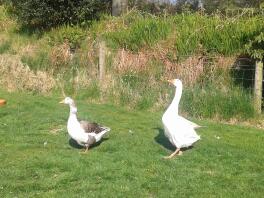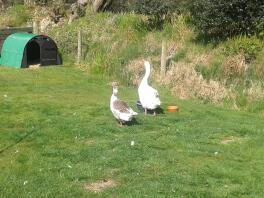 West of England For Sale
---
Please note: All animals listed here are for collection only. They cannot be delivered by the seller or by Omlet. The seller will send you their contact details to arrange payment and collection.
Latest Reviews For West of England
---
There are not yet any reviews for this breed. Click
here
to write one.