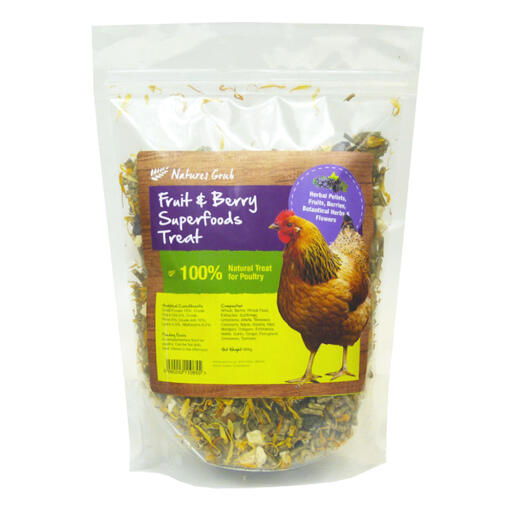 Natures Grub Fruit & Berry Superfoods Chicken Treat 600g
Read 2 Reviews
Checking stock in our warehouse...
£5.99
Natures Grub Fruit & Berry Superfoods Chicken Treat is a health boosting treat for all species of poultry. This healthy botanical rich treat contains a host of beneficial ingredients and will improve the overall health and appearance of your flock.
Nettle, marigold and alfalfa have been added for improved yolk and comb colour, while cinnamon, spearmint and garlic has been added for its intestinal hygiene properties. Natures Grub Garlic and Herb Superfoods treat is also high in Omega 3 and Omega 6 oils which helps to improve feather health.
Composition:Wheat, Barley, Wheat Feed, Extracted Sunflower, Limestone Flour, Alfalfa, Seaweed, Cranberry, Apple, Raisins, Mint, Marigold, Oregano, Echinacea, Nettle, Garlic, Ginger, Fenugreek, Cinnamon, Turmeric.
Natures Grub Fruit & Berry Superfoods Chicken Treat 600g
Superfoods Chicken Treat 600g
I love the idea of this. Unfortunately my chickens leave it in the dish. But I will persevere by adding just a little at a time to other treats until they get used to it and hopefully like it.
Review for:
Natures Grub Fruit & Berry Superfoods Chicken Treat 600g
Lots of pellets and not many berries. They prefer herb one (bantams)
Review for:
Natures Grub Fruit & Berry Superfoods Chicken Treat 600g
Read more reviews