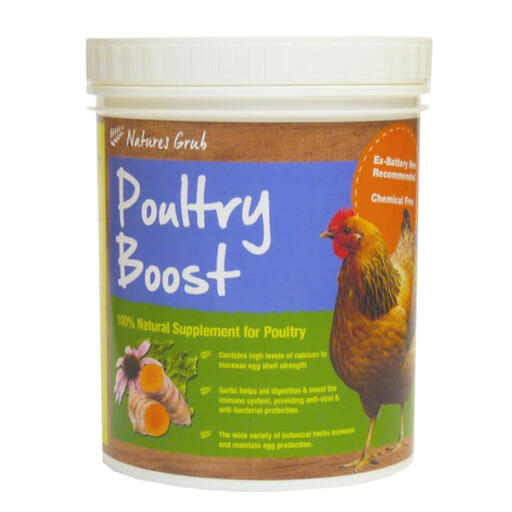 Natures Grub Poultry Boost Pellets 300g
Checking stock in our warehouse...
£9.99
Natures Grub Poultry Boost is a 100% natural supplement that helps to maintain and improve general health in all poultry. Containing an effective and unique blend of 10 natural herbs, Poultry Boost is completely chemical free which means there is no need to stop eating your hen's eggs during use.
The high level of calcium in Poultry Boost helps to increase egg shell strength while garlic aids digestion and boosts the immune system, providing anti-viral and ant-bacterial protection. The wide variety of botanical herbs increase and maintain egg production, while flax seed promotes healthy feathers.
Poultry Boost is particularly recommended for ex-battery hens and is also suitable for all ducks, geese and turkeys.
Composition: Wheat, Barley, Wheat Feed, Extracted Sunflower, Calcium Carbonate, Flax Seed, Alfalfa, Seaweed, Spearmint, Oregano, Echinacea, Sunflower Oil, Nettle, garlic, Ginger, Fenugreek, Cinnamon, Turmeric.
Natures Grub Poultry Boost Pellets 300g