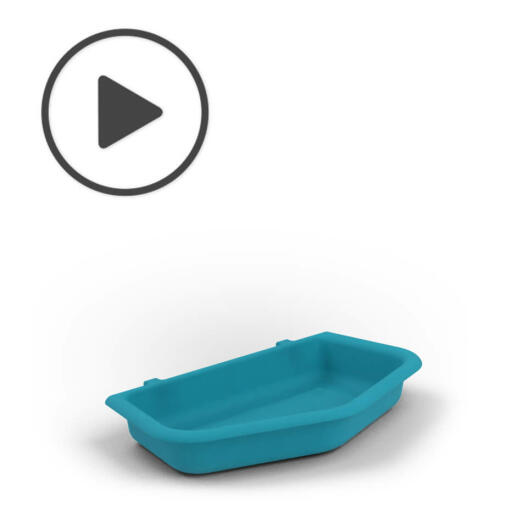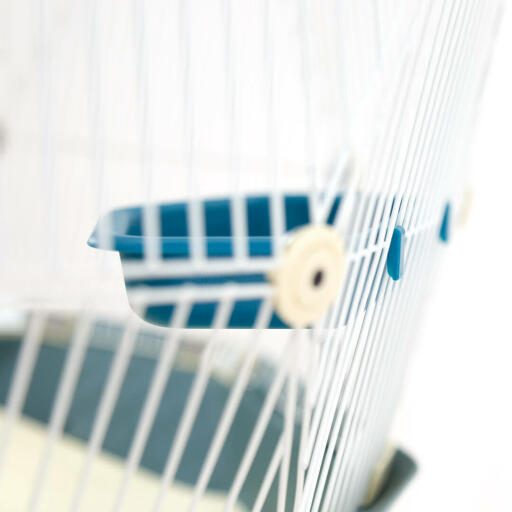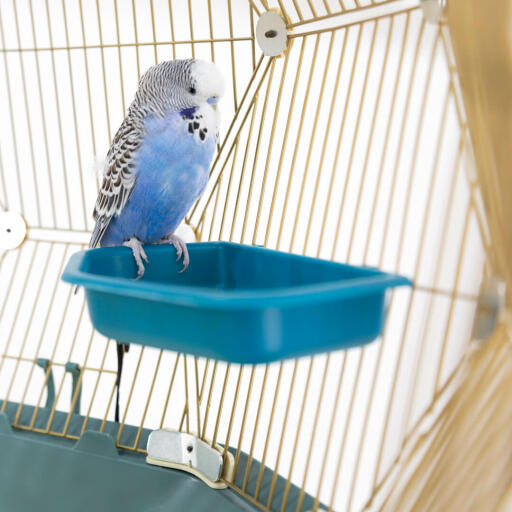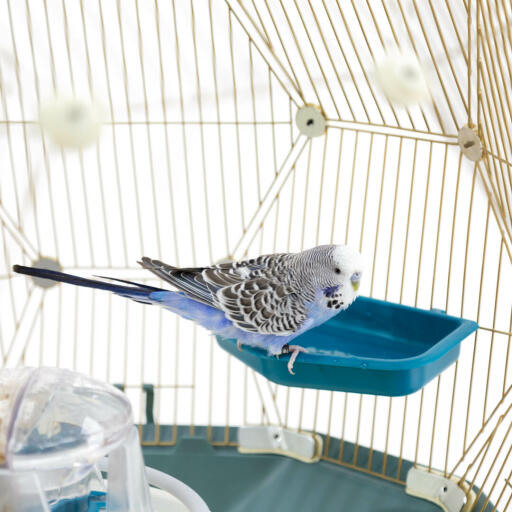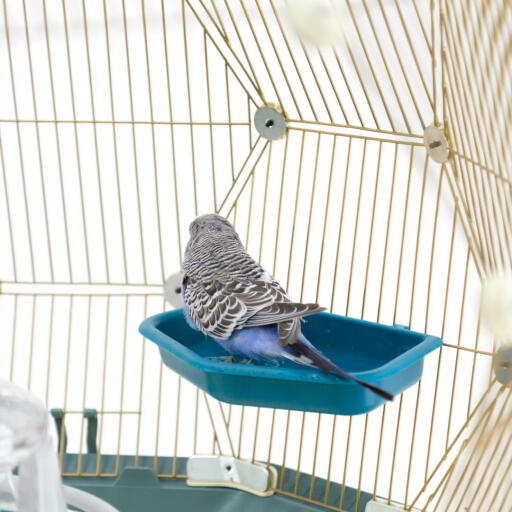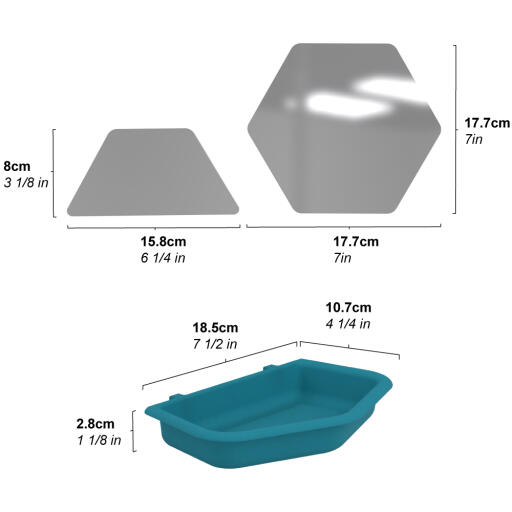 Checking stock in our warehouse...
£6.95
Give your pet birds the opportunity to splash around with Omlet's new Geo Bird Bath designed for the Geo Bird Cage!
Bathing is an essential part of plumage maintenance for birds; by dampening the feathers they loosen dust and dirt, making it easier to preen their beautiful feathers.
The Geo bird bath has been custom designed for the angled sides of the Geo Bird Cage. Two hooks secure it in place and it's super quick and easy to install and remove so you can keep the bath fresh and clean for your pets.
You can keep the bird bath on the inside of the cage at all times, or remove it once the birds have finished their washing routine for the day.
You can also use the container as a practical drinker or feeder, ideal for yummy greens or other larger treats.
The bath comes in a striking blue colour, perfectly matching the central feeder and drinker station of the Geo Bird Cage.
Frequently Asked Questions
Half Hexagon
: 158mm x 80mm x 25mm
Full Hexagon
: 177mm x 156mm x 25mm
Bird Bath
: 184mm x 115mm x 29mm
My mirror seems to have arrived broken?
The mirror arrives with a protective film on top that can make it look broken. Remove the film and check the mirror. If there is any damage to the actual mirror, please let us know!
Gucci my canary uses his bath every day. He loves to splash around whilst looking at himself in the half hexagon mirror. Well worth buying.
Review for:
Geo Bird Bath
I just bought the geo cage and putting it together was a challenge but I'm elderly and my dexterity is not what it used to be. This cage is the best cage I've ever owned and my budgie loved it instantly. There is zero seed mess now. It stays in the feeder bottom. My bird seems to utilize the entire cage and loves flying back and forth between the swinging perches. She has also used the bird bath immediately. Get this cage it is worth every penny.
Review for:
Geo Bird Bath
This reviewer has 1 Budgie pets
I have had an Omlet cube for approximately 14 years now and also the walk in run which actually houses two coops, both going strong and look as good as the day they were assembled. Needless to say when my sons 'came home' with a kakariki parakeet I was straight onto Omlet and found the Geo cage (what's not to love!) which I ordered ( gold bars and cream base) Easy to assemble all you need is a phillips screwdriver and a bit of patience, make sure all pieces are facing inwards with the bars just like the top handle piece with the Omlet name on, also the smaller pentagons are for near the top of the cage and larger hexagons for the bottom two layers and the very top 5. The bird went straight in after I put its old cage door next to the new opening and found the food and water feeders east to use pretty much straight away It has more space as this shape is bigger than you think no tight unusable corners. Haven't cleaned out yet but the Omlet vid makes it look easy enough. Love it and so does Dave
Review for:
Geo Bird Bath
This reviewer has 1 Kakariki pets
Our budgie loves his new bath. Good Quality & fits neatly on the side of the cage. Very sturdy.
Review for:
Geo Bird Bath
This reviewer has 1 Green spangled pets
Fantastic Design in a cage
Easy to clean, looks very smart in the Living Room. Plenty of flying room for Georgie . Love the star cover for night time & the easy water & seed feeder.
Review for:
Geo Bird Bath
This reviewer has 1 Green spangle budgie pets
Read more reviews