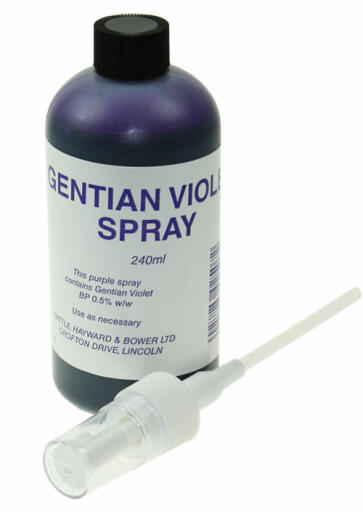 Checking stock in our warehouse...
£6.99
Purple spray or gentian violet spray is used as an antiseptic for minor cuts and abrasions on birds and animals. It can help to treat wounds caused by feather pecking. This is a non-aerosol spray containing 0.5% w/w gentian violet. The bottle comes with a separate spray top that can be attached for ease of use.
Battles Gentian Violet Spray - 240ml
Not working as well as I hoped....
In 7 years of hen keeping, I have never had problems with feather pecking. I guess it's the longer days, combined with the endless bird flu lockdown, my hens are getting bored. I had high hopes for this product, given all the rave reviews. Anyway, it certainly stains the feathers, but doesn't seem to last long on the bare skin. I'm spraying every 3 days. Although the problem does seem to have eased, the poor hen that they are picking on still has fresh wounds. I will continue using for a while longer.
Review for:
Battles Gentian Violet Spray - 240ml
This reviewer has 1 mixed pets
first time for an Omlet purchase and I am very happy
Battles Gentian Violet spray has saved me on many occasions in the past. If my horses get mud fever it is my go to product and has been for several years. I am lucky that my horses have a pretty strong constitution but this winter has been hideous with them standing in water for months. My youngster got mud fever which was pretty persistent. Battles Gentian violet spray knocked it on the head within a few days. Because it isn't a cream base it can get sprayed on even if their legs are wet and muddy, they rock the purple look for a few days but it sorts it out with very little hassle. I recommend it all the time.
Review for:
Battles Gentian Violet Spray - 240ml
Fantastic for wounded Chook
One of my Chooks was struggling with a soft egg and set upon by the others which left her with a nasty wound under her vent. After a few days of cleaning up with salt water etc, and remembering Gentian Violet from my childhood days of bringing neutered purple cats home from the vet - I decided to treat her with it and now she is walking tall again, not afraid of getting pecked! (agree with the Purple hand comments.. wish had read the reviews before applying!!)
Review for:
Battles Gentian Violet Spray - 240ml
Great product - very messy application
I used this after one of our chickens started losing feathers to another, leaving bald red patches. It stains the sprayed area purple as well as acting as an antiseptic on any open wounds. The purple colour dissuades the other chickens from wanting to peck away at the sore area. Within a few days of using it feathers had started to regrow and within a couple of weeks the chicken had fully recovered. The only problem with this product is the awful applicator bottle it comes in. It's impossible to spray anything without it going all over your hands. If you haven't got gloves on you can expect at least a few days of purple hands!
Review for:
Battles Gentian Violet Spray - 240ml
My poor cat had a wound to foot and used gentian violet spray to help the healing - only problem was the noise the spray made when pumped out of the bottle - after two squirts cat ran off!
Review for:
Battles Gentian Violet Spray - 240ml
Read more reviews