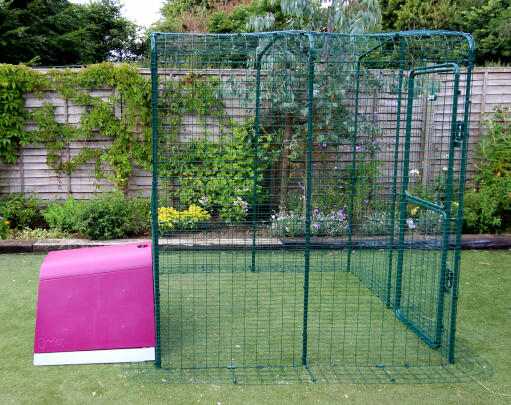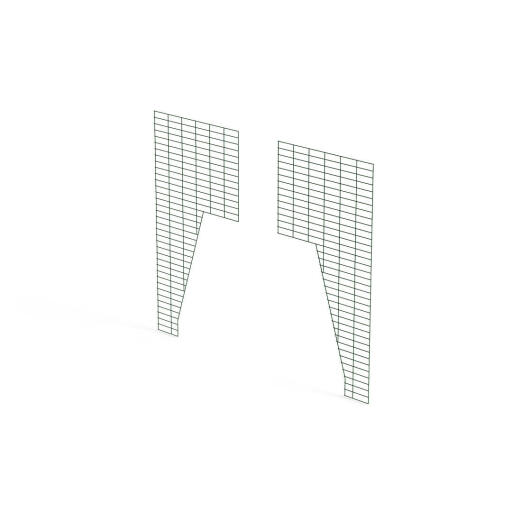 Checking stock in our warehouse...
£21.95
The Walk in Chicken Runs and Outdoor Pet Runs have been designed to work with your existing Eglu chicken coop or rabbit hutch, so you can create a custom chicken keeping solution to suit your garden.
This kit will connect your Eglu Go house to a low-Rise or Hi-Rise Walk in Chicken Run. It will allow your Eglu to be connected to any side of the run and be placed directly next to a door on a if you choose.
Your Eglu Go Connection Kit will come as two panels, with fixings and instructions to attach.
Please note, this Connection Kit is NOT compatible with MK1 Walk in Runs. If you would like to connect your Eglu to a MK1 Walk in Run, please contact us.
Connection Kit for Walk In Run - Eglu Go
I bought this to connect an Eglu to the guinea pig run. It worked well and keeps everything connected. My only issue is that the screws sometimes come loose from my kids being rough, getting the tray in and out of the Eglu. But it's easy to screw the piece back on if it comes off.
Review for:
Connection Kit for Walk In Run - Eglu Go
This reviewer has 6-8 Guinea Pigs, 7 pets
Excellent kits. I have been able to integrate my three Go houses with the new walk in run. I have also placed my Go run inside the walk in run to give me the option of using it as an isolation/broody coop if necessary.
Review for:
Connection Kit for Walk In Run - Eglu Go
This reviewer has 4-6 Pekin Bantam pets
The easiest installation ever!
I bought 2 of these to attach my 2 Go's to the walk in run. If only the Go runs had been so easy to attach! If the Cube could be attached directly like these I wouldn't hesitate!
Review for:
Connection Kit for Walk In Run - Eglu Go
This reviewer has 4-6 Gold line, Cuckoo Ma pets
Fantastic, allows the hutch to sit outside giving your bunnies plenty of room to hop skip and jump
Review for:
Connection Kit for Walk In Run - Eglu Go
2x2x1run with eglu and connection kit
I bought the Eglu bunny hutch, 2x2x1run, connection kit and heavy duty tarpaulins. Was very easy to build and i managed on my own although shifting it into position would really need two people. Very sturdy and even Husky proof when built. I added extra cable ties to close off gaps in the roof and tent pegs to secure the skirting. Sadly we lost one of our bunnies just before this arrived but the bunny we still have totally loves being out and safe which was always the major concern before we found Omlet as all the other runs we saw were not secure enough to allow our dogs and bunnies to all enjoy the garden at the same time. I will buy the kit to extend this run height wise as it is difficult to get in and out of the door unless you are of Hobbit size, to do the usual daily housekeeping within the run. Pancake our bunny does not like all the sides blocked off with the tarpaulins but i am sure we will need them for the Scottish winter weather however the ones we have on the roof of the run do their job very well. Overall i am very pleased with the products and customer services. I would highly recommend Omlet to other animal owners who like me have searched long and hard for secure, safe housing which has longevity and is of an excellent standard. Well done Omlet you clever people.
Review for:
Connection Kit for Walk In Run - Eglu Go
Read more reviews