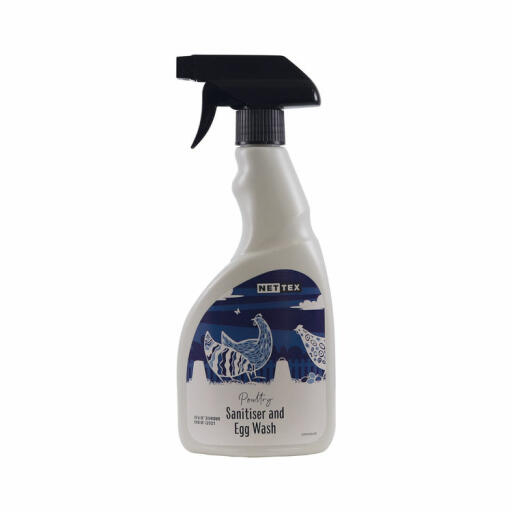 Checking stock in our warehouse...
£8.99
Poultry Sanitiser and Egg Wash is ideal for safely and effectively cleaning fresh eggs before storing in your kitchen or packaging in egg boxes. This solution can be also used to sanitise you chicken accessories. Is very easy to use, simply wash out residues from the feeders and drinkers, spray with the solution, after 15 minutes rinse off and wipe clean. Feeders and drinkers can become breeding grounds for bacteria so it is important to clean them thoroughly. This is a ready to use sterilising solution that can be used regularly on metal and plastic feeding equipment as well as on surfaces and cooking equipment in your own kitchen. This spray is effective against even the hardiest of bacteria, including Salmonella, E.Coli, Rotavirus and Staphylococcus. Ingredients: Sodium hypochlorite.
Poultry Sanitiser and Egg Wash - 500ml
Really like this product. Really easy to use. We leave it by the kitchen sink, so when the eggs come in we wipe them down and spray straight away. Gives you peace of mind that the eggs are clean, especially when you giving them away to family members.
Review for:
Poultry Sanitiser and Egg Wash - 500ml
This reviewer has 2-4 pets
Poultry 4 in 1 disinfectant 500 ml
Seems good, not used yet as I am still using a previously bought one.
Review for:
Poultry Sanitiser and Egg Wash - 500ml
Use this all the time for five minutes for a derma roller i got, so for metal hence why only put it on for few minutes as directions state. Does the job, my tool is nice and clean and germ free. This bottle will last me ages. Easy to wash off.
Review for:
Poultry Sanitiser and Egg Wash - 500ml
Read more reviews